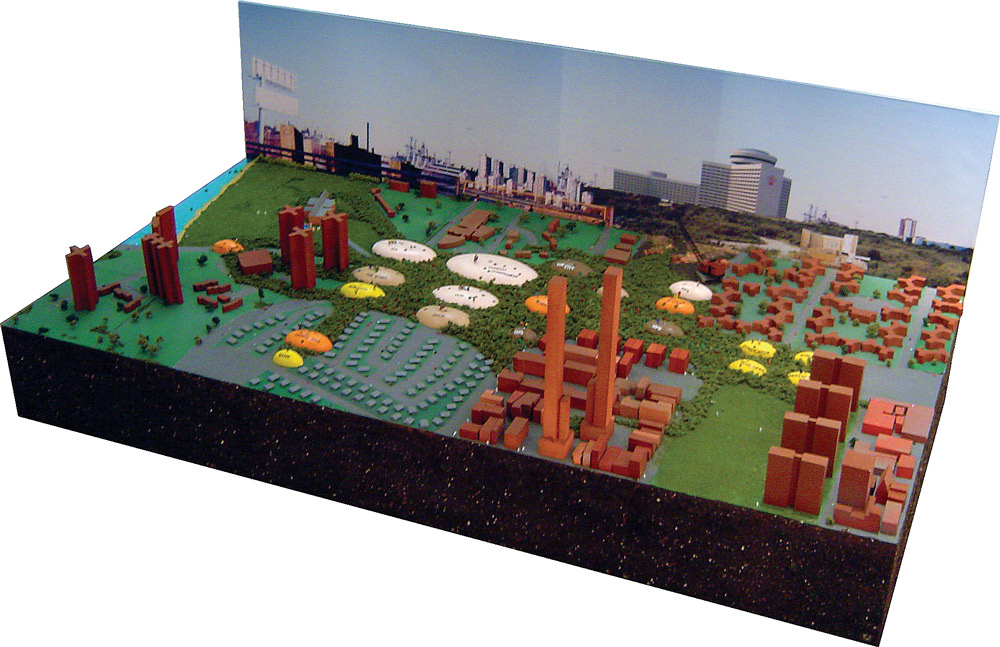 The Subsidized Landscape, an interactive model of some of the ways in which the government directs money to shape the places we live, uses over 500 LEDs to illustrate the flows of money, property, and authority among real public and private agents and agencies. Credits: A.J. Blandford, Zoe Coombes, Meghann Curtis, Ken Haller, Kentaro Okuda, Damon Rich, Oscar Tuazon, Rosten Woo with Katy Brumner, James Case, Chris Dierks, John Morrison and Sam Stark. Courtesy of CUP.
"There is a delicate form of the empirical which identifies itself so intimately with its object that it becomes theory." —Goethe
It has been said that the destruction of European cities during World War II was reenacted in the US after the war by the demolition of large sections of urban fabric to make way for low-cost housing and urban renewal. New York's Housing Act of 1949 formalized the city's commitment to provide "decent" housing for middle- and low-income families. Implicit in this policy was the desire to eliminate the existing street-based ghettos and replace them with efficient, park-based, high-rise apartment buildings. Today this urban-renewal approach is seen as a failure and the source of contemporary urban injustices. The abstract ideal of Le Corbusier's "tower in the park" approach, which aimed to give everyone a view of trees, sky, and sunlight, notoriously ignored the realities of communal life. Looking at one of these large urban renewal projects, Louis Kahn is said to have commented, "But where is the bakery?"
The Center for Urban Pedagogy, a nonprofit research and design office, held an exhibition last fall at the Storefront for Art and Architecture in New York. Carefully reconstructing the complex historical reality of the city's enormous stock of low-cost housing, the show offered the tools for understanding both the failures of this system and the possibilities for urban transformation that were inherent in these gigantic projects.
The exhibition also lifted the ideological fog surrounding the complex political processes that change our urban environment, encouraging the viewer to make sense of the particular historical circumstance that created these "projects." City Without a Ghetto is a somewhat ironic and frightening title for a process of urban cleansing that produced a new type of vertical ghetto. Yet the failures of urban renewal should not dissuade us from thinking about the role of subsidized housing in the future transformations of the urban environment.
—Carlos Brillembourg
The Center for Urban Pedagogy hosts various events and symposia in New York and will offer a pair of classes this spring under the title "City Without a Ghetto."