And so the poet makes the page flex, has her words unpack their maps. Trekking routes the verse hews, we find ourselves not lost or alone, but beside ourselves, beyond each other.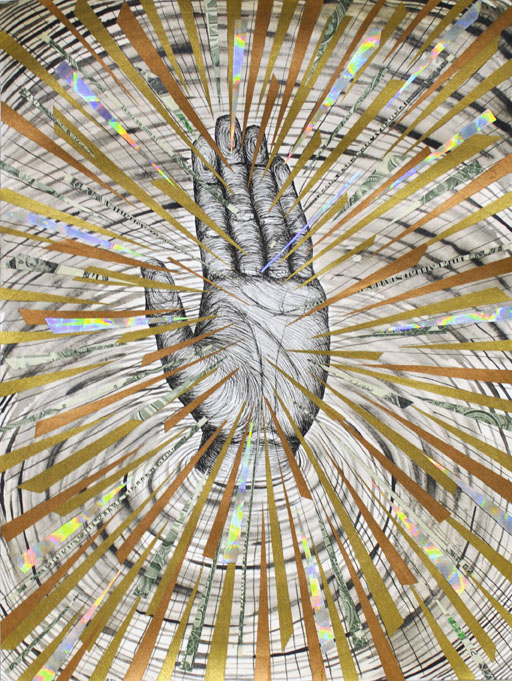 Andrew Schoultz, Last Hand of a Sacred Man, 2010, acrylic, ink, collage on paper, 16 × 12 inches. Courtesy of the artist.
Strange Machine
Within the wilderness; the underfoot, the wild-idledness, the methods lie. That maleness. It is
kilted: singed; melded; welded and warped.
[Isn't all madness burnt raw?]
The methods of madness; the methods of what is controlled by misery. Not mystery; not mystical; but deeply rooted angst.
The tragic and the timeless;
the gestural lines: all a sheet of modern music. The pit; the war paint; the blackened eyes. The wilderness is brackened. We are on the edge of something.
No, take away the
adore-ment; the adornment; the affection and you are what I gear up & down. We both know this isn't __________________________________________________________.
We both oil the machine. There need be no argument. There need be no subject; I have founded a new bravery.
I discover flight patterns: dreamwalks: a new silvered me.
Give me your image—so I can feed so I can feed this,
this,
this,
this maleness.
Life Is a Verb
Life is a verb; and we all just dog-ear the moments that matter. Edge to edge; corner to corner.
Scribbling our truths in the margins. So much changes.
Stones once cast are smoothed now. [Maybe reupholstered.]
I say, "This is the only way; this is fair."
No one wants to reopen the wounds; no one wants to stick the gored. We can call this a new "happy problem."
"The only way,"
says I; says the old I; says the unmanhandled I and I recall this could be a tasty thing.
Let me draw my neck out—just so to see.
I want to see how willing the "I" is.
Just to see how willing "I" am. How willing "I" should be.
And, yes, yes, someone said yes, someone said yes to me. I was unsafe and I was safe and I was oh so ready.
Leah Umansky is a teacher, a concert-junkie, an Anglophile, and a poet in Manhattan. She has had poems published in The Paterson Literary Review, Magma Poetry (UK), and Cream City Review.
Andrew Schoultz has had solo exhibitions in Los Angeles, New York, San Francisco, Copenhagen, London, Milan, and elsewhere. He has been included in group exhibitions in such cities as Pittsburgh, Chicago, and Havana, Cuba. His work can be found in the public collections of the San Francisco Museum of Modern Art and the Frederick R. Weisman Art Foundation, in California, as well as that of the Progressive Art Collection in Ohio. The artist is also featured in the two-person exhibition Images in Dialogue: Paul Klee and Andrew Schoultz, which opens at the San Francisco Museum of Modern Art on August 13, 2011.