Richard Goldstein talks to Lisa D'Amour, Katie Pearl, and Shawn Hall about why we need to "partner" with the environment and how their collaborations developed organically into the interactive installation How To Build A Forest.

Katie Pearl, Barbara Hayley, and Raymond "Moose" Jackson. All photos by Timothy Atticus.
What started as the blank, black box stage of The Kitchen was slowly transformed with low lying networks of thin black tubing, capped with the finger tips of disposable examination gloves, and freestanding willowy lengths of metal wire. One of the installers, or "build team," sat down next to me to survey the initial progress. He pointed out that this ground-laying system, the ones with the glove tips, represent a fungus, the world's largest, which can grow underground for acres. These networks are the forest's communication system—they have the ability to respond to other parts of the forest, for instance, carrying extra nutrients from one area across great distances to a sick or dying area in order to heal it. "It's like Craigslist for the forest," the installer said. Another told me that the freestanding metal wires (later slip-covered with men's ties) represent weeds. When installed, the wires made a soft chiming noise, as if signaling to the attentive build team on their preferred placement. In this sense, I saw communication as the groundwork for both How to Build A Forest and our relationship with nature. With a little extension of the imagination, my initial skepticism of the cultish hippie aura the team seemed to work in programmed harmony under began to fade.
After eight hours of collaboration, Katie Pearl, Lisa D'Amour, Shawn Hall, and their build team had created dense and whimsical canopies of a forest installation. Visitors were invited to walk through it in all its growth phases. Printed field guides that indexed the recycled materials each plant was created from were provided for a closer look at the forest life. All of the origins of the materials were accounted for in this careful taxonomy, in an effort to reveal the industry behind the product and bring awareness of its lifespan, i.e., "Oil Processed into: polyester Made into: sheer fabric" and "Cotton (dye processing for color) Made into: cotton scrim toxic-coated with flame retardant." Even visitors were indexed into the environment.
After taking off my shoes and before entering the space, I had to stop at a desk with two forest rangers who relayed the rules of the space: you must slow down and take your time, you can gently touch elements of the forest. Then one ranger checked the tag on my shirt and noted where it came from: Portugal. I thought about the journey my shirt took to reach me—dance in the larger sense of global economy and production. As an element in the installation, I felt more responsible and aware of how I moved within the installation and even outside it. How to Build a Forest is best seen in periodic visits. Leaving the quiet and slow pace of the space heightened my awareness of the environment outside the theater. Upon returning, it was good to recharge and see the installation progress.
Katie Pearl, Lisa D'Amour, Shawn Hall, and I discussed How to Build a Forest over email in the busy few days before its opening.
Richard Goldstein How did you all first meet? What brought you together to collaborate on this piece?
Lisa D'Amour Katie and I met in the late '90s in Austin. I was finishing grad school, she was starting a theater company called Physical Plant. People kept telling us, separately, that we had to meet because we both were drawn to experiential, site-specific theater. I think we decided to collaborate on something after our second meeting! Little did we know the collaboration would continue for more than a decade . . . . I first met Shawn through the awesome people of ArtSpot Productions in New Orleans. Shawn is a visual artist, but ArtSpot had coerced her into doing set and costume design.
When Katie and I started working on Nita & Zita—a true story about two sisters who were burlesque dancers and designed their own costumes—Shawn seemed like the perfect fit to design the set, which was all made out of fabric. She worked wonders with found curtains, tin can lids, and a creaky old steamer trunk she bought at the Bargain Center.
Katie Pearl Lisa and I usually bring in a third collaborator on our projects, someone who can help us articulate an idea that seems bigger than us. Sometimes that's a choreographer or a musician. For Forest, we knew we needed a visual artist—someone who could join us in translating this huge, spatial idea into reality. Someone who could help us turn concepts, themes, and content into visual form. We also wanted to keep the piece rooted in New Orleans, where it began. It occurred to us immediately to ask Shawn. Her painting responds to the natural world, and she has an obsessive, collector's relationship to being outside. We didn't know the forest was going to be mostly fabric until Shawn came on board, but now we couldn't imagine it any other way. It feels very core to the piece. We built the whole installation in Shawn's neighborhood in New Orleans, the Bywater neighborhood, in an old fallen-down warehouse around the corner from her house.
Shawn Hall I was interested in this piece at first mention and in working with Katie and Lisa again. The project, which has evolved over the course of this collaboration, felt very in line with the content of my work and my interests in the world from the start.
RG Can you describe your roles in the project and how you all negotiate the decision-making in an open-ended project like this? What are the boundaries, are there any rules?
LD Katie and I conceived of the project before asking Shawn to join our collaboration. Once we did, it was very important to the three of us that it felt like "our" piece. It couldn't feel like this was a "set" that Shawn was designing for "Katie and Lisa's show." We researched, talked, and dreamed a lot together about what we wanted the installation to feel like. And then Shawn really took it from there. It was fascinating and challenging to watch Shawn's work emerge because she is not someone who sketches out an idea on paper first. She would "think out loud" in three dimensions, so Katie and I would need to be really careful not to form opinions before something was "done"—that would just break the spell of Shawn's intuition, you know? As more of the installation was built, our roles became more defined—Katie as "director," running rehearsals, me as "writer," designing spoken and written text, and Shawn as the installation artist, figuring out final design elements.
KP We spent the first six months or so of our collaboration just doing research, which happily involved some really fun trips. Our first big trip took us to Hornby Island, off the coast of Vancouver Island, where we were hosted by a great guy who spent his life working in the logging industry. He took us through first and second growth forests, and we stayed with him right on a rocky Pacific beach; that whole time influenced us tremendously. It was while we were in Hornby that the oil spill happened. Coming back to Louisiana after that was wild for me, because I felt like I had just seen the "old" end of the scale (the old growth trees) when I returned to the Delta at the "young" end, where the earth was just being formed. I saw how both ends of the environment are in total danger.
SH At first it was easy, in the research and dream stage. It got a little more difficult as we moved into more concrete aspects of the project. Lisa and Katie are, obviously, rooted in the theater world, and I am rooted in the visual art world. Since this piece is a hybrid of those two worlds, an installation-performance, it was very important for me to be true to my process and sensibility in translating my work, as a primarily two-dimensional artist, into three dimensions. That was a challenge for me, and the challenge for Lisa and Katie was that I didn't want to get too concrete until I got materials into my hands and started working with them. I tried, but the more I tried to give them what they needed and expected from the theater model and timeline, the more I realized how at odds it was with my process. We all got through it, and Katie and Lisa were great, but it was definitely difficult for all of us for a while.
RG These few days before a performance must be busy with final preparations. What does "getting ready" for you all entail with such a free-form situation? There aren't any set rehearsals, right?
p(q). LD There are rehearsals, but they are strange! The build itself is an intense mix of tasks that are choreographed and tasks that are improvised. And there is an accompanying light and sound design which is also a combination of set cues/improvisation. And when we get to, say, hour four of the build, we can't exactly say, Okay, let's try that again! Because it would mean taking the whole thing down. What is totally wild is that Katie, Shawn, and I are all performing as builders and also keeping our eye on the whole—so we run "off stage" and go into meetings with our light designers, or call the print shop about our field guides, or meet with The Kitchen about how you house-manage something that is eight hours long! The things that save us are our amazing devoted team of performer/builders, who came with us from New Orleans and who are totally devoted to the project, and our extraordinary tech and stage management crew, who keep the whole machine running!
KP I'd say that about describes it! I've been videotaping the builds, so I can go home and watch, and have some chance to say, for example, Oh! If we changed the way we did that job, it would read better as an event. Then I'll come in and make the adjustment. Often, it's a question of pace and focus. The other challenging thing is that so much of this piece is in relation to the audience moving through the space we're building in, finding their own experience within it—we don't have them yet! So, Friday is going to be an incredible adventure for us in terms of a whole new part of our ecosystem arriving . . .
SH This whole thing has been an adventure! It's been really intense. A couple of weeks ago, I questioned why I ever said I'd make the installation and be a builder in the piece. But I'm glad I did. I was interested in the durational performance aspect of this from the start, and the odd ways that sound and build moments have come to us organically from noticing the small things.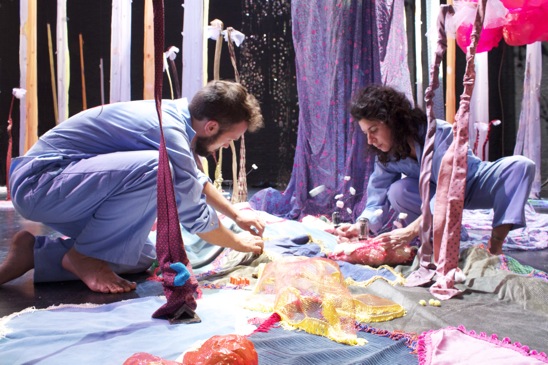 Phil Cramer and Katie Pearl.
RG There is an element of ritual and healing in performance. Can you all speak to those aspects in your work in general and in particular to this piece?
LD Obviously, this piece began with me trying to make peace with some ghosts. The hundred lost trees on my family's property—a property, believe it or not, called L'Esperance, which means hope—haunted us for a long time. Some members of my family didn't even like going to the property for a while after we lost all those trees—it was too painful. But eventually the trees were hauled away, or started decomposing and turning back to soil, and with the thick pine canopy gone, hardwood trees began to grow. Really, the loss of the trees was nature doing what nature needs to do—clear out the old, make room for the new. We were just silly little humans looking at the situation with very human eyes. For me this piece is about stepping back and trying to understand our relationship to time, and see the "small story" of our lives in the context of the "big story" of the Earth's ecosystem.
KP Making the kind of performance work PearlDamour does gives me a chance to craft an experience that has room for people to find their own private experience within—but because we're doing it together, there's a tacit communalness to it. We live in a society where we're told what to think all the time. This piece takes a step back and just allows people to be present, be quiet, slow down, build their own relationship to the present moment. That feels healing to me. It feels respectful.
SH My work in general is a kind of homage to natural forces through participation in them, which is echoed in this piece. It's real work we are doing. We design (or choreograph) the jobs, but still they are jobs to be done. I think the ritual comes from the doing and more importantly from our connection to each other while doing. In that sense, it's a piece about community and the collective care that we can cultivate in our larger communities through awareness, dialogue, and participation.
RG How do you foresee people living responsively and responsibly with nature in the future? Do you think we can make those changes worldwide—what will that entail?
LD Big question! I do hope that this piece helps us understand that we are living in nature all the time—even when we live in cities. The skyscrapers we walk by, the sidewalks we walk on all started in the earth. We are living with, depending on, participating in, the natural world every day. Change worldwide is not a question I can answer because it involves such a mixture of different cultures and politics. But I have a hunch it has to do with slowing down and understanding our very personal relationship to the resources we use.
KP I would like to think people will live more responsively to nature in the future (I like using that word, that's nice), but I'm not sure that those changes can happen globally unless the global economic systems really change—and that seems almost impossible. To do so we have to consider ourselves "partners" with nature, and right now the general sense is that we can and should use nature to support and sustain us (instead of partnering with it, so we sustain it as it sustains us). One of the reasons why we didn't make the choice for this piece to be, say, made of all recycled materials, is because we don't think there is one easy answer like "recycle!" or "plant more trees!" In fact, change is going to have to come from a slow place of reconnecting people to the natural world so they can build relationships on a personal level.
SH It wouldn't have been honest to use all recycled materials—I don't paint on recycled canvas or use recycled paints, and that seems important to point out. We are all in the same boat, but we are moving toward a larger awareness. It can be daunting and feel hopeless because it's such a complicated mindfuck—the politics of money and resources touching every facet of our lives. But I find hope in so many admirable acts by groups of people and individuals, and I can only believe that by cultivating individual and community dialogue, breeding awareness, we can move toward change.
RG How to Build a Forest has some strong parallels to your first piece together in 1997, The Grove, where you drew people's attention to nature they might otherwise have overlooked. Would you call this latest piece a kind of return for you both?
LD We talk about that all the time! The piece is also very connected to LandMARK, a 24-hour piece we did on the Stone Arch Bridge in 2005. Yes, I think Forest is a return to thinking about how a performance can really give audience members a chance to slow down and notice things they had never noticed before—in the world, in themselves. It is a chance to try and understand the frame through which you may be (unconsciously) viewing the world, and have the chance to reframe it. I think both The Grove and Forest operate on this strange mix of philosophy, spectacle and whimsy, and move back and forth between the slow, the strange, the peculiar, and the beautiful.
There will be a panel discussion at The Kitchen with Jerome Chou, Director of Programs, Design Trust for Public Space; Diane Fraher, Filmmaker and Writer; Max Litt, Forestry Manager, Million Trees NYC; Jonathan Van Dyke, Visual Artist; Katie Pearl, Lisa D'Amour, and Shawn Hall on Wednesday, June 22, 7 PM at the Kitchen.
A second run of How to Build a Forest will happen at The Kitchen on June 24–26.
Tags: