Ever wonder what stuff the BOMB staff likes? Check out the new Stuff We Like column and then get watching, reading, and listening.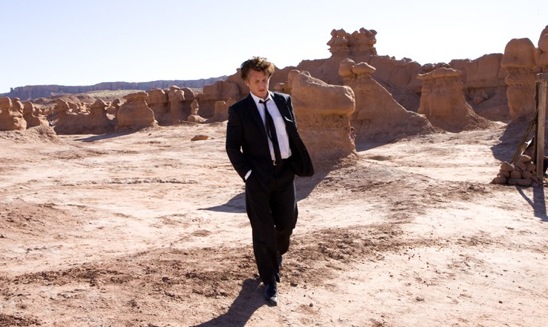 Sean Penn in Terrence Malick's The Tree of Life (2011).
The Tree of Life, directed by Terrence Malick
This past weekend I finally saw The Tree of Life, Terrence Malick's meditation on mothers and fathers, sons and brothers, cosmology and creation, nature and grace, 1950s Americana and, briefly, dinosaurs. From the origins of the universe to suburban Texas to a notional depiction of the afterlife, Tree is an impressionistic feat of filmmaking, offering glimpses of an imagined primordial creation—and gestation—alongside snapshots of a family grappling with existential questions. Using mainly non-verbal storytelling techniques and cinematic sleights of hand, Malick manages to capture a nostalgia for the simplicity of childhood and the fall from innocence that follows, themes at the heart of all of his films. Many of the scenes left me speechless—those of the brothers roughhousing in the front yard more than those illustrating galactic birth. It felt like a long poem unspooling in cinematic real-time over nearly 2 1/2 hours, with long stretches of silence interrupted almost imperceptibly by Alexandre Desplat's score. The ending has been criticized as being trite, as an easy answer to the question "Why are we here?" that is echoed, whether in words or in actions, by more than one of the characters in the film. But where it might fail to offer cohesion, Tree succeeds as a personal prayer to an inscrutable and specific type of god, and remains for me a thought-provoking and affecting story of life and loss.
—Paul Morris, general manager, digital media & marketing
A Heaven of Others by Joshua Cohen
Joshua Cohen's A Heaven of Others—a strange, mystical, to my mind totally unreviewable book, perhaps dictated to the author by an angel of the Lord in the night, "being the True Account of a Jewish Boy," an Israeli child "exploded" by his Palestinian counterpart, "and his Post-Mortem Adventures in & Reflections upon the Muslim Heaven," where he is somehow sent. Cohen may be one of the great writers of today.
—Zack Friedman, assistant web editor
Pärson Sound and the films of Luc Moullet
For a long time I've been really into Swedish heavy psych band Träd, Gras och Stenar in all their iterations (they were also known at various times as Pärson Sound, Harvester, International Harvester and, most mysteriously, Hot Boys). This interest has become a near obsession lately after I got my hands on the Swedish label Subliminal Sounds really very beautiful vinyl reissues.
Also: I've been really enamored with the hilarious movies of second generation French New Wave filmmaker (and prolific Cahiers du Cinéma critic) Luc Moullet. Watching his movies is like opening a window to air out a stuffy room, as I think John Ashbery once said about another poet, though I could be wrong. The early films The Smugglers and A Girl is Gun are my particular favorites.
—Clinton Krute, web editor
Don't Wake Up
Don't miss Don't Wake Up at North Henry Annex! A radically beautiful group show in a former Catholic brothers' house, abandoned ten years ago and now recovered by the organizers and artists. William Latta, Nathan Spondike, Susan Sabiston, and Colt Hausman organize works by Aaron Gilbert, Bradford Willingham, Colby Bird, Jani Benjamins, Kirsten Deirup, Nathan Dilworth, Nathan Whipple, and Owen McAuley. The exhibition is at 2 North Henry Street, Brooklyn and only open on Saturdays and Sundays 1–6. It opened June 11 and will be on view until June 28. Look out for a roundtable with the artists and organizers coming soon to BOMBlog.
—Richard Goldstein, archive editor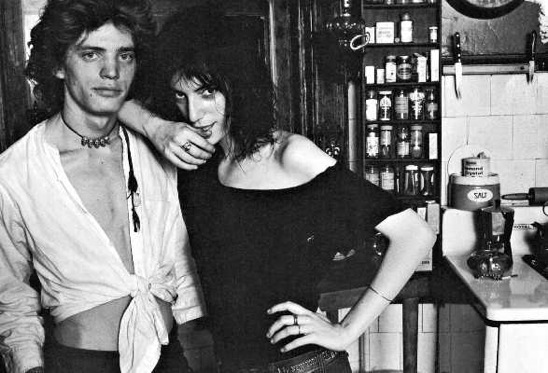 Patti Smith and Robert Mapplethorpe.
Just Kids by Patti Smith
Patti Smith's Just Kids is an account of her experiences in New York in the 1960s, with a focus on her relationship with Robert Mapplethorpe. As the story of her move from temporary homelessness and a minimum wage job into her successful musical career unfolds, she surprises with unusual comparisons, lyrical descriptions, and a witty appreciation for the absurdity of her naive run-ins with Andy Warhol, Jimi Hendrix, and Janis Joplin. Fluttering around the Bowery and West Village, living in hotels, making art installations and photographing Patti with a borrowed Polaroid camera, Robert is both "…a smothering cloak," and, "a velvet petal…" in this poetic and bittersweet memoir.
—Alyssa Kilzer, advertising and outreach intern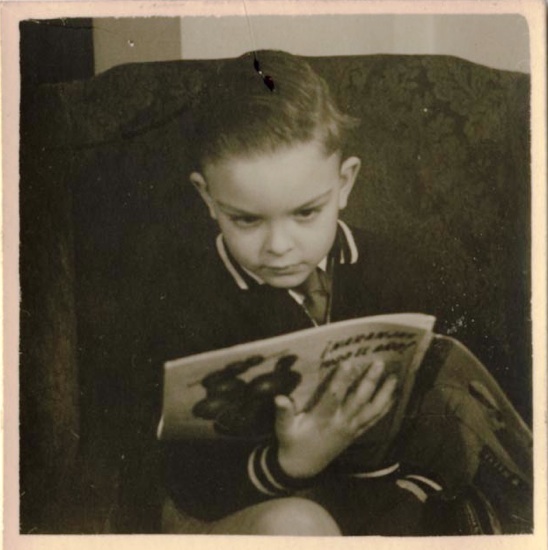 Enrique Vila-Matas in 1953. Photo from enriquevilamatas.com.
Never Any End to Paris by Enrique Vila-Matas
Never Any End to Paris by the Spanish novelist Enrique Vila-Matas, just published by New Directions in Anne McClean's sure-footed, hilarious translation. (Translation skeptics take note: in the right hands, humor does translate!) In the form of a bizarre, three-day autobiographical lecture on irony, the author recounts his early days as a Hemingway-obsessed writer wannabe in Paris. While working on his novel The Lettered Assassin, Vila-Matas rented a garret by none other than Marguerite Duras, celebrity-sighted everyone from Michael Foucault to Roland Barthes to Jean Seberg to Samuel Beckett, attended readings at the secret bookstore Zékian—where he heard Borges give a talk on memory and witnessed a stand-in for George Perec retell the story of a certain scrivener named Bartleby . . . The list goes on. How could he not have turned out to be a luminary?
—Mónica de la Torre, senior editor