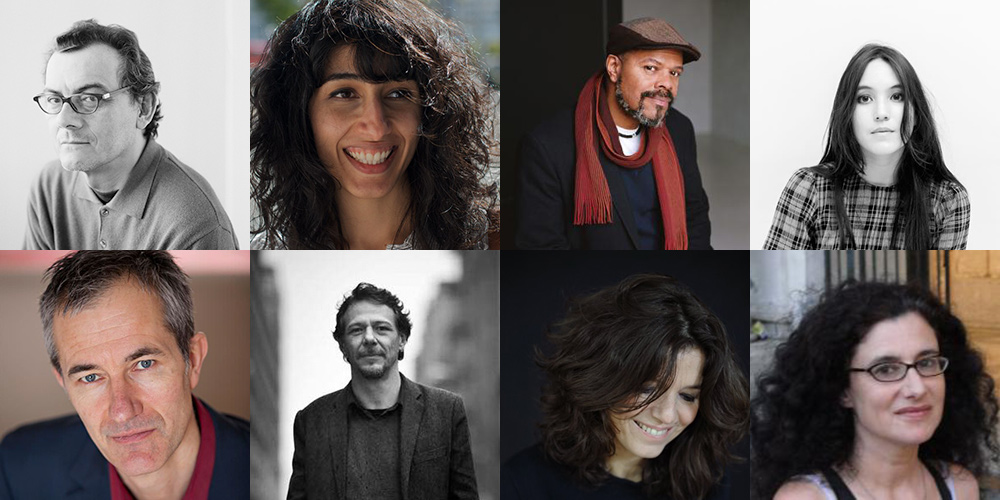 Top row: Horacio Castellanos Moya, Solmaz Sharif, John Keene, Alexandra Kleeman. Bottom row: Geoff Dyer, Álvaro Enrigue, Maylis de Kerangal, Susan Daitch
New York's largest literary festival returns to downtown Brooklyn for another day of panels, readings, and community. Stop by booth #323 to check out our fall issue and meet BOMB's editors. As usual, several authors featured in BOMB's pages will be speaking at the festival. Here are a few highlights:
10:00am — "Body Language—Heart, Eyes, Blood" with Maylis de Kerangal, Lina Meruane, and Masande Ntshanga
10:00am — "Inventing History in New Fiction" with John Keene, Susan Daitch, and Jeremy M. Davies
12:00pm — "Why Fiction Matters" with Alexander Chee, Mitchell S. Jackson, Roxana Robinson, and Tiphanie Yanique
1:00pm — "Youth in Revolt" with Teddy Wayne, Tony Tulathimutte, and Stephanie Danler
3:00pm — "Obsession" with Horacio Castellanos Moya, Idra Novey, and Patricia Engel
4:00pm — "High Brow, Low Brow" with Alexandra Kleeman, Lynn Crosbie, and Mark de Silva
4:00pm — "Truth to Form" with Tyehimba Jess, Solmaz Sharif, and Martha Collins
4:00pm — "From Sci-Fi to Meta (and Heavy Metal): New Dimensions in Latin American Fiction" with Yoss, Álvaro Enrigue, and Carlos Labbé
5:00pm — "Darkly Comic" with Geoff Dyer, Rick Moody, and A.M. Homes
There are also numerous Bookend events—including ours!—running from September 12-18; see the complete schedule here. For more information about the Festival, visit their website here.
Tags: