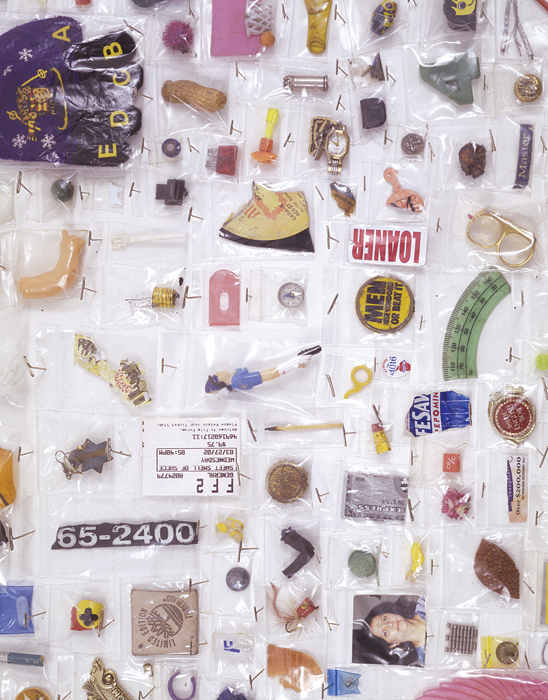 David Shapiro, Nickel Bags (detail), 2004, as installed at PS1, dimensions variable.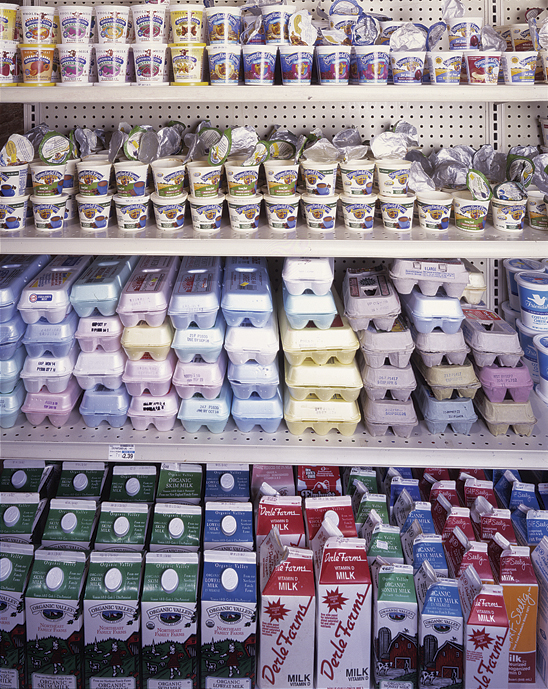 David Shapiro, Aisle 3, Diary (detail of Consumed), 2003, dimensions variable.
There is no true autobiography. Especially in art. Facts are represented by other facts, and the art part is to make those second facts more important and more meaningful than actual mundane life. David Shapiro, whose show Money Is No Object was on view at the Sue Scott Gallery this spring, has created a group of vellum scrolls on which he has placed the bills and receipts and ticket stubs he's collected over the course of a year. Each scroll displays the paper detritus of one month. And that would be slightly interesting, but what Shapiro has done is to show us a representation of those bills and receipts. With pen and ink and gouache and colored pencil he has, just carefully enough, drawn those receipts and bills by hand.

David Shapiro, Double Ticket (February), 2010, ink and color pencil on Mylar, 10 × 20 ¼". Images courtesy of Sue Scott Gallery.
By reproducing every single transaction he's made, those transactions become, for him and for the viewer, a memory of those things. Month by month, over the course of the year, they become a narrative of a life. Here is a regular guy, and by the specificity of what he buys and sells we come to know him as an artist, a father, a buyer of books and movie tickets, a user of telephones and parking spots and money. Living with money is something we all do, and we recognize the trail of his purchases. And by painstakingly replicating each quotidian mark and logo he offers us a chance to scrutinize the familiar details of life and see a life being lived behind those details. A real person checked out I Love My Mommy Because . . . from a Queens library. A real person went to the zoo with a child and another adult and the total cost was 17 dollars.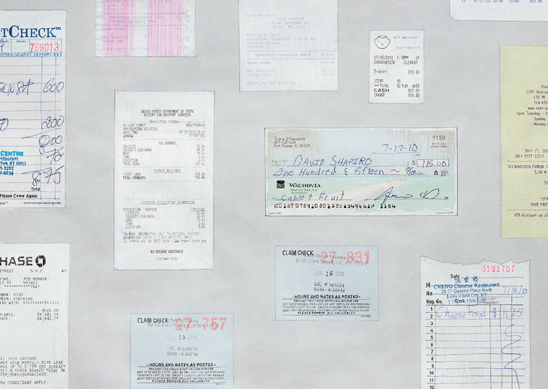 David Shapiro, July (detail), 2010, ink, gouache, and color pencil on vellum, 18" × 30'.
Like any humorist, Shapiro is willing to be embarrassed. In an earlier work he saved two years' worth of garbage, and then displayed it by turning a gallery into a garbage-grocery store. In another work he collected objects he found while walking the streets—plastic toys and broken key chains—and tacked them to a wall in plastic drug bags. In this current show, autobiography is revealed, not with the scraps of existence, but with a rendering of those scraps. He exposes himself, or at least the part of himself that deals with money—and there's something sad about that, about being confined and characterized by something as banal as money. But Shapiro transcends that sadness by celebrating, in obsessive detail, how he chooses to survive. Which is more or less how we all survive in New York City in the early 21st century. He has painted a portrait of a life being lived, and if we look closely we can recognize in that life a part of ourselves.
—John Haskell is a writer whose books (I Am Not Jackson Pollock, American Purgatorio, and Out of My Skin) are published by Farrar, Straus and Giroux. His latest essay on art appears in the catalogue for David Salle's recent exhibition at Mary Boone Gallery.