On May 23, 1911, the New York Public Library opened on the corner of Fifth Avenue and 42nd Street. Today, the institution kicked off their Centennial celebration by giving away free copies of Know the Past, Find the Future, an anthology of New York icons, each writing on his or her favorite item from the NYPL's collections. Zack Friedman and Frances Corry braved the dangerous territory of the city's busiest subway stations to get their hands on a copy.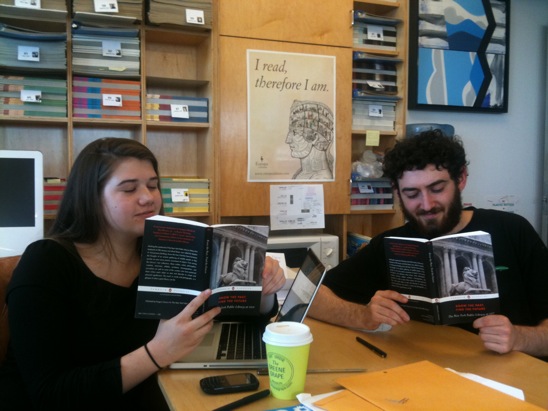 Frances Corry and Zack Friedman slacking off (typical!) at BOMB hq.
On a hypothetical list of the most unpleasant places, a New York subway station at 10 o'clock on a wet and humid morning ranks pretty high. Overflowing trash. Dripping ceilings. Happy rats. (And we pay $2.25 for all this?) Leave it to another city institution to make it all better—namely, the home of all things warm, dry, and well-preserved, the New York Public Library. This morning, the NYPL kicked off their Centennial celebration by giving away 2500 copies of Know the Past, Find the Future at select MTA stations. Published pro bono by Penguin Classics on the occasion of the big 1-0-0, the paperback features (surprise!) 100 icons from New York and around the world, each writing about their favorite items from the NYPL's extensive collection—we're talking books, of course, but also bears (the original Winnie-the-Pooh), music and menus, letters, drawings, paperweights, and photographs.
After fruitlessly looking for anything NYPL–related at Times Square (I found only the Ebony Hillbillies band, highly recommended), I head over to Grand Central Station, where I immediately spot a woman carrying the book. She is approached by another frantic bookseeker before I can get to her. (Where are they?! Bookseeker almost crushes her paper coffee cup in anticipation.) Pointed in the direction of the Library's lion mascot, she dashes off to pick up Know the Past, Find the Future from a couple of overflowing suitcases. I receive my copy from some happy NYPL employees, who ask, as I run to my train, if I would like a picture with the Lion (No thanks!).
I start to read on the 5. The book includes several BOMB favorites: Francine Prose, who chose photographs from Brassai and opens with "The Library has everything!"; A.M. Homes, who went for Jack Kerouac ephemera; and Laurie Anderson, who wrote on the Declaration of Independence. I was pleased to note that they included some of my personal favorites as well, namely, the Harlem Globetrotters, who chose three globes from the Maps Division, and Fran Lebowitz, who was drawn to the best adolescent female protagonist with strawberry-blonde hair—Nancy Drew.
I could say that the book acts as homage to a lot of broad ideas—homage to an institution, to a city, to a collective population who composed its past, and to a new population that creates its future. For me, though, it's the type of book that is quintessentially New York both in form and function—meaning that I can look up between essays to see if I missed my stop.
—Frances Corry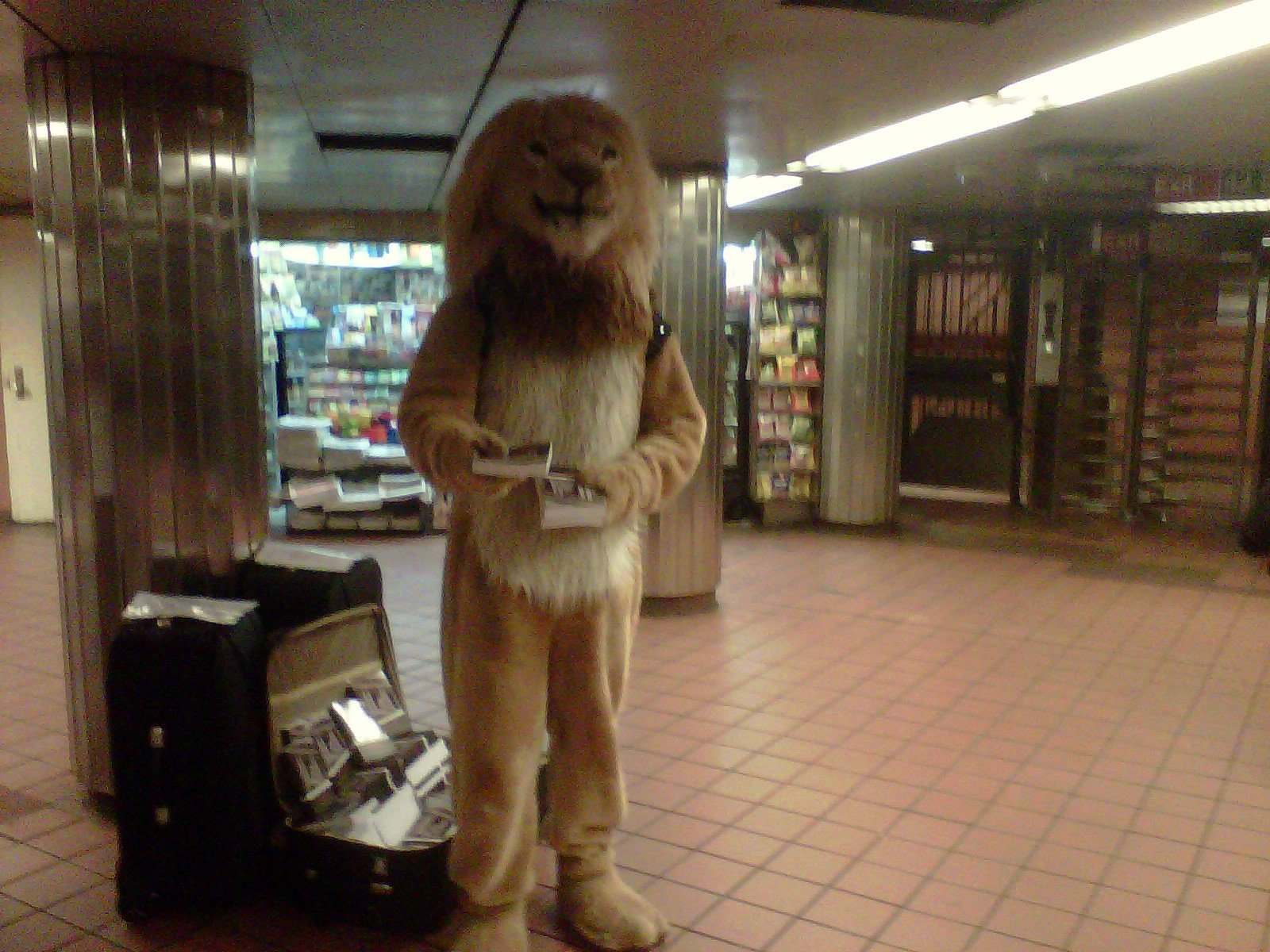 Giving something out for free in the city's busiest subway stations would seem to court disaster—perhaps crowds of people crushing each other in their eagerness to pick up the prize, like shoppers lining up outside a Long Island Walmart on Black Friday. Even worse when it's the NYPL giving out copies of Know the Past, Find the Future: The New York Public Library at 100, an anthology of "luminaries" on their favorite parts of the collection. Imagine a swarm of John Hodgman/Sarah Vowell lookalikes too immersed in their NPR podcasts to notice that they're crushing children beneath their feet.
I got to Times Square at 10 am, just as the promotion was supposed to begin. I asked a couple police officers where it was—maybe the first time that this (almost) lifelong New Yorker has actually approached a cop for any reason. "Sure, I heard about it, but I'm not sure where it is," one said. "The library?" her partner butted in. "Yeah, there's one a those at 42nd, and, uh, I think 5th."
Another cop on a scooter pointed me in the right direction. I watched the Ebony Hillbillies charm tourists with slightly-more-rhythmic-than-usual bluegrass. "I'm the guy who's giving them out," a man in a neon MTA blazer told me, "and they were supposed to be here 15 minutes ago." 10:30 rolled around. "They said they're still coming," he said, and shrugged his shoulders.
I talked to a nutrition student from Peru and a Korean-born opera singer (she gave me her business card and asked me to check out her YouTube channel.) The MTA worker and I struck up a conversation. He told me about the process of applying for a permit to play in the subway as we watched the tourists tap their feet to the fiddles. I'd never really stopped for very long in Times Square, I told him—it was a place you rushed through to make a transfer. But perhaps it had its own rhythm, or there were certain joys to lingering in a place where normally one did not look around. The regular discharges of passengers from the S called to mind the admittedly somewhat trite metaphor of the subway as the city's circulatory system, these regular movements like a heart pumping blood. In which case the people with nothing better to do standing around listening to the music were like blood clots.
Finally, a tick before 11, the ladies squealed and ran off. They returned moments later clutching handsome Penguin volumes. The NYPL volunteers were camped out by a "Record Mart" called Skull Candy.
At last, the precious book was in my arms. I leafed through it—the image of Colum McCann eating a flake of page from a beautiful signed copy of Ulysses will stay with me. On the way back to my subway, I walked past a man painted gold frozen on a bench. I thought about it for a moment, but I did not stop.
—Zack Friedman
Tags: