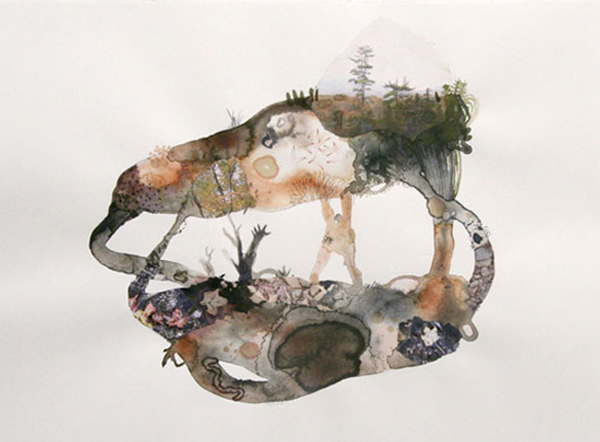 Sandy Litchfield, Between Us, watercolor, collage, and ink on paper, 9 × 12 inches. Courtesy of the artist and Pierogi Flat Files.
ON SARA, 2002, NOVEMBER
She is a living squirrel. I mean to say she darts into streets, amid hissing tires, pauses, crouches where she was never meant to be, but makes it. The suckling rain, listen. Holding hands a type of fist. Open your mouth. Because love elbowed the day she wore another (a prosecutor?) and I am now hobbled of belief. So cruel to speak the obvious. This might be the day, or stay of execution, you slop of bones. A can of beer toppled off a balcony. An overhead shot of us fucking in the kitchen: we look like pale thawing grasshoppers and in my throe I grip the oven burner and can still suck this scar. The skin tastes like leftover television. I can't see what you see, so cut my own hair. The mirror an idiot watching mutely. I told Sara I would sue the lawyer and she said to think on that for a moment. Look at the couples scissoring the sidewalk away. Stomach: 1. Harden. 2. Cool. 3. This intestinal rule: I'm not going to mention you every time I swallow. Goddamn squirrel the size of a cat. We had no song, our dripping life. So now I measure my coffee by pots and pisses. "You're all on my back! Get off my back!" she did say. After masturbation: false and pathetic nachos. The tortilla chips blue and humans hold an aversion to blue food, some evolutionary hangover, and we will say marketing. The lie is that lies are wrong things, some mud mutterings seized to thaw. She had this scarf you could not borrow. A room or epoch. She would say, "It's a bummer we have to share birthdays with strangers." God, I hate words. Disgust or knees. Now you're thinking squirrely. She never was, or in the way bourbon on ice and a chemical weapon are both mixed things. Everyone believes someone made them do something. Over Thanksgiving table I used the blender as my gin glass and the lawyer snorted cocaine, the turkey six inches shy. We hardly eat the head of anything, I wonder why? Oh, he told of search warrants and the proper technique to flood your own bathroom for insurance sake. I'm not going to tolerate a formless life. Everyone in the world with their constellation. But isn't that the way? Stumble drunk into the cold backyard and just make shit up. Dark to blackness. Grapple with someone near the covered Jacuzzi. Time, you struggling bird. A person must be calm or crazy to ask about happy. Waking smokehole of a mattress. Glass box of teeth. An alarmed squirrel must flicker its tail. You watch. To just give yourself away, well. This isn't helping.
Sean Lovelace lives in Indiana, where he eats nachos and drinks beer and plays disc golf and runs far and teaches at Ball State U. He is dropping two books (Publishing Genius Press and Rose Metal Press [with other flash writers]) on the world in June 2011. He writes for HTMLGIANT.
For more by Sandy Litchfield, visit her page at Pierogi Flat Files.