"The true star of this collection is not plot or characters, it's storytelling itself: the weird literary ventriloquism we perform as we divide out the speaking roles of our inner lives." Andrew Zornoza reviews Lynne Tillman's Someday This Will be Funny.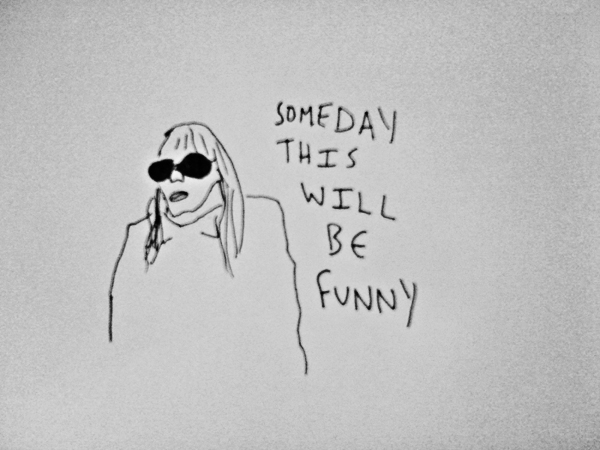 "I cannot make love to Jews anymore," or so said Nico, breaking off her brief engagement with insouciant wanna-be androgyne Lou Reed. Endings this pithy and crude come never to the protagonists of Lynne Tillman's new book Someday This Will Be Funny. For their sakes, you might wish they did. In twenty-one concentrated vignettes—one of which features telling lyrics from the aforementioned Reed—Tillman captures lovers and soul-searchers at their intimate moments, as they battle their inner-demons. Tillman's subjects range far and wide, from fictional to fictionalized: a young tennis star, a sociology professor, the son of a wealthy financier, the German artist Peter Dreher, Clarence Thomas, Marvin Gaye, Lynne Tillman herself and John Lennon. Despite this large and eclectic cast, Someday This Will Be Funny, feels less like an ensemble piece and more like an in-depth character study.
In "The Shadow of a Doubt," Thomas attends the wedding of a lover he still has feelings for. She broke up with him, proclaiming herself "incapable" of love, too traumatized over being abandoned by her mother. Well, she, Grace, got over it fast, marrying her very next beau,

a ". . . dull or bright hubby who stood possessively by her side and appeared to sense subtle meanings in her every gesture, unctuous and fastidious in his affection, and grinned so broadly his eyes disappeared into folds of cheek." Tillman's prose is quicksilver here and it has to be, thought is faster than action and less tied to logic; each story in Someday This Will Be Funny moves from anxiety to anxiety, each secret thought hiding another. Thomas's situation—the lover who mistakes jilted for naive—who becomes his own victim—is familiar. And yet the eventual trajectory of his thoughts from self-mutilation, to death, to a talking bird, is significantly less
so.
What's on display is the mind's ability to collapse time and space with effortless speed in order to create a narrative. In this way, little distinguishes this plebeian Thomas from the considerably more patrician Clarence Thomas in the aptly named "Give us Some Dirt." Here, the sullied Supreme Court judge thrashes about much as you might picture James Earl Jones slumming it in an off-off Broadway Greek tragedy: wearing boxer shorts, drenched in controlled pathos. Regardless of their stature in society, Tillman's characters end up in much the same place—undressed and tortured as they circle around their psychic flash-points.
Certainly, there is an absurd, vicarious delight in peeking inside Clarence Thomas's head, much the same as witnessing—in the story "Later"—the penny fireworks and mounds of cocaine when John Lennon and Marvin Gaye noodle on the piano together. [Lennon's] cover of Ben E. King's 'Stand by Me' was pathetic mulls Marvin. But the true star of this collection is not plot or characters, it's storytelling itself: the weird literary ventriloquism we perform as we divide out the speaking roles of our inner lives. Who, exactly, are we talking to inside our heads all the time? And is there any point to all that babble?
Tillman hews towards Lacan here: desire drives her characters (desire in love, in art, in power, in simply being understood) but also chains them to interminable suffering. There is no redemption or, more importantly, self revelation, because we only see ourselves in reflection. To begin at the beginning, Nico's opening gambit to Lou Reed was "Oh, Lou, I'll be your
mirror. . . ." Which Lou neatly turned about:
I'll be your mirror/Reflect what you are/in case you don't know.
Appearing amidst a smattering of quotations in "Love Sentence," these lyrics would have served just as well as an epitaph for this collection. Self-reflection becomes twisted through language and affectation once we grow up; the storyteller can create, but a story's effect is useless on the subject (as luck would have it, Delphine Delamare never read Madame Bovary). Realization does not beget change. If all this sounds like so much nonsense, perhaps it is. Lacan's theories of individuation have always been much embraced by literary types but disregarded by working psychoanalysts.
Tillman seems to agree with this assessment. Therapists do make
several appearances in Someday This Will Be Funny, but catharsis and betterment are decidedly not on the table. A therapist is just another venue, another way to be observed and create conversation: just the same as lovers, keyboards, and ourselves. As Katherine says in "The Original Impulse" considering her long line of loves:
"Her history was a bracelet of holes around her wrist, not a charm bracelet like her mother had worn; that was gone."
Psychological baggage is just that, baggage: filled with your things. These characters orbit their pasts, they are aware of their own predilections and failings, and it doesn't do a damn thing to help.
In a fashion, the calmest character in Someday This Will be Funny is Peter Dreher—the German Objectivist painter who has, every third day for the past thirty years, painted the same water glass from the same perspective. He says:
"The common libretto was comic and tragic, everyone's opera. Not true, not false, not one, not the other. Standing before an object, his job was to see it, as it was to him, simple and complex."
Of course, you could argue that he's the calmest because all he's speaking to is a glass of water. If seeing things honestly and in the moment is all it takes, it's not surprising we're all in a pickle. First of all, there's a little problem called subjectivity. Second, time renders all perspectives transient.
It's a testament to Tillman's prowess that all this existential angst is rendered readable. The friend who flees California due to a mountain of parking tickets only to face intimidation in the cutthroat world of illicit New York City parking—well, she had it coming. Scathing humor keeps these short pieces from teetering into armchair philosophizing. Or as Tillman waxes in the sad final story, dedicated to presumed dead journalist Joe Wood:
"What separates me from the world? Secret thoughts? . . . Out of nothing comes language and out of language comes nothing and everything. I know there will be stories. Certainly, there will always be stories."
Andrew Zornoza is the author of the novel Where I Stay. He teaches in the Design + Technology department of Parsons The New School for Design and is a contributing editor to the arts journal Helping Orphans Worldwide H.O.W.
Tags: