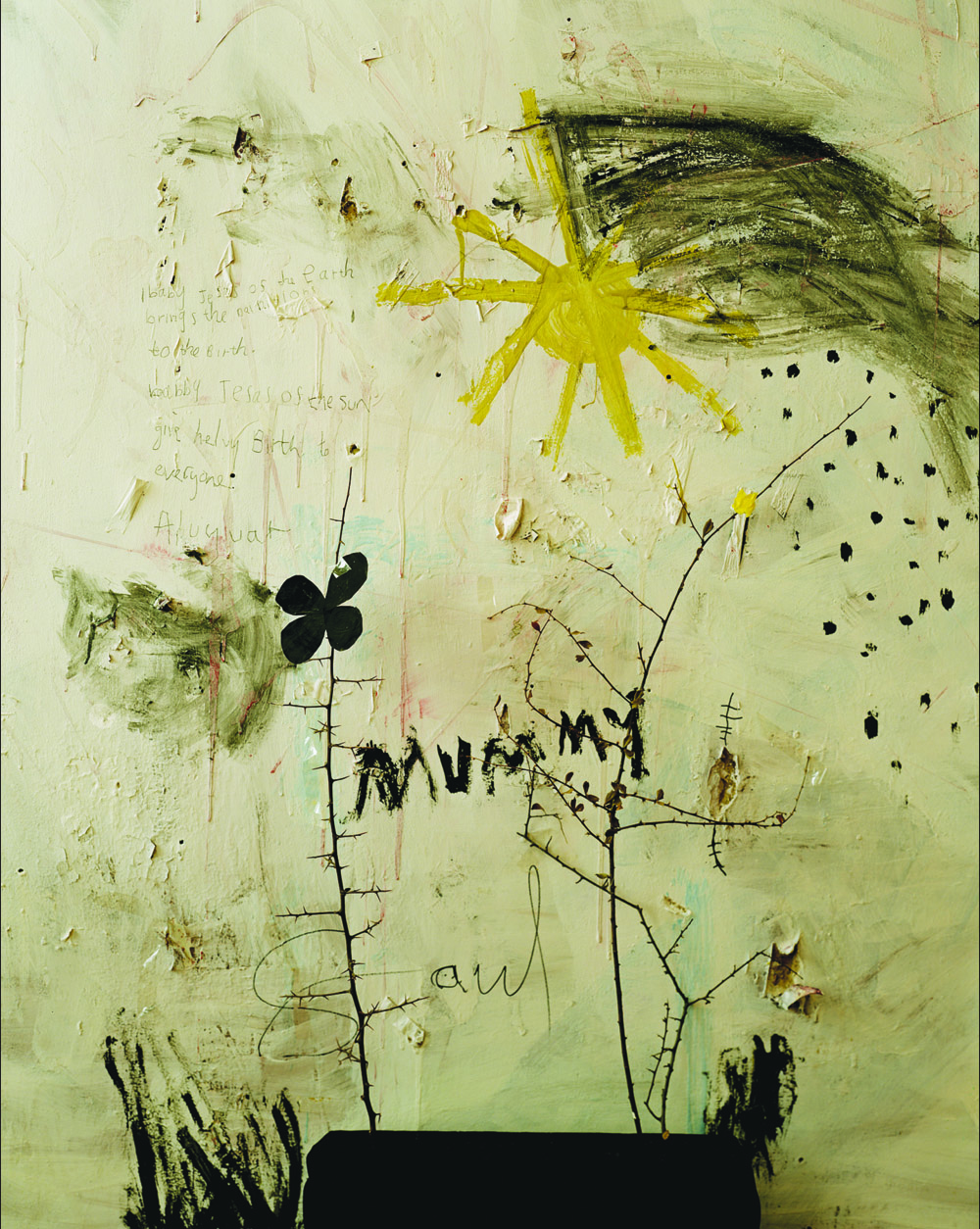 Saul Fletcher, Untitled #160 (Mummy), 2004, C-type print, 7 × 5½".
Psychologists—and more especially philosophers—pay little attention to the play of miniature frequently introduced into fairy tales. In the eyes of the psychologist, the writer is merely amusing himself when he creates houses that can be set on a pea. But this is a basic absurdity that places the tale on a level with the merest fantasy. And fantasy precludes the writer from entering, really, into the domain of the fantastic. Indeed he himself, when he develops his facile inventions, often quite ponderously, would appear not to believe in a psychological reality that corresponds to these miniature features. He lacks that little particle of dream which could be handed on from writer to reader. To make others believe, we must believe ourselves.

—Gaston Bachelard, "Miniature," The Poetics of Space
Beyond my role as voyeur to Fletcher's psychological pictorials, how will I partake in his emotional dream? To believe requires a dose of sentiment. His use of miniatures strikes an emotional calculation—the display of solitude that draws observers, one by one, "to a window to the soul."
The "essence" of these untitled portals is at the intersection of two conflicting dualities forming a critical and psychological hotspot. The first is execution: painterly abstraction / potent signifiers. The second is subjective: emotion / autobiography. The persuasion of an emotional story is snuck in precisely through Fletcher's specific talents, executing aesthetically alluring renderings to spark culturally defined psychological tones—grim mental states, obsession, trance. These lyrical tableaux are sustained by sanctioning the presence of The Poet, who lingers at these crossroads of symbols and collage.
A figure of transition and tribulation, of cliché and the profound, The Poet tests the ground of meaningfulness. To allow a Poet to exist in these works requires a leap of faith on my part as well. While gazing into Fletcher's voyeuristic displays, the tendency is to keep the sentiment quiet, intimate. Fletcher forces intimacy and allure by combining a kind of dollhouse fantasy with shadowed reveries suspended in a whisper . . . Poetry blushes, but it never runs away, I am thinking.
The scale factor teases emotion. Scale is a visceral thrill when pushing unexpected opposites. Fletcher's loaded imagery and evidence of a pathological self may only work in this scale. It is a Poet's technique: taking the simple and amplifying its meaning; taking the complex and making it simple.
We, as much as the artist, want to be surprised. We are invited to participate in Fletcher's psychological landscape not by a theatrical and monstrous howl but through an acute whisper. We are invited to oversee a quiet and special patient who has been given permission to reside and recreate his rural setting . . . and draw. Art therapy. Uniquely talented, mysterious, and relatively safe with his dark secrets. These tiny works with tinier images have massively encumbered signals: Untitled 160 utters "Mummy." The "asylum wall" of Untitled 152 surrounds "a favorite picture" with mud (and perhaps shit) smears. In Untitled 213 (Demon) we realize our subject may have been the killer all along . . . a recreated primal altar that is now, hopefully, part of his healing process. Yet this participatory fantasy pauses for a necessary critical distance: the walls are not weathered by seasons but by the meticulous hand of the infinite child. Cy Twombly was here! After all, are we not witnessing a child's nightmare through savvy graffiti clusters and the skilled talent of the dumb? There is as much urban savvy as rural aw-shucks in his trance-induced displays.
Fletcher is staying close to home, seducing himself before his audience. Yet as Bachelard points out, there is a requirement to believe in the project, to believe that Fletcher's fantasy is more than a staged nightmare, a recording of the self by a talented hand. It is all of the above and, moreover, the junction itself.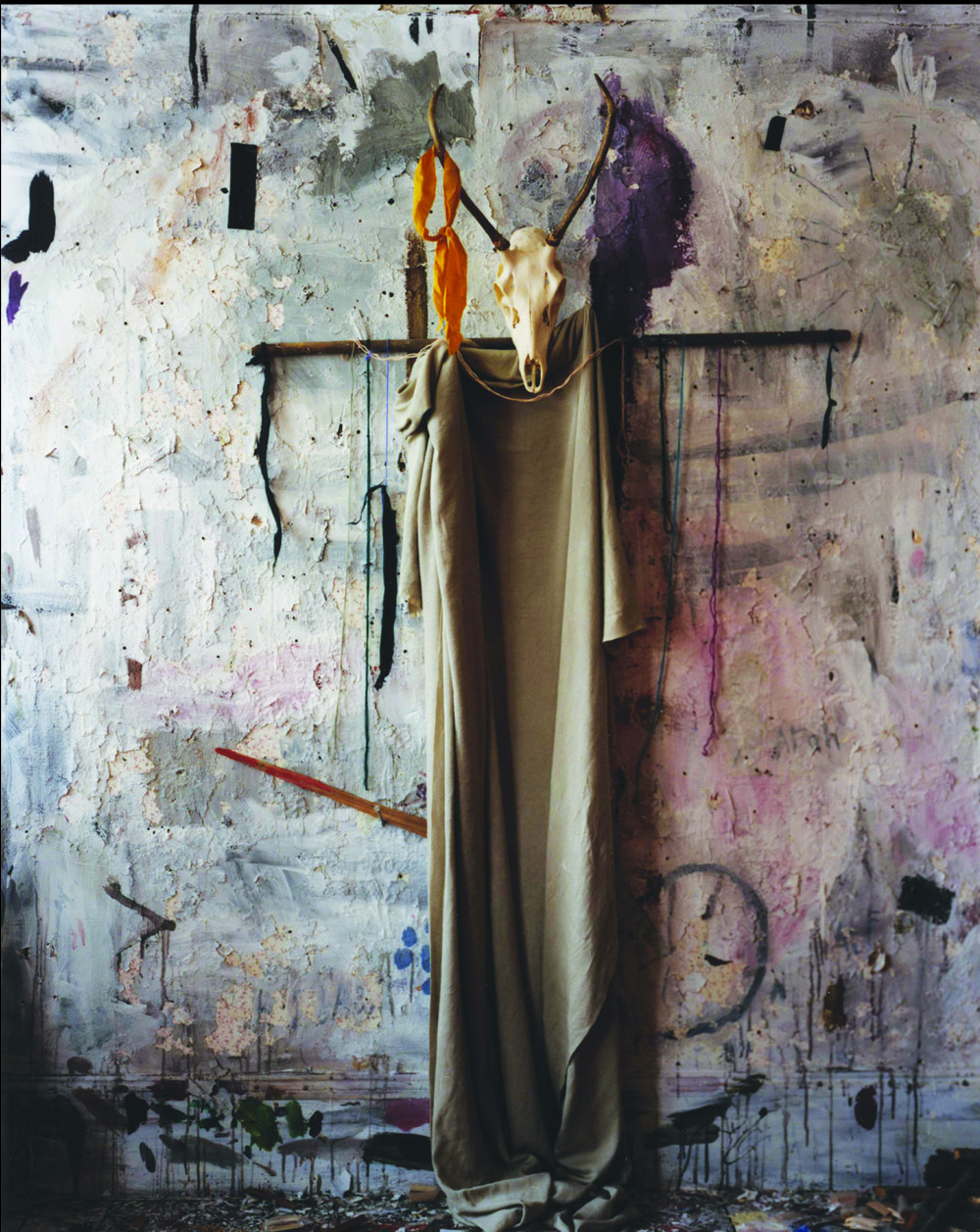 Saul Fletcher, Untitled #213 (Goat God), 2009, C-type print, 5½ x 4⅜".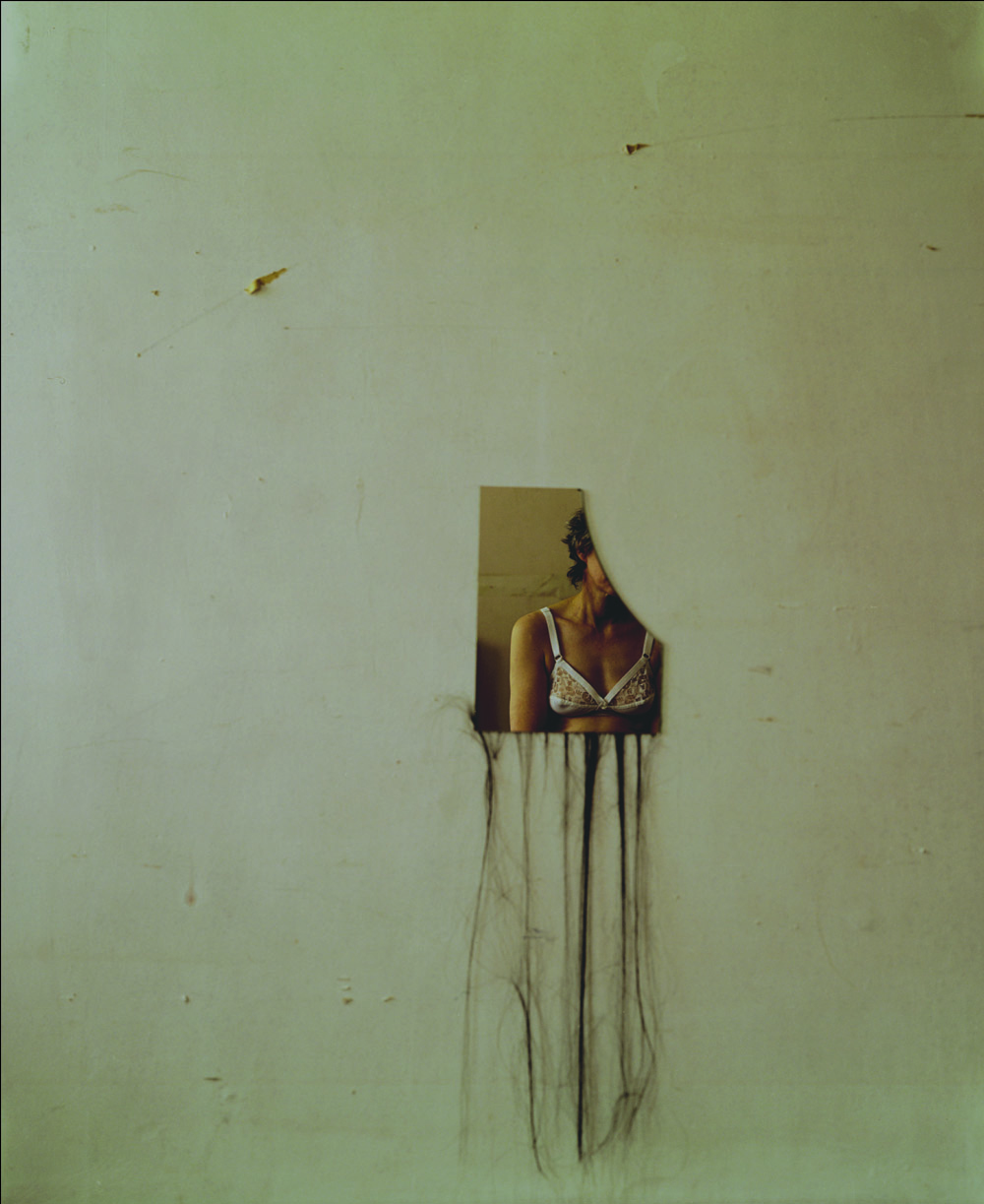 Saul Fletcher, Untitled #130 (Mother), 2000, C-type print, 5½ x 4½".
—Jimmy Raskin is an artist and writer living in New York. He exhibits with the Miguel Abreu Gallery. He is the author of The Prologue, The Poltergeist and The Hollow Tree.
This issue of First Proof is sponsored in part by the Bertha and Isaac Liberman Foundation and the Thanksgiving Fund.
Additional funding is provided by the New York City Department of Cultural Affairs, The New York State Council on the Arts, and readers like you.