Bonnie S. Egan digs into Emily Rubin's debut novel Stalina — the idiosyncratic tale of a Russian Jew who immigrates to America in 1991.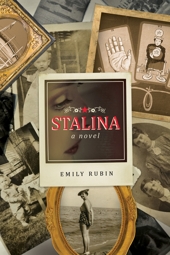 Stalina Folskaya, the title character of Emily Rubin's delightful debut novel, is a Russian Jew who immigrates to America in 1991. Her personal history unfolds as she embarks upon and advances a new career in a "short-stay" motel in a Hartford, Connecticut suburb.
Shortly after the dissolution of the Soviet Union, I was asked to serve as a guide to a Russian woman visiting the U.S. for the first time. I was surprised to find that the first place she wanted to visit was a "sex shop." I took her to the only one I knew of, the Pink Pussycat Boutique on Bleecker Street. I was fascinated and puzzled by her interest, but I soon understood that just visiting such a shop was a kind of "liberation." Under the Soviets, possession of such objects could get you sent to Siberia. Because of my encounter, the story of an educated Russian woman, a scientist in fact, who saw her job as fulfilling made sense, especially when she is permitted to create her own fantasy rooms for the motel visitors' delight. Stalina does not judge her clients; indeed she is devoted to helping them find joy.
"Joy" is the chief characteristic of this book, even as Stalina relives past pain and suffering. Based on her experience working with Russian immigrants in Coney Island and her own traveling fellowship trip to St. Petersburg, Emily Rubin has created a novel that is not only touching and witty, but paints thoroughly vivid characters and settings, including the English language poetry of Stalina's father, an English professor who is sent to Siberia by treachery from jealous neighbors.
Clearly, Rubin is concerned with forgiveness and tolerance of moral ambiguity. Stalina refuses to disown her name even after she disowns her namesake. It's part of her character to be honest, optimistic and, ultimately, forgiving, even if she does attempt to punish the neighbors who betrayed her father by unleashing her dead mother's dark, obstreperous spirit on them by taking her ashes to their Coney Island home. The daughter of her treacherous neighbors, Nadia, turns out to have become a boss in the the Russian Mafiosia and it is she who buys the Liberty Motel and installs Stalina as proprietor. In this book, old friends become enemies and old enemies become friends—and all is forgiven.
People and places are sharply drawn and made wonderfully unique. It's hard to believe the author never saw Communist Russia with its gigantic artifacts of Stalin's cult of personality. Rubins' characters are sharply drawn and indiosyncratic. Stalina's mother is unforgettable and the sad, kindly proprietor of the motel deeply sympathetic. Even the minor characters come to life as individuals; these include, delightfully, a customs clerk, a cab driver, a fortune teller, a dog, three cats and a crow, not to mention the motel's clients. The novel is a delight of detail and description.
Bonnie Egan is a freelance editor and ghost-ghostwriter (deep cover) in Manhattan.
Tags: