"I begin to see burned in every verse / an alcove, a rest, a bloody lumbering foot / I have cracked the words filled with wine." Ben Mirov reviews Cedar Sigo's Stranger in Town, an accumulation of poems many of which seem held together by magic.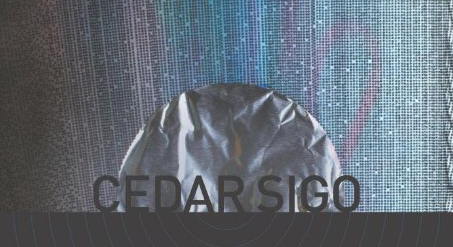 It's been roughly eight years since Ugly Duckling Presse released Cedar Sigo's Selected Writings in two editions. In that time, Sigo has worked methodically to create his second collection Stranger in Town (City Lights, 2010). The fourth installment of the City Lights Spotlights series, which focuses on publishing established and emerging writers with strong connections to the Bay Area's rich poetic tradition, Stranger in Town is an accumulation of poems many of which seem held together by magic.
The poems in Sigo's new collection reflect a variety of influences from the San Francisco Renaissance up through the various West Coast scenes of the '60s and '70s and into the present. Joanne Kyger's influence in particular can be seen in the shapeliness of Sigo's poems. Both Kyger and Sigo are experts at breaking their lines so that certain poems float down the page or seem to occupy it as clouds of ambient thought. Take for example the opening lines of "$$$EXPENSIVE MAGIC$$$" (Note: Isolating a section of a poem in Stranger in Town is like looking at a wing and ignoring the bird):
I stumble down around torn peaks
"Fit the right suit

to trick them all."

the questions fall

around allure (. . . . )
One of the most miraculous aspects of the poems in Stranger in Town is their juxtaposition of seemingly disparate elements into a seamless field of associations, utterances, opaque introspections and unattributed quotations. The result is a collage-like effect reminiscent of the practiced ambiguity of Jack Spicer's work. Like much of Spicer's poetry, Sigo's poems manage to defy our ability to isolate their meanings without sacrificing their allure and charm, as in these lines from "MORNING TRAIN":
I have a room for three nights It pays me no mind My lines are columns pulled up and straight sinking I begin to see burned in every verse an alcove, a rest, a bloody lumbering foot I have cracked the words filled with wine The song that skirts the ones rehearsing "part of the old divine threat" exquisite (. . . . )
Meaning is not a fixed point in individual poems in Stranger in Town but a calculus through which readers might assume a potentially infinite spectrum of possibilities. The previous lines may also remind one of Spicer's belief that the practice of poetry is akin to magic. Much like many of the poems in Stranger in Town, "MORNING TRAIN" applies a subtle parataxis that implies cohesion and unity of form as much as it does disparity and entropic fragmentation. Like many poems in the collection "MORNING TRAIN" seems dependent on forces beyond our comprehension for their coherence.
Another prominent influence throughout the collection is that of John Wieners, a poet whose wide acclaim was mostly muted during his life by mental illness, financial woes, and drug addiction. One can hardly read a Sigo poem without thinking of the emotional density and embodied yearning of Wieners' Hotel Wentley Poems (from "SPEEDWAY for John Wieners"):
(. . . .) I'm
sewing up the kinks in this film, I'm
Trying to! I'm trying to burn a light
Between, There's a light and I cable
my voice on it but it rips when I trace
Anything! WORKS ON PAPER, THE SHIP
OF DEATH "Oh build it!" Sings the
Heart (. . . .)
Despite the strong connections to these West Coast influences, Sigo's poems are their own. They blend effortless hipness with a roving intelligence attracted to urbanity, longing, glamour, isolation, romance, accident, and collision. The net result of the various aspects of Sigo's poems is a poetics of flux that exists in the past as much as present and the future, but belongs to none of the above. The poems seem at once contemporary and antiquated, totally alien and uncannily familiar, so that they operate with a realm of uncertainty where any movement the poem makes is charged with potential.
All the parts of a Sigo poem seem held within the glow of their being, creating a presence that is oxymoronically illuminating and obstructing to a reader's efforts to perceive it. Perhaps more importantly, Stranger in Town achieves this without sacrificing an encompassing intimacy that enfolds and enthralls. One finishes a poem feeling as though they have taken part in a singular event that can be returned and mined again and again without exhausting the kernel of mystery around which each poem swirls. If Sigo is the moon to our Earth, then Stranger in Town is the eclipse shadow that appears between the two: immaterial, tenuous and ghost-like, but as vivid and undeniable as the infinite dark it represents.
Stranger in Town is available now from City Lights Books.
Ben Mirov grew up in Northern California. He is the author of Ghost Machine (Caketrian, 2010) and the chapbooks I is to Vorticism (New Michigan Press, 2010), Collected Ghost (H_NGM_N, 2010), and Vortexts (SUPERMACHINE, 2011).
Tags: