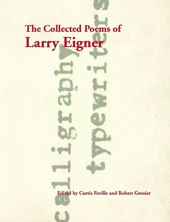 STANFORD UNIVERSITY PRESS, 2010
The Collected Poems of Larry Eigner is, for the poetry world at least, the publication event of the year—or decade, or indeed (as one enthusiastic blogger has written) maybe the millennium. Coedited by Curtis Faville and Robert Grenier from the archives of Eigner's typescripts at the University of Kansas and Stanford University, this beautifully produced four-volume edition gives us all of the more than 3,070 poems written by Eigner over a span of nearly 60 years. They are arranged chronologically, with a critical introduction and a preface to each of seven sections of poems, a detailed account of Eigner's life, facsimile pages of his typescripts, notes on many of the poems, and an essay on the history of the typewriter—as well as a remembrance of Eigner's early life by his brother Richard Eigner.
Eigner's great accomplishment as an American poet is his exploration of the landscape of a two-dimensional page, i.e., that visual "field" analogous to the physical space of the continent, what Charles Olson called "the central fact to man born in America, from Folsom cave to now." His "enactment" of that American landscape was limited by his physical condition. Born ("palsied from hard birth," as he put it) in 1927, he lived his entire life in a wheelchair, first in his parents' house at 23 Bates Road in Swampscott, Massachusetts, then (after his father's death in 1978) in a house at 2338 McGee Avenue in Berkeley, California, which his brother had purchased. It was here that Grenier, who had already begun to work with Eigner in Swampscott, making "fair copies of LE's poems for magazine & book publication," also moved as one of his "providers," and to continue with that literary work, producing in the next ten years "c 1600 pages of 'established text'," and bringing Eigner to many poetry events and poet gatherings in the Bay Area.
Using his right index finger and thumb to type each letter of every poem (he wrote on a 1940 Royal manual typewriter, an "inspired gift," his brother tells us, on his 13th birthday; "stone-cutting all the way," Olson wrote), the spatial and temporal "shape" of Eigner's poems (their arrangements of letters in words and space on the page; the time it takes the eye to read them, the ear to hear them read aloud) makes the world take shape, become present, "show" itself as itself, reveal what we see and hear and think and feel and know of its being ("here").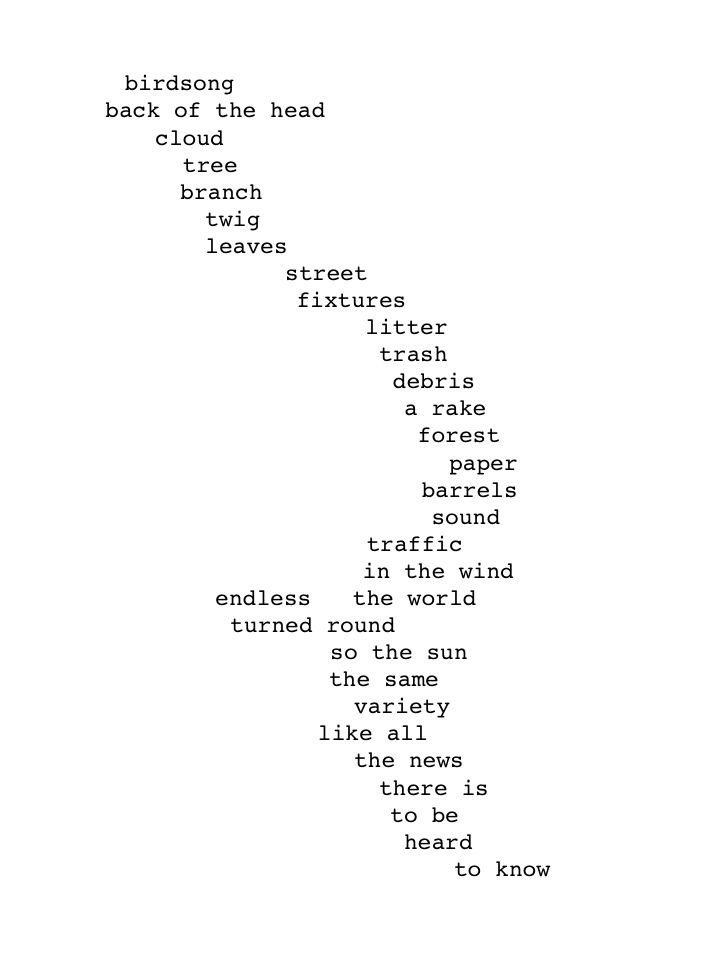 — Stephen Ratcliffe's Reading the Unseen: (Offstage) Hamlet was published this spring by Counterpath; Conversation is due out this fall from Plein Air Editions. He teaches at Mills College in Oakland, CA.
Tags: