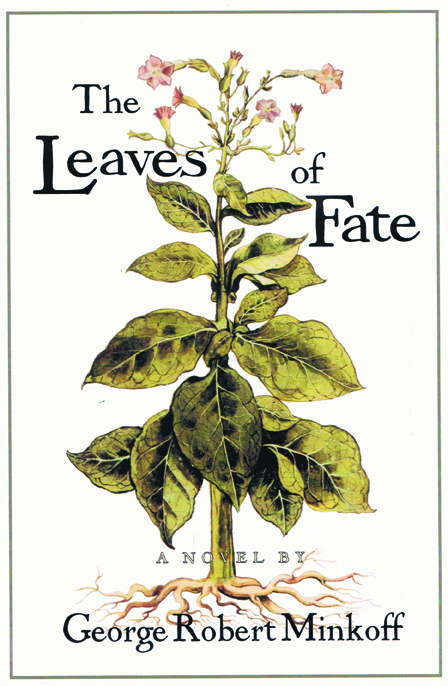 There is a curse upon the adventurers and mendicants, second sons of the aristocracy and would-be-sovereigns of their own destiny who sailed for the New World. The altruistic English settler Captain John Smith—a name forever coupled with that of Pocahontas—is the narrator of The Leaves of Fate, the last volume of an ambitious, lavishly researched trilogy, In the Land of Whispers. It begins in 1610 in the ill-fated settlement of Jamestown—starvation has claimed the lives of most settlers, a madman spits his tale of cannibalism to Smith, and a London emissary (the ostentatious governor Lord De La Warr who lent Delaware its name) is about to take charge of the affairs of "state." Chief Powhatan's daughter, Pocahontas, will be held for ransom—in exchange for eight English captives—but her entrapment is mirrored in the circumstances of many of the motley, vividly drawn characters that strut and crawl across this stage—from London to the virgin forests of the New World. The English councils and companies backing the settlements care little for their struggling colonists and too much for their own profit. Back in London, Smith writes: "I am exhausted in my enterprise. I sank in the bowels of a rotting London, its intestines strangled in twisted mud."
The crux of this enterprise, and its self-fulfilling curse, is made explicit many times over, but synopsized by none other than Sir Thomas Dale, deputy governor of Jamestown, after a murderous, vengeful attack on the Nansemond tribe "…to spread our dominion. Our borders are to overflow. Drake brought the world to our plate and our tongue is greased, its avarice upon our nation's lips." The Leaves of Fate is an epic tale and Minkoff has chosen to mimic the language of the time. If its cadence seems overwrought to the modern ear, its descriptive powers are worth the struggle. This is an admirable and captivating account of the rough and costly early years of our history, scrupulously retold by a master storyteller.
— Betsy Sussler is BOMB's editor-in-chief.