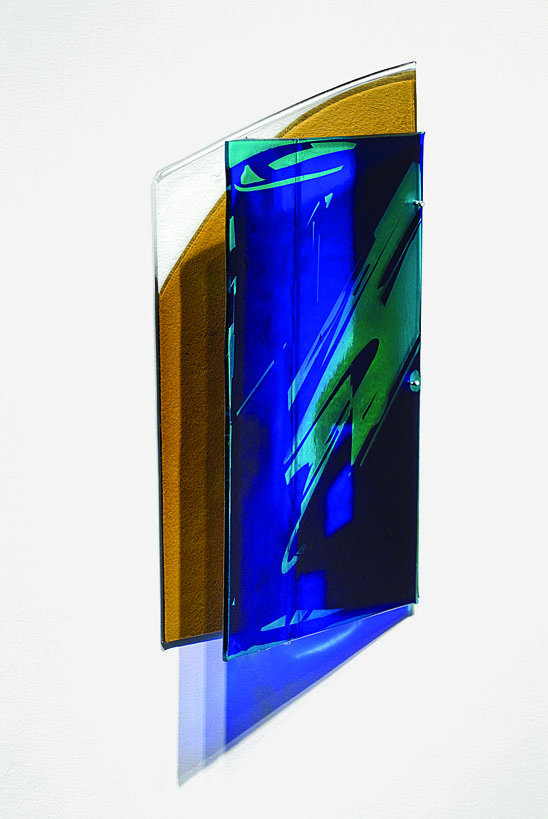 Olivia Booth, Study for Pavilion, 2010.
Olivia Booth's Pavilion Piece (2010) is exciting in itself, but is actually a model for a small pavilion that would measure 7 × 7 × 3 feet and have room inside for a musician. The pavilion would be made by wrenching apart a sheet of glass to make two sheets. Booth likes working with narrow spaces. In spring of 2011 the Schindler House in Los Angeles will exhibit a project of hers that uses the space that one can imagine as a continuation of the plane defined by the window panes, a sliver that runs through the whole exterior wall. She has submitted a proposal to Corning Glass in the hope that they'll help make a prototype of Pavilion Piece, which Booth imagines could be marketed as a kit to be assembled for or by those rich people who might want to have a musician in a glass casing in their gardens on this or that occasion.
Rebecca Norton's Of Age for the Squirrelnut of Hazel (2010)—the title refers to a letter Bréton wrote to his daughter—does not involve one in the kind of projection invited by Booth's piece, but instead seeks a relationship directly with the body of the viewer. Norton means the yellow passage toward the bottom of the painting, which one experiences as a cluster of movements as much as a shape, to be felt in (or by) the viewer's diaphragm. Generally speaking, that passage will be opposite the viewer's diaphragm, the effect being felt in the body's interior space, but equally as hard to locate as it is to say quite where the yellow is in the painting's space, on the surface or behind or indeterminately within it.
Booth has said that "transparency and clarity are not the same thing, they are in fact mutually exclusive." Norton says that in her paintings the white is in the white, i.e., whiteness as an intensity is contained by whiteness as a condition. Their works address the body directly by involving us in an involuntary relationship to interiority, in which it's inseparable from the exterior—surface, skin, or the space in front of either. Indeterminacy is important in both because their works undermine the distinction between inside and outside, and because they deal in and with sensation. Sensation is not about precise meaning, but might be about precise feeling. Both are friends of mine, and Norton and I are collaborators, and I like their work because they do sensation. Most artists nowadays just do semantics.


Rebecca Norton, Of Age for the Squirrelnut of Hazel, 2010.
— Jeremy Gilbert-Rolfe is a painter who writes about art and related topics. He's also a BOMB contributing editor.