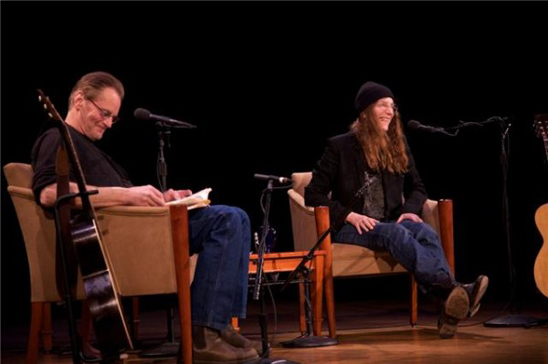 Sam Shepard and Patti Smith at the 92nd St. Y. © 2010 Nancy Crampton. All rights reserved.
"We're not prepared, but we never have been, and we're still here," Patti Smith announced as she and Sam Shepard sat down on the two armchairs on the stage of the 92nd Street Y last night, facing the sold-out crowd. They read, in a sort of call-and-response fashion, excerpts from their newest works peppered with some of Smith's poetry and a couple of pleasantly unrehearsed musical numbers at the end.
Patti Smith has lived out the fantasy of thousands of arty high school girls: she got the hell out of her small town, moved to New York, and became a rockstar. Just Kids chronicles her struggle to get there and her relationship with her lover, friend, and muse Robert Mapplethorpe. Smith is not an essayist, rather, her writerly talents lie in her poetry, so the memoir skates by on Smith's ever-present charm. Just Kids sentimentality can at times be cloying (mostly in the early sections about her childhood), but overall her candidness has the feel of Smith recounting these tales over a cup of coffee, saying something like "Let me tell you about the time Robert and I would gather leftover shellfish claws from plates at El Quixote to make jewelry from" or "Let me tell you about the time I met Sam Shepard with stolen raw steaks in my pockets." Smith paints herself as an innocent wallflower, very serious about her art, with a crush on Rimbaud—and it's this image of her timidly floating in and out of parties with the Factory crew at Max's Kansas City or salons at Charles Henri Ford's that keeps her memoir of the late '60s and early '70s from turning into the storm of shallow, name-dropping nostalgia that many similar tales of the same era devolve into. She lovingly describes being holed up with Robert in hovels around the city, writing poetry and drawing. It wasn't until well into her twenties that she picked up a guitar that Sam Shepard had bought for her and began performing as a musician, and the memoir only recounts up to the recording of Horses.
If Patti Smith's memoir is a love letter to New York, then Sam Shepard's relationship with the West is a little more complicated, as demonstrated by this desert-dusted collection of short, dense vignettes, monologues, and poems, most of them named after various highways or tiny, anonymous towns whose historical relevance has been long forgotten. "just do me a favor and get the fuck out of Butte," declares one poem. Shepard's West is uninhabitable, a land stolen from Native Americans and taken over by bandits and meth heads. These are his people. Run-down diners, mercilessly flat prairies, scorching sunlight, and general discomfort mingle with the occasional disembodied, talking head. Shepard sets contemporary culture references against Old West archetypes as Shania Twain digs a green stiletto into a dying man's chest in a Cracker Barrel men's room and a convict declares that "hope is for politicians." Day Out of Days (its title borrowed from the poetically named pay schedule for actors on a movie set) reads like a disjointed Cormac McCarthy novel with a little more humor and smut—this is Shepard at his darkest.
According to Just Kids, Smith and Shepard met when she went to see him play in The Holy Modal Rounders. He introduced himself to her as Slim Shadow and Smith, oblivious to his true identity, was attracted to this "handsome hillbilly" with a "cowboy mouth." Eventually—in one of the memoir's funnier moments—Jackie Curtis ("the Bette Davis of my generation," Smith interrupted her reading to inform the audience) spotted them at Max's Kansas City and asked Smith what she was doing with Sam Shepard. The two sparked up a romantic relationship and went on to collaborate on the play Cowboy Mouth. Forty years later, after immensely successful careers in their respective fields, the two luminaries giggled and made digs at each other between readings as if they were alone. They finally did what everyone was hoping for and picked up the guitars, performing an acapella 17th Century Sea Shanty about crossing Cape Horn, along with "You Are My Sunshine." As much as I appreciate Smith's visual art and poetry, listening to her sing live for the first time made me very thankful that she'd decided to go into music—voices like hers are just too hard to come by.
Just Kids (Ecco) and Day Out of Days (Knopf) are both out now.
Tags: