Lauren Elkin chronicles the rock and roll bird-watching and Hermes scarf-tying at the least muddy festival in Britain. Complete with drawings by Joanna Walsh, aka Badaude.
"What can you do with a drunken sailor
What can you do with a drunken sailor
What can you do with a drunken sailor
Earl-eye in the morning? "
They're singing sea shanties. I'm at a festival where the lineup includes Jarvis Cocker, Luella Bartley, and Diana Athill and here is a Cornish men's vocal group singing a capella sea shanties. The crowd— a mix of people my age, my parents' age, and children— lap it up. This is either the weirdest or most brilliantly eclectic festival out there. I have fallen down some kind of rabbit hole into an alternate British universe without irony or hipsters. I am so confused.
It's day two of the three-day long Port Eliot literary and music festival, held annually on the grounds of the estate of the Earl of St. Germans in Cornwall, England. I have taken two long train rides to be here: Gare du Nord to St Pancras (2.5 hours) and then Paddington to St. Germans (3.5 hours). I'm here because my good friend Joanna (better known as Badaude is the artist-in-residence this year, which means she has an exhibit up in the servants' quarters of the main house, and is expected to go around drawing what she sees at the festival. Joanna had an extra ticket so I'm her plus one. I think when she made the offer she was hoping I would help her pitch the tent, but as I couldn't get there until 11 pm Friday night (see aforementioned 6 hour train ride) she had, after consulting FHM magazine, elected to buy one of those pop-up tents. In any case, I assured her, I'm fairly certain my many talents do not extend to tent-pitching.
I don't know this for sure, though— this is my first time camping. In fact, this is also my first festival. I'd like to say it's because my mother was ever-so-slightly overprotective when I was a teenager, but the truth is, I just never had much interest in camping or festivals. When my high school boyfriend went up to Lollapallooza with his friends, I was relieved he didn't want me to come. When over the years my friends would go off to Burning Man or Glastonbury, I really didn't envy them the mud-dancing. But this year, for personal reasons I won't bore you with here, I've felt an impulse to break out of my old habits. Going camping seemed like a great way to shed the prejudices which had calcified around my understanding of who I was over the last fifteen years: sleeping in a tent and squelching through the mud would surely bring me back in touch with my less complicated, happier teenage self.
And besides, how often does a lifelong Anglophile get to camp out on the grounds of the 17th century estate of the Earl of St. Germans? Or poke around in his house when you've accidentally been let in and left to your own devices? So I packed baby wipes, make-up removing wipes, anti-bacterial lotion, multiple packs of tissues, bought a sleeping bag at the one Parisian store I was sure I'd never enter—Au Vieux Campeur— and hit the road.
Thing is, I wasn't quite sure what I was in for in terms of the festival itself. In addition to the readings and musical events, the press release informed me there would be a flower-arranging competition, "boutique camping" grounds (including deluxe teepees and yurts you and your friends can rent for 200 pounds a night), (fake) bird-making workshops and a "fully functioning bird hide." How a bird hide should function, I don't know. I didn't even know birds had hides.
Here's a random example from the press release:
Nature lovers and culture vultures will get a chance to hang out at the Caught by the River area where they can experience Chris Watson's Nature Disco, Cery Levy's Bird Effect programme, which promises to be the most rock and roll bird watching event of the year, and artist Matt Sewell's Bird Hide tent. Add a spot of wild swimming with Kate Rew in the estuary, Michael Howell's Port Eliot Flower Show in the Orangery, a Fashion Tent in the Walled Garden where you can transform into your alter ego, the House of Fairytales deep in the rhododendron garden, the mayhem and madness of the Boathouse and One Minute Disco and opportunities for laid back learning at the Idler's Academy of Philosophy, Husbandry and Merriment, and you have the ingredients for one of this summer's most unique and imaginative events.
Originally known as the Elephant Fayre, and host, in the '80s, to groups like The Cure and Siouxie and the Banshees, Port Eliot was relaunched in 2003 by Lord and Lady St. Germans, Rick Worthy, and Simon Prosser, editorial director of Hamish Hamilton. As the story goes, "This passionate and creative team believed there was room for a new kind of literary event, with the craic of a music festival." From what I can gather, it sounds like Woodstock meets the New Yorker festival meets Sesame Street, with the ghosts of Vita Sackville-West and Samuel Johnson looking on. After a few days on the grounds, I realize my inkling was correct— but that I hadn't accounted for the amount of— for lack of a better term—_pixie dust_ the festival seems to have scattered over it. Everything seems coated not with a veneer of irony, but with the kind of English magic that makes secret gardens bloom and children fly off to Neverland. This is not accidental— everyone seems hard at work to promote this English feeling of comfort and inspiration. Before I arrived, I worried I would find the vibe distinctly fey. But by day two— let's just say you haven't lived until you've seen an English field full of teepees at twilight.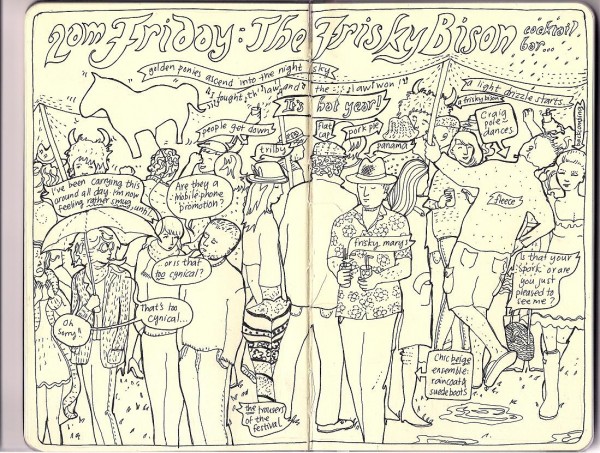 The party at the Frisky Bison. Drawing by Baudaude. Click to enlarge.
When I arrive Friday night we head through a vine-covered walled garden, the kind you see in episodes of The Tudors, through a path in the forest (the next day, when it rains, this will become a mud path), down the sloping green hills, towards the music venue called "Caught By the River." For the most part the music is the kind of thing my parents stop to listen to when flicking through the radio stations because it reminds them of their adolescent years. The kind of music they play at the "Enchantment Under the Sea" dance in Back to the Future, before Marty McFly gets jiggy with "Johnny Be Good." You know. With lyrics like she-bop she-bop. "Are you dancing?" people ask us, by way of invitation. "Not if this is the music," I mutter.
The bar, set up in a yurt, is inexplicably placed at the level of a giant's chest; anyone under 6'2" who wants to order drinks has to stand on thoughtfully-placed bales of hay. Cider in hand, we run into Craig Taylor, editor of the British literary magazine Five Dials, and our friends from Hamish Hamilton— Simon Prosser and Anna Kelly, editorial assistant extraordinaire. Everyone is in high spirits— it hasn't rained yet and the festival is just getting underway. We go for a nature walk in the dark near the river and finish the night dancing to the Bobby Fuller Four in a cocktail bar (ok, tent) named the Frisky Bison.
I make it through my first night in a tent just fine, but sleep is elusive. I spend the next day in a happy haze, as if I were drunk, or extremely jet-lagged; attending a reading or a talk or taking notes or doing anything that involves thinking seems absolutely out of the question. Joanna and I pop in to see the awards for the flower-arranging competition. Apparently the Port Eliot Flower show departs from "the usual etiquette of flower shows." I'm not sure what that etiquette is, so I'm not sure how this one is different. I guess in terms of the categories. And the fact that the presenter is Turner Prize-winning artist Grayson Perry, who is decked out in a green floral mini-dress, his cheeks rouged and his hair in blond pigtails. Both adults and children have participated in the competition, and each was given a theme. For the littlest kids it was "an arrangement in a thimble for a tea party of mice." (Lest we forget we are in the land of tea parties.) The next age-group up has filled that icon of festival footwear, the Wellington Boot, with all sorts of flowers and weeds. Simon Prosser himself has submitted an entry in the category "In the Library: An arrangement of flowers depicting a great novel," and has won honorable mention for his floral representation of The Tin Drum. The most clever category seems to be "How Green is my Valet?" which the placards define as "an arrangement of foliage for a footman's stag night." Joanna sketches furiously.
Afterward, we have lunch (vegan falafel) and walk down to the Idler Academy of Philosophy, Husbandry and Merriment. History class has just ended and Politics has not yet begun. From their shop, I buy a gift for my sister: a dishtowel with a chart of Latin conjugations on it. (She majored in Classics.) As we leave, we pass a man doing woodwork and a lump of clay with a sign next to it reading "Sculpt, please!" Nearby, two women in hippie skirts sit on the ground doing just that. A guy walks by with a marionette. It's all too much. There are too many magical soul-cleansing things to do. Almost simultaneously, as if tapped by the wand of our respective fairy godmothers, we sink down to the ground and sleep for awhile.
We are awakened by Joanna's friend, the playwright Ben Moor, who when not teaching a drama class at the Idler Academy is leading games of Frisbee Golf ("You throw the Frisbee and then play it as it lays") and distributing green-and-white buttons to promote his play, Coelacanth. They read "I still have plenty of trees to climb." I stick one in the button hole of my trench coat and flop back to the ground. But the magic spell has been broken— I can no longer sleep out in the open. I crawl back to my tent and pass out for an hour.
On Saturday night we follow up a sad loss at the literary pub quiz ("2009 Nobel prize winner in literature…. What is her name! The Romanian chick who writes in German! Something with an A… oh bollocks!") with intense dancing to Bhangra music. We go to see Jakob Dylan play in the big marquee— the Brits are intrigued and want to know if he sounds like his dad (does no one remember the Wallflowers' 1998 hit "One Headlight"?). He does. Curiosity satisfied, we move on.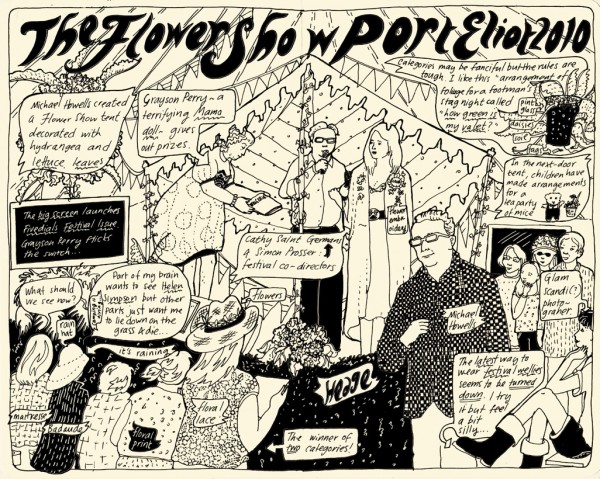 The flower show. Drawing by Baudaude. Click to enlarge.
Come Sunday morning, everyone goes to Tom Hodgkinson's sermon at the School of Life. This is just too much for me, too reminiscent of forced childhood Sunday morning church excursions with my cousins upstate. I opt to hang out and read in the production tent. So far I have been to exactly one literary event, not counting the pub quiz: Hari Kunzru's talk on the American desert the day before.
I do make it to an event in the main house, which is normally off-limits to festival attendees. Sitting cross-legged on a low dais, Geoff Dyer reads from Jeff in Venice, Death in Varanasi while Talvin Singh played the Tabla and the documentary on Benares by Robert Gardner, Making Forest of Bliss, is projected onto a screen behind them. We watch in the Earl's front room. We are kindly requested to remove our shoes. Only 60 of us are allowed in. A few more discreetly climb in through the window. Joanna and I stay for about 20 minutes, mesmerized by the drumming and the images of sacred rituals in the Ganges, but then we have somewhere else to be: we have been asked to perform one of Craig Taylor's hilarious micro-dramas "One Million Tiny Plays About Britain" (which are all the more remarkable in their verisimilitude for the fact that Craig is Canadian). Our scene takes place at a job interview: Joanna will play an interviewee, I the interviewer. She tells me her biggest weakness as an employee is that she "got off with a guy in the mailroom once." Hilarity ensues. I'm the only actor with an American accent, but since my character is humorless and uptight, everyone agrees it's an appropriate casting decision. The plays go over pretty well— the tent is packed, and people seem to be laughing. Not as hard as we laughed during our rehearsal, but still. There is laughter.
One of the mini-plays the actors perform includes an illuminating scene about festival sex.
Terry: So you're saying you're not into getting to know each other in a festival sort of way?
Amy: No. Are you?
Terry: Of course not. No. It's just such a tradition, is all.
Amy: With you?
Terry: No, like historically. Festivals. Free love. Take a pill, see what happens. See what happens in the tent.
Amy: I just want it to be about the music.
Terry: That's exactly what I want, too. And maybe pills.
But learning about festival behavior at this festival, I realize, is a bit like learning to barbecue at the Cordon Bleu. It's the same activity and yet— so different. Here, there are showers and relatively upscale bathroom facilities. There's a wide assortment of organic food. However, it's the Hermès store that really puts this festival over the top. It is housed in an orange horse box festooned with gold horse-shaped balloons that looked as if they would gallop off if they weren't tied down with Hermès ribbons. Several times we go to sit in on one of their scarf-tying workshops (I attempt to stifle my acquired Parisian snobbery), but every time we show up, we are turned away— they are about to close, or it is lunchtime, or the horses are restless. It feels reassuringly familiar, a bit of French insouciance in the foreign English countryside.
One of the strange things about the festival, I am beginning to think, is the mixture of what I hesitate to call the highbrow and the lowbrow. I might be standing on line to get into Hermès, but my cardigan is streaked with mud, and so is everyone else's. When I put it on, I have a moment where I think— shit! my only sweater is covered with mud! And then I think— so it has mud on it. Big deal. I'm at a Festival. Mud is part of the deal. This is a hugely liberating moment for me. And then I go off to join Joanna for a lobster lunch.
Lobster! Not lobster salad. A full-on lobster tail, served on a plate with a lemon and fries. Accompanied by a glass of prosecco from the wine stand next to the seafood stand. "Unless you'd rather have oysters?" Joanna asks. I don't eat oysters. They make me feel like I'm drowning. I elect to skip the lobster in favor of curry. We have terrible curry in Paris. This curry is— as the British say— lovely. I want to swim in this curry.
I certainly won't be joining the Outdoor Swimming Society for their annual "Wild Swimming" event. Craig says he waded in on Friday and came out with mud up to his knees, as if he were wearing leg warmers. Mud on my cardigan I can accept. Mud on my body— well. Let's just say the lines for the showers are really long and I'm doing just fine so far with my baby wipes. My list of things I'm missing at this festival is growing longer by the hour— word is there's a van driving around sponsoring one-minute bursts of disco, but I haven't seen them; somehow I miss Grayson Perry's talk, the hat competition with milliner Stephen Jones, Justine Picardie's talk on her new biography of Coco Chanel, and gosh, how did I miss Margaret Drabble and Louis de Bernières?
I don't get to see Diana Athill being interviewed by Ian Jack, although I do catch her reading in the Persephone tent on Sunday afternoon. Persephone has arranged their tent as if it were Vanessa Bell's Bloomsbury sitting room— it's all William Morris wallpaper and Omega print fabrics, echoing the ones that line their books. Diana Athill sits in a worn armchair as guests file in, and then stands to read from her forthcoming short story collection— a wonderful story about a young girl's first dance that reminds me of Rosamund Lehmann's Invitation to the Waltz. Afterward,there is cake and coffee is served in porcelain cups and saucers, and the audience members begin to discuss the merits and drawbacks of the short story as a genre with such ease and intimacy that it is as if they are participating in their local book club.
That evening, the last night, I go for curry again, and those of us who are left drink beers and take a few last pictures. From nearby, Jarvis Cocker spins "Black Betty." Somewhere else, a soprano sings Caccini's "Ave Maria." The moon is full above the St. Germans field as we soak up the very last moments of what everyone agrees was a vintage year for Port Eliot. By the time I get off my train at the Gare du Nord Monday evening, I can hardly believe it happened. Did I really camp? Did I really sleep in a tent and wash with baby wipes and listen to Cornish men sing sea shanties? The only proof is my bag full of muddy clothes.
Lauren Elkin is a Paris-based writer and journalist. She blogs about books and French culture at Maîtresse (http://www.laurenelkin.com/).