What do poultry and poetry have to do with each other? Matthew Rohrer attempts to answer this question in his latest book of poems, A Plate of Chicken (Ugly Duckling Presse, May 2009).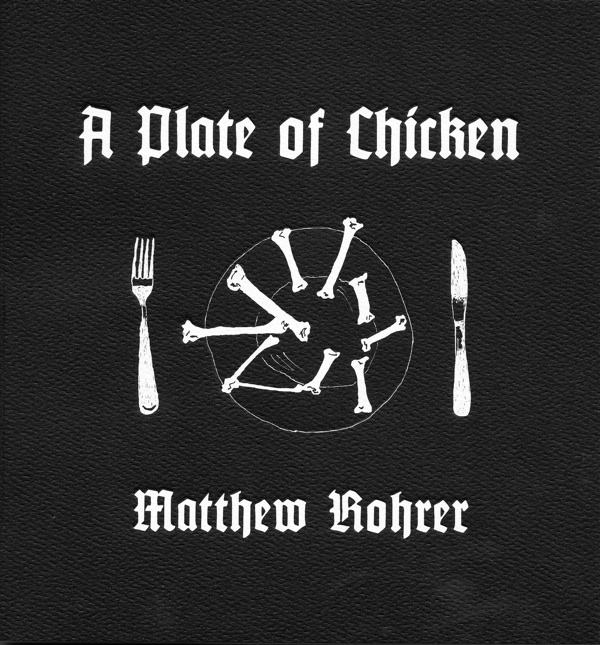 Courtesy Ugly Duckling Presse.
Each entry of the 55 part series contains seven lines, the first and last of which conclude with the same word. The book also features flipbook-style illustrations by Paul Killebrew that depicts the slow disappearance of a plate of chicken. Rohrer juxtaposes magical lines like, "The suneater lies with his belly to the sun," with familiar scenes from everyday life like, "I cleaned my house in silence." Rohrer plays the common philosopher with lines like, "The cat is an improper receptacle for our dreams," and "The gate to hell is through the loop of a necktie."
Susie DeFord How did you come up with the design concept for A Plate of Chicken? And how does this concept unite the poems within?
Matthew Rohrer Actually I didn't have anything to do with it. For some reason people always want to use this gothic, 3rd-Reich-y font on my books now (Jeff Clark did that on the back of the beautifully-done Rise Up too). Probably just the German last name. Will Hubbard did the cover design and layout and all of that, and got Paul Killebrew (who did the art for Nice Hat. Thanks. and the audio CD Adventures While Preaching the Gospel of Beauty) to do the actual pictures. It was Will's or maybe Matvei Yankelevich's idea to have the book be a flip book, with the poems on the right hand pages and images of a plate of chicken being eaten down to the bones on the left pages. So I can't really speak to how the design unites with the poems since it's Will's design, but I can say that in general the title (and hence all the chicken-related imagery that follows it) is an attempt to embody my feeling while writing the book that poetry lies within the mundane and everyday. The poems are all very much about plain things–taking the subway, waiting to be called for a temp job, etc. I don't think there's actually any chicken in the book. But the phrase "a plate of chicken" seemed to be right for a book about important but quotidian things.
SD What prompted you to write a whole book in the form of seven line poems, the first and last of which conclude with the same word?
MR I had to do something. I mean, I knew I wanted to write a series of poems where the lines were all complete unto themselves, with no enjambment. And I'd been reading a lot of Han Shan and waka and other Asian forms and was so jealous about how beautiful a poem gets to look in Chinese–if every line uses the same number of characters, for instance, you have a regular little box of language that looks good too in a way that is very hard to pull off in English without calling a lot of attention to itself (like a calligramme). So I wanted those seemingly free-floating lines from Han Shan, and I just like the number 7. And I thought it would be an interesting challenge (and kind of a very easy one too) to have the first and last lines end with the same words. It seems really obvious but the funny thing is how few people pick up on it. It's not overwhelming.
SD You mention meditation and the Taoist concept of Wu Wei in the book. Do you consider writing poems a form of meditation?
MR That's a really hard question to answer because I think as soon as I say yes or no, I (and anyone else reading this) will find a way to object. But yes. Especially these poems. But in general I guess I'll go out on a limb here and say that, for me, writing poems engages me in a mental process that is probably very close to meditation. However, as soon as I find myself writing about ideas or trying to write what amounts to a shorthand for an idea reached through some kind of meditation or contemplation, I stop writing that poem.
SD Your book is dedicated to Joshua Beckman. You two have collaborated a lot and are clearly good friends. Do you have a favorite story about your friendship or collaboration process?
MR I dedicated A Plate of Chicken to him because I wrote it entirely while he and I were working on the poems that became Nice Hat. Thanks. I have all sorts of stories about our collaborating, but I feel like I've repeated them all so many times. And really, the most important thing that I got out of it (and I think this is something we both agree on) is the realization that writing begets writing. I mean, he and I would get together several days a week and write literally hundreds of poems a week (they were short). Hundreds of poems. And then on the train home you'd think I'd just be drained and sitting there with my tongue hanging out but instead I found myself incredibly charged, and I would write 1 or 2 of these poems in the new book before I even got home. And I'd call him and he'd say he'd done the same thing on the ferry back to Staten Island. So that was eye-opening to me, and it's something I've tried to access from then on. It's something I try to pass on to my students too–if they're stuck, I'll give them the assignment of writing 100 poems in 3 weeks or something. After the initial difficulty, you find that being in the process of writing means, you know, you're writing. Writing a lot. So that's one of the great things about our collaborations. But the really great thing was just how fun it was, and how great it was to work with him. That's really why I dedicated the book to him.
SD What are you currently working on?
MR I have a manuscript ready for a new book tentatively called Army of Giants. I know the world probably doesn't need any more Matthew Rohrer poems any time soon, but nevertheless, I've got them. I've got lots of them. I weeded through over 550 pages of poems from the past 2 years to get it down to the size of a regular book. Right now, since my editor Matthew Zapruder still has it, I haven't really begun anything new. I like to have a book all taken care of, or in the can, or whatever they say about books, before I move on to a new project. I was half-thinking about trying to write something like John Clare's Shepherd's Almanac—rhyming couplets about the simple life. But not shepherds of course. And not rhyming couplets.
Matthew Rohrer is the author of A Hummock in the Malookas (which won the 1994 National Poetry Series Open Competition), Satellite, A Green Light (short listed for the 2005 Griffin International Poetry Prize), and Rise Up. With Joshua Beckman he wrote Nice Hat. Thanks. and recorded the audio CD Adventures While Preaching the Gospel of Beauty. He's appeared on NPR's All Things Considered and The Next Big Thing, has been awarded the Avery Hopwood Prize for poetry and a Pushcart Prize, and has been widely anthologized. A chapbook-length action/adventure poem They All Seemed Asleep was recently published by Octopus Books. He teaches in the creative writing program at NYU and lives in Brooklyn.
Tags: