Joan Waltemath's paintings are not to be seen, but experienced. Their architectural nature speaks to the body and its 1:1 connection to surface. In this Post-Impressions, Mary Jones speaks to the artist, writer, and educator about the importance of touch and language on perception.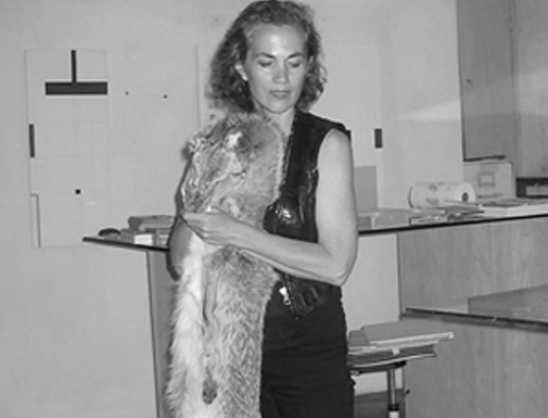 Joan Waltemath in her studio, 2010. Photo by Mary Jones.
Painter Joan Waltemath is the director of the Hoffberger School of Painting, at MICA in Baltimore, Maryland. For the previous 15 years, Waltemath taught at the I.S. Chanin School of Architecture at Cooper Union in New York and in the Visual Arts department at Princeton University. She also serves as an editor-at-large for The Brooklyn Rail. Waltemath graduated from RISD in 1976. Knowing she wanted to teach, she got an MFA from Hunter in 1993.
I visited the artist in her live/work studio in NYC where she has resided since 1976. Her aesthetic is evident not just in her paintings which are hanging on the walls, but in everything around us, the cabinets, tables, lamps, even the floor. Everything bears her mark and has been made, painted, designed, or transformed by the artist.
MaryJones There's so much touch in your work. It's one of the most striking aspects of seeing your work for the first time. The surfaces feel so fragile and sensual; it seems paradoxical that you use a knife, a construction knife. Your paintings are warm, really cared for, and done with incredible sensitivity.
Joan Waltemath In a way, I feel that's how we all want to be handled. It has to do with my interest in the haptic sense—the sense of touch and how you perceive, on an energetic level, through the movement of the body—what you understand through your skin, through your peripheral vision. Because of the way our eyes and minds have evolved, the possibility for what we understand from all those different angles of vision is specific. What we can reach through the apprehension of the softness or the hardness, the pristine-ness or the carefulness is also what sends us somewhere else, through our memories, on that journey that art can take us on. By entering into the haptic world, possibilities open up that just don't occur with the images we perceive solely though our eyes.
MJ Is there a spiritual dimension?
JW I think of paintings as something that you live with, that the real challenge is having a painting hanging in the room with you for five years that you can still actually see. So that it wouldn't become something that is in your memory, that you no longer observe or would even notice if someone took it away.
I was reading Swann's Way when I was in my 20's, which was one of the last novels I read. In the Louvre, Marcel has this realization that painting should never reveal itself to you entirely in the first glance. I closed the book and thought "Now I know what I want to do." I started trying to figure out how to do that. It was such a fascinating idea to me; we assume that when we look at something we see the whole thing. But, actually when you have a planar surface whose form you can't see entirely in one glance, it becomes paradoxical and mysterious. I began to study structures and tried to understand how to construct a path for your eye to enter and move around. So as I'm building up my paintings, I'm thinking about where you go and what happens next until the whole journey becomes enfolded into the structure of the painting. If I get it, that journey will unfold for you when you open up to the possibility of taking it.
MJ Is an architectural framework important for you?
JW I can speak to the architectural in so far as this: After teaching in Architectonics for a number years at Cooper Union, I came to realize how the body is the subject of architecture. Even in my early paintings, I understood then how the body was the subject, and I was exploring the implications of its position in relation to the plane and not as a representation painted on it. Through an architectural discourse, I was able to bring into focus how my paintings speak to the whole body. Once the knife is loaded and I'm pulling paint across a big area, my whole body is involved in that motion and it's sort of acrobatic. You need a similar awareness to perceive it.
MJ Has Feminist theory about the body influenced you?
JW I appreciate the importance of Feminist theory much more now than I did in the '70s. There are issues around the body that are so volatile and determinant of one's personal trajectory in life. However, I'm not considering the body in a social context, but in a phenomenological one, so it's not necessarily a gendered body, but rather the human condition that frames my work.
MJ How does the viewer experience your references to the body?
JW Okay, here we are; we're present. What does that mean? You see things from your peripheral vision as you approach a painting. How does the surface shift and change as you move around it? I'm working with pigments to make my own paint so all the surfaces have a different degree of reflectivity. The spatial coordinates in the paintings shift as you move around them. Each of them does that in a different way, and of course some are more successful than others. Some of them just fall into place and with others I really have to struggle to articulate that movement. I'm interested in the way it creates a subject/object relationship, how it binds you to the object and tells you that your own presence is essential to what you're seeing. It only exists in the moment when you're seeing it. Its appearance is relative to the moment, what the light is like, what time of day it is, all of these subtle factors. At another time, it will be different—there's no absolute condition.
The series I'm making now is loosely based on the torso proportions that I've extracted from an underlying mathematical grid I've worked with since the '80s. They acknowledge the experience of being in front of an object, not looking at an image, and what that relationship means. This profound but often overlooked difference in perception is one of my most important subjects in painting.

Joan Waltemath, A LARGER VIEW (detail), 2008–10, oil, fluorescent, graphite, pewter, interference, and phosphorescent pigment on honeycomb aluminum panel, 39 1/4 × 16 1/4".
MJ You're originally from Nebraska and were just saying your family has been in the building business. You built everything in this loft. The cabinets, the tables all reflect the dimensions of your paintings.
JW It's turned out to be an important influence. When you're younger, the kind of thinking and understanding that you grow up with is a second nature. You look for something that's different, that's outside of yourself, something that you don't know. So it was very natural for me to come to NYC in the '70s and get a loft and just start building. I never thought about it. I remember in the beginning I wore high heels all the time. I built most of my loft in four-inch heels with a jigsaw and a hand saw, which was all I had. The first things were pretty funky. Then the more I built, the more I learned about my own limitations in terms of visualizing the third dimension. I mean when you're a painter, you're very invested in the plane, so it's challenging.
MJ When did you start writing?
JW I started writing in Robert Morris's class at Hunter. He had us write a paragraph a week. I had never written, I went through RISD and only wrote one paper! I never really trusted words; I became a painter. But when I was in Robert Morris's class he convinced me that there is an important transference that happens in taking your visual thoughts and translating them into a spoken and written language. His conviction was so strong that I gave myself over to it and started to write.
MJ How did writing become a part of your practice as an artist?
JW When I met Phong Bui, I was looking for a venue; so that when he invited me to work with the Rail in 2000, I did. It was a fledging venture then, put out when the money and the writing came together. I started doing interviews with critics, and then would write reviews if I felt I had something to contribute. One of the first artists I wrote about was Agnes Martin. It was a way to acknowledge my relationship to her as a painter whose work I'd deeply internalized.
MJ Writing about abstract painting can be difficult because it throws you back on yourself. It can be uncomfortable writing about what it makes you feel or think, as opposed to an intentional narrative or something concrete. Does being a painter open this up for you?
JW As a painter, you have an incredible advantage over any writer who's a poet or theoretician or even a musician because you know what it means to paint and you can understand the nature of the painting problems that are occurring. You know when things that look easy are in fact hard won. I usually write about work when I can see something in it that other people aren't seeing, when I can articulate what's not open or accessible to others in the same way.
MJ You've also addressed the issue of developing a critical language for painting.
JW Yes. Even though we've all accepted that the Modernist notion of the progression of styles is over, and has been over for a long time, we still haven't really developed adequate criteria to reflect this awareness. I am compelled to write about work that allows me to reflect a particular problem in my own work. So the argument I develop is that painting is a language, and you can read what it is saying. When I write I just let myself go and interpret what I'm hearing, what I'm seeing, and how it becomes thought for me as I look. I usually write in the presence of the work.
MJ Like many working artists today, you have a complex, faceted practice. You're a painter, but also a critic and an educator—very demanding pursuits. Can you comment on what this is like for you?
JW Everything counts. Everything you do counts.