Still in debt from all those degrees? Aftersputnik wants to help you out!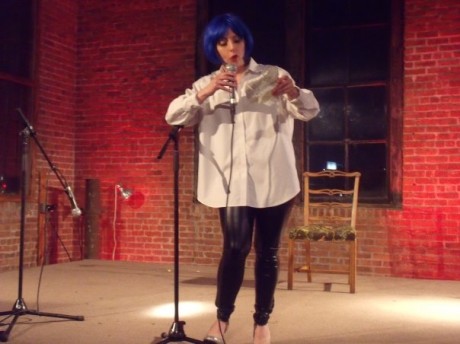 Burlesque performer Howling Vic hosted Aftersputnik's Speakeasy reading.
Europe and the United States declared 1957 the International Geophysical Year (IGY) in hopes of stimulating innovation in Earth and Space sciences. That year the USSR stupefied the world by launching the Sputnik Satellite. Perturbed by their enemy and chief competitor, the US realized the importance of public education and launched the National Defense Education Act allowing every American the right to advanced schooling. The US guaranteed institutions of the higher education with 90 percent of capital funds for low-interest loans eventually paving the way for federal Perkins loans, Stafford loans, and private loans. Today more than $6.2 billion of those loans are in default, according to the Federal Family Education Loan Program.
As anyone in their thirties or older who may have gotten a tattoo, joined the military, bought a pack of cigarettes, gotten a credit card, or gone to college and declared a major at the age of 18 knows that some of the uninformed decisions, financial or otherwise, about the rest of your life made at 18 can lead to heartache and regret, i.e. debt later on.
One such debtor, Darla Horn, mired in $80,000 dollars of debt after her undergraduate education, decided to do something about it. With the help of production manager Jody Mousseau, Horn started Aftersputnik, an organization aimed at addressing the psychological and financial repercussions of borrowers—wistful, determined, aspiring, and sometimes naïve—as well as the impact debt can have on society as a whole. Aftersputnik hopes to give support and come up with creative solutions to debt, which is much needed in this current economic climate that seems to be the result of debt catching up to all Americans.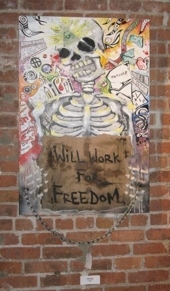 Starving Artist, Delia Stanley
Aftersputnik's first initiative is their Debt Collective, which is based on the power that lies in individuals with the same problem uniting and pooling their resources to work for a common solution. Membership allows access to their information platform featuring articles, message boards, financial planners, as well as a lottery with a chance to win up to $50,000 to repay student loans.
Another recent initiative was Aftersputnik's Art Project held April 10–12, 2009. It was a three-day celebration of art, debt relief, and enlightenment at the Metropolitan Building in Long Island City, Queens. Aftersputnik asked artists "If your student loan debt was an image, what would it be?" Artist's responded with witty pieces like Matthew Gauvin's "Graduate Pinball" in which the artist shows himself trapped in a giant debtor's pinball game and Delia Stanley's "Starving Artist" which depicts a skeleton in chains holding a sign that reads "Will Work For Freedom." In addition to the art on Friday evening there was music from the talented Allison Miller and Garrison Starr and DJs Rontronik and The Gunseller.
On Saturday evening there was a Speakeasy, a reading where writers addressed their experiences with student loan debt through poetry and essay. The exquisite burlesque performer, Howling Vic, channeled Liza Minnelli to host the Speakeasy adding much needed comedic relief and candy giveaways between each reader's serious pieces about debt. Gabrielle Prisco, a writer and child advocate lawyer, recounted a tale from her work in which she tried to get college application fees for her 17-year-old client in foster care covered by the state. Her argument was that it cost six figures to lock up an inmate but only a few hundred dollars to help her client apply to college, to which the state responded that application fees were a "different budget."
I was asked to read at the Speakeasy. I showed my own MFA diploma from a reputable New York City graduate program. That $37,000 diploma looks cheap—like it could've been printed on my home printer—ironic for a school that is famous for its various design programs. The college's career services and alumni services turned out to be a joke, and I wound up starting my own business, unrelated to my education, to pay the bills. Trying to inject humor into my own debt situation, I read an essay about various offbeat ways to pay off student loans like women selling their eggs to reproductive agencies or selling organs on the black market. The essay began with the following question many college graduates are asking:
"Education is truly gambling with your future. You hope that if you put enough money down on the table and get enough education you'll be in a better position down the road. But what happens when you can't find a job after you graduate, your Alma Mater doesn't think you matter, and you're stuck with these loans?"
Aftersputnik is trying to answer this question.
Tags: