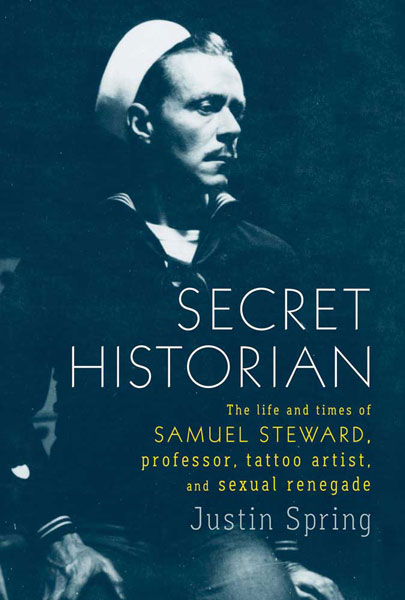 For years, I've treasured the intelligent, ribald, masculine novels of Phil Andros: Roman Conquests; Greek Ways; and My Brother, My Self. You have to love a pornographer whose range of obsessions runs from rough trade to Keats and then always right back to rough trade. Despite their erudition, his novels are always thoroughly hot and fun. I always wondered, Who is this guy? Thankfully, Justin Spring has finally uncovered the full story in Secret Historian: The Life and Times of Samuel Steward, Professor, Tattoo Artist, and Sexual Renegade. Little did I know that Phil Andros the pornographer was also Phil Sparrow the tattooist, who was also Samuel M. Steward, a novelist and professor whose confidants included Gertrude Stein and Alice B. Toklas, Thornton Wilder, Alfred Kinsey, and George Platt Lynes. Spring was able to compose a comprehensive biography of this complex, elusive figure thanks to the enormous archive that Steward left upon his death, which preserved extensive documentation of his prodigious intellectual and sexual life. Steward was an obsessive recorder of his erotic exploits, which lead to his role as a major informant for Kinsey's pioneering studies of human sexuality. This obsession left a treasure trove of diaries, photographs, and a complete "Stud File" that fed Spring's biography. I don't think I have ever read a memoir where the archive's presence was so palpable; it's almost a living character in the book. Spring smartly frames the problem of his biography in his opening sentence: "Samuel M. Steward—a poet, novelist, and university professor who left higher education to become a sex-researcher, skid-row tattoo artist, and pornographer—may seem at first an odd candidate for a biography, for he is practically unknown and nearly all his writing is out of print." But through Steward's queer, willful story, Spring has uncovered a major current in the felt experience of gay life in the 20th century. This secret history, written intimately from below, is an exemplar of biography's power to comprehend societal forces through individual lives.
—Jason Baumann is a poet, librarian, and coordinator of LGBT collections for the New York Public Library.
Secret Historian: The Life and Times of Samuel Steward, Professor, Tattoo Artist, and Sexual Renegade by Justin Spring is out from Farrar, Straus and Giroux.