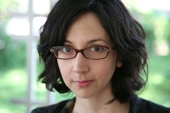 Danielle Dutton © Katrin Lepler.
BOMB's Fiction for Driving Across America Series
SPRAWL by Danielle Dutton
Read by Danielle Dutton
Recorded in the home studio of Hand-Made Records
Running Time: 14:54
Listen to the podcast here:
In the eighth installment in BOMB's Fiction for Driving Across America series, Dannielle Dutton reads an excerpt from her novel S P R A W L, published by Siglio Press, which appeared in the Summer Issue #112 of BOMB's literary supplement, First Proof.
For copyright reasons, the text version of this excerpt is available in print only. To buy this issue, select the "BUY THIS ISSUE" link below. For the current issue, please use the "SUBSCRIBE NOW" link below.
Click here to subscribe to our feed and download this podcast.
If the podcast doesn't appear above, try browsing with Safari or Firefox. Google Chrome users may experience some difficulties.