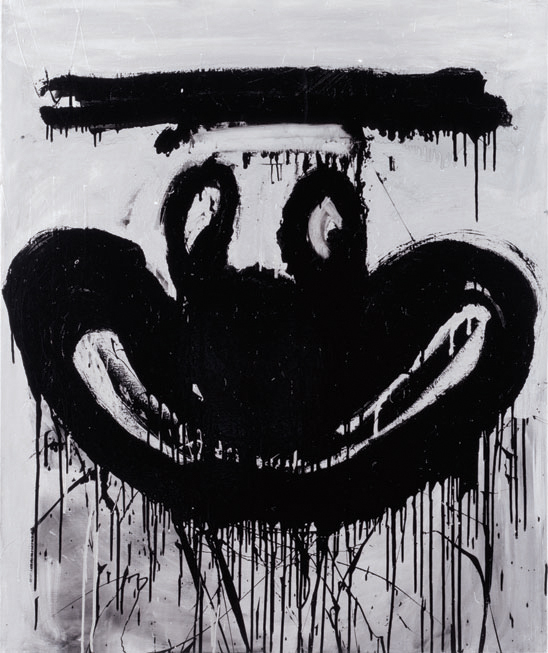 Blinkey's Cousin, 2007, enamel on linen, 48 × 48 inches. Courtesy of the artist and Friedrich Petzel Gallery, New York.
Joyce Pensato starts with the most iconic cartoon figures—Mickey, Minnie, Daffy, Krazy, Stan, and Homer—but her representations of them couldn't be further from their usual plastic media. Her figures are not so much "animated" as—to steal a term from John Ashbery's poem "Daffy Duck in Hollywood"—déconfit. Duck confit is a delicious dish made from duck leg, but what, exactly, is duck déconfit? Perhaps it's something like Pensato's paintings—animal and "human" personages anthropomorphized into the barest semblances of themselves, erased (to use Pensato's own language), and re-represented, brutally, in the grammar of "high" art, with the painterly strokes and complex surfaces of abstract expressionism. Thus worlds collide: cartoon is wrenched into the realm of de Kooning, Pollock, Mitchell, Guston.
Pensato's paintings are not kitschy, mocking, or snarky. They escape all that. Rather, they're tragicomic—her subjects are clowns within the tragic situation of their own paper-thin representation-as-existence. ("I'm not bad. I'm just drawn that way," says Jessica Rabbit, summarizing the problem of cartoon world: you're drawn, therefore you are.) Duck-Mouse is a gruesome, almost genetically combined amalgamation of cartoon characters, with one arm happily waving out of Pensato's tightly wound composition of circle-ears, circle-eyes, and giant circle-body. Welcome is even more chaotically alarming—"Mickey" floats in space with a big ducky grin and arms spread wide, but his legs are gone, replaced with a giant, reversed ass. Yet these are no ordinary cheeks: their circumferences are asymmetric and askew, lines thinning and thickening, always gesturing toward abstraction.

Al's Nephew, 2008, charcoal on wall, 21 × 23 inches.
Cartoons depend so much on their own plastic surface, and this is something Pensato vigorously takes on, using the eraser as a tool in its own right to transform any semblance of plasticity or sheen. Her palette of pastels and charcoal is limited, another push against the full fluorescent spectrum of cartoons. The figures are reduced down to what could be thought of as their "essence," if cartoons had essence, and then pushed outward again by Pensato's strong hand: Homer '08 has the eyes, bald pate, and mouth recognizable to watchers of The Simpsons, but the texture and surface of the piece is all about painting and its visual engagement.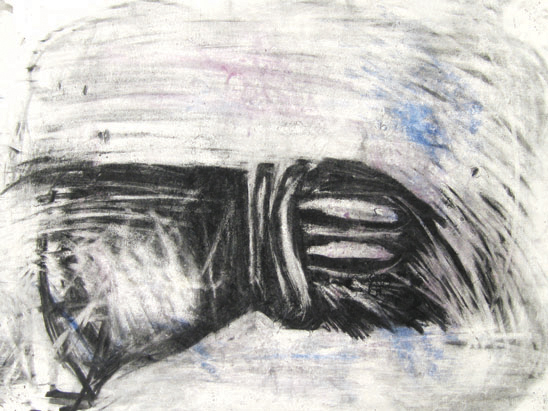 Missing Cat, 2008, charcoal and pastel on paper, 30 × 22½ inches.
The evening I visited Pensato's recent exhibition at Friedrich Petzel Gallery—closing night, actually—Pensato herself was filming a woman do a mock-run past one of her pieces. Some of Pensato's titles—Get Me to the Other Side, Going to the Other Side, On the Way—reference this constant traversal between "low" and "high" art, a division that stays surprisingly potent as new high/low art forms continue to evolve. Cartoons can easily seem dated—and outdated—but Pensato's work moves through temporal boundaries into a more timeless arena: the "other side" of art.
—Marcella Durand is a poet and essayist. Two collections recently out are Traffic & Weather (Futurepoem) and AREA (Belladonna). She lives in New York with her husband and son.