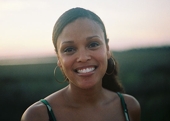 Jesmyn Ward. Photo: Nerissa Ward.
BOMB's Fiction for Driving Across America Series
Excerpt from Where the Line Bleeds by Jesmyn Ward
Read by Jesmyn Ward
Recorded at WWNO in New Orleans, LA
Running Time: 25:13
Listen to the podcast here:
In the third installment in BOMB's Fiction for Driving Across America series, Jesmyn Ward reads an excerpt from her novel "Where the Line Bleeds," published in BOMB 107's literary supplement, First Proof.
For copyright reasons, the text version of this excerpt is available in print only. To buy this issue, select the "BUY THIS ISSUE" link below. For the current issue, please use the "SUBSCRIBE NOW" link below.
Click here to subscribe to our feed and download this podcast. Check back with BOMBsite.com with each new issue to listen to audio versions of these stories.
If the podcast doesn't appear above, try browsing BOMBsite with Safari or Firefox. Google Chrome users may experience some difficulties.