A @BOMBmag Instagram residency by DOORS UNLIMITED, instigated by Bethany Ides.

May 24-31, 2015
Our Instagram account hosted a site-specific and temporary work by Bethany Ides and DOORS UNLIMITED, part of our ongoing effort to bring the artist's voice to every aspect of BOMB.

Over the course of the week, a group of collaborating artists are engaged in a real-world iteration of Instagram's virtual environment, creating an evolving narrative about Instagram inside Instagram.

You can follow along @BOMBmag and through the #lovelasting, #bethanyides, and #doorsunlimited hashtags. You can also experience the residency through our Storify summary.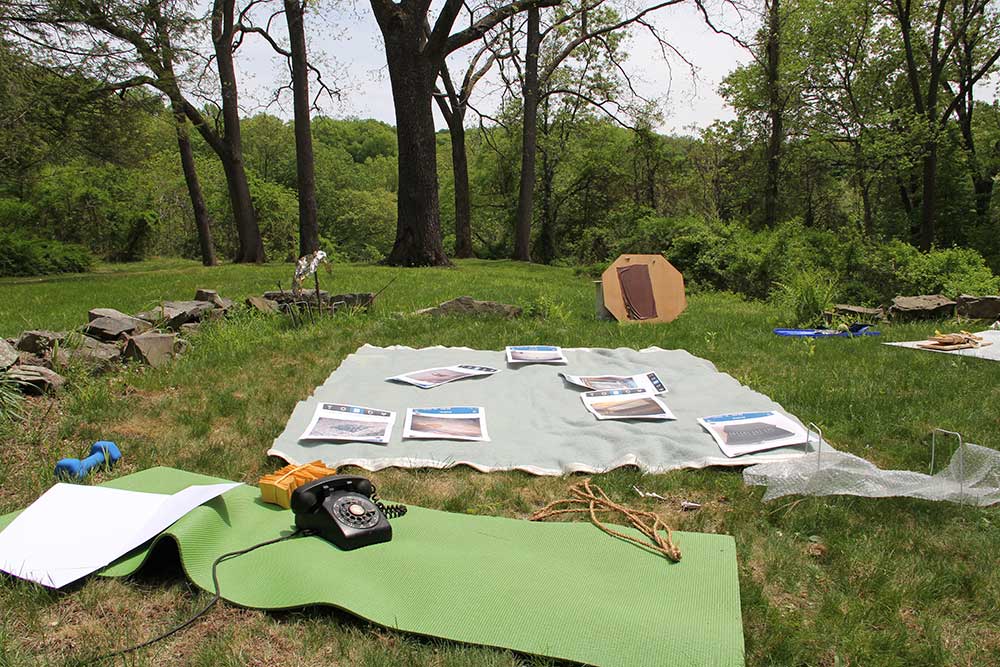 Photo by Bethany Ides.
Project Description: "Love Lasting is an improbable drama about honest/costly relations. Made of, in & for BOMB magazine's Instagram acct, Love Lasting follows the sensual arrangements of promiscuous surfaces conspicuously shifting in & out of synchronicity. The scenario unfolds at the temporary headquarters of DOORS UNLIMITED, a center for investigative operatics & anti-institutional resilient resourcefulness nestled in NY's Hudson Valley. Here, a group of artists act in supporting roles to objects, or 'proxy bodies.' As though a dating-themed reality show were set on location at one of Google's or Facebook's digital storage islands, the para-site lends occasion for data-rich analog entities to sun, flirt, mingle, & freely re-enchant."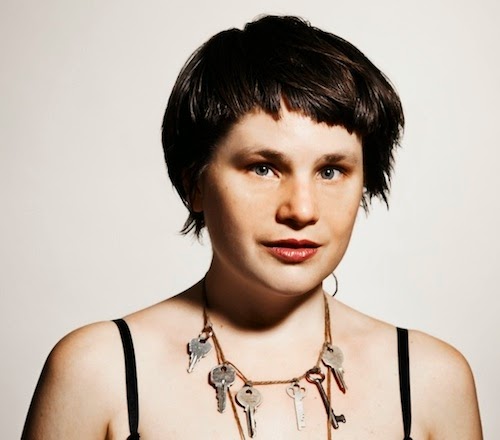 Photo by Dan Wonderly.
Artist Biography: Bethany Ides' sprawlingly excessive intermedial performance-installation works have been presented broadly in venues such as Fragmental Museum, The Brooklyn Museum, Mandragoras Art Space, PS122, Worksound, Half/Dozen Gallery, St Francis College, Tritriangle & PerformanceWorks NW. Her month-long soap opera-opera, Transient's Theme, premiered at The Knockdown Center in October 2014 following a decade of drafts & iterative installments. Earlier opera-works include Children Get Stuck Places Underground in 2010 & co + remote in 2004 w/ Seth Nehil. She is the author of Indeed, Insist (a mystery) [Ugly Duckling Presse, 2005] & Approximate L [Cosa Nostra Editions, 2006] & her poetic projects have appeared in several journals including The Brooklyn Rail, Clock, Cannibal, The Seneca Review, Allotrope & Tarpaulin Sky. In 2002, she co-founded FO (A) RM magazine, an interdisciplinary journal for arts & research, & in 2006 co-directed & curated The Gilded Pony Performance Festival. She writes on minor peculiarities related to sound w/ Mitchell Akiyama, records witchy-pop songs w/ Ryan Sullivan, methodically gesticulates the sacred & profane w/ Jonathan VanDyke, leads workshops in non-perfunctory punctuation w/ Rachel Jackson & Mahshid Rafiei, & generally goads people into building water where there may as well be bridges. In 2014, Ides established an experiment in provisional-conditional community in the Catskills called Almost-Although thru which 80 artists, writers, scholars, activists, musicians & performers participated in daily collaborative compositions. She teaches courses in literary & critical theory, theology, art history & text-as-art in graduate & undergraduate programs, most recently at Pratt Institute, the School of Visual Arts & Bard College.
---
BOMB's 34th Anniversary Gala & Auction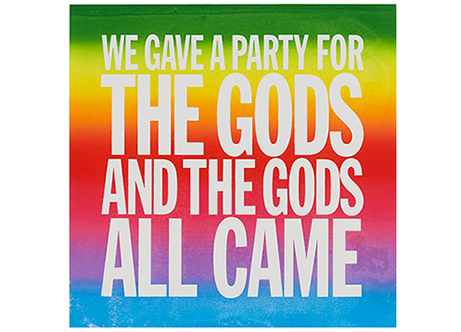 Gala
Wednesday, April 22, 2015
Capitale, New York City

Paddle8 Online Auction
April 8-22, 2015
Honoring:
John Giorno & Ugo Rondinone
Ellen Phelan & Joel Shapiro
Mickalene Thomas

Toasters:
Laura Hoptman
Christopher Wool
AC Hudgins & Derrick Adams

Co-Chairs:
Barbara Gladstone
Rachel Lehmann & David Maupin
Lybess Sweezy & Ken Miller

Honorary Chairs:
Kwame Anthony Appiah
Francine Prose
6:30 to 8pm Cocktails and Canapés
6:30 to 10:30pm Silent Art Auction
8pm Seated Dinner, Toasts, and Live Auction
9:30 to 10:30pm Dessert and Final Bidding



The online auction features works by:
Derrick Adams
Michele Araujo
Estate of Dan Asher
Rosa Barba
Joseph Bartscherer
Sheila Berger
Ben Berlow
Dianne Blell
Katherine Bradford
Joe Bradley: 1, 2, and 3
Rosanna Bruno
William S. Burroughs Estate
Paul Chan
Nicole Cherubini
Edward Clark
Adger Cowans
Moyra Davey
Verne Dawson
Assaf Evron
Jens Fänge
Paola Ferrario
Angelo Filomeno
Walton Ford
Sally Gall
Hope Gangloff
John Giorno
Estate of Michael Goldberg
Nan Goldin
Gianfranco Gorgoni
Charline von Heyl
James Hoff
Bethany Ides
Samuel Jablon
Suzanne Joelson
Matt Keegan
Richard Kraft
Deana Lawson
Greg Lindquist
Chris Martin
Leeza Meksin
John Miller
Jeanne Moutoussamy-Ashe
Wangechi Mutu
Sarah Oppenheimer
Ellen Phelan
Tim Rollins and K.O.S.
Ugo Rondinone
Kay Rosen
Brie Ruais
Charles Simonds
Rebecca Smith
Joe Sola
Keith Sonnier
Billy Sullivan
Mika Tajima
Rirkrit Tiravanija
Estate of Alan Uglow
Juan Uslé: 1 and 2
John Waters
Matthew Weinstein
Christine Wertheim
Stanley Whitney
Martin Wilner
Rob Wynne
Gala Décor by Madeline Weinrib
Gala Music by Matana Roberts
---

BOMB & Two Dollar Radio present Rae Armantrout, Sarah Gerard, Ian Dreiblatt, & Nicholas Rombes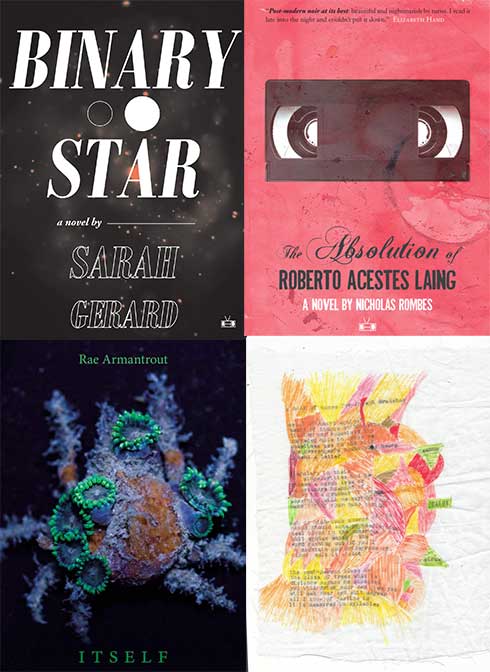 Wednesday, April 8th 7pm
Magers & Quinn Booksellers
3038 Hennepin Avenue, Minneapolis, MN 55408
Join BOMB and Two Dollar Radio for a reading with Rae Armantrout, Sarah Gerard, Ian Dreiblatt, and Nicholas Rombes.
Rae Armantrout is a professor of writing in the Literature Department at the University of California at San Diego, and the author of eleven books of poetry, including Money Shot, Versed, Next Life, and Veil: New and Selected Poems.
Sarah Gerard is the author of the chapbook Things I Told My Mother and the novel Binary Star. Short works have appeared in The New York Times, Bookforum, The Paris Review Daily, Joyland, The Los Angeles Review of Books and other journals. She lives in Brooklyn, New York, and works at BOMB Magazine.
Ian Dreiblatt is a poet, translator, critic, and musician who lives in Brooklyn. His recent translations include Gogol's The Nose, Comradely Greetings (the prison correspondence of Pussy Riot's Nadyezhda Tolokonnikova with philosopher Slavoj Žižek), and various writing by insurgent artists of the Russian and Ukrainian left. sonnets, a chapbook, was published in 2014 by Metambesen, and a letterpress-printed chap, בראשונה, is forthcoming in spring 2015 from DoubleCross Press. Work has additionally appeared in journals including BOMB, Web Conjunctions, The Agriculture Reader, Elderly, and Sink Review. In his spare time, he devises desolate walking tours of New York City, an obscure human settlement on the edge of America.
Nicholas Rombes is author of the novel The Absolution of Roberto Acestes Laing (Two Dollar Radio, October 2014) as well as Ramones from the acclaimed 33 1/3 series published by Bloomsbury. He is a contributing editor at Filmmaker Magazine and has written for The Los Angeles Review of Books, The Believer, The Rumpus, n+1, and other places. He is a professor of English at the University of Detroit Mercy in Detroit, Michigan.

---
AWP Happy Hour with BOMB, One-Story and the Walker Art Center




Thursday, April 9th, 5:00pm - 7:00pm CST
The Walker's Garden Terrace
1750 Hennepin Ave, Minneapolis, MN 55403
Playlist by Rachel Kushner
Drink with us at the Walker's Garden Terrace, the Twin Cities' most beautiful space and an architectural must-see. Meet up with old friends and make new friends.

We'll have a few BOMB Magazine and One Story giveaways on hand, plus drink tickets for the punctual. (Cash bar for the latecomers.) Plus a music playlist by Rachel Kushner, author of The Flamethrowers.

Happy hour is free with AWP badge, including full after-hours access to the Walker's internationally-renowned galleries.

DIRECTIONS:
If you're coming from the convention center, it's a 20min. walk west, through Loring Park. The Walker Art Center also has a Nice Ride station.
---
BOMB Guide to AWP


There are approximately ten million AWP-related events in Minneapolis. To help winnow them down to a manageable dozen or so, here are our picks for the best readings, panels, and parties. (Note that we chose not to include private events.)

Stop by the BOMB table to say hello and grab a print version of our AWP Guide.
Wednesday, April 8
BOMB Magazine and Two Dollar Radio present Sarah Gerard, Ian Dreiblatt, Nicholas Rombes, and Rae Armantrout
7:00pm at Magers & Quinn Booksellers, 3038 Hennepin Avenue, Minneapolis
AWP Small Press Night
Co-hosted by Curbside Splendor Publishing, Anvil Press, Civil Coping Mechanisms, featherproof books, Barrelhouse, Tyrus Books. Book sales by: Vouched Books.
8:00pm at Crooked Pint Ale House, 501 S Washington Ave, Minneapolis
The Prince Purple Poetry Party
Cost: $5, plus wear something purple
10:00pm at The Record Room, 701 1st Ave N
Thursday, April 9
Small is the New Big: Working With Independent Presses to Build a Literary Career.
Michelle Brower, Ben George, Anitra Budd, Ethan Nosowsky, & Erin Harris
10:30am in Room L100 B&C, Lower Level
New Frontiers: Paving Space for Emerging Talent Off the Conventional Page.
Celia Johnson, Amanda Bullock, Sarah Bowlin, Michelle Brower, & Meredith Kaffel
12:00pm in Room L100 B&C, Lower Level
New Trends in Literary Publishing.
Jeffrey Lependorf, Fiona McCrae, Deena Drewis, Nathan Rostron, & Jon Fine
1:30pm in Auditorium Room 2, Level 1
Creating & Maintaining a Liberatory Space @ AWP15: Belladonna* | Litmus | Apogee | Counterpath
2:30pm at Gamut Gallery, 1006 South Marquette Avenue, Minneapolis
Happy Hour with BOMB, One Story, & The Walker Art Center
5:00pm at The Walker Art Center's Garden Terrace, 1750 Hennepin Ave, Minneapolis
Weird Atlas / Gazing Switchback
WEIRD SISTER, The Atlas Review, Gazing Grain Press, and Switchback Books invite you to join us for a night of amazing feminist poetry with Marisa Crawford, Cathy de la Cruz, Lillian-Yvonne Bertram, Soleil Ho, Anne Cecelia Holmes, Jenn Marie Nunes, Morgan Parker, Meg Day, & Natalie Eilbert
6:00pm at Crooked Pint Ale House, 501 S Washington Ave, Minneapolis
Bat City @ AWP 2015 Reading
Readings by Danez Smith, Dobby Gibson, Matthea Harvey, Matthew Rohrer, francine j. harris, James Gendron, & Jessica Piazza
7:00pm at Architectural Antiques, 1330 Quincy St NE, Minneapolis
The 2015 VIDA Awards
Cost: $10
7:30pm at the Skyway Theater, 711 Hennepin Avenue, Minneapolis
Celebrate Across the Arts with Kattywompus Press
Music from Cornelius Eady & Rough Magic. Theater from Sarah K. Jackson, Samantha Baker Harris & Chris Shipman. Poetry from Zack Rogow, Leah Umansky, Cornelius Eady, & Robin Messing
8:00pm at Poet's Corner of Kieran's Irish Pub, 85 6th St N, Minneapolis
Friday, April 10
Pinning Editors Down: Lit Mag Fiction Editors Define What Works.
Beth Staples, Aja Gabel, Emily Nemens, Jennifer Acker, & Timston Johnston
9:00am in Room M100 J, Mezzanine Level
From Page to Stage: How to Engage with an Audience.
Stacie Williams, Amber Tamblyn, Adam Wilson, Justin Taylor, & Jessica Anya Blau
12:00pm in Auditorium Room 1, Level 1
Hello, Is It Me You're Looking For? Finding Your Audience through Social Media.
Benjamin Samuel, Lincoln Michel, Rachel Fershleiser, Kathy Daneman
1:30pm in Room 205 A&B, Level 2
Computers in My Classes: A Pedagogy Roundtable on Workshopping (with) the Digital.
Julie Lein, Amaranth Borsuk, Robert Glick, Matthew Kirkpatrick, & Nick Montfort
3:00pm in Room 200 D&E, Level 2
Argonaut, Citizen, Empathy, Inoculation: New Nonfiction.
Eula Biss, Leslie Jamison, Maggie Nelson, & Claudia Rankine
4:30pm in Auditorium Room 1, Level 1
AWP Happy Hour with Open Letter and the University of Rochester
5:00pm at The Marquette Hotel, 710 Marquette Ave, Minneapolis
AWP Conference Reading: A Happy Hour Reading with Melissa Pritchard and Michael Coffey
5:00pm at Subtext Books, 165 Western Avenue, St. Paul
A Small Press Reading with Anomalous / Argos / Autumn Hill / Circumference / Deep Vellum / Em Dash / Ricochet
6:00pm at Gamut Gallery, 1006 Marquette Ave S, Minneapolis
AWP OmnispeCt!acular: an offsite reading presented by speCt! books and Omnidawn Publishing
Sara Deniz Akant, Steffi Drewes, Colby Gillette, Angela Hume, David Koehn, Richard Meier, Laura Moriarty, Rusty Morrison, Dean Rader, Zach Savich, & Ely Shipley
6:00pm at The Riddle Room, 720 Central Avenue Northeast, Minneapolis
Rain Taxi Presents: A Literary Tribute to Grant Hart and Hüsker Dü
Including John Beer, James Brubaker, Paula Cisewski, Maria Damon, Matthew Derby, Michael Fournier, Tim Horvath, Laurie Lindeen, Daniel Mahoney, Hoa Nguyen, Constance Squires, Justin Taylor, Joel Turnipseed, and maybe a surprise guest or two. Cost: $10.
9:00pm at Patrick's Cabaret, 3010 Minnehaha Ave S, Minneapolis
Saturday, April 11
The Art of Literary Editing.
Brigid Hughes , Elisabeth Schmitz , Ethan Nosowsky, Jeffery Renard Allen, & Michael Thomas
10:30am in Auditorium Room 1, Level 1
The Other Track: MFAs in the Book Business.
Craig Teicher, Jeff Shotts, Jynne Martin, Caroline Casey, & Leslie Shipman
1:30pm in Auditorium Room 2, Level 1
Publishing Translations: The Small Press.
Matvei Yankelevich, Kendall Storey, Chad Post, & David Shook
3:00pm in Room 200 F&G, Level 2
Argos, Canarium, Futurepoem, Octopus, & Poor Claudia
Readings by John Beer, David Buuck, Jaime Shearn Coan, Christopher DeWeese, Karin Gottshall, Cecily Iddings, Elaine Kahn, Montana Ray, Kit Schluter, Danniel Schoonebeek, & Ronaldo Wilson
7:00pm at Gamut Gallery, 1006 Marquette Ave S, Minneapolis
Lit + Art Party with FSG Originals & Paper Darts
Mini-readings by Amelia Gray, Brandi Wells, Dessa, John Brandon, John Jodzio, Lindsay Hunter, Laura van den Berg, Safy-Hallan Farah, & Simon Jacobs. Cost: $5
8:00pm at Public Functionary, 1400 12th Ave. NE, Minneapolis
---
BOMB at Mission Creek Festival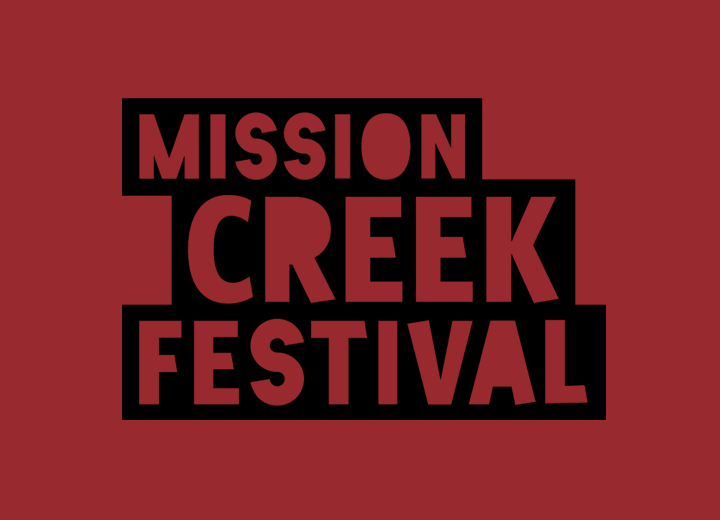 Saturday, April 4th, 11:00am - 6:00pm CST
Mission Creek Festival Indie Presses Book Fair
The Mill, 120 E. Burlington Street, Iowa City, IA 52240
We'll be selling the brand-new spring issue alongside our popular "If You Read Something, Say Something" tote bag at Mission Creek's Book Fair.

Stop by, say hello, and be sure to catch the 6pm reading by our own Sarah Gerard.
---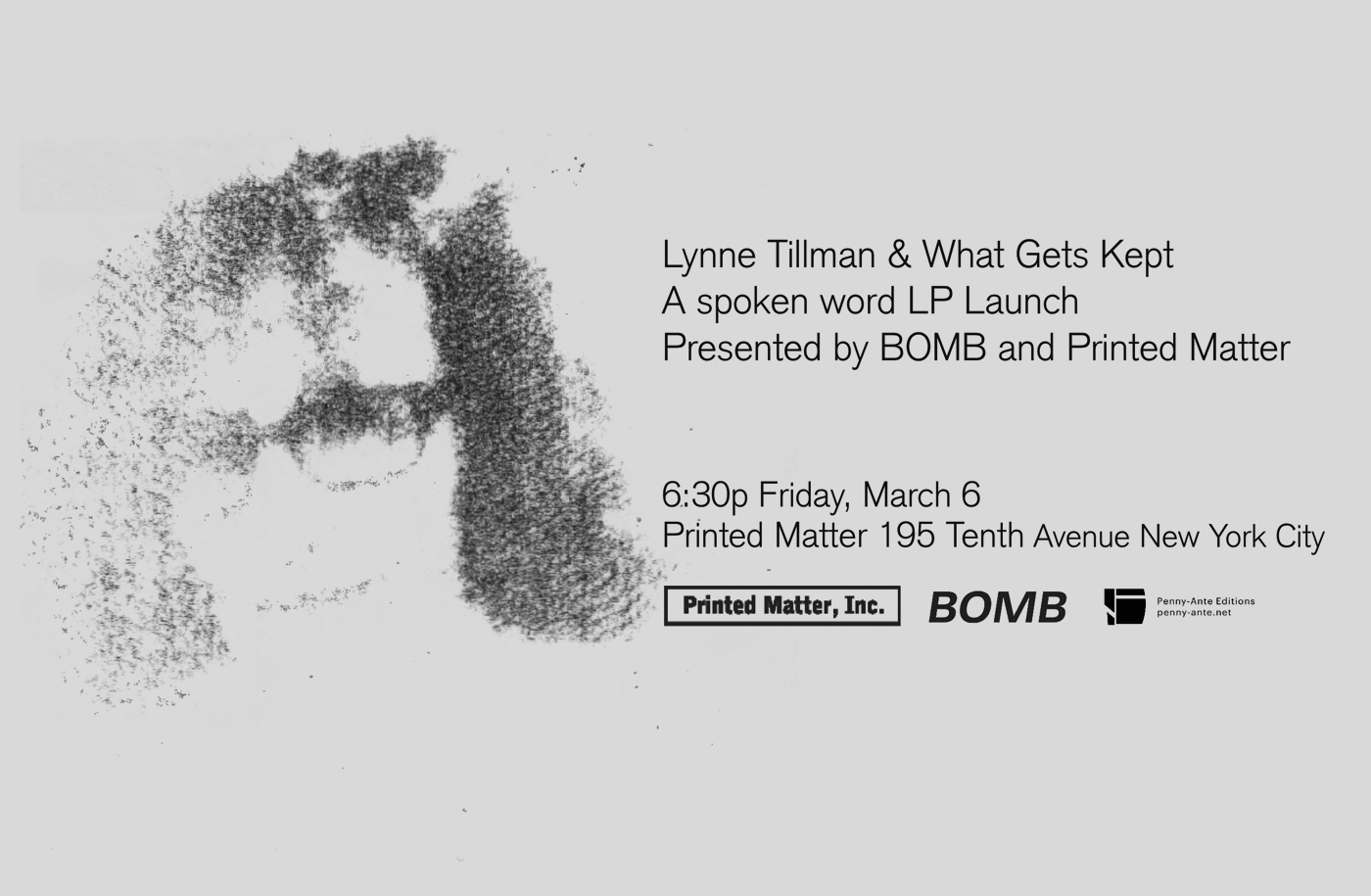 Lynne Tillman's What Gets Kept
A spoken word LP launch
Friday, March 6th, 6:30pm ET
Printed Matter
Raise a glass with us at the launch of What Gets Kept (Penny-Ante Editions), which spans the author's career through ten spoken word recordings. Lynne Tillman will introduce the project and sign copies of this limited release.
Listen to "Home Sick" from What Gets Kept:
[ Facebook event ]
---
An evening of performances curated by David Grubbs

Poetry by Ariana Reines
Dance by Jen Rosenblit
Music by 75 Dollar Bill

Friday, January 9th, 7:00pm ET
ISSUE Project Room, 22 Boerum Pl, Brooklyn, NY 11201
Help us ring in the new year with a benefit for artists and writers. A donation of $25 gains admission for one, or buy a pair of tickets for $45. All proceeds go to paying BOMB's online contributors in 2015. We will have free drinks and copies of BOMB Issue 130 to give away. Tickets available at the door.
JEN ROSENBLIT
Jen Rosenblit has been making dances and teaching workshops on improvisation, choreography and performance in New York City since 2005. Rosenblit has worked with Young Jean Lee (Untitled Feminist Show), Ryan McNamara (MEEM), Yvonne Meier (The Shining), Sasa Asentic (On Trail Together) and currently, Simone Aughterlony (Uni-Form), based in Zurich. Rosenblit was a 2009 Fresh Tracks Artist (Dance Theater Workshop), recipient of the 2012 Grant to Artists and a 2014 Emergency grant from the Foundation for Contemporary Arts, a 2013 Fellow at Insel Hombroich (Germany), an inaugural recipient of THE AWARD, a 2014-2015 workspace artist through LMCC, and a 2014 recipient of a New York Dance and Performance "bessies" award as emerging choreographer for her work, a Natural dance, which premiered at The Kitchen in May 2014. Rosenblit has been a teaching artist at Bowdoin College, Hollins University, Bard, Tisch, Roger Williams and Bennington and has done lecture demonstrations surrounding the queer body and performance at both Yale and Harvard. Rosenblit's Lunch N Lecture was curated by BODEGA at the ICA, Philadelphia, as part of their First Among Equals series. Rosenblit was recently in residence at the Minneapolis Institute of the Arts through FD13 and looks forward to residency time at the Chinati Foundation in Marfa for the creation of a new work to premiere in 2016. Recent works focus on an improvisational approach to choreographic thought and ways of structuring bodies as they fall out of relation aesthetically and spiritually while still locating ways of being together. www.bottomheavies.blogspot.com

75 DOLLAR BILL
Rick Brown was born in San Francisco, CA and is a clerical worker at a law school in NYC. Che Chen was born in New Haven, CT and works for a cancer diagnostics company in Stonybrook, NY. They met via myspace and started playing together as 75 Dollar Bill approximately eight years later. Brown plays percussion and homemade horns and Chen plays electric guitar. After two self-released cassette tapes, their first LP, "Wooden Bag" will be released via the Other Music Recording Company in January 2015.
"What you heard foremost in 75 Dollar Bill's Saturday night show at Troost in Greenpoint, Brooklyn, was Che Chen's guitar: a cut-rate Japanese model sketching looped figures inside old Arabic modes, pushing jagged sound through a small amplifier ... But as [he] stood playing hypnotic guitar repetitions, moving with the stresses of the riffs, the drummer Rick Brown sat on a square wooden box, open in the back, and attacked it from above. Sometimes he used his heel to bounce on a kick-drum pedal, pointing backward toward the box; mostly he was striking the sides of the box with his hands and a homemade mallet, hard, finding different pitches in different places. He cued transitions in the music, building odd or compound rhythms, turning them around and blurring distinctions between downbeats and upbeats. On the surface, the rhythms were only secondary to the guitar lines; deeper down, they were enfolded. One couldn't do without the other."
–Ben Ratliff, New York Times.


ARIANA REINES
Born in Salem, Massachusetts, poet, playwright, and translator Ariana Reines earned a BA from Barnard College, and completed graduate work at both Columbia University and the European Graduate School, where she studied literature, performance, and philosophy. Her books of poetry include The Cow (2006), which won the Alberta Prize from Fence Books; Coeur de Lion (2007); and Mercury (2011). Her poems have been anthologized in Against Expression (2011) and Gurlesque (2010). Known for her interest in bodily experience, the occult, new media, and the possibilities of the long or book-length form, Reines has been described as "one of the crucial voices of her generation" by Michael Silverblatt on NPR's Bookworm. At once personal, Romantic, slippery, and extreme, Reines's poetry investigates and overturns lyric conventions. Of her own work, she admitted in an interview with HTML Giant: "My best writing seems to have to be forced from me by some other force but that force has to be one whose power I agree to serve."
Reines's first play Telephone (2009) was performed at the Cherry Lane Theater and received two Obie Awards. A re-imagining of its second act was featured as part of the Guggenheim's Works+Process series in 2009, and the script was published in Play: A Journal of Plays in 2010. Reines's translations include a version of Baudelaire's My Heart Laid Bare (2009); Jean-Luc Hennig's The Little Black Book of Grisélidis Réal: Days and Nights of an Anarchist Whore (2009); and Tiqqun's Preliminary Materials Toward a Theory of the Young-Girl (2012).
Reines has taught at Columbia University and the European Graduate School, and was the Roberta C. Holloway Lecturer in Poetry at the University of California–Berkeley in 2009, the youngest poet to ever hold that position. She has traveled to Haiti multiple times as part of the on-going relief efforts there.
---
The Artist, The Writer: A Conversation Between Creative Identities


December 6th, 2014 3:00pm ET
ARTHAUS // ART TALKS, Select Art Fair, Miami, FL

A talk curated and moderated by Legacy Russell
with Amy Beecher, Bibi Deitz, Carla Gannis, and Marisa Olson
This program will explore the relationship between the identity of contemporary artist and modern writer. Using BOMB Magazine's recently published volume BOMB: The Author Interviews as springboard, an exciting selection of artists including Amy Becher, Bibi Deitz, Carla Gannis, Marisa Olson, will share excerpts from the compilation and engage in a round-table panel dialogue to discuss the acts of making art and writing texts and how bringing such things into the world play a central role within their own creative practice and discourse.
Mercedes Benz - AMG and Lufthansa First Class Present
ARTHAUS // ART TALKS
Curated by Jasmine Wahi

ARTHAUS // ART TALKS is a series of curated thematic discussions featuring curators and artists who are engaged with multidisciplinary art making practices. The conversations will be both informative and engaging, with time for audience members to ask questions and engage with artists. Each program will be accompanied by a cocktail hour that gives the audience the opportunity to meet with presenters.
Legacy Russell is a writer, artist and curator. She is the London Content Partner Liaison for the online platform Artsy. She has worked at and produced programs for The Bruce High Quality Foundation, Creative Time, the Brooklyn Museum, the Whitney Museum of American Art and the Metropolitan Museum of Art, NY. Legacy is one-third of the curatorial production team Limited Time Only and Senior Editor at London publication Berfrois. In September 2011, she was appointed as Art Editor of BOMB Magazine's renowned online journal, BOMB Daily, where she has since stayed on as a Contributing Editor. Outside of BOMB, her work can be found in a variety of publications: The White Review, Rhizome, DIS, Canteen, The Well & Often Reader, Exit Strata, The Society Pages, Guernica, Berfrois and beyond. Holding an MRes of Visual Culture with Distinction at Goldsmiths College of University of London, her creative and academic work explores mourning, remembrance, iconography, and idolatry within the public realm. Her most recent performance "The Kiss" debuted in collaboration with Clifford Owens at Danspace in New York Fall 2013 and her first solo gallery exhibition "DIRTY TALK|CLEAN FOOD" featured video work at Field Projects in New York City in Spring 2014.

Amy Beecher lives and works in New York City. Story telling is at the heart of her sculptural practice in the form of recordings, performances and artist books. Upcoming projects in 2015 include collaborations with the Shandaken Project and a solo exhibition at Providence College. She received her MFA from Yale University in Painting and Printmaking.

Bibi Deitz lives and writes in Brooklyn. Recent work has appeared in Bookforum, The Rumpus and BOMB, and is forthcoming from Berfrois and Marie Claire, addressing subjects such as characterization in Andre Dubus's short fiction, deactivating Facebook, not faking orgasms and the absurd(ist) intersections between technology and modern love. She was born and raised in New York's East Village, holds an MFA in fiction from the Bennington Writing Seminars and edits copy at Us magazine. She is at work on a novel and recently wrote a book of short stories while living in Santa Fe, New Mexico.

Carla Gannis is a transmedia artist based in Brooklyn, New York. Through digital remixing, Gannis expresses in her work the hybrid nature of identity, where virtual and real embodiments of self diverge and intersect. She is the recipient of several awards, including a New York Foundation for the Arts (NYFA) Grant in Computer Arts and an Emerge 7 Fellowship from the Aljira Art Center. She has exhibited in solo and group exhibitions both nationally and internationally. Her most recent solo exhibitions include "The Garden of Emoji Delights" at Kasia Kay Gallery, Chicago, Il and "" (in collaboration with poet Justin Petropoulos) at Transfer Gallery, Brooklyn, NY. Features on Gannis's work have appeared in The Creators Project, The Huffington Post, Wired, Buzzfeed, FastCo, Hyperallergic, Art F City, Art Critical, The Wallstreet Journal, Animal, and The LA Times, among others. She is the Assistant Chair of the Dept of Digital Arts at Pratt Institute in Brooklyn, NY.

Marisa Olson's interdisciplinary work addresses the cultural history of technology & the politics of pop culture, and has been exhibited at the Venice Biennale, Whitney Museum, New Museum, Centre Pompidou, Tate(s) Modern+Liverpool, Nam June Paik Art Center, British Film Institute, Sundance Film Festival, PS122, and PERFORMA. She's written for a number of key publications, particularly on postinternet art, performance, and photographic media, and curated projects at the Guggenheim, SFMOMA, Artists Space, White Columns, and Rhizome. She was recently an Artist-in-Residence at Eyebeam & is currently Visiting Critic at RISD.
---
James Hoff's Reddit AMA
November 12th, 2014 3:00pm ET
James Hoff, whose work graces the cover of BOMB 129, answers your questions on Reddit's "Ask Me Anything."
"Disruption and distribution are at the center of James Hoff's work. He makes use of any media to best articulate a project or idea, and interrogates technology, politics, and surface only to mangle, reconfigure, break apart, and re-contextualize the subject. Hoff engages with painting in his Virus and Syndrome series, serves as editor and publisher at Primary Information (a press devoted to publishing artists' books and reprinting out-of-print editions, co-run with Miriam Katzeff), writes, lectures, and composes a variety of music-related projects. He collapses the terms artist, editor, and writer until the distinctions between them seem meaningless."
—Eli Keszler, from his interview with James Hoff.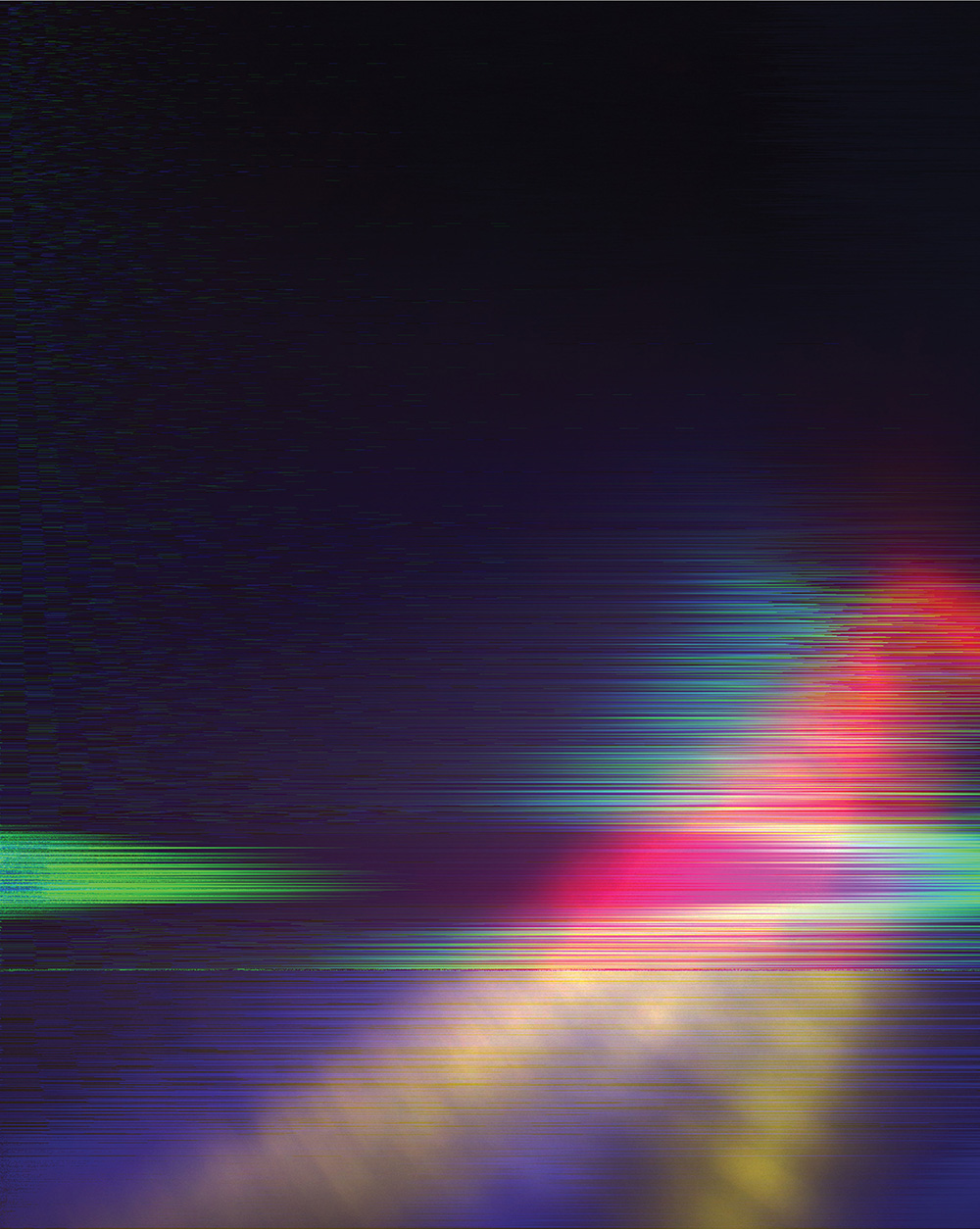 Stuxnet No. 1, 2014, chromaluxe transfer on aluminum, 30 × 24 inches.
James Hoff will be discussing his artistic practice, publishing projects, and future endeavors this Wednesday afternoon on Reddit's open forum.
---
The Author Interviews - Launch Party
November 12th 7:00pm, 2014
Housing Works Bookstore
We are proud to announce BOMB: The Author Interviews, a new anthology drawing from over 30 years of BOMB Magazine, published by Soho Press with an introduction by Francine Prose.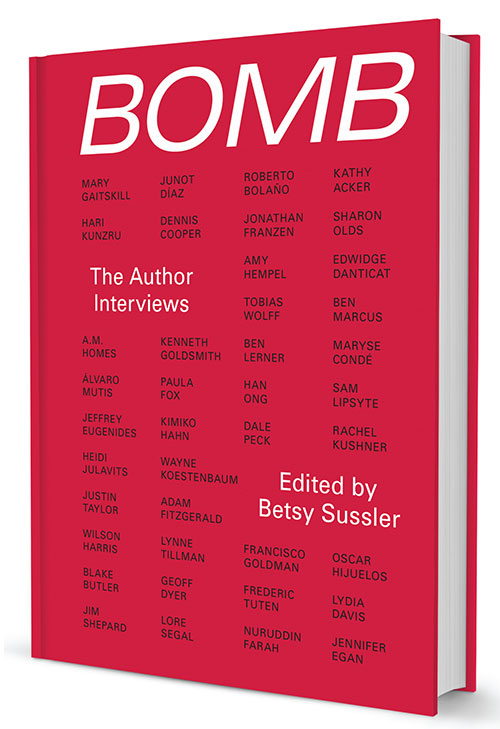 The Author Interviews brings together some of the greatest figures of world literature, including Colm Tóibín, A. M. Homes, Paula Fox, Roberto Bolaño, Junot Díaz, John Edgar Wideman, Steven Millhauser, Geoff Dyer, Ben Lerner, and more. (Publishers Weekly says, "Reading their discussions feels akin to eavesdropping.")

We'll raise a glass with BOMB founder and editor-in-chief Betsy Sussler and Soho Press publisher Bronwen Hruska, toast the contributors, and hear revealing excerpts read by Kate Valk and Ari Fliakos of the acclaimed theater company The Wooster Group.
Housing Works Bookstore details | Facebook details | Book details
---
Read BOMB Daily
August 13th, 2014 - 7:00pm
Berl's Brooklyn Poetry Shop
126A Front St,
Brooklyn, NY 11201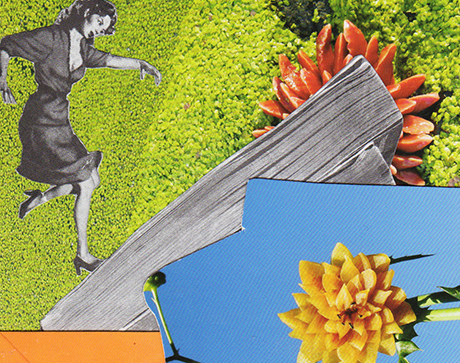 A selection of readings by contributors to BOMB Magazine's daily supplement! Featuring:
Jenn Joy
Sasha Fletcher
Bethany Ball
Michael Barron
Virginia McLure
Sasha Fletcher is the author of it is going to be a good year (Big Lucks Books, 2015), one novella, and several chapbooks of poetry.
http://bombmagazine.org/article/1000076/some-events-involving-ghosts
Jenn Joy teaches in the Sculpture department at Rhode Island School of Design. She curates Conversations without Walls with Judy Hussie-Taylor and co-edited the catalogs JUDSONOW and Diary of an Image for Danspace Project. Her recent writing has been published in DANSE: An Anthology (Les Presses du Réel, 2014), DANCE (Whitechapel/MIT Press, 2012), BOMB, BOMBLOG, BLEED (a blog with Tere O'Connor) and in Planes of Composition: Dance, Theory and the Global co-edited with André Lepecki (Seagull Press, 2009). She received her PhD in Performance Studies from NYU and her book, The Choreographic, is forthcoming from MIT.
http://bombmagazine.org/article/1000096/brennan-gerard-and-ryan-kelly
Bethany Ball was born and raised in Detroit and currently lives in New York. She has just completed a novel-in-stories called Yossi Tavili Stands in the Fields. The title story was published in BOMB Magazine last May.
http://bombmagazine.org/article/1000126/yossi-tavili-stands-in-the-field
Virginia McLure edits La Fovea and works at a literary agency. Previously she has edited or read for Washington Square Review, A Public Space, and The Southern Review. She has writing or translations featured or forthcoming in Asymptote, Parallax, BOMB, Bedford + Bowery, the Nashville Review, and Meridian. Her chapbook, EPITHALAMIONS FOR ANNA, was a finalist in No, Dear/Small Anchor Press's 2014 Chapbook Competition.
http://bombmagazine.org/article/1000061/latasha-diggs-morgan-parker
Michael Barron is the director of publicity and an editor at New Directions. He has written about futuristic instruments for Harper's, inventions conceived by writers for the Believer, jazz musicians in literature for Bookforum, the great Aboriginal novel Carpenteria for Tin House, and has interviewed more than one notable drummer for BOMB. He plays in the band Megafortress.
http://bombmagazine.org/article/1000198/chris-corsano




---
33rd Anniversary Gala & Art Auction
---
2014 Poetry Contest
BOMB is excited to announce the 2014 Poetry Contest, judged by poet CAConrad.
The winner of our 2014 contest will receive a $1,000 prize and publication in BOMB Magazine's literary supplement First Proof. Deadline April 30.
Poetry Contest Submission Guidelines
• Manuscripts must include 3–5 poems.
• No more than 5 poems (max. 10 pages) per entry fee.
• Do not write a name on the actual manuscript, as all entries are considered anonymously. NON-ANONYMOUS ENTRIES WILL NOT BE CONSIDERED.
• Poems must be previously unpublished.
• Simultaneous submissions OK, but reading fee is not refundable.
• Reading Fee: $20 inside the US—includes free one-year subscription to BOMB* (addresses outside North America add $12; Canada/Mexico add $6).
• Deadline: April 30, 2014.
We will only be accepting online submissions. Click here to upload your manuscript and pay the reading fee (includes free one-year subscription to the magazine).
The winning poem will be published in an upcoming issue of BOMB's First Proof. Finalists and winner announced late summer 2014. Email generalinquiries (at) bombsite (dot) com with any questions.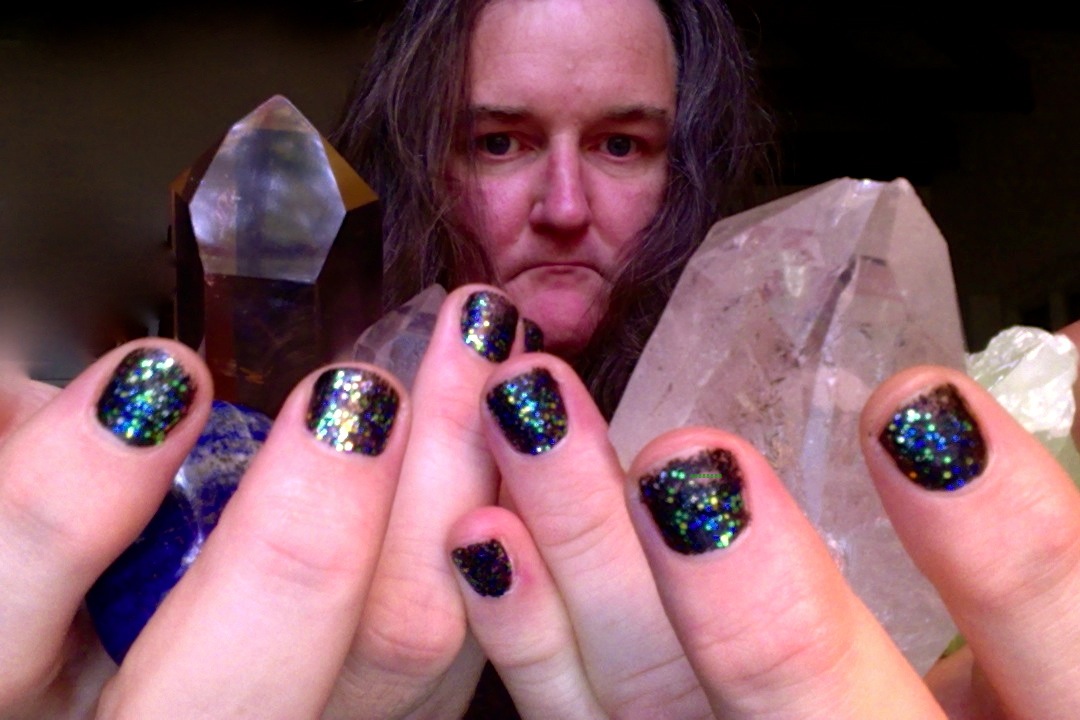 CAConrad is the author of six books including ECODEVIANCE: (Soma)tics for the Future Wilderness (Wave Books, 2014), A BEAUTIFUL MARSUPIAL AFTERNOON (WAVE Books, 2012) and The Book of Frank (WAVE Books, 2010). A 2014 Lannan Fellow, a 2013 MacDowell Fellow, and a 2011 Pew Fellow, he also conducts workshops on (Soma)tic poetry and Ecopoetics.
Visit him online at CAConrad.blogspot.com
BOMB has championed and encouraged the literary efforts of both established and emerging writers for more than a quarter-century, with a contributing editorial board that boasts contemporary luminaries such as Deborah Eisenberg, Patricia Spears Jones, Edwidge Danticat, Kimiko Hahn, Jonathan Lethem, John Haskell, and Francine Prose.
*All subscriptions will start with the Summer 2014 issue, #128.
---
BOMB 129 Issue Launch
October 15th, 2014 7:00pm
Powerhouse Arena
37 Main St., Brooklyn, NY 11201
Readings by
Claudia Rankine
Frederic Tuten

Musical performance by
James Hoff & Eli Keszler

Sponsored by Sixpoint Brewery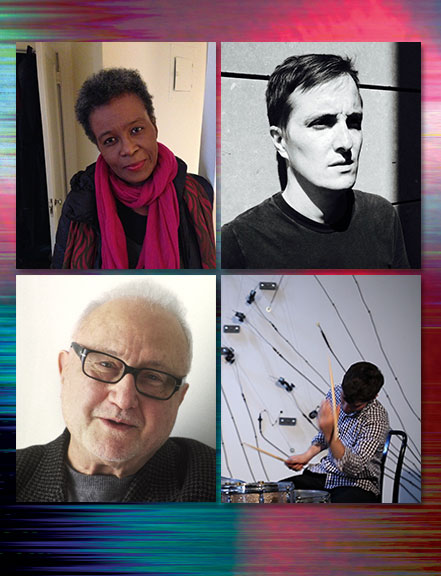 Photo of Claudia Rankine by John Lucas; Frederic Tuten by Dominique Nabokov

Join us for a night of literature, art, and revelry celebrating our Fall Issue.

Claudia Rankine is the author of Citizen: An American Lyric, which has won Poets and Writers' Jackson Poetry Prize and is longlisted for the 2014 National Book Award. You can read her conversation with Lauren Berlant here.

Frederic Tuten is the author of Tintin in the New World, The Green Hour, and Self Portraits, among other fiction. He has received a Guggenheim fellowship and an American Academy of Arts and Letters Award for Distinguished Writing. His short story "Winter, 1965" appears in the Fall Issue.

James Hoff's art ranges across media, including painting in his Virus and Syndrome series and sound in works such as How Wheeling Feels When the Ground Walks Away. He is also the editor and publisher of Primary Information, which produces artists' books and reprints out-of-print editions. You can read his conversation with Eli Keszler here.

Watch the video for James Hoff's "Blaster":
Tags: