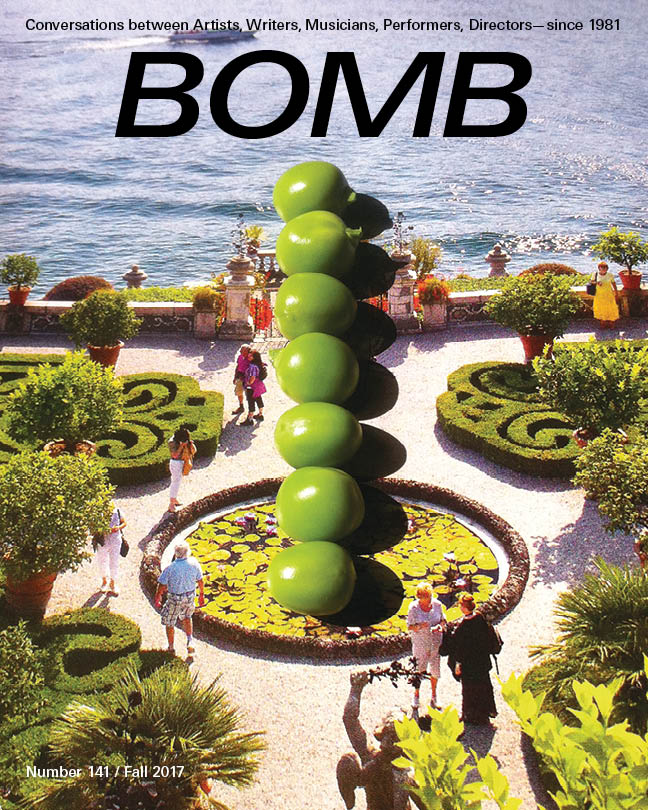 September 23, 7:00pm ET
MoMA PS1
22-25 Jackson Ave, Long Island City
Among all the things that fall brings, our most anticipated event is always Printed Matter's NY Art Book Fair at MoMA PS1. This year we're launching our fall issue, BOMB 141, at the fair in D.A.P.'s newly expanded bookstore, ARTBOOK, on the ground floor of PS1. Join BOMB staff and friends to celebrate the issue and for readings by contributors Alan Gilbert, Harmony Holiday, and Lucy Ives.
We'll also have our usual NYABF table, #N61, with a couple exclusives and surprises. Come by and say hello!
Can't make it? Get the fall issue here.
Alan Gilbert is the author of two books of poetry, The Treatment of Monuments and Late in the Antenna Fields, as well as a collection of essays, articles, and reviews entitled Another Future: Poetry and Art in a Postmodern Twilight.
Harmony Holiday is the author of Negro League Baseball, Go Find Your Father/ A Famous Blues and most recently Hollywood Forever. She is also the founder of Mythscience, an arts collective devoted to cross-disciplinary work that helps artists re-engage with their bodies and the physical world in this so-called digital age, and the Afrosonics archive of jazz and everyday diaspora poetics. She worked on SOS, the selected poems of Amiri Baraka, transcribing all of his poetry recorded with jazz that had yet to be released in print and exists mostly on out of print records. Harmony studied rhetoric at UC Berkeley and taught for the Alvin Ailey American Dance Theatre. She received her MFA from Columbia University and has received the Motherwell Prize from Fence Books and a Ruth Lilly Fellowship. She is currently working on a book of poems and lyric essays on Reparations and the body, and a biography of jazz singer Abbey Lincoln. She lives in New York and Los Angeles.
Lucy Ives is the author of several books of poetry and short prose, including Impossible Views of the World, The Hermit and the novella nineties. Her writing has appeared in Artforum, Lapham's Quarterly, and at newyorker.com. For five years she was an editor with the online magazine Triple Canopy. A graduate of Harvard and the Iowa Writers' Workshop, she holds a Ph.D. in comparative literature from New York University. She teaches at the Pratt Institute and is currently editing a collection of writings by the artist Madeline Gins.
---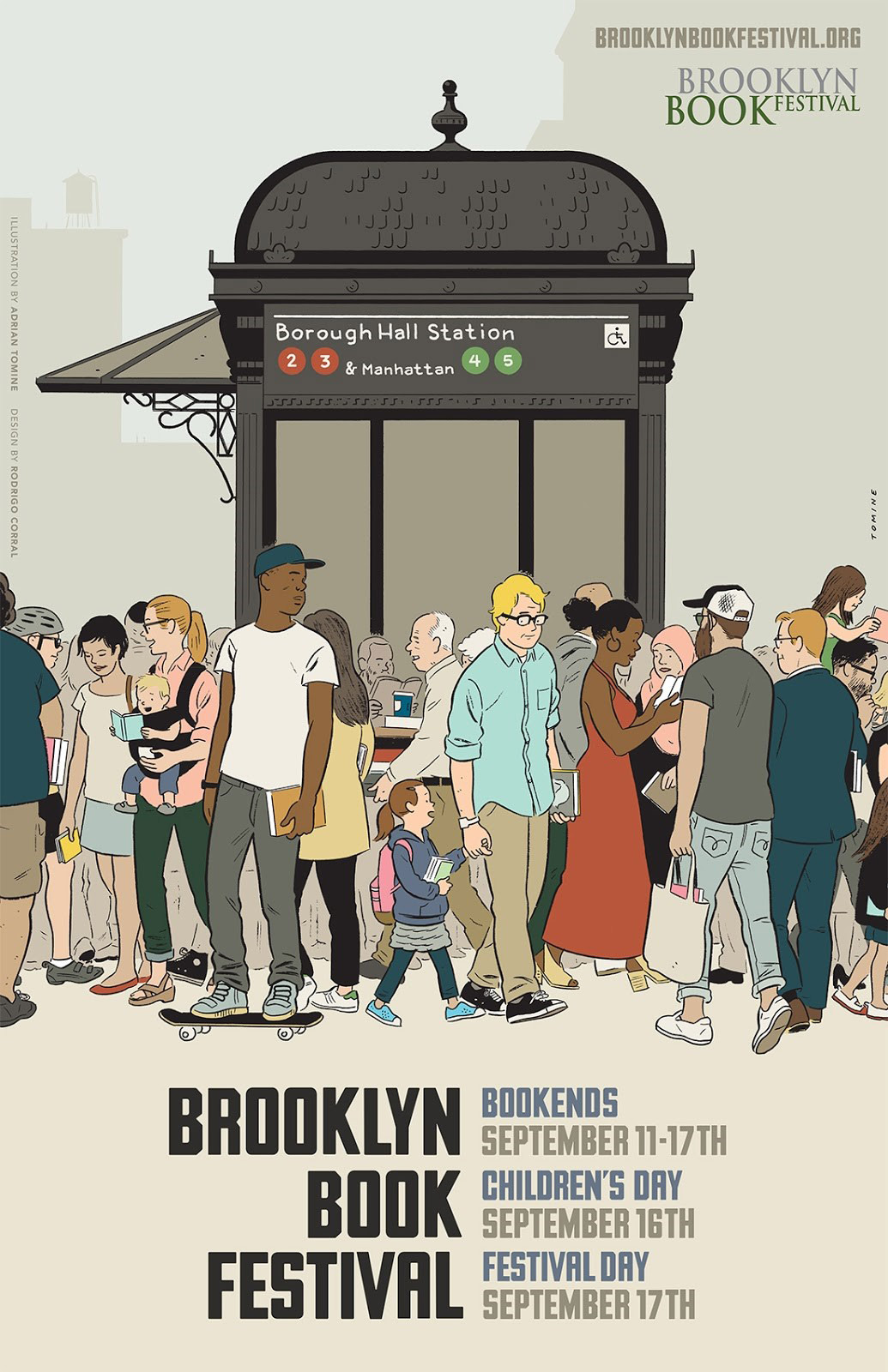 September 17, 10:00am - 6:00pm
Brooklyn Borough Hall & Plaza, Table 330
209 Joralemon St, Brooklyn, NY
Join us for the return of BKBF. We'll have the brand-new fall issue, highlights from the archives, and a surprise or two.
As usual, the festival boasts an incredible roster of international writing. Here are a few writers (and BOMB contributors) we're looking forward to seeing: André Aciman, Amelia Gray, Catherine Lacey, Albert Mobilio, Madison Smartt Bell, Mark Doten, Lindsay Hunter, Katie Kitamura, Eugene Lim, Jonathan Lethem, Nathaniel Mackey, Jeffery Renard Allen, Lidia Yuknavitch, Jenny Zhang, Fernanda Torres, Santiago Gamboa, Rodrigo Hasbún, and Peter Kimani.
---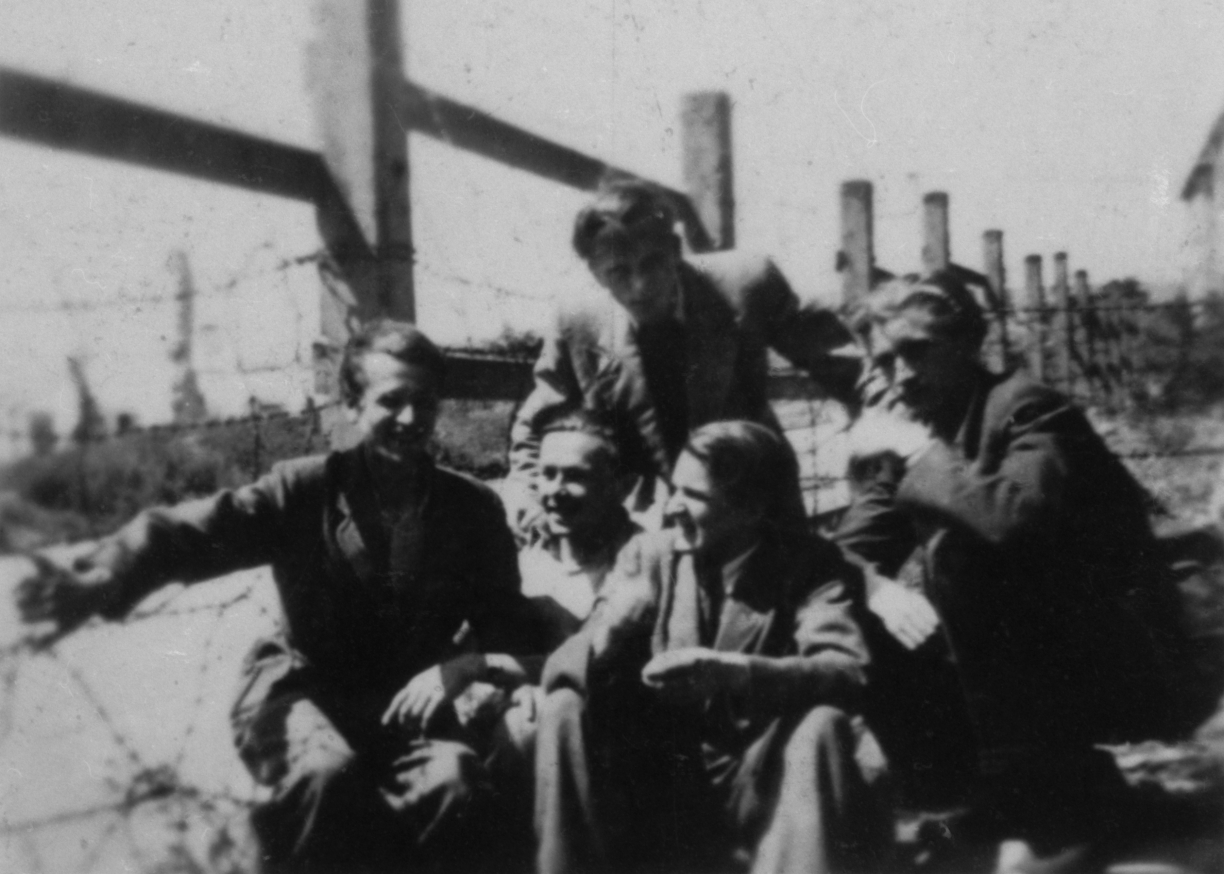 September 14, 8:00pm ET
ISSUE Project Room
22 Boerum Place, Brooklyn, NY

ISSUE and BOMB present an evening of screenings, talks, and discussion with storied film activist Jonas Mekas and writer and BOMB Magazine contributor Charity Coleman, as a part of the Brooklyn Book Festival.
Jonas Mekas shows his film Reminiszenzen aus Deutschland, 1971/1993 (edited 2012), never before screened in the U.S. (running time: 25 minutes). A non-chronological presentation of the filmmaker's time in German forced labor camps and displaced person camps, the film details a story that begins in 1944 and goes on until 1949. A reading and discussion follows after the screening. Copies of his book, I Had Nowhere To Go (diaries 1944-1955), newly republished by Spector Books, will be available at the event.
Charity Coleman performs Floods From Other Futures, a love-diary in the present moment, regarding beasts, belief, and anticipation. Exacting light from a folded time-stamp, Floods From Other Futures is an intervention. An accompanying text will be available.
Jonas Mekas is a Lithuanian-born American filmmaker, writer, and curator. In 1954, with his brother, he started Film Culture magazine, and in 1958 he began his celebrated Movie Journal column in the Village Voice. He is the founder of the Film-Makers' Cooperative (1962), and the Film-Makers' Cinematheque (1964), which eventually grew into Anthology Film Archives in 1970. Anthology Film Archives remains the world's most important repository of avant-garde films. Mekas's work has been presented at venues such as the 51st Venice Biennale, Documenta 11, the PS1 Contemporary Art Center, and the Centre Pompidou. In 2007, Mekas completed a series of 365 short videos released once a day on the internet, and has since continued to share new work on his website. Mekas has lectured on film at several universities including MIT, Cooper Union, and New York University.
Charity Coleman is the author of Julyiary (O'clock Press, 2015), and Tinctures (a forthcoming collection of prose and poetry). A 2014 NYFA Poetry Fellow, she has performed and read her work at BAM, MoMA, Knockdown Center, Dixon Place, The Poetry Project, BHQFU, and numerous other venues. Her criticism, poetry, and prose has appeared in BOMB, Prelude, Dolce Stil Criollo, Joans Digest, Fanzine, Entropy, and elsewhere. She lives in Brooklyn.
---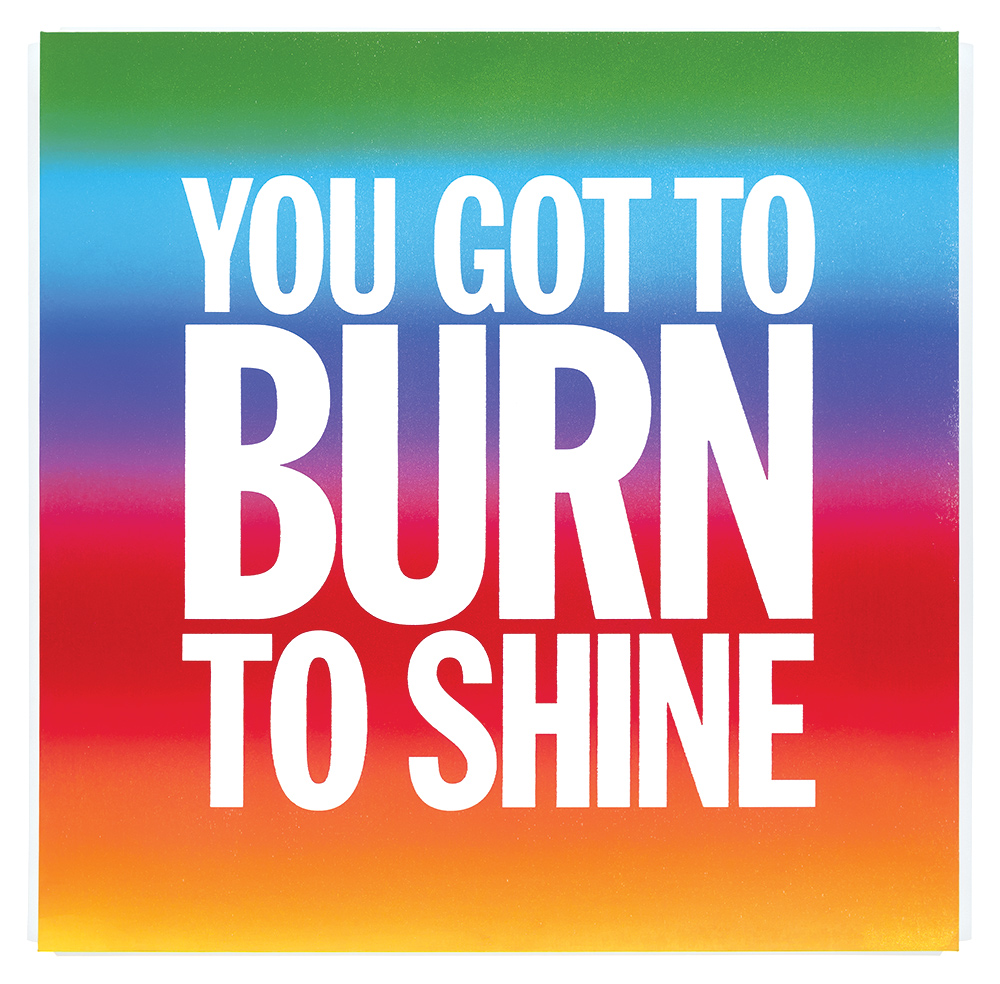 Opening June 21, 2017
Artists Space, High Line Art, Howl! Happening, Hunter College Art Galleries, The Kitchen, New Museum, Red Bull Arts New York, Rubin Museum of Art, Sky Art, Swiss Institute, White Columns, and 80WSE Gallery.
This summer Ugo Rondinone: I ♥ John Giorno spans thirteen nonprofit and alternative spaces across NYC, with readings and events programmed throughout the summer. A full schedule is available here.
Our summer issue is dedicated to John Giorno, featuring work by and in dialogue with the artist. Get your copy today.
---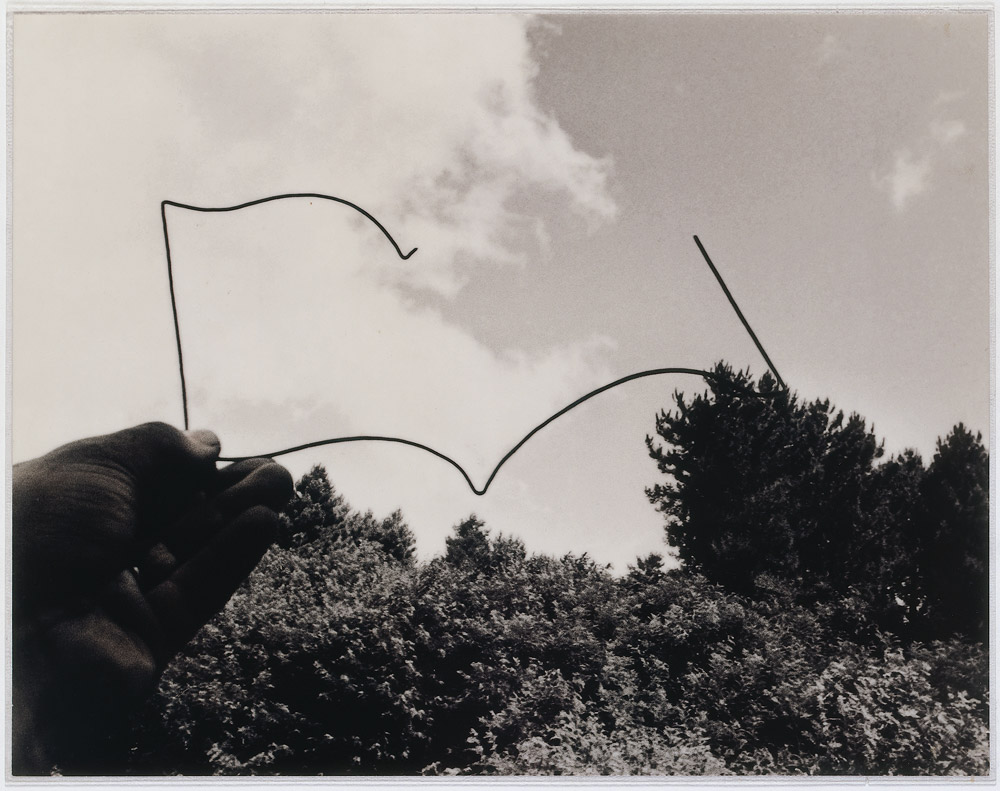 A summer market with your favorite publishers and magazines.
Saturday, July 29, 10:00am - 4:00pm ET
Brooklyn Public Library, Central Branch
10 Grand Army Plaza, Brooklyn, NY 11238
Presented by BOMB & The Brooklyn Public Library

The Flea returns for the fourth year in a row.

Rain or shine. Unless it's an absurd amount of rain.
Presented with:

Media Partner: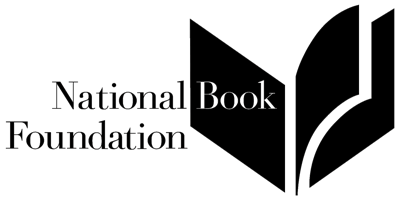 Top Image: Luis Camnitzer, from The Book of Holes, 1977. Photo by Peter Schälchli, Zurich.
---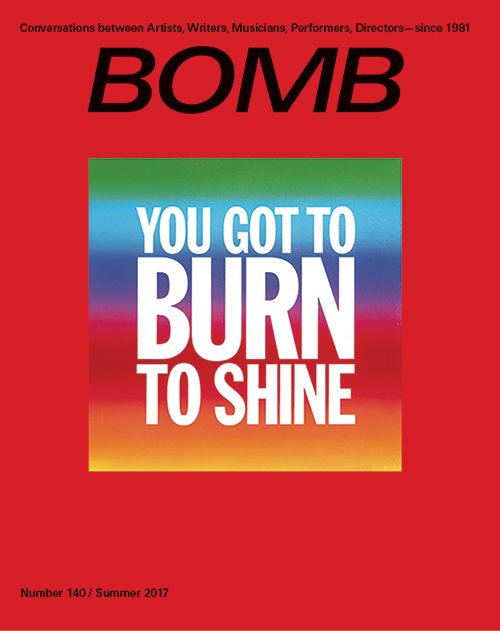 Thursday, July 20, 6:30pm
Printed Matter
231 11th Ave, New York, NY 10001
Join us for a toast to BOMB 140, with readings by Ari Braverman, Todd Colby, Andrew Durbin, and Aimee Herman. There will be drinks, mingling, and revelry.
Produced in partnership with Printed Matter. Beer courtesy of Sixpoint Brewery.
Facebook Event | Buy the Issue
Ari Braverman is from Iowa City and Denver by way of New Orleans. She was awarded a 2015 De Alba Fellowship from Columbia University and has stories forthcoming in the newest issue of Tammy Journal and at SmokeLong Quarterly. Her interviews can be found online at Antenna's Room 220, Electric Literature, and Guernica. She is an assistant editor for Conjunctions, and lives in Harlem, New York.
Todd Colby is the author of six books of poetry, most recently Splash State (The Song Cave, 2014) and Flushing Meadows (Scary Topiary Press, 2012). He was the editor of the poetry anthology Heights of the Marvelous: A New York Anthology (St. Martin's Press, 2000) and serves on the board of the Poetry Project. He was the lead singer for the band Drunken Boat.
Andrew Durbin is the author of Mature Themes (2014) and the forthcoming novel MacArthur Park (2017), both from Nightboat Books. He lives in New York.
Aimee Herman is a performance artist, poet, and teacher with two full length books of poetry. Aimee has been published widely in journals and anthologies including cream city review, ADRIENNE, Cake Train and Trans and Genderqueer Poetry and Poetics. In addition to writing, Aimee also curates and hosts a monthly series at Dixon Place called Queer Art Organics featuring LGBTQ writers and performers. For more, go to: aimeeherman.wordpress.com
---

June 8 - 11, 2017
McCarren Park Basketball Courts, Brooklyn, NY 11249
Northside Festival details
The weekend-long arts, music, and innovation festival includes performances by the Dirty Projectors, Kamasi Washington, M. Lamar, and dozens of others. BOMB will be onsite at the new Community Affairs Center, with a portion of our sales going to support the ACLU.
---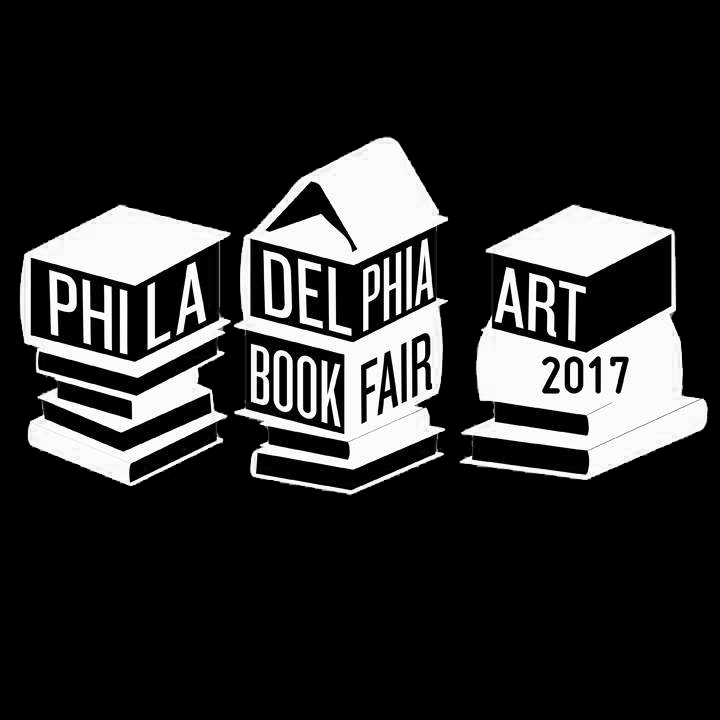 Join us at this year's Philadelphia Art Book Fair! The two-day fair is free and open to the public, is fully accessible, and showcases presses and magazines from Philadelphia and beyond.

The Philadelphia Art Book Fair 2017 is a co-presentation of Philadelphia Photo Arts Center and The Print Center.
---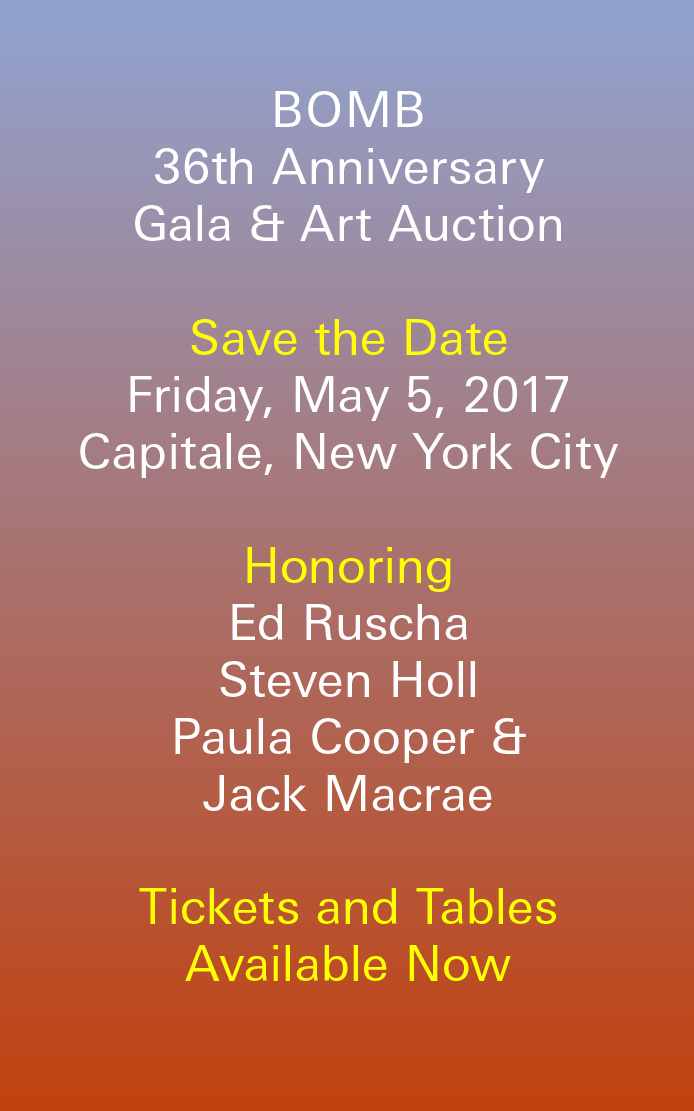 Toasters
Adam Weinberg
Richard Armstrong
Tim Griffin

Co-Chairs
Stephanie & Peter Brant
Beth Rudin DeWoody & Firooz Zahedi
Heather & Jim Johnson
Susan & Benjamin Winter

Honoree Supporters
Gagosian
Katherine Farley & Jerry Speyer

Honorary Chairs
Michelle Coffey, Lambent Foundation
Ben Lerner
Marina Adams & Stanley Whitney
Ben Wizner, ACLU
6:30 to 8:00pm Cocktails and Canapés
6:30 to 10:30pm Silent Art Auction
8:00pm Seated Dinner, Toasts, and Live Auction
9:30 to 10:30pm Dessert and Final Bidding

Our online auction has concluded.
Rita Ackermann
Marina Adams
Miyoshi Barosh
Lynda Benglis
Sebastian Black
Dianne Blell
Katherine Bradford
Peter Bradley
David Brody
Beatrice Caracciolo
Michelle Charles
Mel Chin
Olga Chernysheva
Jimmie Durham
Austin English
James Esber
Inka Essenhigh
Sol LeWitt Estate
Roe Ethridge
Natalie Frank
Dianna Frid
Joe Fyfe
Regina José Galindo
Liam Gillick
Hans Haacke
Camille Henrot
Karl Holmqvist
Sheree Hovsepian
Judith Hudson
Jibade-Khalil Huffman
Bryan Hunt
Samuel Jablon
Steffani Jemison
Anna K.E.
Jane Kaplowitz
Angie Keefer
Louise Lawler
James Little
An-My Lê
Liz Magic Laser
Adam McEwen
Mike Metz
Carlos Motta
Sarah Oppenheimer
Bruce Pearson
Adam Pendleton
Nick Poe
Marina Rosenfeld
Matt Saunders
Dana Schutz
Leanne Shapton
Dasha Shishkin
Jason Simon: 1 & 2
Josh Smith
Rebecca Smith
A.L. Steiner
Patricia Treib
James Welling
Audra Wolowiec
---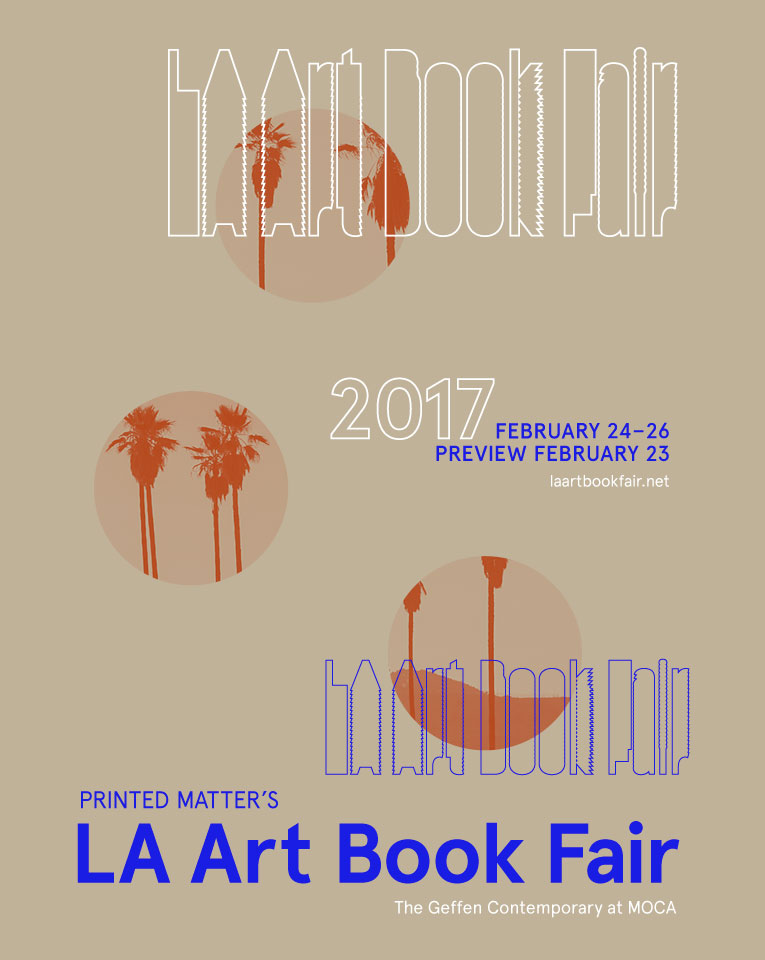 February 23 - 26
The Geffen Contemporary at MOCA
152 N Central Ave, Los Angeles, CA 90012
Stop by the BOMB table for a look at the winter issue, special subscription offers, and a surprise or two. We'll be the jetlagged ones in sunglasses.
---

February 8 - 11
Washington Convention Center & Washington Marriott Marquis, Booth #660
901 Massachusetts Ave NW, Washington, DC 20001
The Association of Writers & Writing Programs' annual conference is a BOMB favorite. We're headed to the nation's capital to meet readers and contributors, showcase the winter issue, and present the brand-new paperback editions of our Author Interviews anthology. We'll be offering discounts for writers and graduate students, too.

Stop by our table and say hello!
AWP Conference Schedule | Buy the Winter Issue
---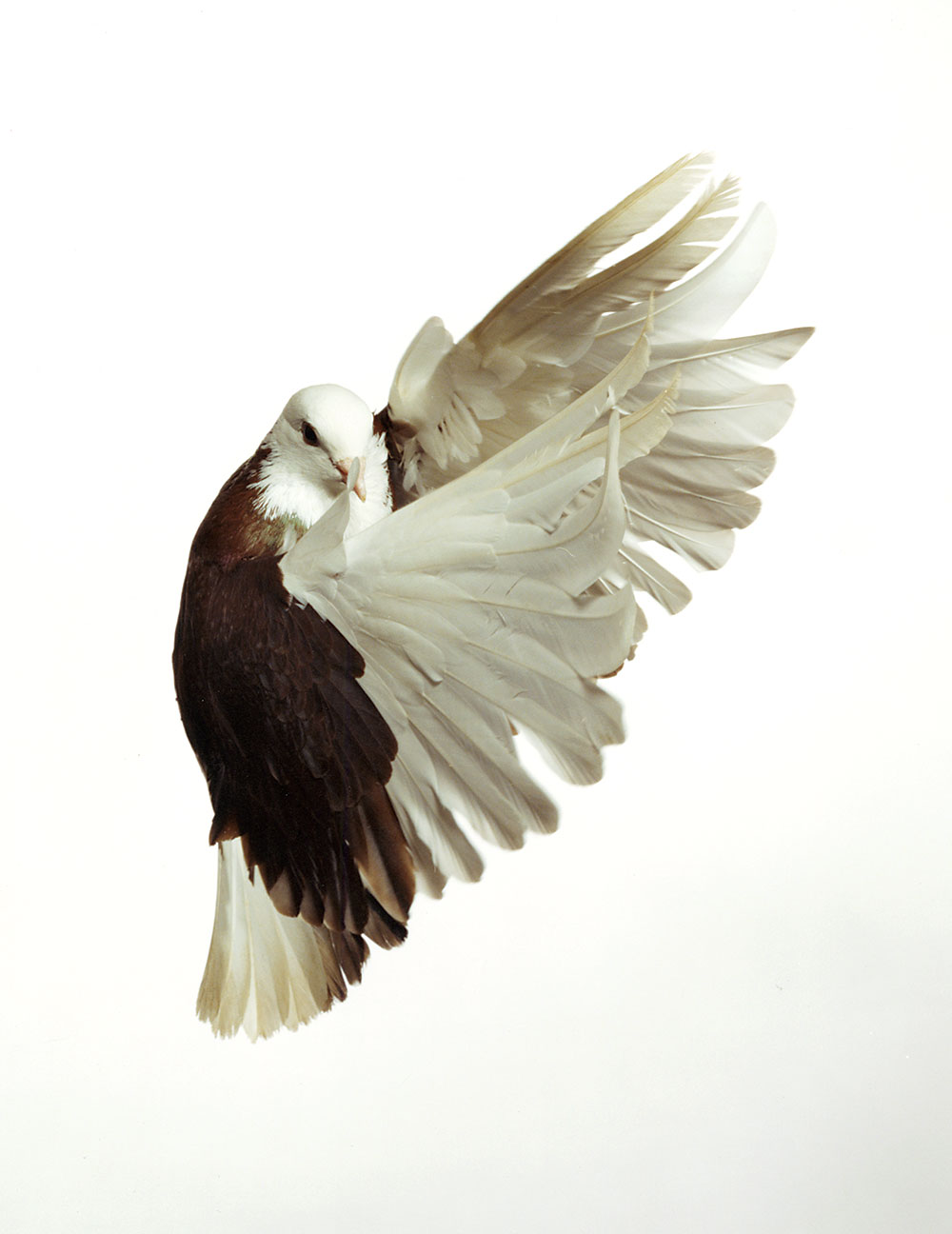 Join us for a toast to BOMB 138. Photographer Roe Ethridge and Tim Griffin, executive director and chief curator of The Kitchen, will discuss the uses of humor and nostalgia in Ethridge's conceptual practice, including his preference for getting things "exactly wrong," à la Warhol.

Produced in partnership with Printed Matter.
Facebook Event | Buy the Issue
Image at top: Pigeon, 2001, C-print, 38 × 30 inches.
---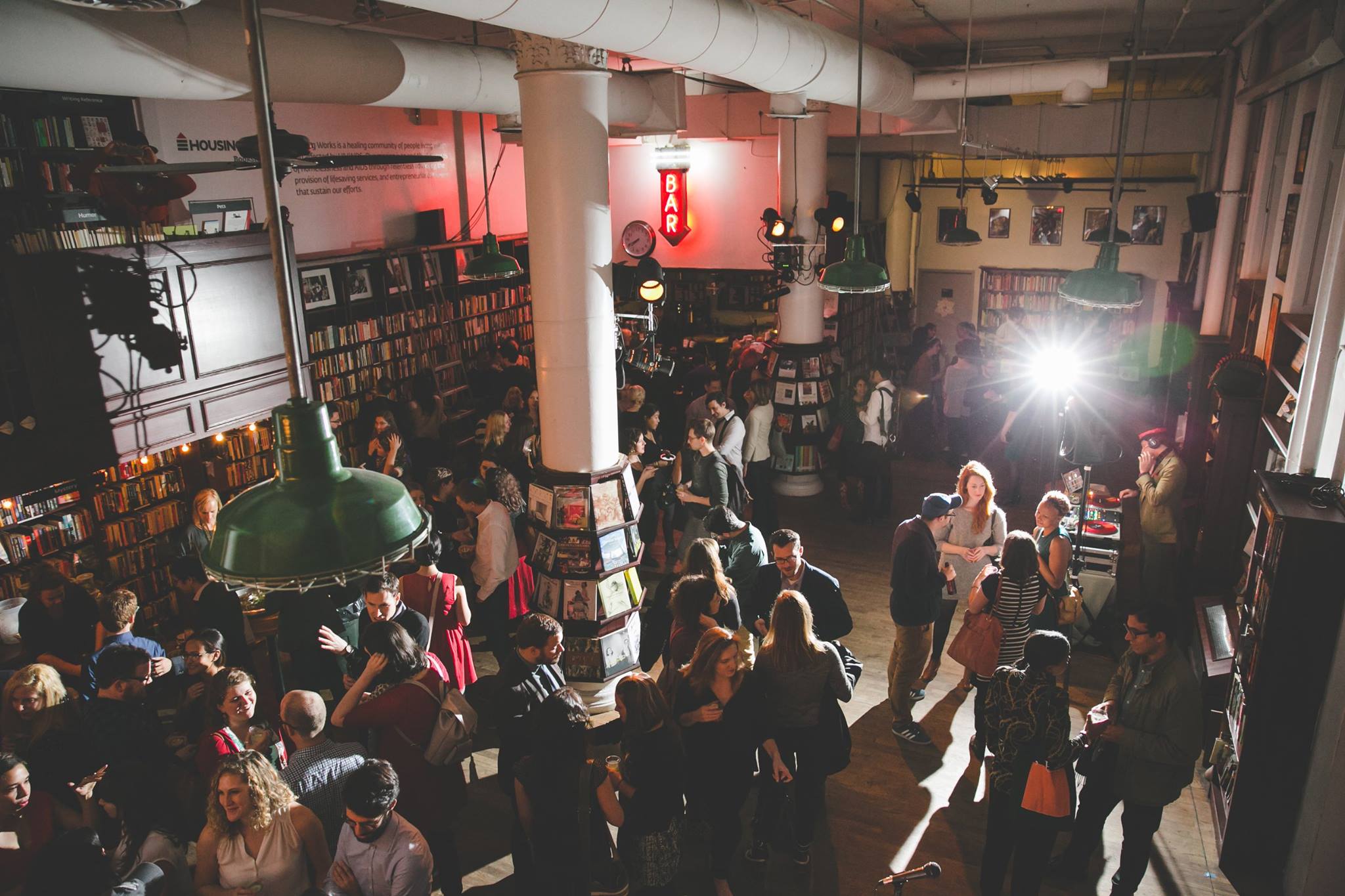 Please save the date for a gathering and marathon-style reading of responses by and for artists and arts organizers. Line-up to be announced. Artists of all disciplines will read their short responses--of any form--to the results of election 2016 and the imminent administration.
Partner organizations will provide information and resources in addition to Housing Works' bookstore and advocacy and healthcare departments.
Note that BOMB's readers will begin around 8:30pm. We recommend arriving early. See Facebook event for full details.
Produced by
Molly Rose Quinn, Director of Public Programming, Housing Works Bookstore Cafe
Brandon Stosuy, Editor-in-Chief of The Creative Independent, a project of Kickstarter
Glory Edim, founder of Well-Read Black Girl
Jillian Steinhauer, senior editor at Hyperallergic
---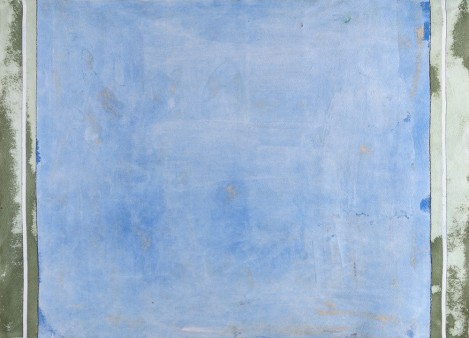 Honoring contemporary artists represented in Circa 1970, this event celebrates the decade as a critical period in which artists deviated from conventional interpretations of art and explored new, radical ways of making.
This special program is presented in partnership with The Studio Museum in Harlem. Showcasing the intricacies of oral history documentation, this program is the culmination of an intimate series of interviews between Circa 1970 artist James Little and Dr. LeRonn Brooks, Assistant Professor of African and African American Studies at CUNY. Together, the pair will discuss the experience of capturing an in-depth oral history. Unpacking James Little's established practice in Abstract Expressionism through firsthand accounts, the event traces his origins as a young artist all the way through to the contemporary issues he considers in his work today. The program will conclude with an audience Q+A followed by a walkthrough of the exhibition led by the artist.
About the Oral History Project
A unique series of one-on-one interviews with New York-based African-American artists, curators, and cultural figures, this project aims to shine a light on the lives and careers of distinguished practitioners across the arts, many of whom remain under-recognized. Recent interviews include Eldzier Cortor, Wangechi Mutu, and Stanley Whitney.
Image: James Little, Untitled (9-77), 1977, Polymer emulsion on paper, 22 × 30 in. Courtesy of The Studio Museum in Harlem; gift of Mr. and Mrs. David K. Anderson.
---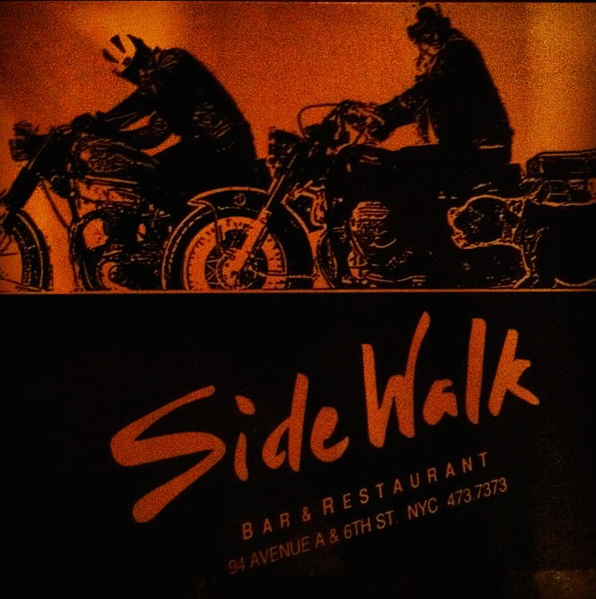 We're participating in Boog City's annual celebration of small presses, with a spotlight on our 2016 Poetry Contest winner Marwa Helal.
Participants and readers include:

Fuff Comix
Jeffrey Lewis (solo acoustic set)

Nightboat Books
Michael Heller

Ping Pong literary journal
Hamm, Jameson O'Hara Laurens, & Kate Lutzner

Switchback Books
Marisa Crawford & Crystal Curry

Series curated by Boog City editor David Kirschenbaum.
Marwa Helal's poetry has appeared in Apogee, Day One, The Offing, and The Recluse. Her essays and journalism have been published in Poets & Writers, the American Book Review, Entropy, Egypt Today, Sukoon, and elsewhere. She is a Cave Canem fellow, a mentor in the New York Foundation for the Arts Immigrant Artist Program, a VONA alum, and she received her MFA in creative writing from The New School.
---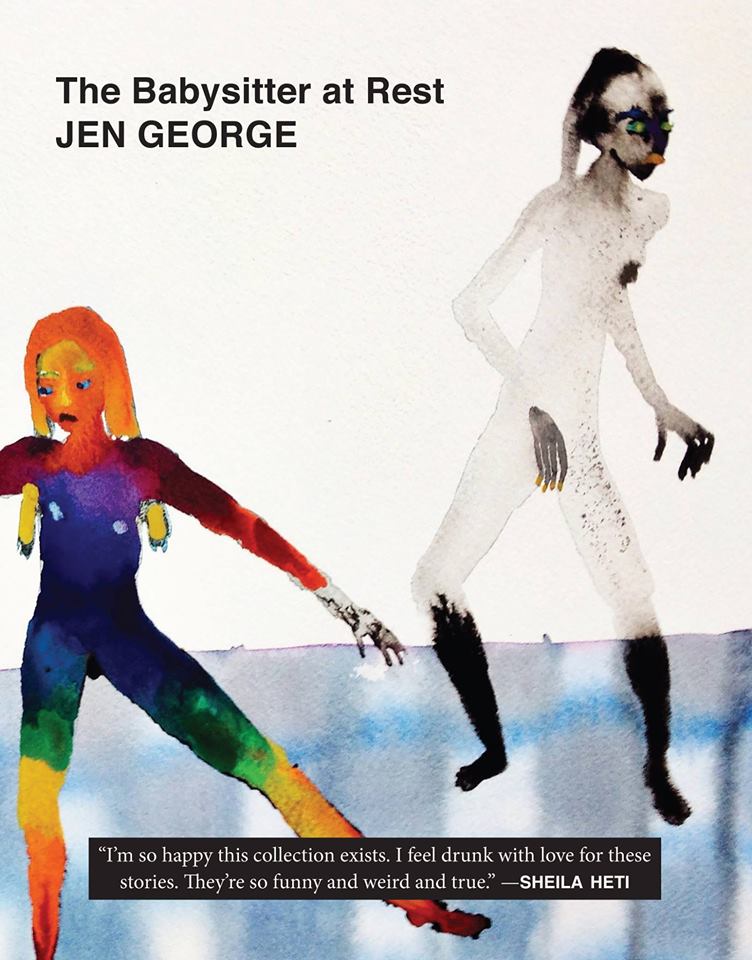 Join us for the launch of Jen George's hilarious and bizarre debut collection The Babysitter at Rest (Dorothy, a publishing project, 2016). Sheila Heti calls George's stories "funny and weird and true." Deb Olin Unferth calls her a "modern-day Jane Bowles." And artist Matthew Barney claims George's stories are "completely warped." Jen George will read from and then be in conversation about The Babysitter at Rest with poet, playwright, and translator Ariana Reines.
---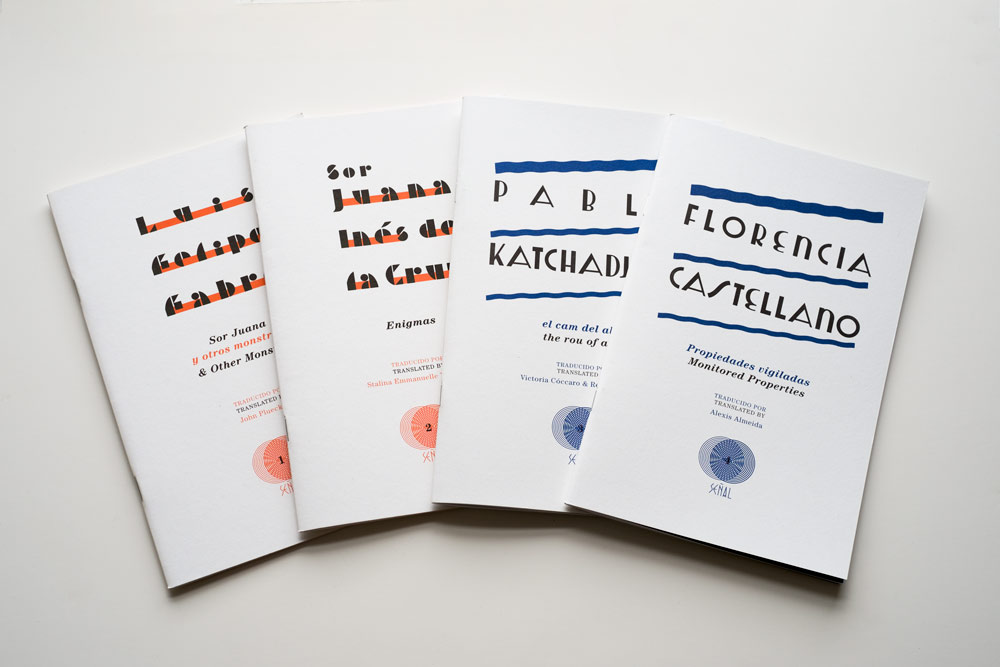 We are pleased to support two readings in Spanish and English in celebration of our Señal titles, featuring Luis Felipe Fabre (with translation by John Pluecker), Stalina Emmanuelle Villarreal (reading Sor Juana Inés de la Cruz), Pablo Katchadjian (with Rebekah Smith and Victoria Cóccaro), and Florencia Castellano (with Alexis Almeida).
The Señal Series publishes two chapbooks a year, linked either thematically, conceptually, or trans-historically, troubling received ideas around what the terms "contemporary" and "Latin America" might represent.
Spain Center Details | Poetry Project Details
---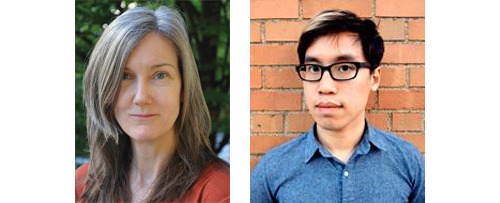 Nell Zink reads from and discusses her two newly published books, Private Novelist and Nicotine. Written before The Wallcreeper made her famous, the two novellas in Private Novelist feature a translation of a Hebrew novel (without any knowledge of Hebrew), a spy story, and faux autobiography. Nicotine explores the gap between baby-boomer idealism and millennial pragmatism in a squat house in Zink's unique take on the modern family novel.
Nell Zink grew up in rural Virginia. She has worked in a variety of trades, including masonry and technical writing. In the early 1990s, she edited an indie rock fanzine. Her writing has also appeared in n+1. She is the author of the novels The Wallcreeper and Mislaid. She lives near Berlin, Germany.
Tony Tulathimutte's novel Private Citizens was called "the first great millennial novel" by New York magazine. A graduate of Stanford University and the Iowa Writers' Workshop, he has written for the New York Times, VICE, The New Yorker, The Atlantic, and elsewhere. His work has received an O. Henry Award and a MacDowell Fellowship.
You can find Nell Zink's conversation with Keith Gessen in our fall issue.
---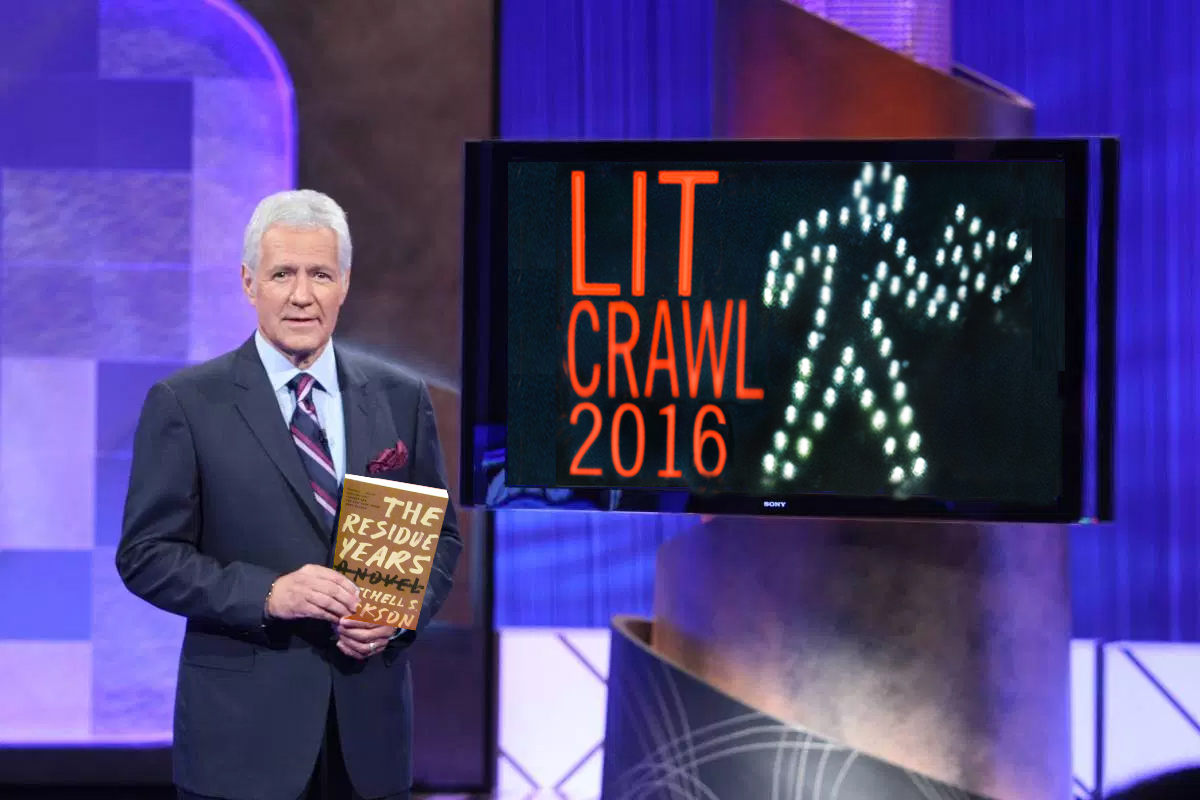 Everyone's favorite literary trivia game returns for a booze-fueled and heckler-filled competition between authors, readers, and the occasional barfly. Based on a certain long-running game show, Nerd Jeopardy is for anyone who's wanted to drunkenly yell "Who is Proust?" Audience participation is duly rewarded, with glory and prizes distributed indiscriminately.
Hosted by BOMB's Ryan Chapman with special guest Mitchell S. Jackson.
About Mitchell S. Jackson
Mitchell S. Jackson is a Portland, Oregon native who lives in Brooklyn, New York. He received an M.A. in writing from Portland State University and an M.F.A in Creative Writing from New York University. He has been the recipient of fellowships from TED, the Lannan Foundation, The Center For Fiction, and The Bread Loaf Writer's Conference. His novel The Residue Years was released in the summer of 2013 and was praised by publications such as The New York Times, The Times of London, The Paris Review, and The Sydney Morning Herald. Jackson is Whiting Award recipient. His novel also won The Ernest Gaines Award for Literary Excellence and was a finalist for the Center For Fiction's Flaherty-Dunnan First novel prize, the PEN/ Hemingway award for first fiction, The Hurston / Wright Legacy Award for best fiction by a writer of African descent; it was long-listed for the William Saroyan International Prize for writing and the Chautauqua Prize, and named an "Honor Book" by the BCALA. Jackson has become a well-regarded speaker who was read and/or and lectured at institutions including Brown University, Columbia University, Yale University, Middlebury College, and UMASS; at events including The Brooklyn Book Festival, The Miami Book Festival, and the Sydney Writers' Festival; at various adult prisons and youth facilities; and for organizations including The Pathfinders of Oregon, The PEN / Faulkner Foundation, and The Volunteers of America. He serves on the faculty of New York University and Columbia University.
About Lit Crawl
The first Lit Crawl NYC took place in 2008, along a rambling route from the Lower East Side, to the East Village, and over to Williamsburg. Since then, the upstart Lit Crawl has become a permanent and highly anticipated fixture on New York City's packed literary calendar. Lit Crawl NYC brings literature to the streets via brainy readings and wacky events such as Literary Pictionary and Nerd Jeopardy alongside Tarot card readings, Flash portraiture, mobile photo booths, music from publishing house bands, and hundreds of other events full of readers, writers, fun-loving boozers, and all-around literary mayhem.
Facebook event | Full Lit Crawl Schedule
---

The location is the Parrish-sponsored installation by Toni Ross titled Permanent Transience, part of their annual Parrish Road Show project, this year at Marders.
Candace Bushnell is the international best-selling author of Killing Monica, Sex and the City, Summer and the City, The Carrie Diaries, One Fifth Avenue, Lipstick Jungle, Trading Up, and Four Blondes.
Jacqueline Weld Drake is the author of the official biography of Peggy Guggenheim, Peggy: The Wayward Guggenheim and a novel, Rara Avis.
Bob Morris is an author of several collections of nonfiction, including Gut Check, Short Road to Hell, The Man with the Fish on His Foot, All Over the Map, and The Whole Shebang. Morris is also president of Story Farm, a custom publishing company that creates books, magazines and other publications for a wide variety of clients. He will be reading a piece he has written about Edward Albee.
Gregory Hedberg, PhD, is the author of the new book Degas' Little Dancer, Age Fourteen: The Earlier Version That Sparked The Birth Of Modern Art.
About the Parrish Art Museum
Inspired by the natural setting and artistic life of Long Island's East End, the Parrish Art Museum illuminates the creative process and how art and artists transform our experiences and understanding of the world and how we live in it. The Museum fosters connections among individuals, art, and artists through care and interpretation of the collection, the presentation of exhibitions, publications, educational initiatives, programs, and artists-in-residence. The Parrish is a center for cultural engagement, an inspiration and destination for the region, the nation, and the world.
About Toni Ross
Ross is intrigued by the intersection of diverse objects and materials, especially those that defy logic. These concepts are often represented by fine threads that bind powerful, weighty forms. In Permanent Transience, the artist creates a juxtaposition of materials through an installation of sculpted straw bales that intersect and envelop three massive on-site boulders.
The Parrish Road Show, an offsite creative summer series, takes place each year in August and features temporary projects by East End artists. Now in its third year, Parrish Road Show is designed to deeply connect creativity to everyday life by presenting exhibitions and programs at unexpected places—from public parks to historic sites—across the region. Century Arts Foundation Curator of Special Projects Andrea Grover states, "Road Show aims to broaden the traditional understanding of the function of an art museum by bringing art outside and into the community." Parrish Road Show also has included related public programs like an art historical bike tour, outdoor movies, guided meditation, local food tastings, and live music.
---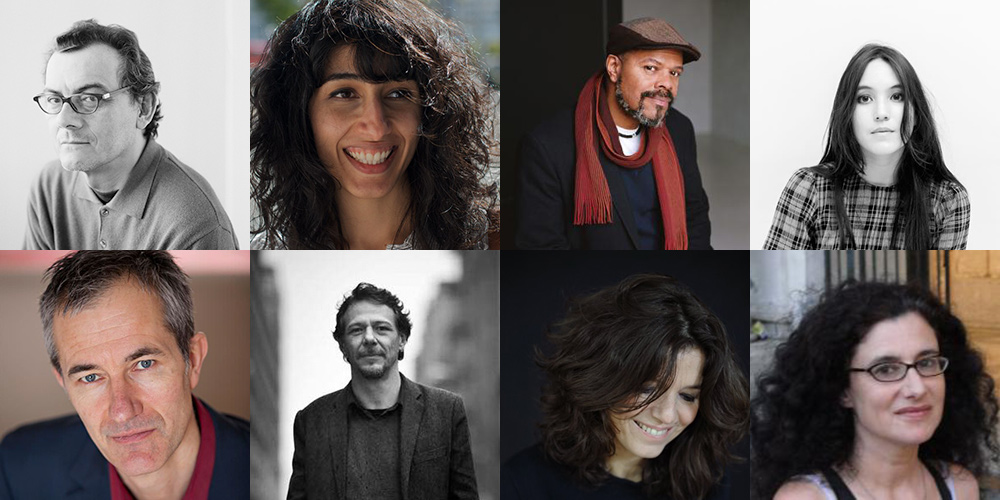 Top row: Horacio Castellanos Moya, Solmaz Sharif, John Keene, Alexandra Kleeman. Bottom row: Geoff Dyer, Álvaro Enrigue, Maylis de Kerangal, Susan Daitch
New York's largest literary festival returns to downtown Brooklyn for another day of panels, readings, and community. Stop by booth #323 to check out our fall issue and meet BOMB's editors. As usual, several authors featured in BOMB's pages will be speaking at the festival. Here are a few highlights:
10:00am — "Body Language—Heart, Eyes, Blood" with Maylis de Kerangal, Lina Meruane, and Masande Ntshanga
10:00am — "Inventing History in New Fiction" with John Keene, Susan Daitch, and Jeremy M. Davies
12:00pm — "Why Fiction Matters" with Alexander Chee, Mitchell S. Jackson, Roxana Robinson, and Tiphanie Yanique
1:00pm — "Youth in Revolt" with Teddy Wayne, Tony Tulathimutte, and Stephanie Danler
3:00pm — "Obsession" with Horacio Castellanos Moya, Idra Novey, and Patricia Engel
4:00pm — "High Brow, Low Brow" with Alexandra Kleeman, Lynn Crosbie, and Mark de Silva
4:00pm — "Truth to Form" with Tyehimba Jess, Solmaz Sharif, and Martha Collins
4:00pm — "From Sci-Fi to Meta (and Heavy Metal): New Dimensions in Latin American Fiction" with Yoss, Álvaro Enrigue, and Carlos Labbé
5:00pm — "Darkly Comic" with Geoff Dyer, Rick Moody, and A.M. Homes
There are also numerous Bookend events—including ours!—running from September 12-18; see the complete schedule here. For more information about the Festival, visit their website here.
---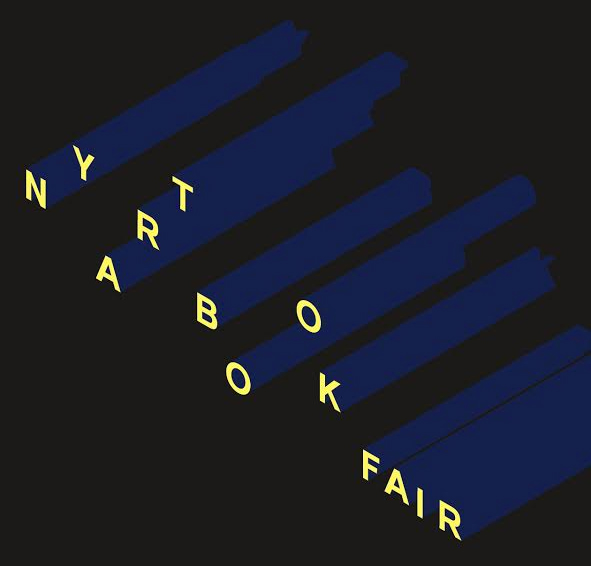 One of our favorite September traditions: carting the fall issue and a few other surprises to the city's best art book fair. This year we're sharing space with our friends at Pioneer Works, so come say hello and enjoy the windy respite of our minifans.
We recommend catching Blonde Art Books and Poet Transmit's "Cold Open Verse," Thursday night; Cory Arcangel's launch for his book The Source Digest, Saturday at 1:00pm; M. Lamar's performance "We have always risen up from the Dead," Sunday at 5:00pm; and, as always, KNOW WAVE's live broadcast throughout the weekend.
Full details about the Fair can be found here.
---

Thursday, September 15, 7:30pm ET

Issue Project Room, 22 Boerum Place, Brooklyn, NY 11201
Cuba's most celebrated science fiction author Yoss is also its most notorious literary rocker: He's the lead singer and harmonicist for the Havana death metal band Tenaz.

Join us for an evening of Cuban sci-fi and metal classics at this special Brooklyn Book Festival Bookends event.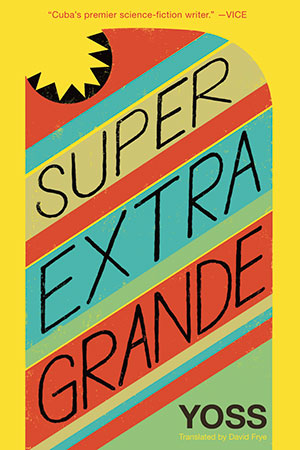 Co-hosted by Restless Books, BOMB, and Issue Project Room, the event will include a discussion between Yoss and novelist Paul La Farge about Havana's literary culture and metal scene, after which Yoss will be joined by a full band to perform his favorite metal classics.

Books, merch, and BOMB issues will be for sale, and discounted drinks will be available at the bar. Entry includes a copy of Yoss intergalactic space opera Super Extra Grande and a drink ticket.
ABOUT YOSS
Born José Miguel Sánchez Gómez, Yoss assumed his pen name in 1988, when he won the Premio David in the science fiction category for Timshel. Together with his peculiar pseudonym, the author's aesthetic of an impentinent rocker has allowed him to stand out amongst his fellow Cuban writers. Earning a degree in Biology in 1991, he went on to graduate from the first ever course on Narrative Techniques at the Onelio Jorge Cardoso Center of Literary Training, in the year 1999. Today, Yoss writes both realistic and science fiction works. Alongside these novels, the author produces essays, reviews, and compilations, and actively promotes the Cuban science fiction literary workshops, Espiral and Espacio Abierto.

ABOUT PAUL LA FARGE
Paul La Farge is the author of three novels: The Artist of the Missing (FSG, 1999), Haussmann, or the Distinction (FSG, 2001), and Luminous Airplanes (FSG, 2011); and a book of imaginary dreams, The Facts of Winter (McSweeney's Books, 2005). He is the recipient of a Guggenheim Fellowship, the Bard Fiction Prize, and fellowships from the New York Foundation for the Arts and the National Endowment for the Arts. He was a fellow at the Dorothy and Lewis B. Cullman Center for Scholars and Writers at the New York Public Library in 2013-14. He lives in upstate New York.
Thanks to our partners:

---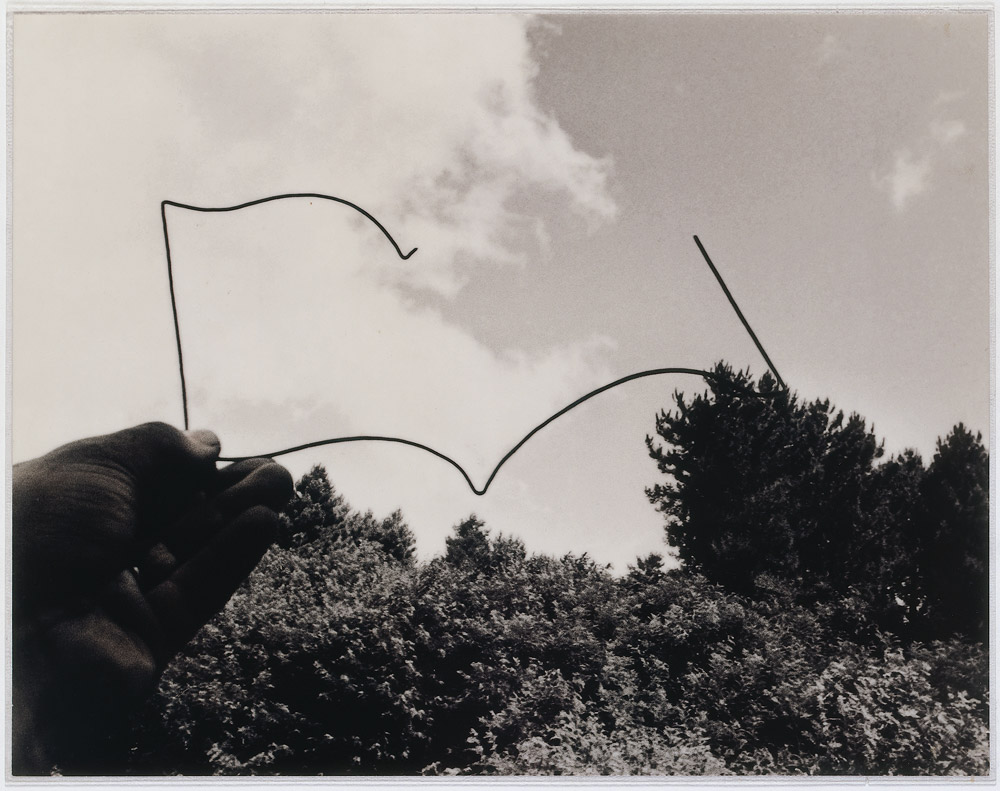 A summer market with your favorite publishers and magazines.
Saturday, July 30, 10:00am - 4:00pm ET
Brooklyn Public Library, Central Branch
10 Grand Army Plaza, Brooklyn, NY 11238
Presented by BOMB & The Brooklyn Public Library

Rain or shine. Unless it's an absurd amount of rain.
Presented with:


Media Partner: THE NATIONAL BOOK FOUNDATION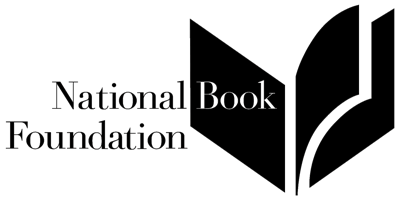 Top Image: Luis Camnitzer, from The Book of Holes, 1977. Photo by Peter Schälchli, Zurich.
---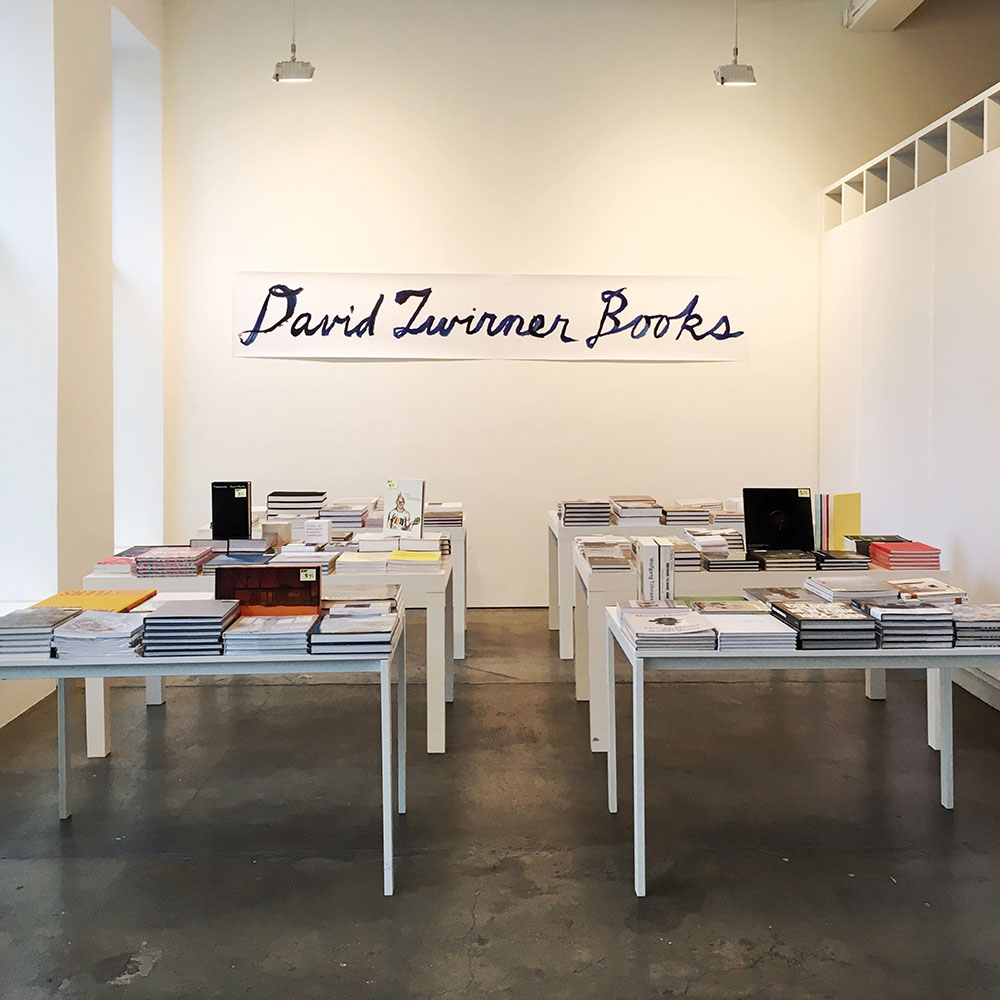 Thursday, July 27, 5:00 - 8:00pm ET

535 West 20th Street, New York, NY 10011
Stop by David Zwirner's pop-up bookstore for a happy hour with BOMB editors and staff, and a chance to browse the summer issue. We'll be joined by friends at Apartamento, Cultured, and ArtAsiaPacific.
---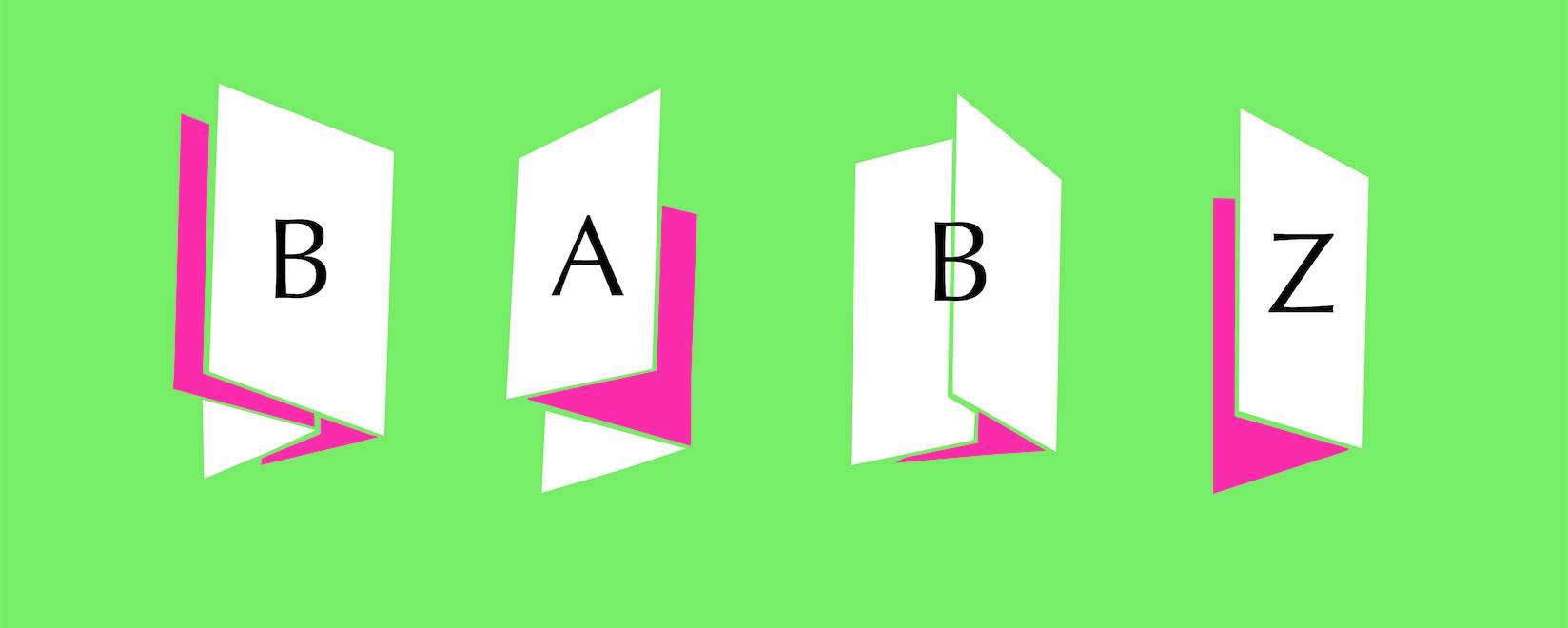 July 16 and July 17, 1:00pm - 7:00pm ET

Signal
260 Johnson Ave, Brooklyn, NY 11206
We'll be manning a table at Blonde Art Books' fourth annual BABZ fair. Come on out, peruse the summer issue, check out the new tote bags, and say 'ello.
Participants include:
Capricious
cinders gallery
Cleopatra's
Dancing Foxes Press
DittoDitto Books
Dominica
Draw Down
Endless Editions
Futurepoem Books
Halmos
Hassla
International General / The Stichting Egress Foundation
Miniature Garden
Mixed Media
molassesbooks
mozzarella.website
New Documents
Packet Biweekly
PERADAM
pilot press... (Jen Kennedy and Liz Linden)
Primary Information
Publication Studio Hudson
Nikholis Planck
RATSTAR
Small Editions
Soberscove
Ugly Duckling Presse
Unknown Unknowns
Wonder

---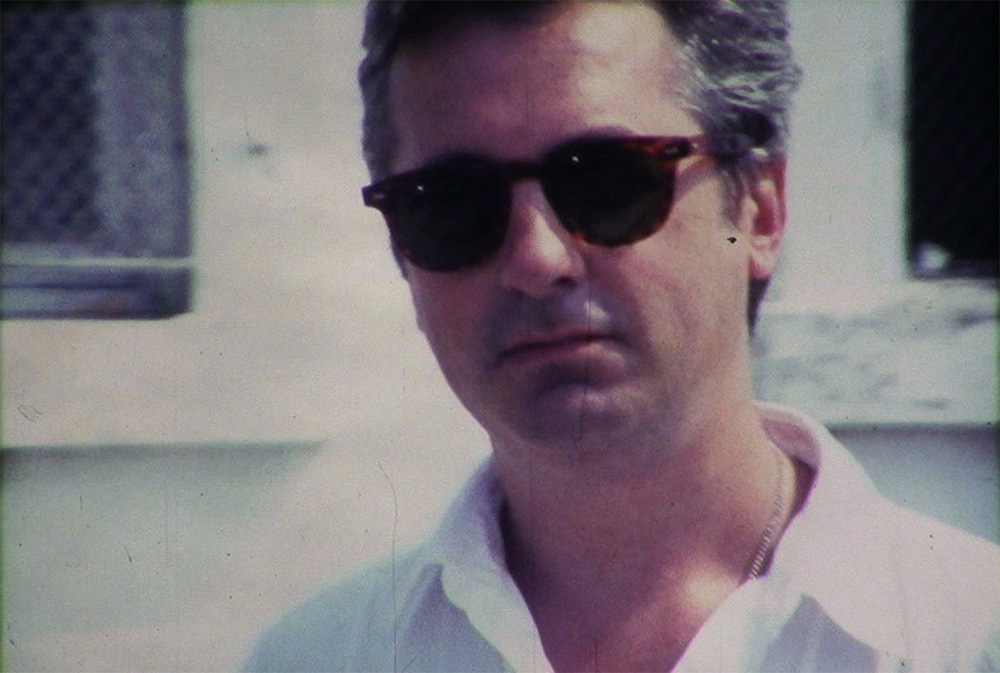 Friday, July 15, 9:00pm
Be Electric Studios
1298 Willoughby Ave, Brooklyn
We're partnering with our friends at H.I.P. Lit for the launch of BOMB 136. Join us for a night of art, drinks, and dancing. Lots of dancing.
The night will include a rare installation of Ben Vida and Jeff DeGolier's Metal Fatigue Music—the greatest sound piece ever to incorporate a Toyota Priva minivan—as well as projections from Jason Simon and Moyra Davey's legendary One Minute Film Festival.

All-vinyl DJ sets by Damian & Tallboy (PICNyC) with additional music by Simone White.
The party is free to attend, with complimentary beer and wine.
Special thanks to Callicoon Fine Arts and Sixpoint Brewery.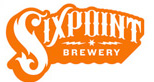 Here's a bit from PICNyC to set the mood:
Image at top: Bill Horrigan, curator-at-large at the Wexner Center for the Arts, from Jason Simon's In and Around the Ohio Pen, 2014. Simon is interviewed by Claire Pentecost in the summer issue.
---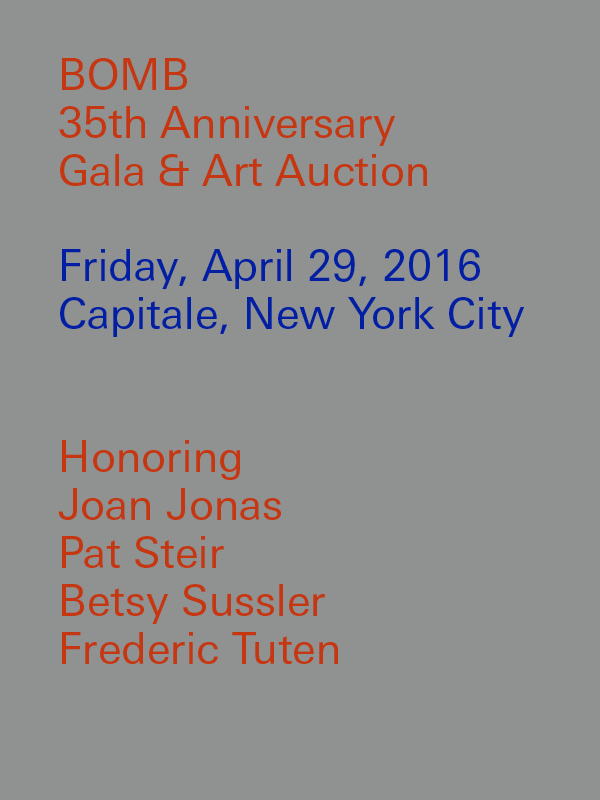 Bidding for the art auction is now open and runs through April 29 with our partners Paddle8.
Terry Adkins
Etel Adnan: 1, 2, and 3
Tom Burr
Ellen Carey
Sarah Charlesworth
Anne Chu
Stephen Collier
John Coplans
Brian Dailey
Shezad Dawood
Tacita Dean
David Deutsch
David Diao
Dahlia Egad
Nicole Eisenman
Mitch Epstein
Wendy Ewald
Louise Fishman
Ryan Foerster
Adam Fuss
Joe Fyfe
Mike Goodlett
Ethan Greenbaum
Wade Guyton
Lyle Ashton Harris
David Humphrey
Jacqueline Humphries
Jessica Jackson Hutchins
Mark Innerst
Alfredo Jaar
Joan Jonas
Barbara Kasten: 1 and 2
Louise Lawler
Zoe Leonard
Judith Linhares
Vera Lutter
Anthony McCall
Allan McCollum
Josiah McElheny
Amanda Means
Sam Messer
Tom Otterness
Jean Pagliuso
Roxy Paine
Celia Paul
Lari Pittman
Elaine Reichek
Allen Ruppersberg
David Salle and Sofi Brazzeal
Carolina Sandretto
Carolee Schneemann
Richard Serra
Arlene Shechet
Gedi Sibony
James Siena
Ray Smith
Michael Smith
Michael St. John
Henry Taylor
Fred Tomaselli
Peter Wegner
William Wegman
Lawrence Weiner
James Welling
Stanley Whitney
Terry Winters
Décor by Madeline Weinrib.
Music curated by M. Lamar.
Art auction framing by Minagawa Artlines.
---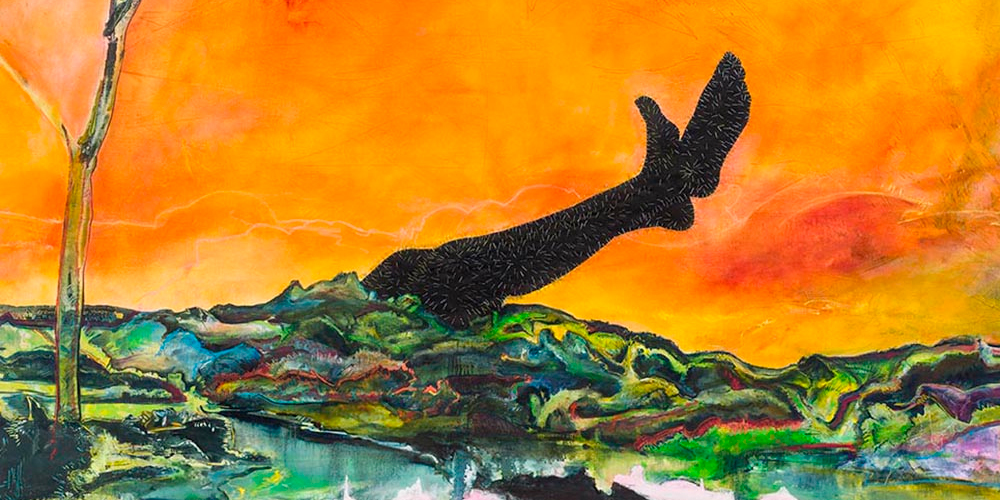 Friday, April 29, 10:30pm
Tropical 128, 128 Elizabeth Street, New York, NY
BOMB invites you to the official after-party of our 35th Anniversary Gala. We're taking over Tropical 128 in the LES with champagne, dancing, old friends, new friends, and maybe some lasers. Festive attire encouraged.
After-Party Hosts:
Mieke Chew
Andrew Durbin
Cy Gavin
Lindsay Howard

DJs:
Lanny Jordan Jackson
Jessi Olsen
Damian Manire
Note that all tickets must be purchased in advance, and Gala attendees receive free entry to the After-Party.

Champagne courtesy of Brescome Barton & Empire Merchants.

100% of the proceeds will go towards funding 2016's contributing artists and writers. Tickets are fully tax deductible.
Image: Detail of Cy Gavin's Spittal Pond, Bermuda, from his portfolio in BOMB.
---
March 30 to April 2
Los Angeles Convention Center & JW Marriott Los Angeles
1201 S Figueroa St, Los Angeles, CA 90015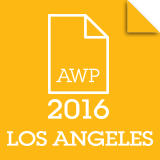 We're headed to L.A. to hang out with readers and contributors, share the Spring Issue, and attend a few (dozen) readings. And, just for AWP, we're bringing our Señal chapbooks, produced in partnership with Ugly Duckling Presse and Libros Antena Books, which includes Sor Juana Inés de la Cruz's Enigmas and Luis Felipe Fabre's Sor Juana and Other Monsters.
Stop by booth #739, right next to our friends A Public Space, and say hello!
AWP Conference Schedule | Buy the Spring Issue
---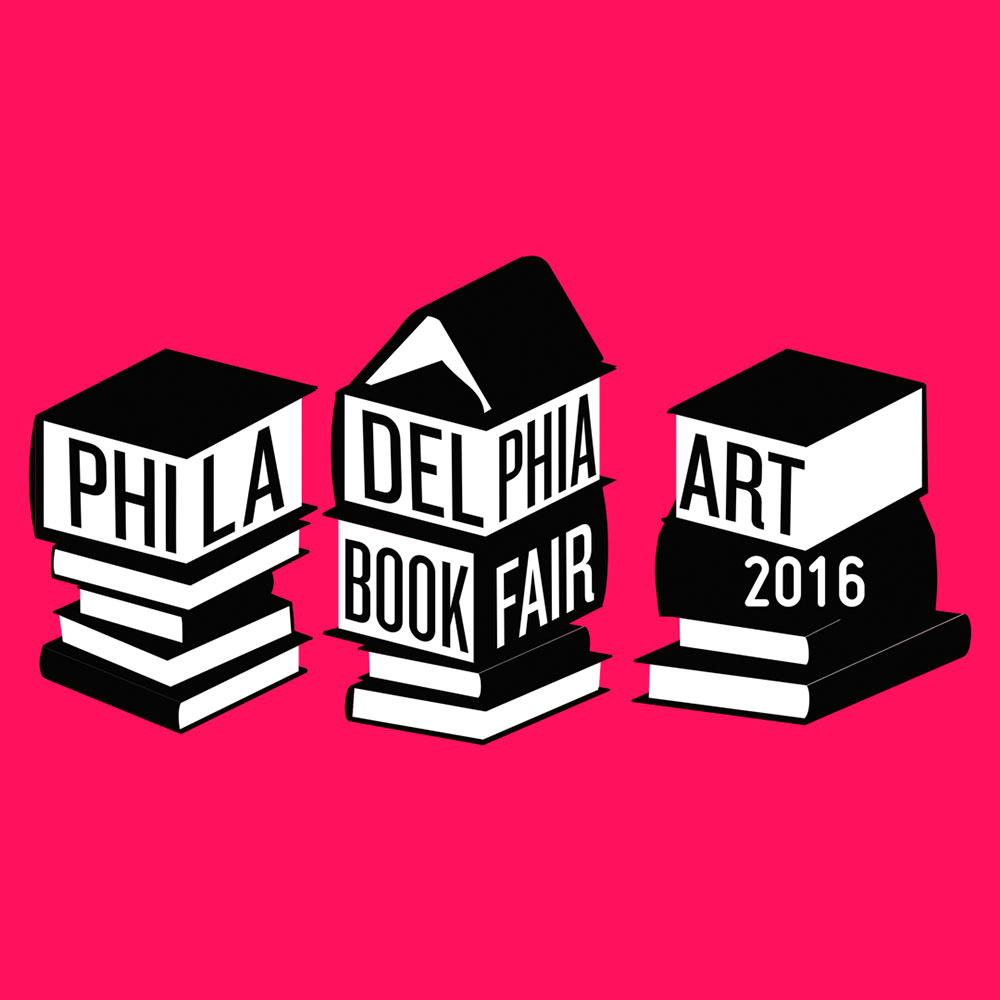 Friday, April 1, 12pm–8pm & Saturday, April 2, 10am–6pm
The Annex on Filbert Street, 830 Filbert Street, Philadelphia, PA 19107
We're headed to Philadelphia with a carload of the Spring Issue, back issues, lapel pins, The Author Interviews, and a surprise or two.
About the Philadelphia Art Book Fair | Buy the Spring Issue
---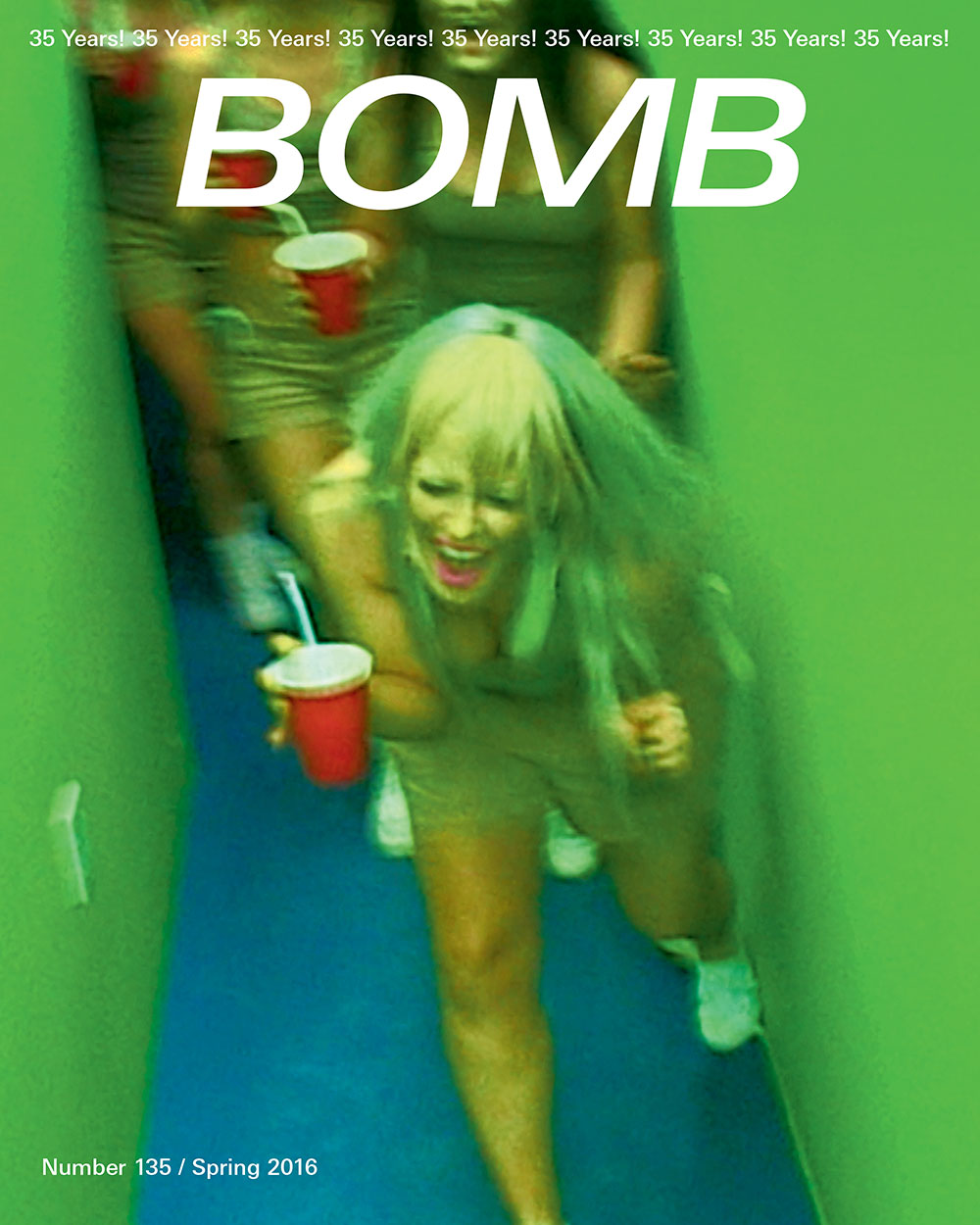 Wednesday, March 23, 7:30pm
Greenlight Bookstore, 686 Fulton St, Brooklyn, NY 11217
Hosted by
Senior Editor Mónica de la Torre

Readings by
Álvaro Enrigue
Kate Zambreno
Daniel Poppick
Celebrate 35 years of artists in conversation with BOMB editors and contributors. We'll drink wine, mingle, and enjoy readings by writers with work in BOMB 135.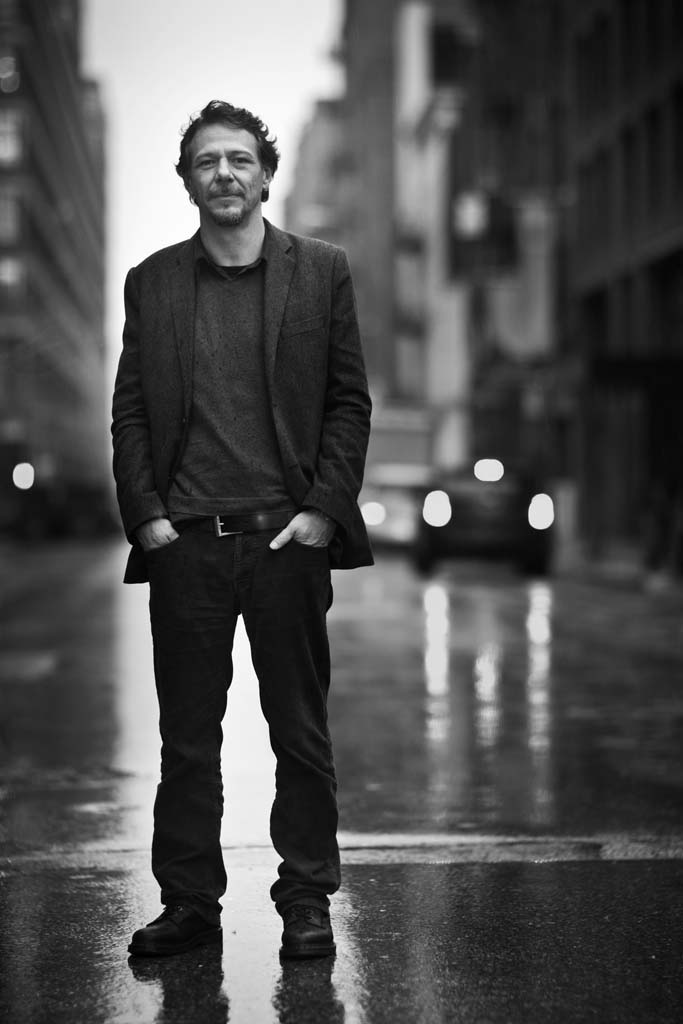 Photograph by Zony Maya
Álvaro Enrigue was a Cullman Center Fellow and a Fellow at the Princeton University Program in Latin American Studies. He has taught at New York University, Princeton University, the University of Maryland, and Columbia University. His work has appeared in The New York Times, The Believer, The White Review, n+1, London Review of Books, El País, among others. Sudden Death—his first translated into English—was awarded the prestigious Herralde Prize in Spain, the Elena Poniatowska International Novel Award in Mexico, and the Barcelona Prize for Fiction, and has been translated into many languages. Enrigue was born in Mexico and lives in New York City.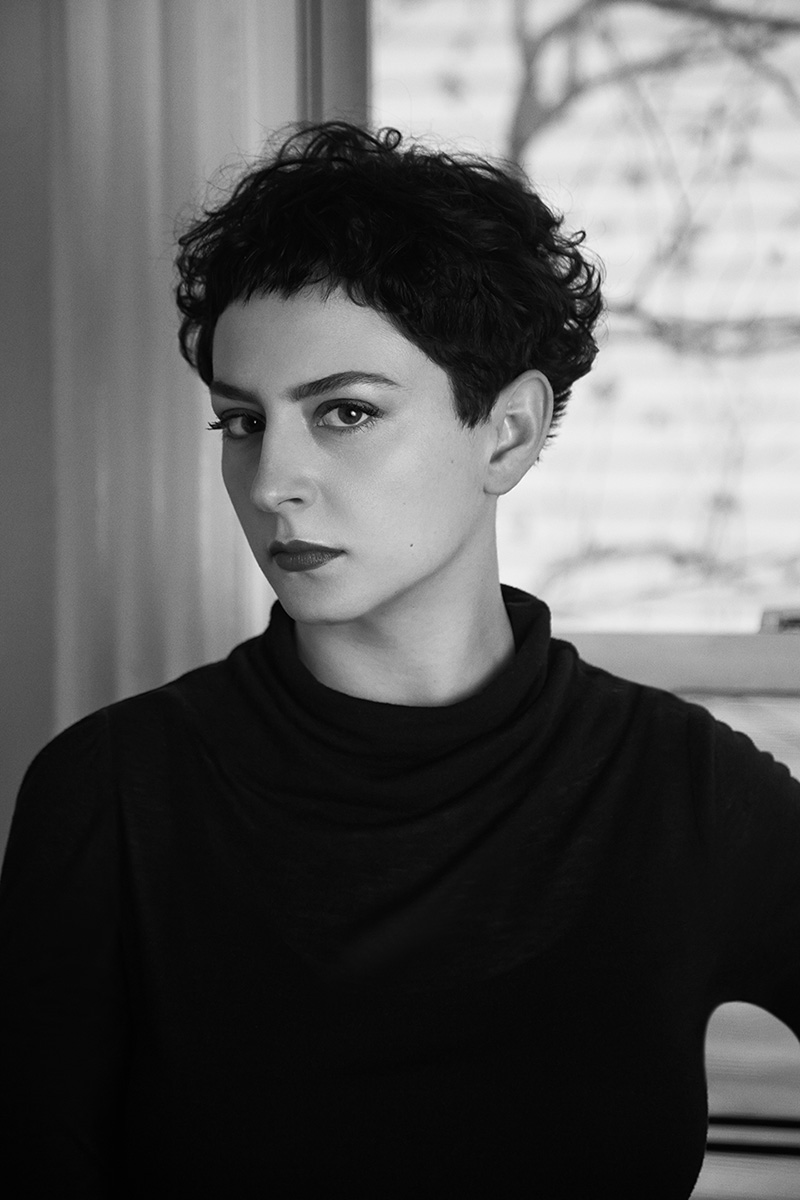 Photograph by Tom Hines
Kate Zambreno is the author, most recently, of Green Girl (Harper Perennial) and Heroines (Semiotext(e)'s Active Agents). She is at work on a triptych of books about time, memory, and the persistence of art. The first, Drifts, is forthcoming from Harper Perennial in 2017.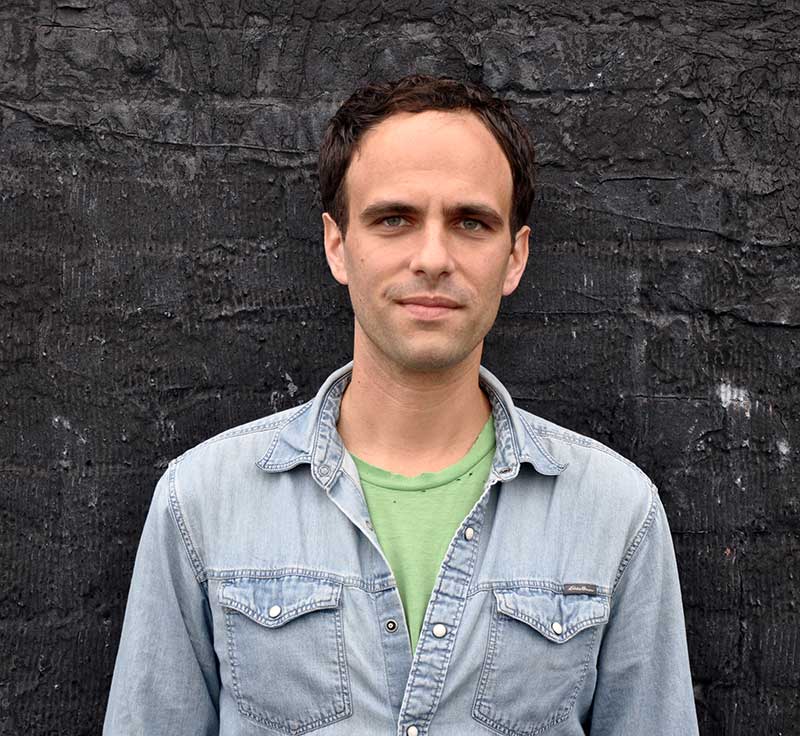 Daniel Poppick's debut poetry collection, The Police, is forthcoming from Omnidawn. Recent work of his has appeared or is forthcoming in The New Republic, Fence, The Volta, Prelude, Company, and elsewhere.
Facebook details | Pre-Order the Spring Issue
---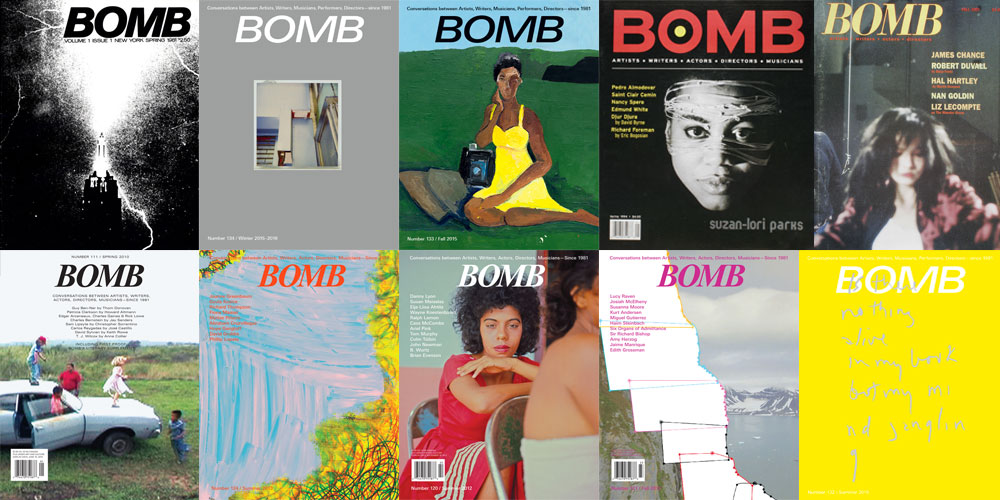 The artist-to-artist exchanges in BOMB go beyond simple dialogue to the ideas at the heart of artistic practice. In a Sunday Session celebrating the magazine's 35th anniversary, ten pairs of artists will revisit their original conversations, ranging from: The emotional nitroglycerine Nicole Eisenman finds in David Humphrey's paintings, the aesthetic high Richard Foreman gets from cutting his plays mid-rehearsal, Tom Burr's queering of institutional critique, and Ralph Lemon's spin on racial profiling in the art world.

Participants will go off script and digress, expand, retract, negate, disavow, and redact themselves at will.

Featuring a music performance by Alan Licht.
---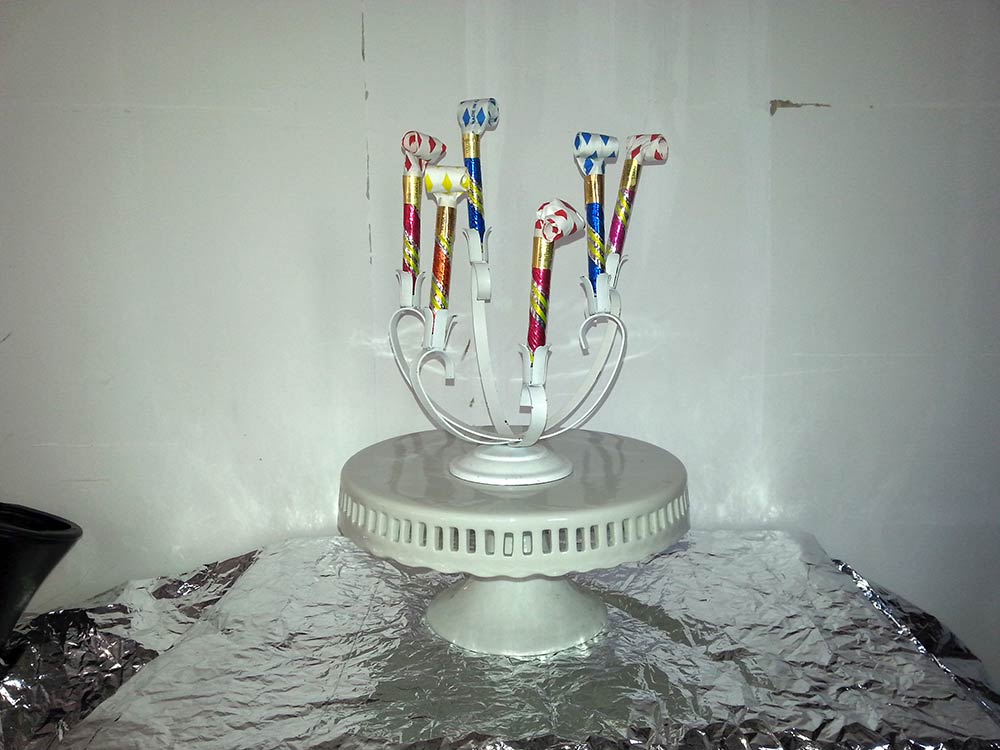 VIDEO BY KALUP LINZY & DYNASTY HANDBAG

COCKTAIL HOUR HOSTS:
JEM COHEN
DAVID GRUBBS
BEN LERNER
BETSY SUSSLER
LYNNE TILLMAN
MÓNICA DE LA TORRE

Friday, December 18, 2015, 8:00pm
Pioneer Works, 159 Pioneer Street, Brooklyn, NY 11231


BOMB invites you to Red Hook for a night of art, music, and drinks. It's for a good cause.*
We're thrilled to bring Casey Jane Ellison from LA into cold, cold NYC. (Have you seen "Touching the Art"? You should.) Magik Markers will play their first NYC show in almost two years, and Chances with Wolves will spin late into the night.

Three ways to attend:
Friend Ticket - Party with us at the beautiful Pioneer Works.

Supporter Ticket - Additional entry to the VIP Cocktail Hour. Mingle with BOMB staff and cocktail hosts Jem Cohen, David Grubbs, Ben Lerner, and Lynne Tillman. You'll also receive a limited-edition lapel pin designed by Tom Otterness, a surprise from our friends at NYRB Classics, and more.

Patron Ticket - Get all of this plus an extremely rare slipcase edition of Tony Oursler's epic Imponderable (JRP|Ringier & Artbook D.A.P.), a signed hardcover of BOMB: The Author Interviews (Soho Press), and a thank you on BOMB's website.

Can't make it? Show your support by sponsoring a BOMB contributor. Simply buy a ticket and indicate on the checkout page you'd like your spot to go towards an emerging writer or artist.
Complimentary drinks courtesy of the great people at Other Half Brewing, Material Vodka, & Sixpoint Brewery.


*100% of the revenue goes toward paying BOMB Daily's artists and writers in 2016. This year included work by Ofri Cnaani, Justin Taylor, Valeria Luiselli, Micaela Morrissette, M. Lamar, Laura van den Berg, Maureen Garner, Gary Canino, Rachel Stern, & Gary M. Kramer. We are a 501(c)3 non-profit organization: tickets and donations are tax-deductible up to the full extent of the law.
---
Guy Maddin & Evan Johnson's The Forbidden Room at Videology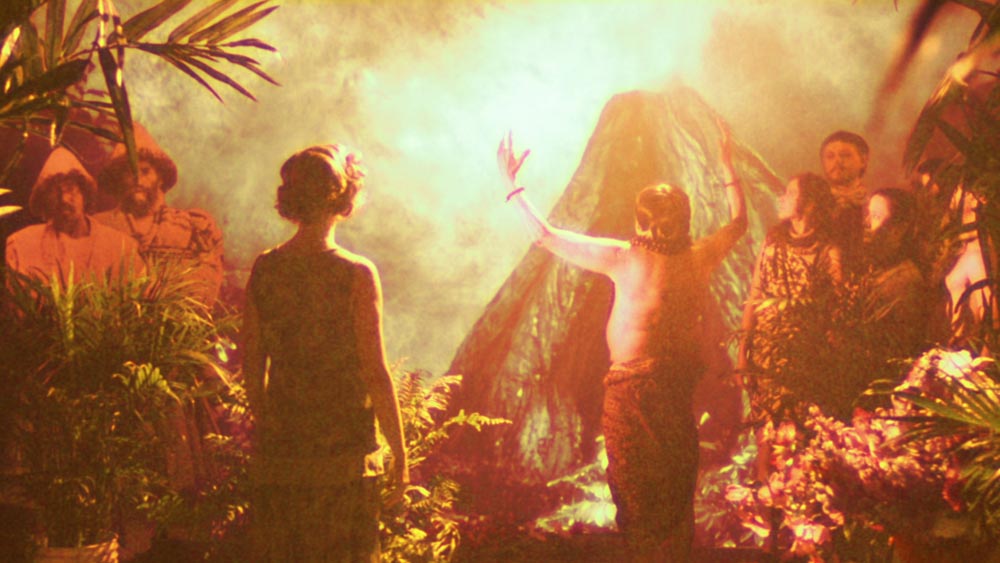 Filmed live over eighteen days at the Centre Pompidou, Guy Maddin's latest is a maximalist phantasm in keeping with his exploration of film history and myth.
In a recent interview for BOMB Daily, Maddin says, "I had always rationalized that, in its industrial haste, the art of film—moving steadily along, because it's part carny sideshow, part art form, part just product—still had all sorts of perfectly working, yet-unexhausted vocabulary units being tossed overboard while things sped down the road of film history. Why not cobble them together the way you would a collage?"
---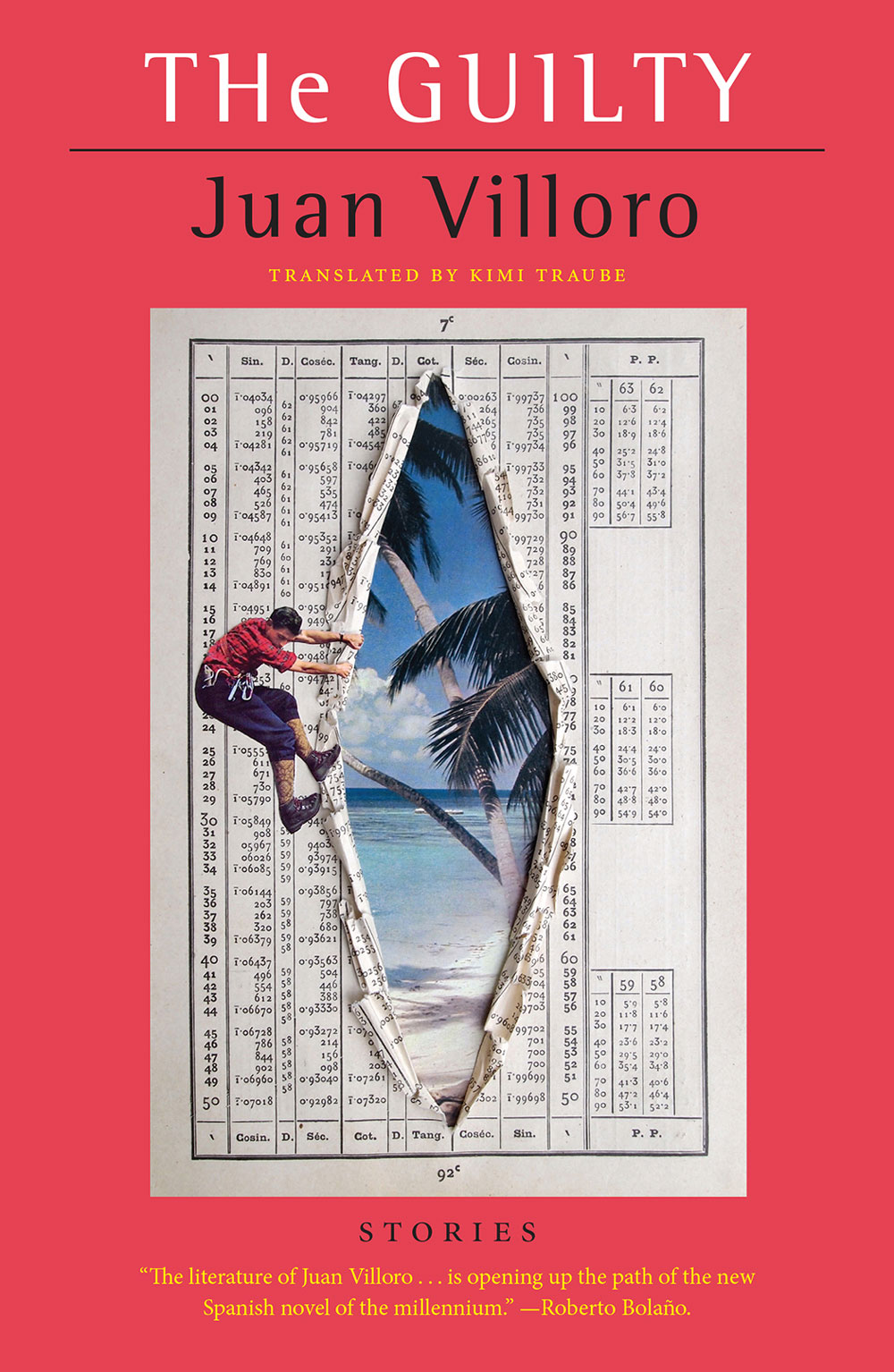 Juan Villoro is Mexico's most prolific author, playwright, journalist, and screenwriter. He has received the Herralde award in Spain for his novel El Testigo, the Antonin Artaud award in France for Los Culpables, and his novel, Arrecife, was recently short-listed for the Rezzori Prize in Italy and will be published next year by Braziller. He lives in Mexico City and is a visiting lecturer at Harvard and Princeton Universities.
Valeria Luiselli was born in Mexico City in 1983. Her novels and essays have been widely translated and her work has been published in magazines and newspapers including the New York Times, Granta, and McSweeney's. She has collaborated with artists in numerous multidisciplinary projects; among those, she has written a ballet libretto for the British choreographer Christopher Wheeldon, which was performed by the New York City Ballet in Lincoln Center. She is studying for a a PhD in Comparative Literature at Columbia University. Granta published her first novel, Faces in the Crowd, in 2012, and her collection of essays, Sidewalks, in 2013. Her second novel, The Story of My Teeth, is forthcoming from Granta and Coffee House Press. She has been named as one of the 20 best Mexican writers under 40and received a National Book Foundation '5 under 35' award.
Naief Yehya is an industrial engineer, journalist, writer, film critic and cultural critic, publishes in La Jornada, Letras libres, Zocalo and Art Nexus, among others. He has published three novels, three short stories collections, and the essays: The Transformed Body: Cyborgs and our Technological Heritage in the Real World and Science Fiction, War and Propaganda: Mass Media and the Myth of War in the US, Pornography, Technoculture, The Intimate Space Transformed in Times of War and Peace, and Pornculture. Yehya's work deals mainly with the impact of technology, mass media, propaganda and pornography in culture and society. Yehya was born in Mexico City in 1963 and has lived in Brooklyn since 1992.
Kimi Traube's translations have appeared in BOMB Magazine, Powderkeg, and The Bridge Series at McNally Jackson. She has an MFA in Fiction and Literary Translation from Columbia University. She is currently working on a novel in prose poems.
ABOUT THE BOOK
George Braziller is thrilled to be publishing The Guilty, a brilliant, prize-winning collection of short stories. We encounter a border trucker making a movie about illegal migrants, a cuckolded football superstar, and a gluten-free American journalist seeking the authentic Mexican experience. A master of the postmodern narrative, Villoro gives us contemporary Mexico through a complex interplay of culture and psychology in the most surprising, fresh and humorous ways.
---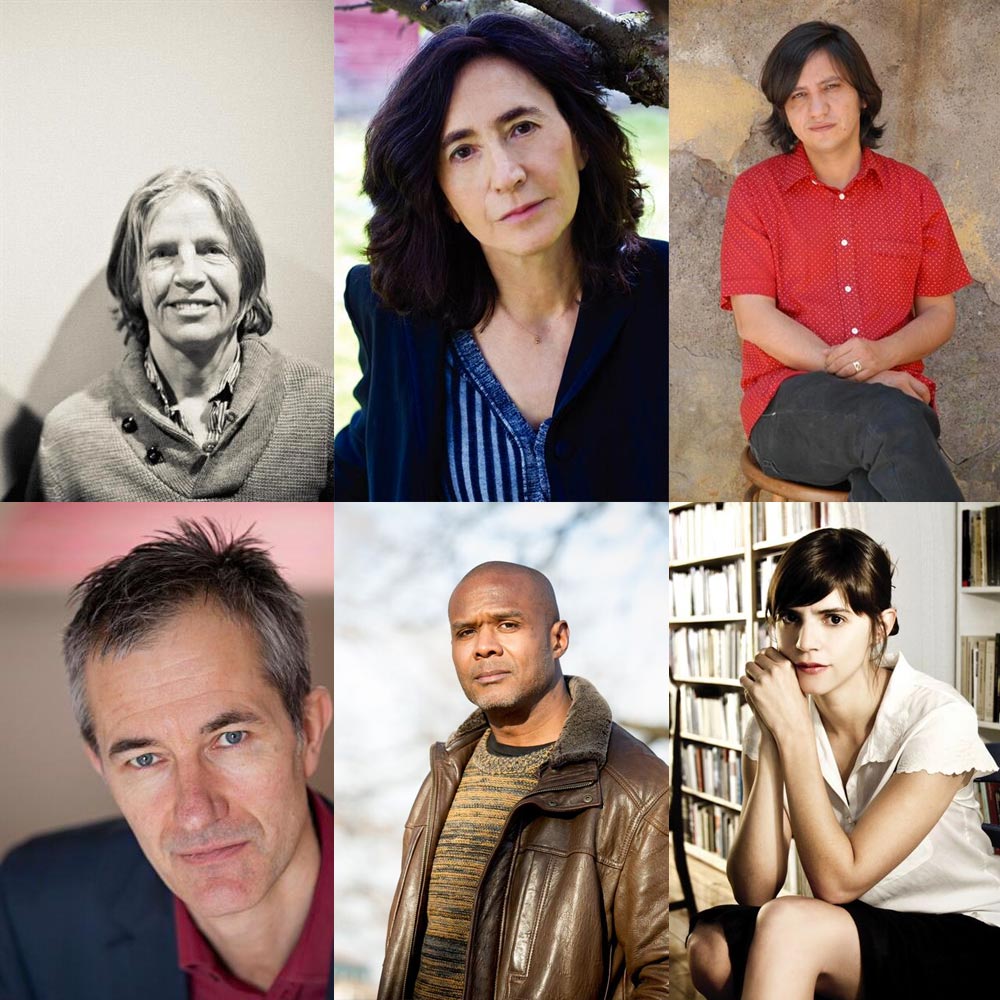 Clockwise from top left: Eileen Myles, Francine Prose, Alejandro Zambra, Valeria Luiselli, James Hannaham, and Geoff Dyer.
Stop by booth #320 to check out the brand-new fall issue and meet BOMB staff and editors.

Several authors from BOMB's pages will be speaking at the festival. We recommend "Redrawing Boundaries" with Geoff Dyer, Francine Prose, and Eduardo Halfon, moderated by Ryan Chapman; "New Poetry" with Eileen Myles, Rowan Ricardo Phillips, Saeed Jones, and Wendy Xu, moderated by Mary Gannon; "The New Latin American Literature" with Valeria Luiselli, Alejandro Zambra, Guadalupe Nettel, Yuri Herrera, and Andrés Neuman, moderated by Daniel Alarcón; "On the Job: Fiction at Work" with Otessa Moshfegh, Helen Phillips, and James Hannaham, moderated by DW Gibson; "Concrete Jungle" with Jonathan Lethem and John Leguizamo; "Scams and Swindles" with Fiston Mwanza Mujila, Pierre Lemaître, and Kettly Mars, moderated by Tom Roberge; and "Darkness and Light" with László Krasznahorkai, Andrés Neuman, and Naja Marie Aidt.

There are also numerous Bookend events running from September 14-21; see the complete schedule here. For more information about the Festival, visit their website here.
---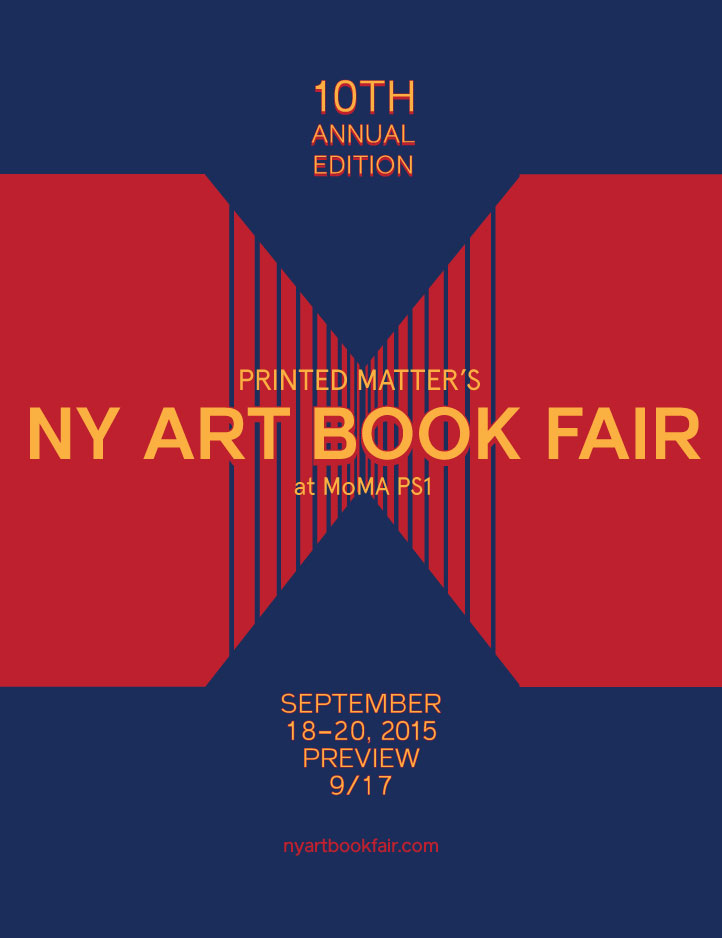 The NYABF is one of our favorite annual events, and we'll have loads of exclusives and limited-edition newsprints (Neo Rauch! Pedro Costa!) for readers. Stop by the BOMB table in room N on the second floor, meet the editors, and check out the new fall issue.
We also recommend catching the KNOW-WAVE Radio broadcast of Proyecto Líquido, presented by Wendy's Subway and Fundación Alumnos47, with Ted Dodson, Úrsula Fuentesberain, and Ada Smailbegović; Walead Beshty and Liam Gillick's keynote at the Contemporary Artists' Books Conference; and Futurepoem's "Messages to the Future" discussion, with project curators Dan Machlin, Mónica de la Torre, and Jeremy Sigler.

Full information about the Fair can be found here.


---

A partnership to bring readers the newest in world cinema.
September 2 - 12, 2015
Can't make it to Venice? Neither can we. Thanks to Festival Scope you can now stream entries from the Orizzonti Competition immediately after their premieres. Chances are some of these will become the critical darlings of 2016--and some may never be available again.
This is made possible through Venice's Sala Web program, which has previously included Chaitanya Tamhane's Court and Tim Sutton's Memphis.
Venice Film Festival Director Alberto Barbera says: "We are committed to making the Mostra even more accessible for anyone interested—from film enthusiasts to film professionals. The aim of Sala Web is to make them discover brand new films that may otherwise have remained beyond their reach. The films from the Orizzonti Competition and Biennale College represent truly inventive trends in the world cinema today: we are willing to find new ways to increase their visibility and develop their audience worldwide."
Tickets are limited to 400 for each title, and BOMB will give away a limited number through our weekly newsletter and at our upcoming Film Night with the Safdie Brothers. You can learn more about the films at Festival Scope.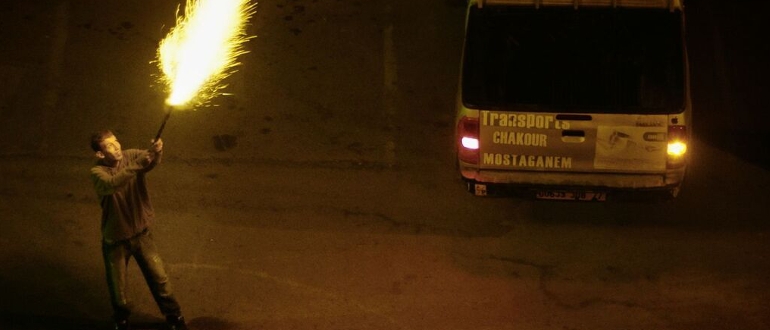 Still from Madame Courage.
Venice Sala Web Titles

Italian Gangsters, by Renato De Maria. Italy.

Tharlo, by Pema Tseden. China.

Pecore in erba, by Alberto Caviglia. Italy.

Wednesday, May 9, by Vahid Jalilvand. Iran.

Madame Courage, by Merzak Allouache. Algeria, France, United Arab Emirates, Qatar.

Interruption, by Yorgos Zois. Greece, France, Croatia.

Why hast thou forsaken me? (Lama Azavtani), by Hadar Morag. Israel, France.

Mate-me por favor, by Anita Rocha Da Silveira. Brazil, Argentina.

Tempête, by Samuel Collardey. France.

Interrogation (Visaaranai), by Vetri Maaran. India.

Free in Deed, by Jake Mahaffy. USA, New Zealand.


About Festival Scope
Festival Scope is the online platform exclusively reserved for film professionals, which partners with the most prominent film festivals worldwide to bring the artistic discoveries, experience and business opportunities of the international festival circuit online.
---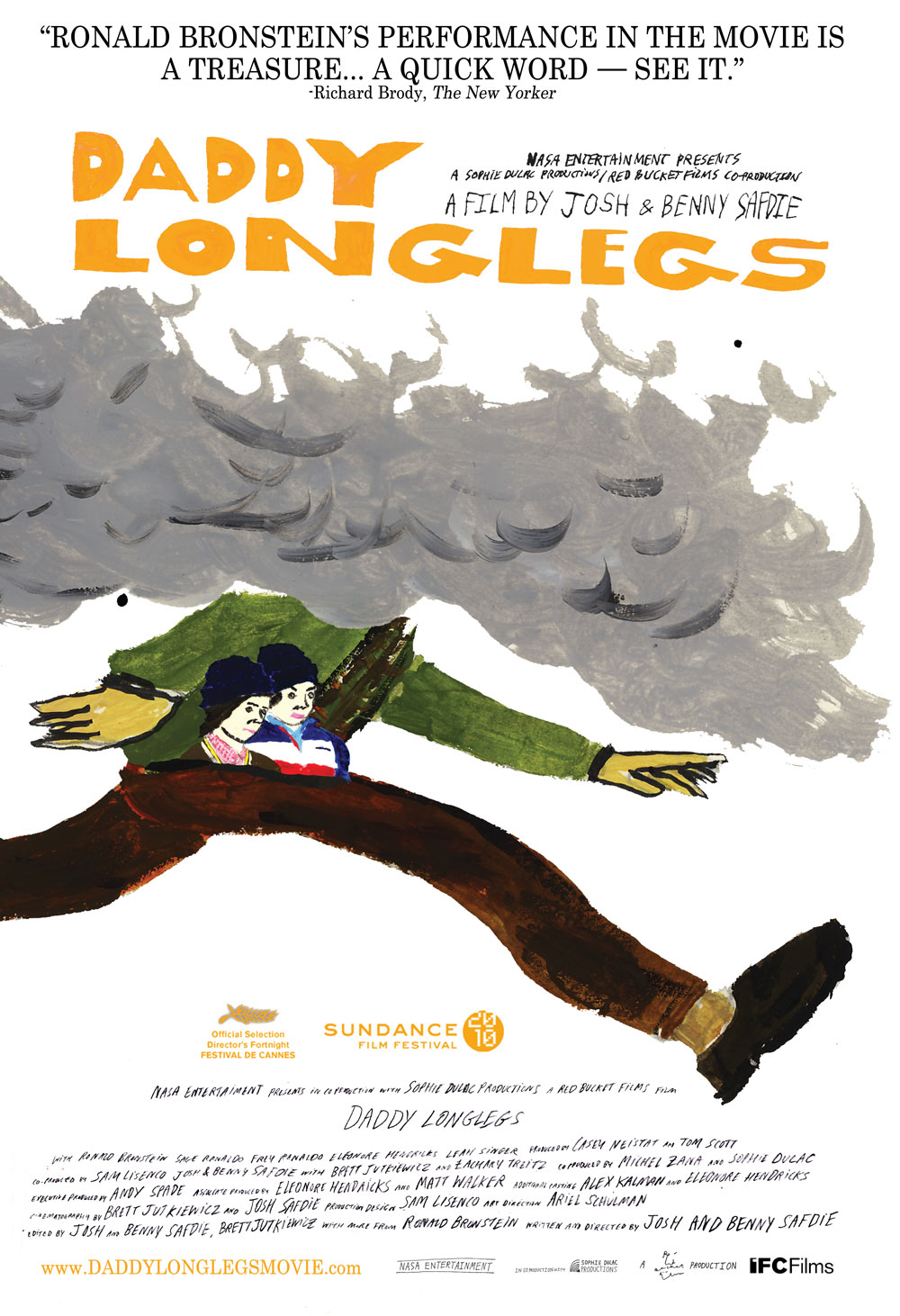 BOMB is pleased to present an evening of film, drinks, and conversation with the directors of one of the most acclaimed films of the past five years.

$5 advance tickets | $10 at the door | Free drink for BOMB subscribers

About the film
After months of being alone, sad, busy, sidetracked, free, lofty, late, and away from his kids, Lenny (Ronald Bronstein), 34 with graying frazzled hair, picks his kids up from school. Every year he spends a couple of weeks with his sons Sage (Sage Ranaldo), 9, and Frey (Frey Ranaldo), 7. Lenny juggles his kids and everything else all within a midtown studio apartment in New York City. He ultimately faces the choice of being their father or their friend with the idea that these two weeks must last 6 months. In these two weeks, a trip upstate, visitors from strange lands, a mother, a girlfriend, "magic" blankets, and complete lawlessness seem to take over their lives. The film is a swan song to excuses and irresponsibilities; to fatherhood and self-created experiences, and to what its like to be truly torn between being a child and being an adult.
Buy your ticket at OvationTix.
---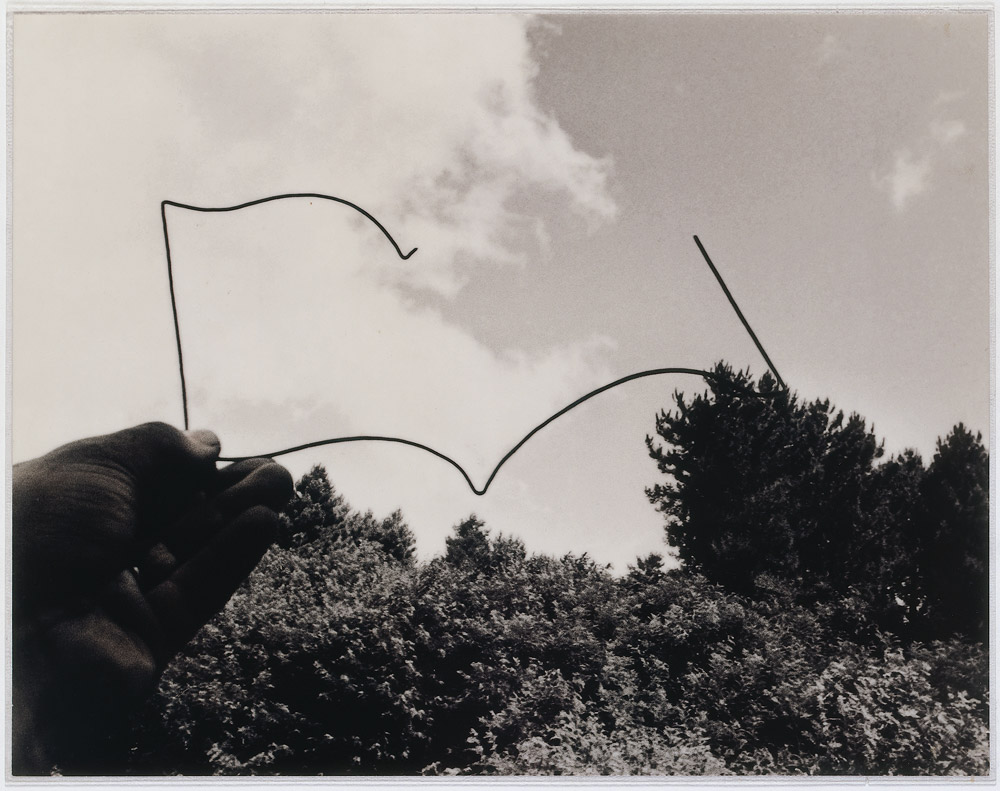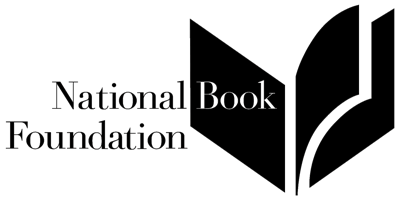 Top Image: Luis Camnitzer, from The Book of Holes, 1977, laminated black and white photograph, 11 × 14". Photo by Peter Schälchli, Zurich.
---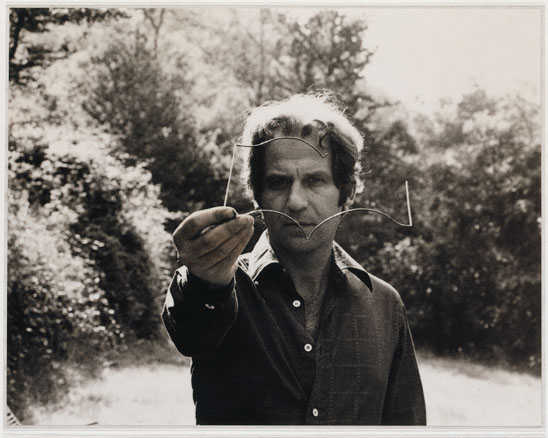 11:00am - 12:00pm Belladonna*
Belladonna* hosts a reading featuring Purvi Shah, Adjua Greaves, Julia Tolo, and Chia-Lun Chang who will be responding to texts they consider foundational to their writing and/or social practice. Poet and Belladonna* member Emily Skillings will introduce the event.
Purvi Shah inspires change as a non-profit and media consultant, anti-violence advocate, and writer. In 2008, she won the inaugural SONY South Asian Social Service Excellence Award for her leadership fighting violence against women. During the 10th anniversary of 9/11, she directed Together We Are New York, a community-based poetry project to highlight Asian American voices. Terrain Tracks is her award-winning book of poetry. She is known for her sparkly eyeshadow and raucous laughter. Discover her work at http://purvipoets.net or @PurviPoets.

Adjua Gargi Nzinga Greaves is an information artist making relational work in New York City. She is the founder of unschoolMFA, author of Of Wilderness and Academy: An Introductory Conclusion to unschoolMFA, and editor of the forthcoming 2016 Bulletin of ExtraInstitutional Higher Education.

Chia-Lun Chang was born and raised in Taipei, Taiwan. She is a poet, playwright, visual artist and an events coordinator at Belladonna* Collaborative. Her recent work has appeared in The Brooklyn Rail and Bone Bouquet. A recipient of two teaching fellowships, she has taught Chinese in Vietnam and Mississippi, and is a recipient of a 2015 Immigrant Artist Mentoring fellowship from NYFA. She lives in New York.

Julia Tolo earned her B.A. from the New School. Born in Oslo, Norway, she writes in Norwegian and English. Her English poetry and fiction has appeared or is forthcoming in Slice Magazine, 12th Street Magazine and Black and Blue Writing, and her translations can be read in the latest issue of Eleven and a Half Journal. She lives in New York.

Belladonna* is a feminist collaborative press and event series dedicated to promoting the work of women writers who are adventurous, experimental, politically involved, multi-form, multicultural, multi-gendered, impossible to define, delicious to talk about, unpredictable and dangerous with language. More information about our history, events, recent publications and dynamic backlist can be found at our website: www.belladonnaseries.org
12:15pm - 1:15pm DoubleCross Press
DoubleCross Press presents a reading with authors and poets Ian Dreiblatt, Christine Kelly, & the duo Krystal Languell and Robert Alan Wendeborn. Each will be reading from recently published DoubleCross Press chapbooks.
Ian Dreiblatt is a poet, translator, critic, and musician who lives in Brooklyn. His recent translations include Gogol's The Nose, Comradely Greetings (the prison correspondence of Pussy Riot's Nadyezhda Tolokonnikova with philosopher Slavoj Žižek), and various writing by insurgent artists of the Russian and Ukrainian left. sonnets, a chapbook, was published in 2014 by Metambesen, and letterpress-printed chap, בראשונה, was published in the spring of 2015 from DoubleCross Press. Work has additionally appeared in journals including BOMB, Web Conjunctions, The Agriculture Reader, Elderly, and Sink Review. In his spare time, he devises desolate walking tours of New York City, an obscure human settlement on the edge of America.

Krystal Languell was born in South Bend, Indiana. She is the author of the books Call the Catastrophists (BlazeVox, 2011) and Gray Market (Coconut, 2015) and the chapbooks Last Song (dancing girl press, 2014), and Be a Dead Girl (Argos Books, 2014). Recent publications include a collaboration with Robert Alan Wendeborn, Diamonds in the Flesh (Double Cross Press), and a collection of interviews, Archive Theft (Essay Press). A core member of the Belladonna* Collaborative, she also edits the journal Bone Bouquet. She was a 2013-2014 Poetry Project Emerge-Surface-Be Fellow and is currently a 2014-2015 Lower Manhattan Cultural Council workspace resident and Visiting Assistant Professor at Pratt Institute.

Robert Alan Wendeborn puts the bubbles in the beer at Ska Brewing. His poetry, reviews, and art have been featured in Pank, Sink Review, The Collagist and other other cool places. His first book, The Blank Target, was released on April 6, 2015 from The Lettered Streets Press. His first chapbook, a collaboration with poet Krystal Languell, titled, Diamonds in the Flesh, was also put out this spring from Double Cross Press. He currently lives and writes and loves in Durango, Colorado.

Christine Kelly is an artist and poet living in Brooklyn. Recent work has appeared in Yew Journal, New Pinky, Rhizome.org, and at Cleopatra's. Her first chapbook Pudding Time is forthcoming from DoubleCross Press.

DoubleCross Press is a small press focusing on handmade and letterpress-printed books of poetry and essays on the poetics of the handmade book. Established in 2008 in Tuscaloosa, Alabama, it has since had incarnations in Minneapolis and Brooklyn, and is run by MC Hyland, Jeff Peterson, and Anna Gurton-Wachter.
2:00pm - 3:00pm Civil Coping Mechanisms
Civil Coping Mechanisms (CCM) presents a reading with authors and poets Gabby Bess, Joe Rippi, Sean Doyle, and Andrew Worthington. The event will be hosted and readers will be introduced by White Rabbit Executive Editor Kalliopi Mathios.
Gabby Bess is a multi-media artist and the author of the poetry and short story collection, Alone With Other People. Her videos have been screened in various exhibitions including gURLs at Transfer Gallery, O Miami, and VOX Populi: Uncanny Visions 4. She curates Illuminati Girl Gang, a publication that highlights female artists working within the context of internet culture. Currently, her work is focused on the labor of feminine performance in literature and art. She lives in Brooklyn, New York.

Joe Rippi is the author of Research: A Novel for Performance, Because, A Cloth House, The Orange Suitcase, and Do Something! Do Something! Do Something! He has also written two chapbooks: Puyallup, Washington (an interrogation) and Treesisters. He lives with his wife in Fort Greene, Brooklyn.

Sean H. Doyle lives in Brooklyn, New York. He works hard every day to be a better person, and is learning how to love himself more. His book, THIS MUST BE THE PLACE was published by Civil Coping Mechanisms in 2015. www.seanhdoyle.com

Andrew Worthington is the author of the novel Walls (2014, Civil Coping Mechanisms) and the collection Long Poems & Short Stories (forthcoming 2015, Monster House Press), as well as founding editor of the micropress and magazine Keep This Bag Away From Children. His writing has appeared in Vice, Mr. Beller's Neighborhood, Thought Catalog, Atticus Review, Everyday Genius, and The Fanzine.

Civil Coping Mechanisms is a small independent press continuously offering an expanding selection of innovative literature, nonfiction, and poetry. CCM is a community, advocating for unique voices while fostering an aggressive, highly passionate, community of readers, writers, and everything in between. Whether it be the online literary magazine side, ENTROPY, with its community-written novel, which has been ongoing since January of this year, "Their Days Are Numbered," where every community member takes a week to write a chapter of the novel, or the press itself with a range of titles spanning as many unique, one-of-a-kind voices as possible, none remotely similar to the other, CCM is about adhering to the "coping" of the modern day. CCM publishes work that doesn't shy away from the problem, the pain, the worry, the doubt—the mission to publish work that doesn't take compromises, seeking voices so loud, it's almost inevitable that in other spaces, editors would look to silence them. Because, we are all coping with something, and literature–that is, the line itself, words on the page–is one of our best coping mechanisms of all.

CCM is in the process of launching its first imprint: White Rabbit. White Rabbit seeks to publish children's books that cultivate curiosity and original thinking while, at the same time, stretching the modes of the children's book. Inspiring readers of all ages to think outside of the box, White Rabbit books will spark imagination by offering a brand of innovation that is often overlooked by mainstream publishers. White Rabbit exists under the belief that children need not be marketed to, but rather provided balanced, beautiful, well-written literature that instills a lifelong passion for reading. The imprint is planned to launch in the Fall of 2015 with titles from Dorothea Lasky and Porochista Khakpour.
3:15pm - 4:15pm Wonder
This panel presented by WONDER departs from points in an essay written by panel member Rob Fitterman, titled "This Me That Isn't Me is Me." In his words: "Radical appropriation is used to consciously implicate a self that has been shaped by corporate mediation—a sense of self that has been dreamed up in the boardrooms of advertisers, software developers, and political policy makers. Often with quotational writing practices, the poet aims to contradict or highlight this "crafted" subjectivity while retaining or abandoning other elements of identity." This panel looks into ways the "I" functions in a post-conceptual landscape, where lives are lived simultaneously online, at work and in domestic relationships, amidst an emotional meltdown.

Poets, Robert Fitterman, Diana Hamilton, and Monica McClure, will read from their books, which will be on hand for sale, then Ben Fama will lead a discussion followed by an audience Q & A.
Ben Fama is the author of several chapbooks and pamphlets, including the artist book Mall Witch (Wonder), Cool Memories (Spork), Odalisque (Bloof), and Aquarius Rising (UDP). His writing has appeared in The Believer, Denver Quarterly, Boston Review, Jubilat, Lit, and The Brooklyn Rail, among others. He is the co-founder of Wonder, and lives in New York City. Fantasy (UDP) is his first full-length poetry collection.

Robert Fitterman is the author of 14 books of poetry including No, Wait Yep. Definitely Still Hate Myself (Ugly Duckling Presse, 2014), Holocaust Museum (Counterpath, 2013, Veer 2012), now we are friends (Truck Books, 2010), Rob the Plagiarist (Roof Books, 2009), war, the musical (Subpress, 2006), and Notes on Conceptualisms, co-authored with Vanessa Place (Ugly Duckling Presse, 2009). His long poem Metropolis, has been published in 4 separate volumes. Rob's Word Shop — an artist's book based on a durational performance project — is forthcoming from UDP in 2015. He is the founder of Collective Task, a collective of over 30 international artists and writers who complete monthly "tasks" assigned by its members. He teaches writing and poetry at New York University and at the Milton Avery Graduate School of the Arts at Bard College.

Monica McClure is the author of the poetry collection, Tender Data (Birds, LLC). Her writing appears in Tin House, Jubilat, Fence, The Los Angeles Review, The Lit Review, Lambda Literary Review's Spotlight Series, The Awl, Spork and elsewhere.

Diana Hamilton is the author of Universe (Ugly Duckling Presse), and Okay, Okay (Truck Books, 2012), a book about crying at work. Other critical and/or literary writing has appeared in P-QUEUE, Two Serious Ladies, and The Believer, among other places. She is a Ph.D. candidate at Cornell University.

Wonder is a New York City press publishing innovative poetry, fiction, and non-fiction. Wonder is edited by Andrew Durbin, Ben Fama, and Trisha Low.
---
Our Instagram account hosted a site-specific and temporary work by Bethany Ides and DOORS UNLIMITED, part of our ongoing effort to bring the artist's voice to every aspect of BOMB.

Over the course of the week, a group of collaborating artists are engaged in a real-world iteration of Instagram's virtual environment, creating an evolving narrative about Instagram inside Instagram.

You can follow along @BOMBmag and through the #lovelasting, #bethanyides, and #doorsunlimited hashtags. You can also experience the residency through our Storify summary.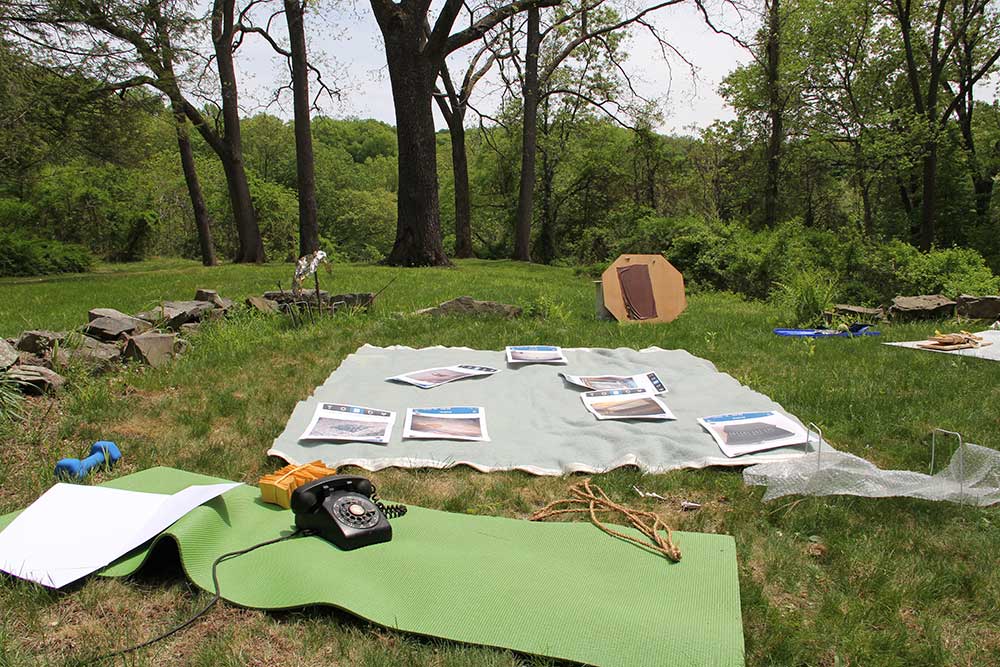 Photo by Bethany Ides.
Project Description: "Love Lasting is an improbable drama about honest/costly relations. Made of, in & for BOMB magazine's Instagram acct, Love Lasting follows the sensual arrangements of promiscuous surfaces conspicuously shifting in & out of synchronicity. The scenario unfolds at the temporary headquarters of DOORS UNLIMITED, a center for investigative operatics & anti-institutional resilient resourcefulness nestled in NY's Hudson Valley. Here, a group of artists act in supporting roles to objects, or 'proxy bodies.' As though a dating-themed reality show were set on location at one of Google's or Facebook's digital storage islands, the para-site lends occasion for data-rich analog entities to sun, flirt, mingle, & freely re-enchant."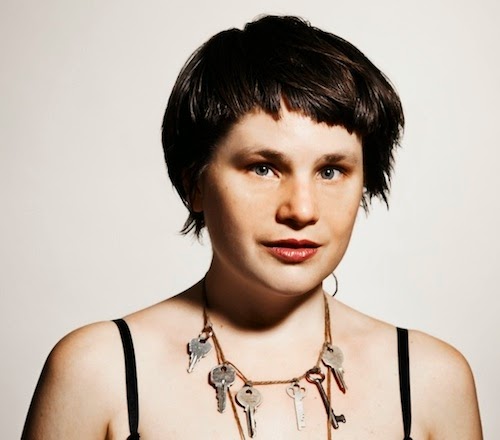 Photo by Dan Wonderly.
Artist Biography: Bethany Ides' sprawlingly excessive intermedial performance-installation works have been presented broadly in venues such as Fragmental Museum, The Brooklyn Museum, Mandragoras Art Space, PS122, Worksound, Half/Dozen Gallery, St Francis College, Tritriangle & PerformanceWorks NW. Her month-long soap opera-opera, Transient's Theme, premiered at The Knockdown Center in October 2014 following a decade of drafts & iterative installments. Earlier opera-works include Children Get Stuck Places Underground in 2010 & co + remote in 2004 w/ Seth Nehil. She is the author of Indeed, Insist (a mystery) [Ugly Duckling Presse, 2005] & Approximate L [Cosa Nostra Editions, 2006] & her poetic projects have appeared in several journals including The Brooklyn Rail, Clock, Cannibal, The Seneca Review, Allotrope & Tarpaulin Sky. In 2002, she co-founded FO (A) RM magazine, an interdisciplinary journal for arts & research, & in 2006 co-directed & curated The Gilded Pony Performance Festival. She writes on minor peculiarities related to sound w/ Mitchell Akiyama, records witchy-pop songs w/ Ryan Sullivan, methodically gesticulates the sacred & profane w/ Jonathan VanDyke, leads workshops in non-perfunctory punctuation w/ Rachel Jackson & Mahshid Rafiei, & generally goads people into building water where there may as well be bridges. In 2014, Ides established an experiment in provisional-conditional community in the Catskills called Almost-Although thru which 80 artists, writers, scholars, activists, musicians & performers participated in daily collaborative compositions. She teaches courses in literary & critical theory, theology, art history & text-as-art in graduate & undergraduate programs, most recently at Pratt Institute, the School of Visual Arts & Bard College.
---
BOMB's 34th Anniversary Gala & Auction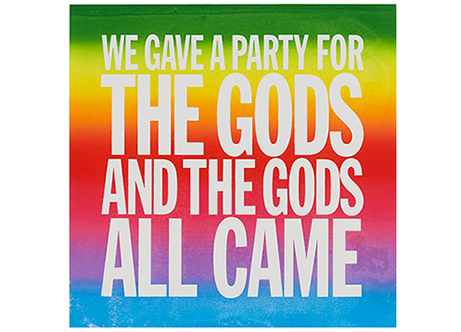 The online auction features works by:
Derrick Adams
Michele Araujo
Estate of Dan Asher
Rosa Barba
Joseph Bartscherer
Sheila Berger
Ben Berlow
Dianne Blell
Katherine Bradford
Joe Bradley: 1, 2, and 3
Rosanna Bruno
William S. Burroughs Estate
Paul Chan
Nicole Cherubini
Edward Clark
Adger Cowans
Moyra Davey
Verne Dawson
Assaf Evron
Jens Fänge
Paola Ferrario
Angelo Filomeno
Walton Ford
Sally Gall
Hope Gangloff
John Giorno
Estate of Michael Goldberg
Nan Goldin
Gianfranco Gorgoni
Charline von Heyl
James Hoff
Bethany Ides
Samuel Jablon
Suzanne Joelson
Matt Keegan
Richard Kraft
Deana Lawson
Greg Lindquist
Chris Martin
Leeza Meksin
John Miller
Jeanne Moutoussamy-Ashe
Wangechi Mutu
Sarah Oppenheimer
Ellen Phelan
Tim Rollins and K.O.S.
Ugo Rondinone
Kay Rosen
Brie Ruais
Charles Simonds
Rebecca Smith
Joe Sola
Keith Sonnier
Billy Sullivan
Mika Tajima
Rirkrit Tiravanija
Estate of Alan Uglow
Juan Uslé: 1 and 2
John Waters
Matthew Weinstein
Christine Wertheim
Stanley Whitney
Martin Wilner
Rob Wynne
Gala Décor by Madeline Weinrib
Gala Music by Matana Roberts
---
AWP READING
BOMB & Two Dollar Radio present Rae Armantrout, Sarah Gerard, Ian Dreiblatt, & Nicholas Rombes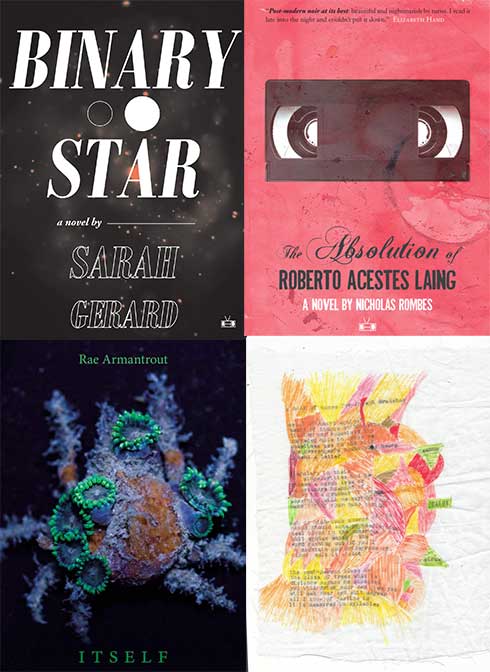 Wednesday, April 8th 7pm
Magers & Quinn Booksellers
3038 Hennepin Avenue, Minneapolis, MN 55408
Join BOMB and Two Dollar Radio for a reading with Rae Armantrout, Sarah Gerard, Ian Dreiblatt, and Nicholas Rombes.
Rae Armantrout is a professor of writing in the Literature Department at the University of California at San Diego, and the author of eleven books of poetry, including Money Shot, Versed, Next Life, and Veil: New and Selected Poems.
Sarah Gerard is the author of the chapbook Things I Told My Mother and the novel Binary Star. Short works have appeared in The New York Times, Bookforum, The Paris Review Daily, Joyland, The Los Angeles Review of Books and other journals. She lives in Brooklyn, New York, and works at BOMB Magazine.
Ian Dreiblatt is a poet, translator, critic, and musician who lives in Brooklyn. His recent translations include Gogol's The Nose, Comradely Greetings (the prison correspondence of Pussy Riot's Nadyezhda Tolokonnikova with philosopher Slavoj Žižek), and various writing by insurgent artists of the Russian and Ukrainian left. sonnets, a chapbook, was published in 2014 by Metambesen, and a letterpress-printed chap, בראשונה, is forthcoming in spring 2015 from DoubleCross Press. Work has additionally appeared in journals including BOMB, Web Conjunctions, The Agriculture Reader, Elderly, and Sink Review. In his spare time, he devises desolate walking tours of New York City, an obscure human settlement on the edge of America.
Nicholas Rombes is author of the novel The Absolution of Roberto Acestes Laing (Two Dollar Radio, October 2014) as well as Ramones from the acclaimed 33 1/3 series published by Bloomsbury. He is a contributing editor at Filmmaker Magazine and has written for The Los Angeles Review of Books, The Believer, The Rumpus, n+1, and other places. He is a professor of English at the University of Detroit Mercy in Detroit, Michigan.

---
AWP Happy Hour with BOMB, One-Story, and the Walker Art Center


Thursday, April 9th, 5:00pm - 7:00pm CST
The Walker's Garden Terrace
1750 Hennepin Ave, Minneapolis, MN 55403
Playlist by Rachel Kushner
Drink with us at the Walker's Garden Terrace, the Twin Cities' most beautiful space and an architectural must-see. Meet up with old friends and make new friends.

We'll have a few BOMB Magazine and One Story giveaways on hand, plus drink tickets for the punctual. (Cash bar for the latecomers.) Plus a music playlist by Rachel Kushner, author of The Flamethrowers.

Happy hour is free with AWP badge, including full after-hours access to the Walker's internationally-renowned galleries.

DIRECTIONS:
If you're coming from the convention center, it's a 20min. walk west, through Loring Park. The Walker Art Center also has a Nice Ride station.
---
BOMB Guide to AWP


There are approximately ten million AWP-related events in Minneapolis. To help winnow them down to a manageable dozen or so, here are our picks for the best readings, panels, and parties. (Note that we chose not to include private events.)

Stop by the BOMB table to say hello and grab a print version of our AWP Guide.
Wednesday, April 8
BOMB Magazine and Two Dollar Radio present Sarah Gerard, Ian Dreiblatt, Nicholas Rombes, and Rae Armantrout
7:00pm at Magers & Quinn Booksellers, 3038 Hennepin Avenue, Minneapolis
AWP Small Press Night
Co-hosted by Curbside Splendor Publishing, Anvil Press, Civil Coping Mechanisms, featherproof books, Barrelhouse, Tyrus Books. Book sales by: Vouched Books.
8:00pm at Crooked Pint Ale House, 501 S Washington Ave, Minneapolis
The Prince Purple Poetry Party
Cost: $5, plus wear something purple
10:00pm at The Record Room, 701 1st Ave N
Thursday, April 9
Small is the New Big: Working With Independent Presses to Build a Literary Career.
Michelle Brower, Ben George, Anitra Budd, Ethan Nosowsky, & Erin Harris
10:30am in Room L100 B&C, Lower Level
New Frontiers: Paving Space for Emerging Talent Off the Conventional Page.
Celia Johnson, Amanda Bullock, Sarah Bowlin, Michelle Brower, & Meredith Kaffel
12:00pm in Room L100 B&C, Lower Level
New Trends in Literary Publishing.
Jeffrey Lependorf, Fiona McCrae, Deena Drewis, Nathan Rostron, & Jon Fine
1:30pm in Auditorium Room 2, Level 1
Creating & Maintaining a Liberatory Space @ AWP15: Belladonna* | Litmus | Apogee | Counterpath
2:30pm at Gamut Gallery, 1006 South Marquette Avenue, Minneapolis
Happy Hour with BOMB, One Story, & The Walker Art Center
5:00pm at The Walker Art Center's Garden Terrace, 1750 Hennepin Ave, Minneapolis
Weird Atlas / Gazing Switchback
WEIRD SISTER, The Atlas Review, Gazing Grain Press, and Switchback Books invite you to join us for a night of amazing feminist poetry with Marisa Crawford, Cathy de la Cruz, Lillian-Yvonne Bertram, Soleil Ho, Anne Cecelia Holmes, Jenn Marie Nunes, Morgan Parker, Meg Day, & Natalie Eilbert
6:00pm at Crooked Pint Ale House, 501 S Washington Ave, Minneapolis
Bat City @ AWP 2015 Reading
Readings by Danez Smith, Dobby Gibson, Matthea Harvey, Matthew Rohrer, francine j. harris, James Gendron, & Jessica Piazza
7:00pm at Architectural Antiques, 1330 Quincy St NE, Minneapolis
The 2015 VIDA Awards
Cost: $10
7:30pm at the Skyway Theater, 711 Hennepin Avenue, Minneapolis
Celebrate Across the Arts with Kattywompus Press
Music from Cornelius Eady & Rough Magic. Theater from Sarah K. Jackson, Samantha Baker Harris & Chris Shipman. Poetry from Zack Rogow, Leah Umansky, Cornelius Eady, & Robin Messing
8:00pm at Poet's Corner of Kieran's Irish Pub, 85 6th St N, Minneapolis
Friday, April 10
Pinning Editors Down: Lit Mag Fiction Editors Define What Works.
Beth Staples, Aja Gabel, Emily Nemens, Jennifer Acker, & Timston Johnston
9:00am in Room M100 J, Mezzanine Level
From Page to Stage: How to Engage with an Audience.
Stacie Williams, Amber Tamblyn, Adam Wilson, Justin Taylor, & Jessica Anya Blau
12:00pm in Auditorium Room 1, Level 1
Hello, Is It Me You're Looking For? Finding Your Audience through Social Media.
Benjamin Samuel, Lincoln Michel, Rachel Fershleiser, Kathy Daneman
1:30pm in Room 205 A&B, Level 2
Computers in My Classes: A Pedagogy Roundtable on Workshopping (with) the Digital.
Julie Lein, Amaranth Borsuk, Robert Glick, Matthew Kirkpatrick, & Nick Montfort
3:00pm in Room 200 D&E, Level 2
Argonaut, Citizen, Empathy, Inoculation: New Nonfiction.
Eula Biss, Leslie Jamison, Maggie Nelson, & Claudia Rankine
4:30pm in Auditorium Room 1, Level 1
AWP Happy Hour with Open Letter and the University of Rochester
5:00pm at The Marquette Hotel, 710 Marquette Ave, Minneapolis
AWP Conference Reading: A Happy Hour Reading with Melissa Pritchard and Michael Coffey
5:00pm at Subtext Books, 165 Western Avenue, St. Paul
A Small Press Reading with Anomalous / Argos / Autumn Hill / Circumference / Deep Vellum / Em Dash / Ricochet
6:00pm at Gamut Gallery, 1006 Marquette Ave S, Minneapolis
AWP OmnispeCt!acular: an offsite reading presented by speCt! books and Omnidawn Publishing
Sara Deniz Akant, Steffi Drewes, Colby Gillette, Angela Hume, David Koehn, Richard Meier, Laura Moriarty, Rusty Morrison, Dean Rader, Zach Savich, & Ely Shipley
6:00pm at The Riddle Room, 720 Central Avenue Northeast, Minneapolis
Rain Taxi Presents: A Literary Tribute to Grant Hart and Hüsker Dü
Including John Beer, James Brubaker, Paula Cisewski, Maria Damon, Matthew Derby, Michael Fournier, Tim Horvath, Laurie Lindeen, Daniel Mahoney, Hoa Nguyen, Constance Squires, Justin Taylor, Joel Turnipseed, and maybe a surprise guest or two. Cost: $10.
9:00pm at Patrick's Cabaret, 3010 Minnehaha Ave S, Minneapolis
Saturday, April 11
The Art of Literary Editing.
Brigid Hughes , Elisabeth Schmitz , Ethan Nosowsky, Jeffery Renard Allen, & Michael Thomas
10:30am in Auditorium Room 1, Level 1
The Other Track: MFAs in the Book Business.
Craig Teicher, Jeff Shotts, Jynne Martin, Caroline Casey, & Leslie Shipman
1:30pm in Auditorium Room 2, Level 1
Publishing Translations: The Small Press.
Matvei Yankelevich, Kendall Storey, Chad Post, & David Shook
3:00pm in Room 200 F&G, Level 2
Argos, Canarium, Futurepoem, Octopus, & Poor Claudia
Readings by John Beer, David Buuck, Jaime Shearn Coan, Christopher DeWeese, Karin Gottshall, Cecily Iddings, Elaine Kahn, Montana Ray, Kit Schluter, Danniel Schoonebeek, & Ronaldo Wilson
7:00pm at Gamut Gallery, 1006 Marquette Ave S, Minneapolis
Lit + Art Party with FSG Originals & Paper Darts
Mini-readings by Amelia Gray, Brandi Wells, Dessa, John Brandon, John Jodzio, Lindsay Hunter, Laura van den Berg, Safy-Hallan Farah, & Simon Jacobs. Cost: $5
8:00pm at Public Functionary, 1400 12th Ave. NE, Minneapolis
---
BOMB at Mission Creek Festival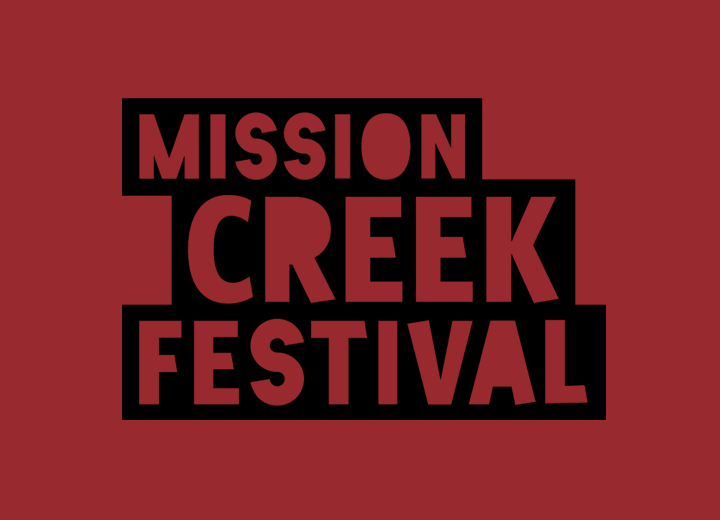 Saturday, April 4th, 11:00am - 6:00pm CST
Mission Creek Festival Indie Presses Book Fair
The Mill, 120 E. Burlington Street, Iowa City, IA 52240
We'll be selling the brand-new spring issue alongside our popular "If You Read Something, Say Something" tote bag at Mission Creek's Book Fair.

Stop by, say hello, and be sure to catch the 6pm reading by our own Sarah Gerard.
---
Raise a glass with us at the launch of What Gets Kept (Penny-Ante Editions), which spans the author's career through ten spoken word recordings. Lynne Tillman will introduce the project and sign copies of this limited release.
Listen to "Home Sick" from What Gets Kept:
[ Facebook event ]
---
Help us ring in the new year with a benefit for artists and writers. A donation of $25 gains admission for one, or buy a pair of tickets for $45. All proceeds go to paying BOMB's online contributors in 2015. We will have free drinks and copies of BOMB Issue 130 to give away. Tickets available at the door.
---
December 6th, 2014 3:00pm ET
ARTHAUS // ART TALKS, Select Art Fair, Miami, FL

A talk curated and moderated by Legacy Russell
with Amy Beecher, Bibi Deitz, Carla Gannis, and Marisa Olson
This program will explore the relationship between the identity of contemporary artist and modern writer. Using BOMB Magazine's recently published volume BOMB: The Author Interviews as springboard, an exciting selection of artists including Amy Becher, Bibi Deitz, Carla Gannis, Marisa Olson, will share excerpts from the compilation and engage in a round-table panel dialogue to discuss the acts of making art and writing texts and how bringing such things into the world play a central role within their own creative practice and discourse.
Mercedes Benz - AMG and Lufthansa First Class Present
ARTHAUS // ART TALKS
Curated by Jasmine Wahi

ARTHAUS // ART TALKS is a series of curated thematic discussions featuring curators and artists who are engaged with multidisciplinary art making practices. The conversations will be both informative and engaging, with time for audience members to ask questions and engage with artists. Each program will be accompanied by a cocktail hour that gives the audience the opportunity to meet with presenters.
Legacy Russell is a writer, artist and curator. She is the London Content Partner Liaison for the online platform Artsy. She has worked at and produced programs for The Bruce High Quality Foundation, Creative Time, the Brooklyn Museum, the Whitney Museum of American Art and the Metropolitan Museum of Art, NY. Legacy is one-third of the curatorial production team Limited Time Only and Senior Editor at London publication Berfrois. In September 2011, she was appointed as Art Editor of BOMB Magazine's renowned online journal, BOMB Daily, where she has since stayed on as a Contributing Editor. Outside of BOMB, her work can be found in a variety of publications: The White Review, Rhizome, DIS, Canteen, The Well & Often Reader, Exit Strata, The Society Pages, Guernica, Berfrois and beyond. Holding an MRes of Visual Culture with Distinction at Goldsmiths College of University of London, her creative and academic work explores mourning, remembrance, iconography, and idolatry within the public realm. Her most recent performance "The Kiss" debuted in collaboration with Clifford Owens at Danspace in New York Fall 2013 and her first solo gallery exhibition "DIRTY TALK|CLEAN FOOD" featured video work at Field Projects in New York City in Spring 2014.

Amy Beecher lives and works in New York City. Story telling is at the heart of her sculptural practice in the form of recordings, performances and artist books. Upcoming projects in 2015 include collaborations with the Shandaken Project and a solo exhibition at Providence College. She received her MFA from Yale University in Painting and Printmaking.

Bibi Deitz lives and writes in Brooklyn. Recent work has appeared in Bookforum, The Rumpus and BOMB, and is forthcoming from Berfrois and Marie Claire, addressing subjects such as characterization in Andre Dubus's short fiction, deactivating Facebook, not faking orgasms and the absurd(ist) intersections between technology and modern love. She was born and raised in New York's East Village, holds an MFA in fiction from the Bennington Writing Seminars and edits copy at Us magazine. She is at work on a novel and recently wrote a book of short stories while living in Santa Fe, New Mexico.

Carla Gannis is a transmedia artist based in Brooklyn, New York. Through digital remixing, Gannis expresses in her work the hybrid nature of identity, where virtual and real embodiments of self diverge and intersect. She is the recipient of several awards, including a New York Foundation for the Arts (NYFA) Grant in Computer Arts and an Emerge 7 Fellowship from the Aljira Art Center. She has exhibited in solo and group exhibitions both nationally and internationally. Her most recent solo exhibitions include "The Garden of Emoji Delights" at Kasia Kay Gallery, Chicago, Il and "" (in collaboration with poet Justin Petropoulos) at Transfer Gallery, Brooklyn, NY. Features on Gannis's work have appeared in The Creators Project, The Huffington Post, Wired, Buzzfeed, FastCo, Hyperallergic, Art F City, Art Critical, The Wallstreet Journal, Animal, and The LA Times, among others. She is the Assistant Chair of the Dept of Digital Arts at Pratt Institute in Brooklyn, NY.

Marisa Olson's interdisciplinary work addresses the cultural history of technology & the politics of pop culture, and has been exhibited at the Venice Biennale, Whitney Museum, New Museum, Centre Pompidou, Tate(s) Modern+Liverpool, Nam June Paik Art Center, British Film Institute, Sundance Film Festival, PS122, and PERFORMA. She's written for a number of key publications, particularly on postinternet art, performance, and photographic media, and curated projects at the Guggenheim, SFMOMA, Artists Space, White Columns, and Rhizome. She was recently an Artist-in-Residence at Eyebeam & is currently Visiting Critic at RISD.
---
James Hoff, whose work graces the cover of BOMB 129, answers your questions on Reddit's "Ask Me Anything."
"Disruption and distribution are at the center of James Hoff's work. He makes use of any media to best articulate a project or idea, and interrogates technology, politics, and surface only to mangle, reconfigure, break apart, and re-contextualize the subject. Hoff engages with painting in his Virus and Syndrome series, serves as editor and publisher at Primary Information (a press devoted to publishing artists' books and reprinting out-of-print editions, co-run with Miriam Katzeff), writes, lectures, and composes a variety of music-related projects. He collapses the terms artist, editor, and writer until the distinctions between them seem meaningless."
—Eli Keszler, from his interview with James Hoff.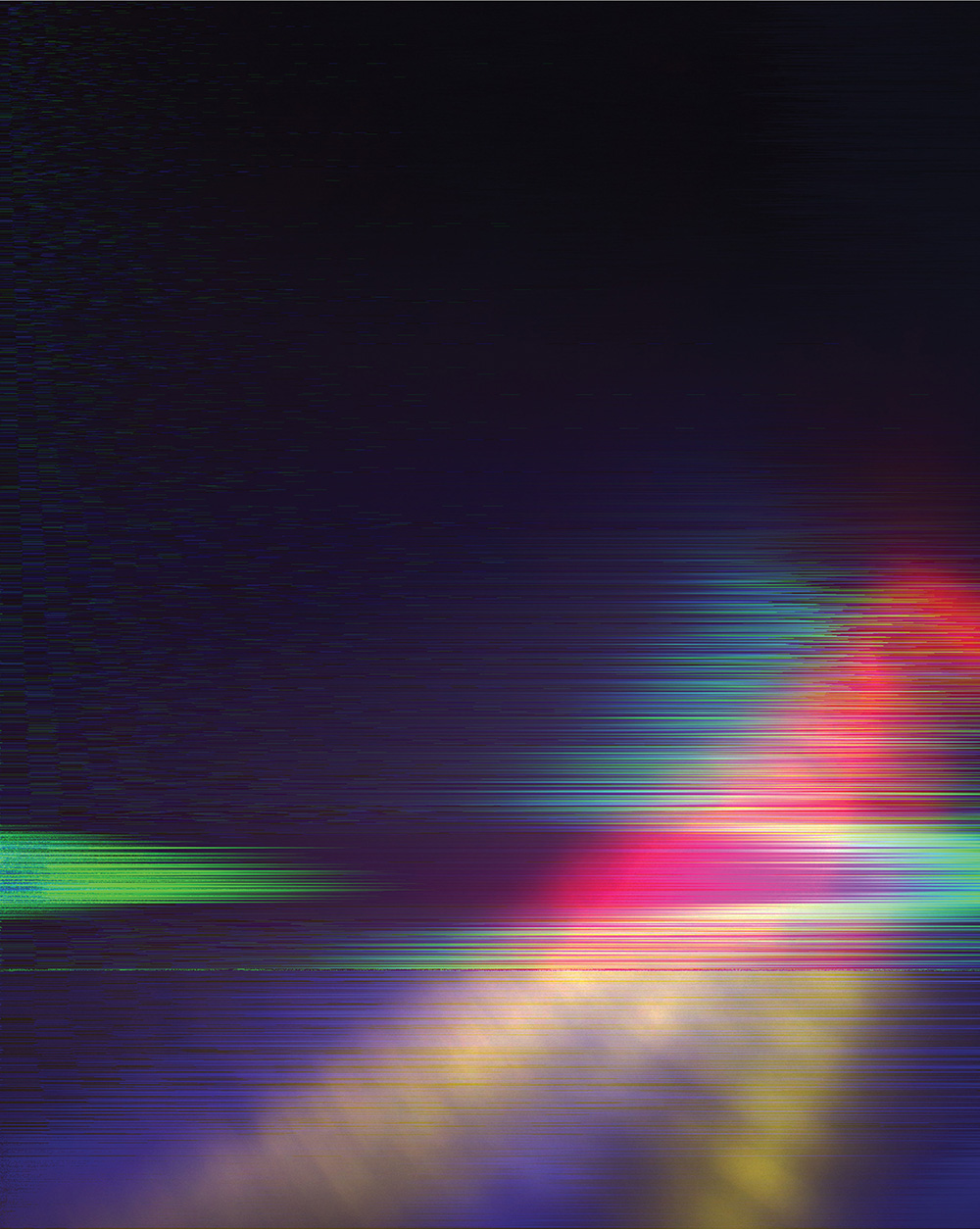 Stuxnet No. 1, 2014, chromaluxe transfer on aluminum, 30 × 24 inches.
James Hoff will be discussing his artistic practice, publishing projects, and future endeavors this Wednesday afternoon on Reddit's open forum.
---
The Author Interviews - Launch Party
We are proud to announce BOMB: The Author Interviews, a new anthology drawing from over 30 years of BOMB Magazine, published by Soho Press with an introduction by Francine Prose.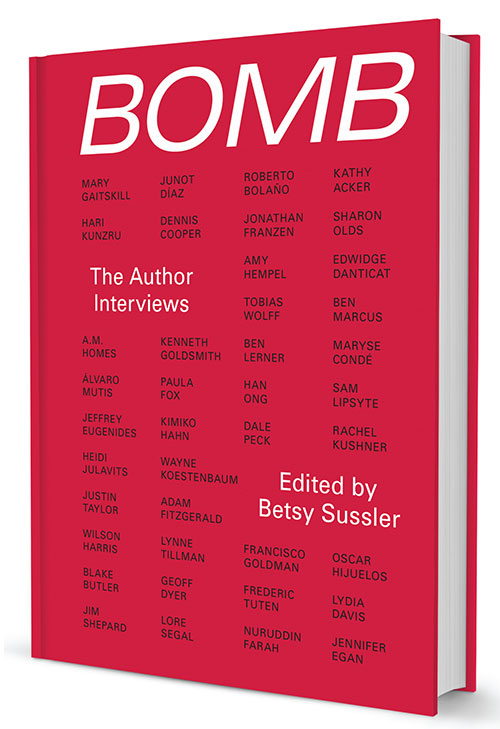 The Author Interviews brings together some of the greatest figures of world literature, including Colm Tóibín, A. M. Homes, Paula Fox, Roberto Bolaño, Junot Díaz, John Edgar Wideman, Steven Millhauser, Geoff Dyer, Ben Lerner, and more. (Publishers Weekly says, "Reading their discussions feels akin to eavesdropping.")

We'll raise a glass with BOMB founder and editor-in-chief Betsy Sussler and Soho Press publisher Bronwen Hruska, toast the contributors, and hear revealing excerpts read by Kate Valk and Ari Fliakos of the acclaimed theater company The Wooster Group.
Housing Works Bookstore details | Facebook details | Book details
---
---
Sasha Fletcher is the author of it is going to be a good year (Big Lucks Books, 2015), one novella, and several chapbooks of poetry.
http://bombmagazine.org/article/1000076/some-events-involving-ghosts
Jenn Joy teaches in the Sculpture department at Rhode Island School of Design. She curates Conversations without Walls with Judy Hussie-Taylor and co-edited the catalogs JUDSONOW and Diary of an Image for Danspace Project. Her recent writing has been published in DANSE: An Anthology (Les Presses du Réel, 2014), DANCE (Whitechapel/MIT Press, 2012), BOMB, BOMBLOG, BLEED (a blog with Tere O'Connor) and in Planes of Composition: Dance, Theory and the Global co-edited with André Lepecki (Seagull Press, 2009). She received her PhD in Performance Studies from NYU and her book, The Choreographic, is forthcoming from MIT.
http://bombmagazine.org/article/1000096/brennan-gerard-and-ryan-kelly
Bethany Ball was born and raised in Detroit and currently lives in New York. She has just completed a novel-in-stories called Yossi Tavili Stands in the Fields. The title story was published in BOMB Magazine last May.
http://bombmagazine.org/article/1000126/yossi-tavili-stands-in-the-field
Virginia McLure edits La Fovea and works at a literary agency. Previously she has edited or read for Washington Square Review, A Public Space, and The Southern Review. She has writing or translations featured or forthcoming in Asymptote, Parallax, BOMB, Bedford + Bowery, the Nashville Review, and Meridian. Her chapbook, EPITHALAMIONS FOR ANNA, was a finalist in No, Dear/Small Anchor Press's 2014 Chapbook Competition.
http://bombmagazine.org/article/1000061/latasha-diggs-morgan-parker
Michael Barron is the director of publicity and an editor at New Directions. He has written about futuristic instruments for Harper's, inventions conceived by writers for the Believer, jazz musicians in literature for Bookforum, the great Aboriginal novel Carpenteria for Tin House, and has interviewed more than one notable drummer for BOMB. He plays in the band Megafortress.
http://bombmagazine.org/article/1000198/chris-corsano




---
33rd Anniversary Gala & Art Auction
---
2014 Poetry Contest
BOMB is excited to announce the 2014 Poetry Contest, judged by poet CAConrad.
The winner of our 2014 contest will receive a $1,000 prize and publication in BOMB Magazine's literary supplement First Proof. Deadline April 30.
Poetry Contest Submission Guidelines
• Manuscripts must include 3–5 poems.
• No more than 5 poems (max. 10 pages) per entry fee.
• Do not write a name on the actual manuscript, as all entries are considered anonymously. NON-ANONYMOUS ENTRIES WILL NOT BE CONSIDERED.
• Poems must be previously unpublished.
• Simultaneous submissions OK, but reading fee is not refundable.
• Reading Fee: $20 inside the US—includes free one-year subscription to BOMB* (addresses outside North America add $12; Canada/Mexico add $6).
• Deadline: April 30, 2014.
We will only be accepting online submissions. Click here to upload your manuscript and pay the reading fee (includes free one-year subscription to the magazine).
The winning poem will be published in an upcoming issue of BOMB's First Proof. Finalists and winner announced late summer 2014. Email generalinquiries (at) bombsite (dot) com with any questions.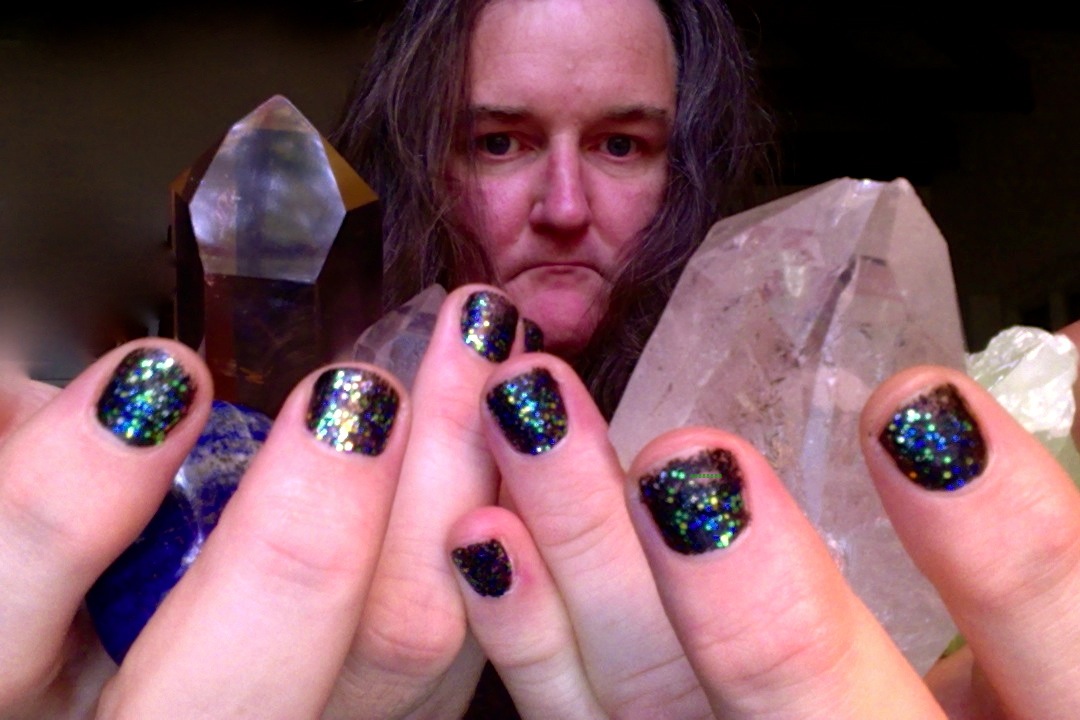 CAConrad is the author of six books including ECODEVIANCE: (Soma)tics for the Future Wilderness (Wave Books, 2014), A BEAUTIFUL MARSUPIAL AFTERNOON (WAVE Books, 2012) and The Book of Frank (WAVE Books, 2010). A 2014 Lannan Fellow, a 2013 MacDowell Fellow, and a 2011 Pew Fellow, he also conducts workshops on (Soma)tic poetry and Ecopoetics.
Visit him online at CAConrad.blogspot.com
BOMB has championed and encouraged the literary efforts of both established and emerging writers for more than a quarter-century, with a contributing editorial board that boasts contemporary luminaries such as Deborah Eisenberg, Patricia Spears Jones, Edwidge Danticat, Kimiko Hahn, Jonathan Lethem, John Haskell, and Francine Prose.
*All subscriptions will start with the Summer 2014 issue, #128.
---
Tags: