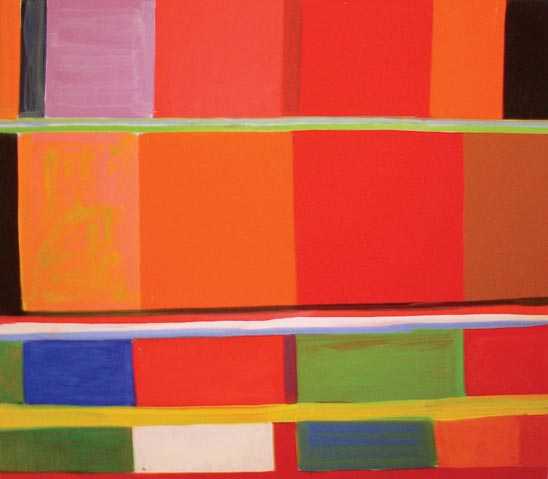 Queen of Hearts, 2004, oil on linen, 54 × 60 inches.
In his Sonnets to Orpheus, Rainer Maria Rilke exhorts the reader to "dance the orange." Stanley Whitney does that and more, including the rest of the color spectrum as well. Working toward his self-proclaimed goal of "density with a lot of air," Whitney paints glowing squares in a wobbly grid, juggling color and balancing form to create rhythm, speed and nervous energy.
Impressed by the volume of the pyramids in Egypt, and the architecture of Rome, Whitney studied what he calls the "history of edges" and the pressure of how things meet. The challenge of where to put the color led him to move from pictographs and Abstract Expressionist reference to a percolating grid, metaphorically hanging his sheets of light-filled color on a spatial laundry line.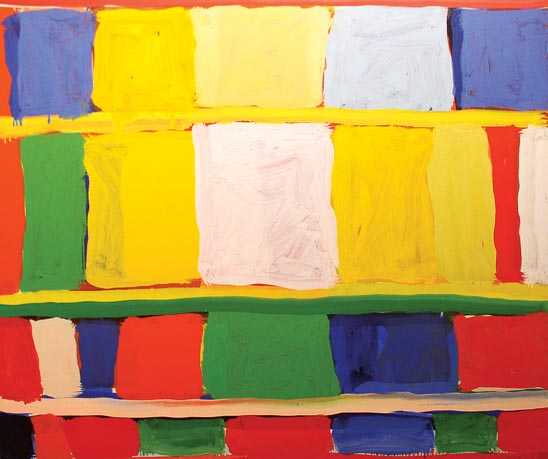 Singable, 2004, oil on linen, 27 × 32 inches.
The paintings are directly simple, but emotionally and sensorially complex. When you look at these paintings, you enter Whitney's head, right behind his eyes, as he examines African fabrics in Dakar or walks the streets of Rome, absorbing the color and light. The senses flip—you hear the color and light and see the sound—and then they flip back, emitting a series of vibrations. The meditative time that Whitney gives each work returns to create a world for viewers. We stand in front of a rectangle or a square and feel like a revolving top is spinning out a personal, jumping extension of modernism, a spiritual and visual hit of information. As the poet Norma Cole says about Whitney's work, "Every day the news is in these paintings."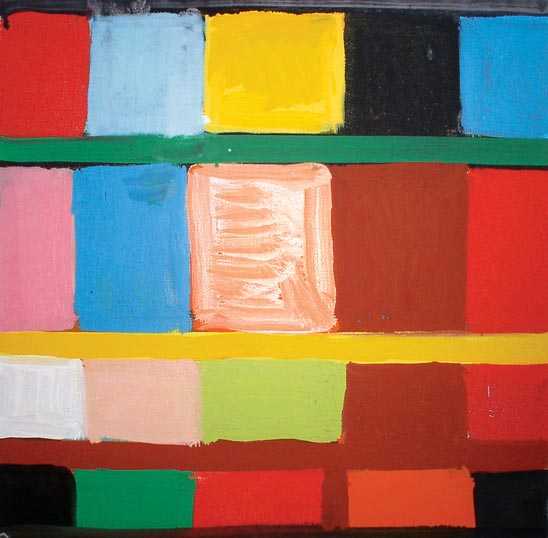 Untitled, 2004, oil on linen, 12 × 12 inches.
Miles Davis's Bitches Brew might accompany the beginning of a painting, but then Whitney turns off the music. The geometric beat emerges in silence, with light tapping on line and color rounding out the sound. American innovation and the African spirit world meld to let loose Whitney's pictures. He connects Cézanne and Charlie Parker too, creating a geometry that is organic, clear and clean. And he includes the emotional and magical, letting beauty have its say.
—Mimi Thompson is a painter and writer living in New York.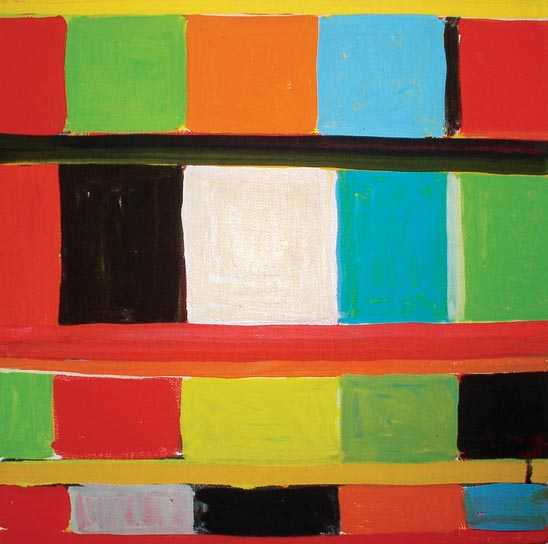 Untitled, 2004, oil on linen, 12 × 12 inches.
Tags: