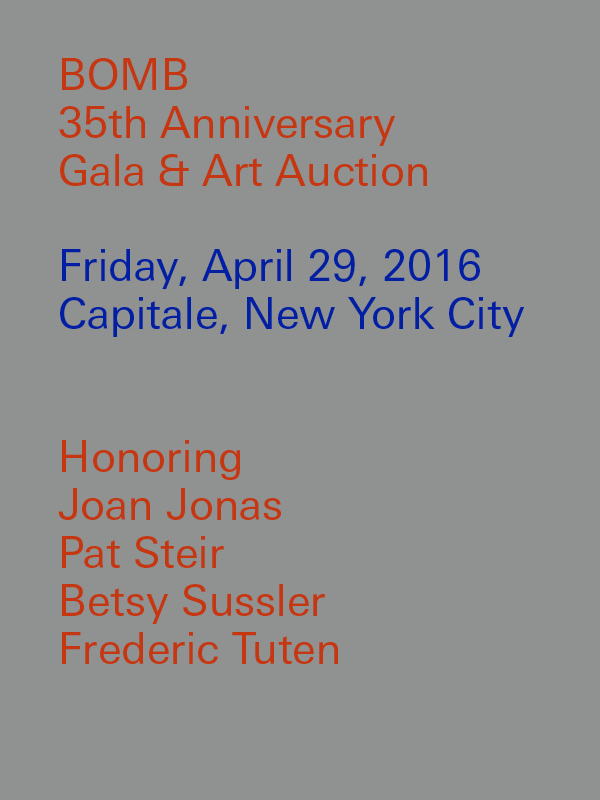 Master of Ceremonies:
Eric Bogosian
Toasters:
R. H. Quaytman
Mickalene Thomas & Racquel Chevremont
Eric Fischl
Edmund White
Co-Chairs:
Hope Atherton & Gavin Brown
Cary Brown & Steven Epstein
Dorothy Lichtenstein
John Cheim & Howard Read
Honorary Chairs:
Deborah Eisenberg & Wallace Shawn
Diane Keaton
Mary & Jack Whitten
Get your Gala tickets today.
6:30 to 8pm Cocktails and Canapés
6:30 to 10:30pm Silent Art Auction
8pm Seated Dinner, Toasts, and Live Auction
9:30 to 10:30pm Dessert and Final Bidding

Bidding for the art auction is now open and runs through April 29 with our partners Paddle8.
Terry Adkins
Etel Adnan: 1, 2, and 3
Tom Burr
Ellen Carey
Sarah Charlesworth
Anne Chu
Stephen Collier
John Coplans
Brian Dailey
Shezad Dawood
Tacita Dean
David Deutsch
David Diao
Dahlia Egad
Nicole Eisenman
Mitch Epstein
Wendy Ewald
Louise Fishman
Ryan Foerster
Adam Fuss
Joe Fyfe
Mike Goodlett
Ethan Greenbaum
Wade Guyton
Lyle Ashton Harris
David Humphrey
Jacqueline Humphries
Jessica Jackson Hutchins
Mark Innerst
Alfredo Jaar
Joan Jonas
Barbara Kasten: 1 and 2
Louise Lawler
Zoe Leonard
Judith Linhares
Vera Lutter
Anthony McCall
Allan McCollum
Josiah McElheny
Amanda Means
Sam Messer
Tom Otterness
Jean Pagliuso
Roxy Paine
Celia Paul
Lari Pittman
Elaine Reichek
Allen Ruppersberg
David Salle and Sofi Brazzeal
Carolina Sandretto
Carolee Schneemann
Richard Serra
Arlene Shechet
Gedi Sibony
James Siena
Ray Smith
Michael Smith
Michael St. John
Henry Taylor
Fred Tomaselli
Peter Wegner
William Wegman
Lawrence Weiner
James Welling
Stanley Whitney
Terry Winters
Décor by Madeline Weinrib.
Music curated by M. Lamar.
Art auction framing by Minagawa Artlines.