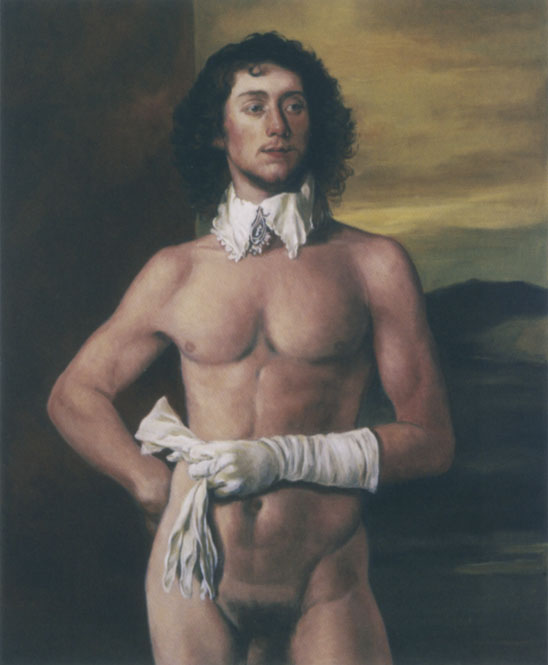 Kathleen Gilje, Portrait of Thomas Hanmer, Restored, 2004, oil on canvas, 45 × 34 inches. All images courtesy of the artist.
Portraiture is about many things: how the subject relates to the photographer or painter, and where the subject's gaze lies. Is the subject looking at the artist or looking away? The gaze is very subtle, but very important in revealing what the artist wants to say. Portraiture is also about the location of the subject: Is the background plain? Or is the subject part of an interior or exterior landscape that reflects who he or she is? And, of course, portraiture is also about how the painting or photograph is rendered. Is the style or the image classical, modern, or abstract? All this is best achieved with careful composition and excellent technique.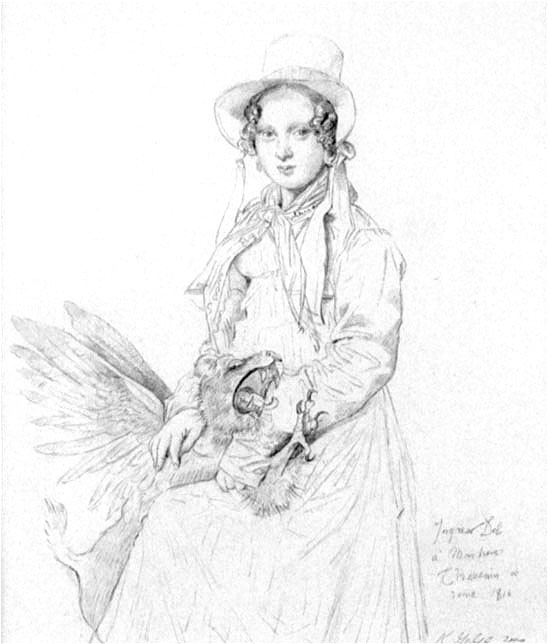 Kathleen Gilje, Mademoiselle Henriette Ursule Claire and her Hippogriff "Trim," Restored, 2000, pencil on paper, 14½ x 11½ inches.
Kathleen Gilje, a self-styled "restorer" of Old Master paintings, is a brilliant technician. For several years after college, Gilje worked on damaged El Grecos and Caravaggios at the Cappo di Monte Museum in Naples. She filled in missing areas in the "hand" of the artist and learned how to control her stroke and obtain various effects of light and shade. Today, all of her own paintings reflect the distinct touch of the Old Master. Her extraordinary drawings also show her laborious training. The quality of line is delicate but precise. Gilje starts out a drawing with a hard pencil and advances in stages to soft pencils—"like building a house," as she puts it. She claims she erases a lot, but the erasures are invisible.


Kathleen Gilje, Woman with a Parrot, Restored, 2001, oil on canvas, 51 × 77 inches, and X-ray, 50 × 75½ inches.
Gilje is a painter of art history both true and imaginary, which implies a thorough understanding of the history of art. In her earlier paintings, she would choose an Old Master's work, paint a pointedly altered copy using lead paint and then cover over parts of that image in pentimenti. She would then X-ray her painting and hang the pieced-together films next to it. In her Woman with a Parrot, Restored, 2001, the X-ray reveals the nude figure of the artist himself—Courbet—on the right side of the canvas: in her re-rendering. Gilje revealed both the male gaze and the vulnerability of the female figure.
Recently I visited Gilje's studio and saw her latest paintings. They are also based on Old Masters, but with these images she has borrowed only faces and compositions: for the bodies of her subjects she has used nude models. In Portrait of Agatha Bas, Restored, a solemn young woman gazes defiantly from a trompe l'oeil archway, the lace of her collar fanning out over her bare chest. In Christina of Denmark, Restored, the woman's porcelain skin contrasts with the deep blue her open cloak. This is a portrait of the beautiful young woman who was King Henry VII's choice of mistress at the time; in reality she rejected the royal advances. The proud visage and unapologetic nudity of Gilje's "restoration" suggest the subject's psychological power over men. For Gilje, the nudity of her subjects allows the figures to become universal as well as exposed.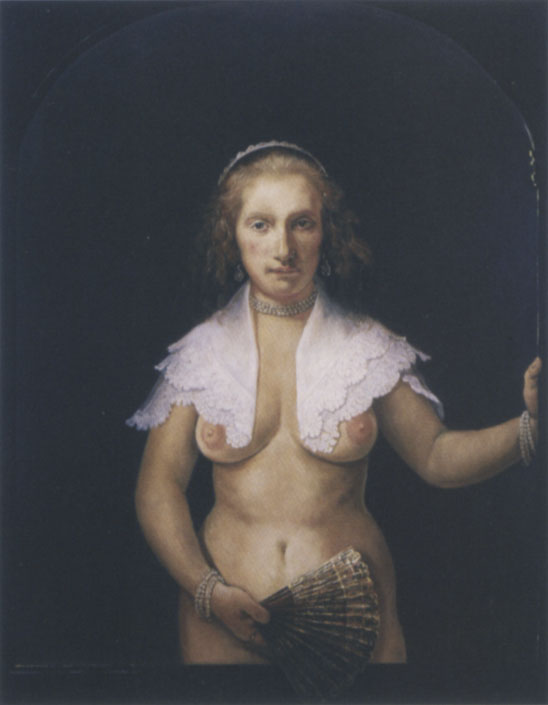 Kathleen Gilje, Portrait of Agatha Bath, Restored, 2004, oil on canvas, 42¼ x 33¼ inches.
Gilje's next project is to paint people in their art fantasies. She is considering using art-world figures as her subjects (mainly collectors). She will ask them each to choose an image from the history of art into which she will incorporate them. As of now her first painting might be a depiction of a prominent female collector as Sargent's Madame X.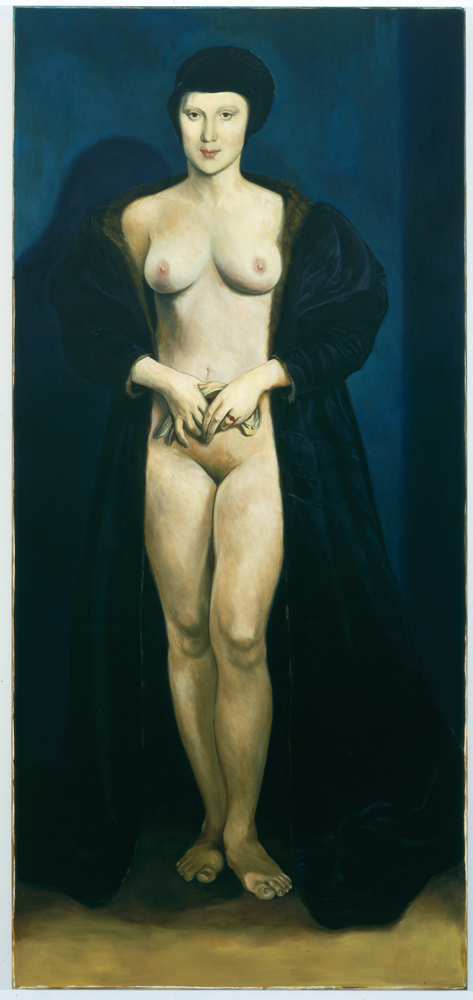 Kathleen Gilje, Christina of Denmark, Restored, 2002, oil on panel, 71¼ x 32¾ inches.
Gilje feels that people sometimes worry that they might be perceived as vain for having their portrait painted, but these portraits will be whimsical and playful. The subject can say, "I always wanted to be a ballet dancer (or a princess or a great actor)." It's like theater. I suggested that she start with herself, perhaps as Botticelli's Venus. She demurred.
—Mary Ellen Mark