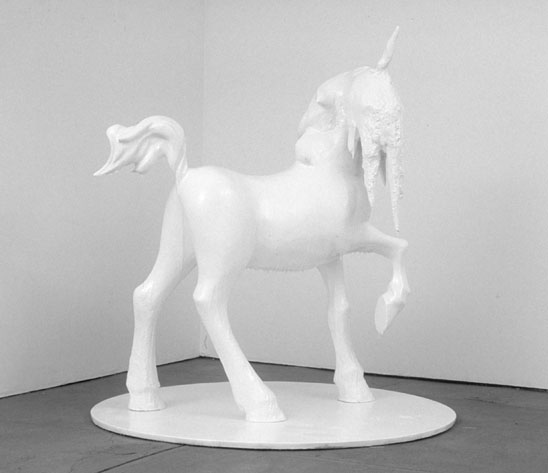 Banks Violette, Ghost, 2002, epoxy, polystyrene, cast fiberglas, plywood, IV units, and water, 61 x 60 x 60". Whitney Biennial, 2004, installation view. All images courtesy of the artist and Team Gallery, New York.
Melting the Unicorn: unpacking a Banks Violette from the fictional viewpoint of a 17-year-old newly ex-suburban girl.
So, you are standing on a street corner. You just moved here from your small hometown. You have on really good stockings and maybe your heels are good too. You check out your own legs. Maybe you are smoking. Down the block a shape moves toward you. It is blurry. When you squint, you see that the blurry shape is male. When you squint again you think that he is pretty cute. You adjust the way you stand so that you look available.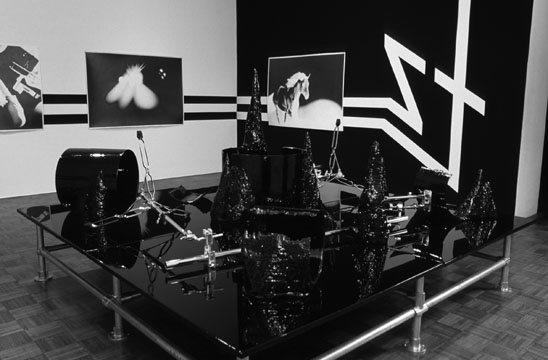 Banks Violette, (Suicide Memorial), 2002, graphite on paper, 23 × 30".
How does one experience a Banks Violette? These are the first things you have to worry about: perfect beauty, fear, longing, annihilation. The Void. In his untitled installation for the Whitney Biennial, Banks presented a group of graphite drawings and a reflective black sculpture depicting rock's apocalypse: Keith Moon's smashed drum kit, Kurt Cobain's prostrate figure.
He walks up to you. He has a funny look on his face that is scary and attractive. You start to make out with each other and he is like biting on your mouth and his hands are all over the place, which you like but it makes you feel like people might be staring. He bites you on the lip really hard and you feel kind of wet and hear a sound like liquid hitting the pavement. You look down to check it out.


Banks Violette, Gone (Joseph Fiorella, Jacob Delashmeutt, Royce Casey), 2001–02, oil on canvas, 76 × 204".
In his most recent solo exhibition at Team Gallery in New York, Arroyo Grande, Banks showed a series of sculptures and paintings based on the 1995 ritual slaying of Elyse Pahler by three teenage boys who sacrificed Elyse in the name of living the evil they admired in their favorite band, Slayer. That show and the Whitney installation render with elegance the feeling of being filled with power as you lift the blunt object over your head and bring it swiftly downward to crush what fascinates you.
There is blood down the front of your shirt and on the sidewalk. This guy is kind of kissing your eyes, and he is into your hair and is also kissing that. When you feel your throat with your fingers you realize that he slit it with this knife he had in his hand while he was biting your lip to distract you.
They also sketch the magnetism of the perpetrator of violence, and the mythos of the destructive act.
This is what you think while you are dying:
"So, I am about to experience the Void."
"I hope this person keeps kissing me like that until I die, or at least will keep stroking my hair."
"That was maybe the most perfect moment in my life."


Left: Banks Violette, Skull Pile (Inverted), 2003, graphite on paper, 22 × 30". Right: Banks Violette, Ithaca (Suicide Memorial), 2002, graphite on paper, 23 × 30".
The lost object of desire is the ultimate point of attraction. The strength of its echo is created by its inaccessibility. Standing in front of a work by Banks Violette reveals that graveyard of desire. If you love a thing, you must destroy it so that it can remain perfect in time, unchangeable. Banks speaks to that part of us that longs to be part of something. Something big. And because of his tremendous ability to create beauty, he allows all the force and disastrous potential of that experience to be described in your heart's desire of visual pleasure. You are predator, you are prey, and this might possibly be the most perfect moment of your life.
—Sue de Beer