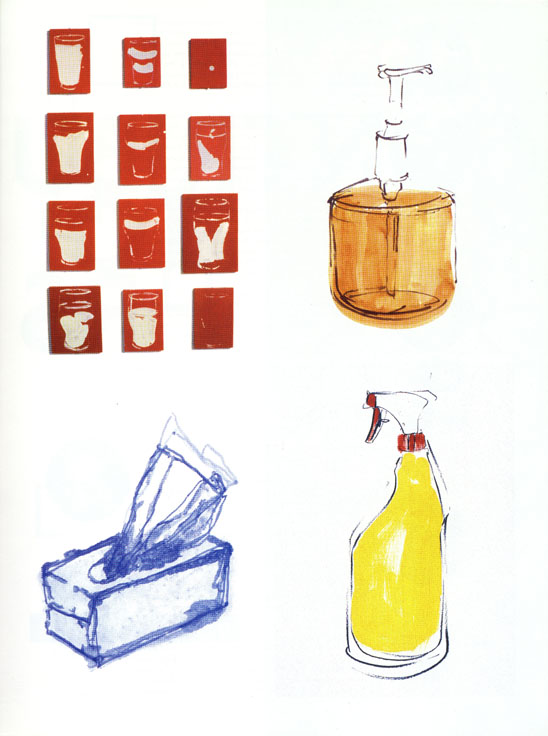 Michelle Charles, Whole Milk/Skim Milk and Untitled works. See footnote #1 for full credit. All images courtesy of the artist and Anthony Grant, Inc., New York.
There is a deceptive simplicity to Michelle Charles's images of medicine bottles, honey jars, bars of soap, and other household objects. These straightforward images contain no outward trace of struggle. They have the total coherency of road signs, and a careless eye might class them with mechanically reproduced designs. In fact, this coherency derives from fierce rigor and precision, a hand making its mark at just the right moment. A battle has been waged not unlike the calligrapher's struggle to achieve a single flawless gesture. These sublime images are found in a moment of skill and command, extracted through practice and repetition.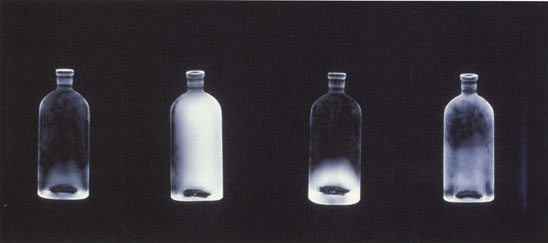 Michelle Charles, Lydia Pinkham (set of 4), 2001, photograms, 14 ×11" each.
Charles's subjects suggest healing, cleansing, and domestic regard. Her small photograms and paintings on wood of glasses of milk are as soothing and remedial as a midwife's herbal recipe. Embedded in Charles's work is a dialogue with art both past and present: from the hyperrealistic Egyptian Fayum mummy portraits to Rothko's somber and evocative paintings. But these influences cannot be measured in mere footnotes.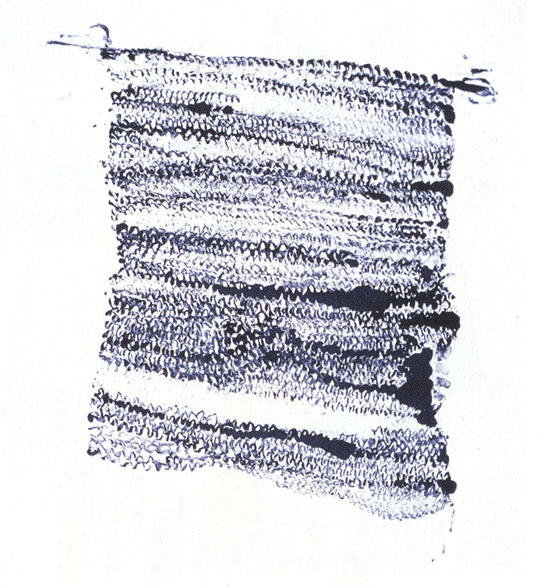 Michelle Charles, Medium Knitting Series #2, 2002, oil on paper, 39 1/2 × 27 3/4".
Charles trained in the manner of David Bomberg's tough-minded British school of the hand and the eye. Her drawing is anchored and substantial, with a hard-won ability: a mark that can spatially carry the form right around the back. She penetrates the flatness with her touch. Each drawing in her most recent series, for instance, includes a rendered needle that seems to have knitted the drawing itself. Physically, she finds the gradual and convincing weight of everything she draws, stabilizing our gaze through the immediacy of her vision. When you look at her drawings you are in the here and now.
—George Negroponte is a painter based in New York.
---
1. Clockwise from top left: Michelle Charles, Whole Milk/Skim Milk (detail), 1997, oil and acrylic on balsa wood, dimensions variable; Untitled (Dial Soap), 2001, charcoal and paint on paper, 30 × 22″; Untitled (Ajax), 2002, charcoal and paint on paper, 30 × 22″; Untitled (Blue Kleenex), 2002, charcoal and paint on paper, 30 × 22″.
Tags: