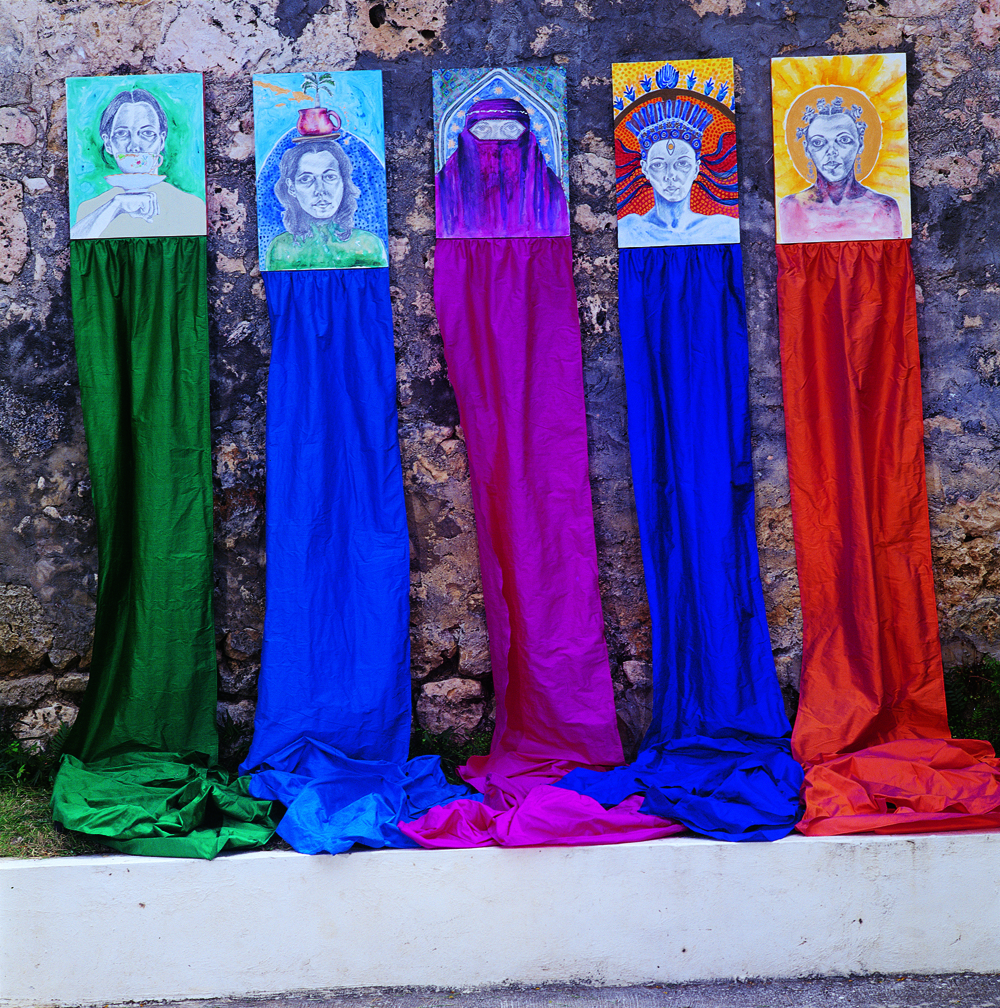 Annalee Davis, Creole Madonna, 2002, acrylic and pencil on board, silk and sound, 60 x 96 inches. Photo by Ronnie Carrington."
Annalee Davis's thought-provoking recent work represents a search for identity: that of her native land, Barbados, and the peoples of the Caribbean, as well as her own identity and, by extension, ours. Contemporary Middle Passage (here) and (there), 1997, a 16-foot-long, double-sided drawing on paper, reflects the migration that began in the '60s, when the Caribbean people were searching for new possibilities, following dreams of a better world. The image of a house uprooted, a person flying away to a new and unknown realm, speaks of a shared experience of exodus. The mixed-media installation Barbados in a Nutshell, 2002, dissects the wonders of Davis's native island and helps us question what it was and what it has become. What is the real Barbados? Is it a land for those who visit to enjoy a wonderful playground of golf courses and beaches? Where are its native traditions and heritage? On the installation's sound track the artist sings the national anthem, and in the background we hear the sounds of the sugarcane factory horn. Similarly, in the series of relief prints This Land of Mine: Past Present and Future, 1996, Davis explores a Barbados transformed, wounded by foreign influences and the attendant sense of loss.
Yet her works are not only understood in terms of the Caribbean experience of constant migration. Her language is a universal language. Davis's works establish a dialogue with the viewer, inviting us to explore and reflect on our own stories and those of our own land.
In the interactive installation Evocations of a Caribbean, 2001, the artist wears the faces of goddesses from around the world to represent the various ethnicities of the women who have settled in the Caribbean. The accompanying audio plays the voices of Caribbean women from earlier times. Davis uses her own voice in Creole Madonna and Creole Chant, both 2002, reflecting the simultaneous complexity and commonalties of the Caribbean identity. The installation Growing Up Without an Echo, 2000–2002, a spiral pathway composed of small knots of colored fabrics and small houses made of wire hanging from the ceiling, also concerns the dynamism of Caribbean culture. In the center of the pathway, a tray suspended by swizzle sticks holds the so-called sacred text, which the artist wrote for her children to teach them about their diverse backgrounds and traditions. And in recognizing these differences, we learn what is common in all of us.
Which identity is it? In the search for a new life in a new land, and a new sense of who we are, with new possibilities, are we tearing ourselves apart? These are the questions raised in Davis's poignant, introspective work. Using varied and rich mediums, poems and songs, she draws on her experiences as a Caribbean, a woman and a mother to explore the themes of the search for identity in a world that is always evolving. To view her works is to become a participant in this soul-searching experience; it is to embark in a journey of our own discovery.
—María del Carmen Cossu is Exhibits and Programs Specialist at the World Bank Art Program in Washington, DC.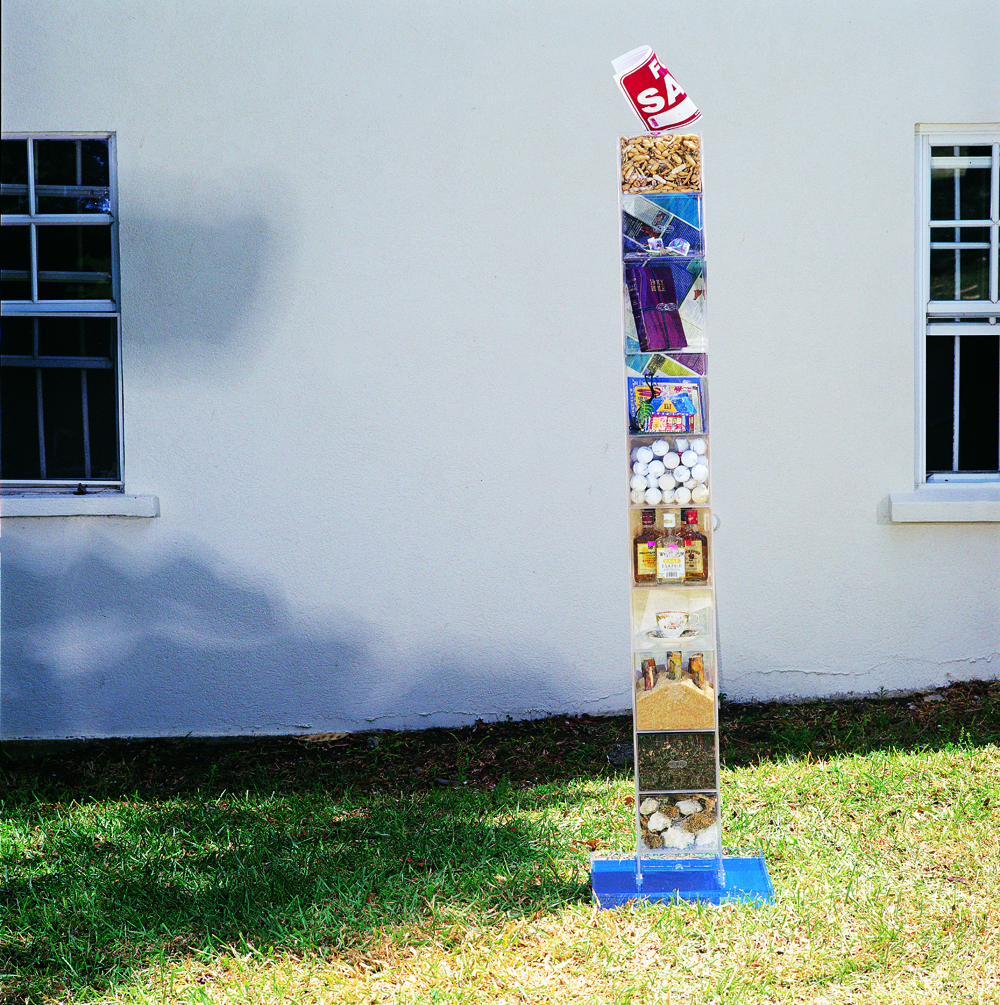 Barbados in a Nutshell, 2002, mixed-media installation with sound, 80 x 8 x 8 inches. Photo by Ronnie Carrington

Medals, 2000, fabric on board, 18 x 22 inches

Touching the Void, 1999, relief print and acrylic on board, 20 x 16 inches. Photo by Abigail Hadeed.