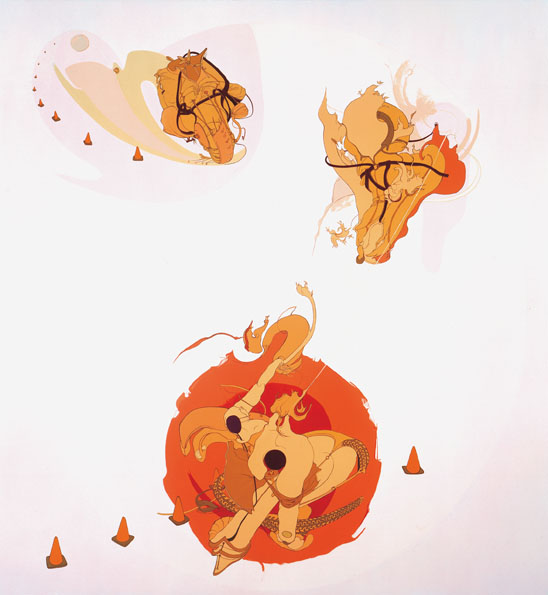 Inka Essenhigh, Sunspots, 2000, oil on canvas, 78 × 72 inches. All photos by Zindman/Fremont. All images courtesy Mary Boone Gallery, New York.
Sometimes I see a new artist who is surprising because she brings certain images and qualities to painting. Inka Essenhigh's images span a range from funky and cartoony to elegant, like science fiction rendered into Ming Dynasty decoration, Chinoise screens, or lacquered bowls. They seem effortless (although I know they're not), dense, and seamless. They have a certain airlessness. I asked Inka if she had any of these things in mind when she worked.
Inka Essenhigh Yes. Around 1996 I wanted to clean things up. I wanted my paintings to seem more artificial, like something that was made by Mattel. I thought this way of working would be exciting. I prefer drawing rather than painting. I like to have fun with my work, and I wanted to do what I was good at. It was the enamel paint that allowed me to get to my essence (the drawing). I think of my painting as close to fresco. I'm good at breaking things down to shape and I'm good at drawing. I'm not really interested in futzing with paint on the surface to make a 3-D effect. The enamel, which is called "One Shot," makes the painting more Pop. It freed me to do "stupid paintings." In other words, to find stupid reasons to apply paint. But then subject matter became a real problem. Let me backtrack for a minute: I was a realistic painter but found myself with nothing to paint so I became an Abstract Expressionist. Once I got rid of all the painterliness and lightened the palette, got rid of all the messy problems of dealing with the weight of art history, then I was free to make dumb things. I could paint whatever came into my head. Because it seemed light I gave myself the freedom to do whatever I wanted.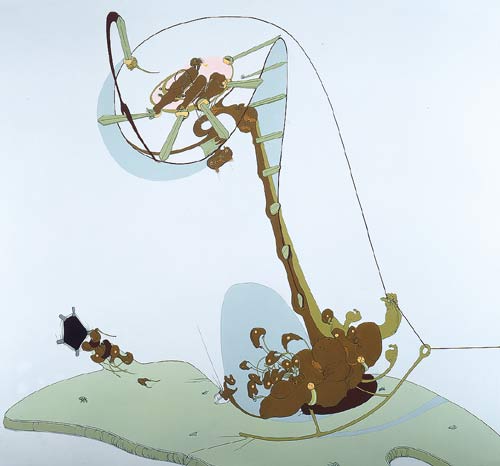 Inka Essenhigh, Theives, 2000, oil on canvas, 86 × 92 inches.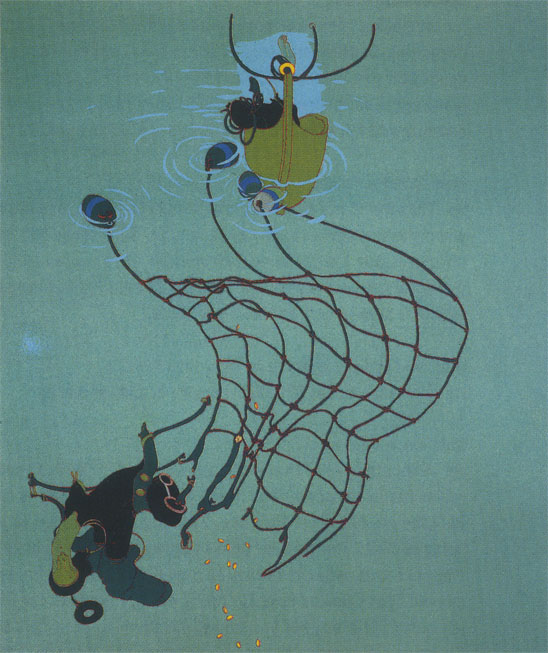 Inka Essenhigh, Lost Treasure, 2000, oil on canvas, 58 × 50 inches.