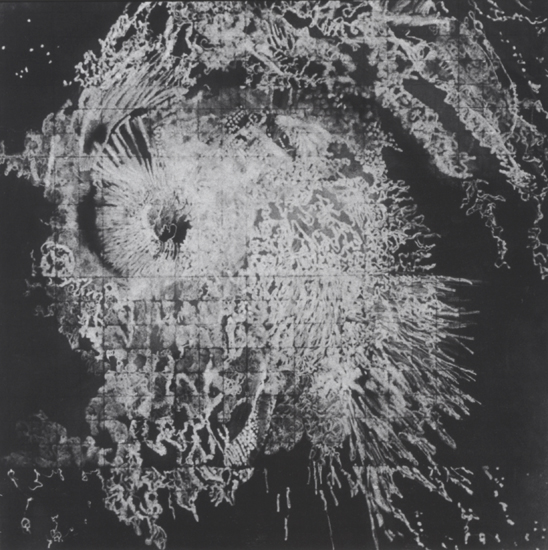 George Mead Moore, Hurricane Georges, from "Storms and Mountains," 2000, blue pigments on paper, 39½ x 39½ inches. All images courtesy of the artist.
To George Mead Moore from James Brown: Curious is the Psychology of Sunday.
Sunday, November 6, 2000
Santo Domingo Tomaltepec, Oaxaca
Thinking of Oaxaca can throw me into the months D. H. Lawrence lived and worked here. Not that I know why, but his presence here in 1924 and 1925 hangs on me in a most agreeable way. There is some great relief in imagining him here; it is a kind of obsession for me. Then one reads all the Mexico work by Lawrence; it is mysterious, touching work. There is "Walk to Huayapa," such a sweet and twisted story. Today the soldiers and the dust are happily hanging around, pointing the way, aren't they? It's useless describing Huayapam to you. Now that you are living there, in it most deeply, the high quiet hidden place with its water and trees. So I see you in my mind working away daily, hidden behind the trees and walls. I see your blue. Those fine blue blue prints and all the meticulous working and drawing. This perfectly patient way you master time, minute by minute, hour by hour, seems so suited to the place. You see now I always watch you in my mind in Huayapam, and D. H. Lawrence on his walk. I watch both of those men at the same time working and walking, each with their reasons to include Huayapam. "Curious is the psychology of Sunday" is how "Walk to Huayapa" [from Mornings in Mexico by D. H. Lawrence] begins. I am sure you know this by heart, and do you find the Sunday atmosphere of Mexico sad and fulfilling? I congratulate you on your choice, to build a house and work in it in this place where work comes out well. l am simply telling you that I admire your walk to Huayapam and the work it has inspired.
With my warmest thoughts,
James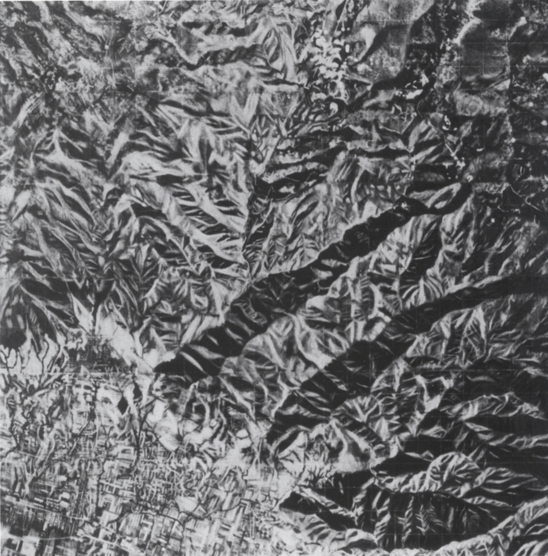 George Mead Moore, Reservoirs of Huayapam, from "Storms and Mountains," 2000, graphite on paper, 39½ x 39½ inches.
Tags: