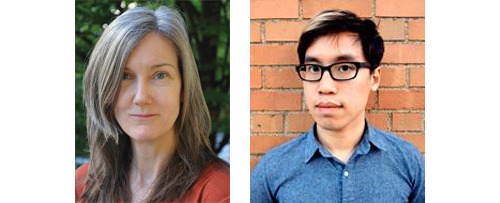 Presented by BOMB and Community Bookstore
Thursday, October 6, 7:00pm
143 7th Ave., Brooklyn, NY 11215
Nell Zink reads from and discusses her two newly published books, Private Novelist and Nicotine. Written before The Wallcreeper made her famous, the two novellas in Private Novelist feature a translation of a Hebrew novel (without any knowledge of Hebrew), a spy story, and faux autobiography. Nicotine explores the gap between baby-boomer idealism and millennial pragmatism in a squat house in Zink's unique take on the modern family novel.
Nell Zink grew up in rural Virginia. She has worked in a variety of trades, including masonry and technical writing. In the early 1990s, she edited an indie rock fanzine. Her writing has also appeared in n+1. She is the author of the novels The Wallcreeper and Mislaid. She lives near Berlin, Germany.
Tony Tulathimutte's novel Private Citizens was called "the first great millennial novel" by New York magazine. A graduate of Stanford University and the Iowa Writers' Workshop, he has written for the New York Times, VICE, The New Yorker, The Atlantic, and elsewhere. His work has received an O. Henry Award and a MacDowell Fellowship.
You can find Nell Zink's conversation with Keith Gessen in our fall issue.
Tags: