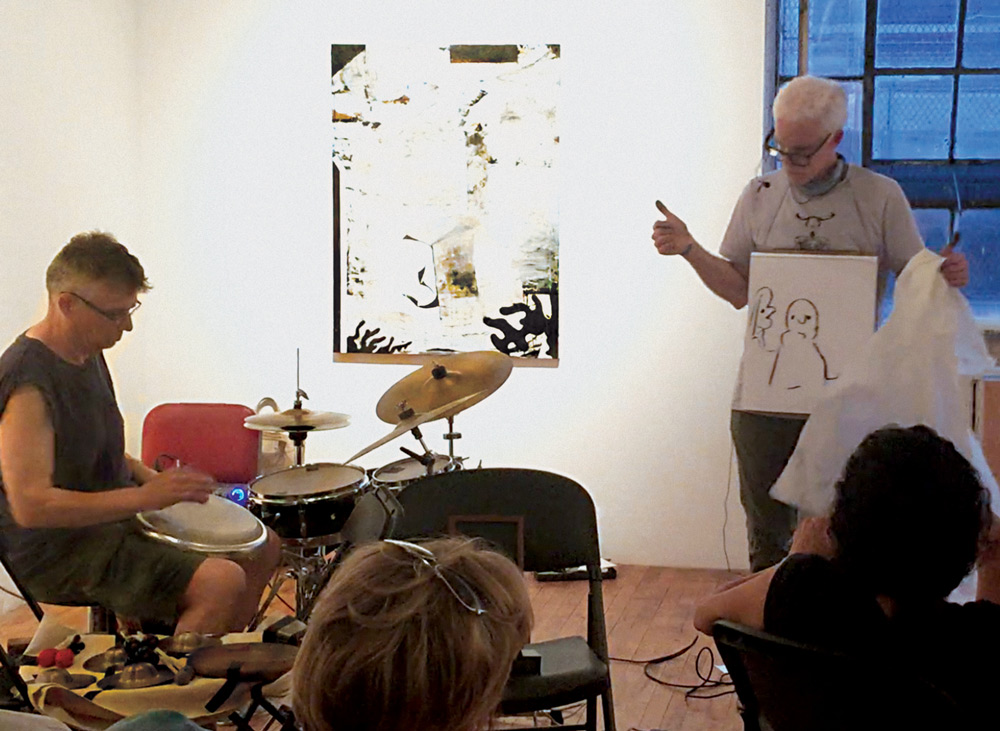 Video still of Matt Freedman and Tim Spelios performing Endless Broken Time, 2015.
An ongoing performance series at Studio 10, Brooklyn, 2015
We gathered around you while you told ghost stories. It was a familiar, reflexive, ancient act to draw close to the beat and the voice. When the drummer tripped out a beat, your speech became a song. The song in your speech had been there all along, but we didn't notice it until the drum called out its rhythm. The beat stopped. Your voice sounded dramatic for a moment, then small, stripped of its superpower. Was the drum dictating the rhythm of the talk or was the voice summoning the beat? After a while I decided that it was a little bit of both. Sometimes my thoughts careened off. That's how you know you're paying attention: when thoughts careen instead of wander. I dropped back in; your story was also careening. Frankenstein and Roosevelt. Or was it a dog named Frankenstein Roosevelt? You said, "I sat down to sketch the building because it was that time in my life when I had to draw everything to confirm or affirm the fact that I was an artist." Your body became a billboard, a white board, a place for homework to be assigned or corporate profits to be displayed. Instead you made crude, quick drawings, outlined from above, your hands becoming increasingly blackened with charcoal. At one point you wiped them on a crisp white sheet that could have been a shroud. You pointed this out, I believe. It was part of the ghost story. There was no script. But then, at the end I saw the pages and pages of handwritten notes in blue ink among the fallen drawings. The man in the front row, who was on ecstasy or maybe acid, called out "And then what happened?" You weren't phased. You told us about Houdini and roller coasters. You drew a Venn diagram explaining humor as the overlap between the benign and the violation. The drawings were immediate, functional, made to get a point across, like so many napkin or back-of-envelope diagrams. Sometimes drawings need to be quick and dirty and all over the floor. They get stifled in their frames. Why don't we all wear drawing pads on our stomachs to better explain ourselves? Art is an urgent message reputed to outlast its messenger. Being skeptical of that possibility you threw the art on the floor. At some point you climbed on top of a wooden post and stood there in profile, legs shaking. It was perilous and we sat up straighter. We had gotten too comfortable. Meanwhile the beat slowed and softened. The acid man stomped his feet, loudly, to make up for it. Later, when I came up to examine the drawings scattered on the ground, the specters of moments, he reached out and touched my leg. Between an artist and an object is a third thing: a ghost. Is it over when the paper runs out? You said, "We make art because it enables us to haunt the future."
—Ander Mikalson is a New York City-based artist working in sound and performance.