Kara Walker, installation of Look Away! Look Away! Look Away!, 10 × 60 feet. Center for Curatorial Studies, Bard College.
The romance novel tradition begins and ends for me in the 19th century, in the midst of and towards the end of institutionalized slavery. Then it begins again in the supermarket with a pornographic admiration of the affects of 19th-century personage—and an underlying subtext of Blackness as a tool of seduction.
She had always yearned to create a new identity for herself as the wife of a white man . . . Why this yearning to return to a place that had harbored . . . the humiliation of being an octoroon in a white-dominated world?
—Barbara Johnson, The Heirs of Love
Historical Romances are the byproduct of self-hatred, internalized sexism, and a remarkable kind of racism, the kind that makes one comfortable enough with it to become lustful for it.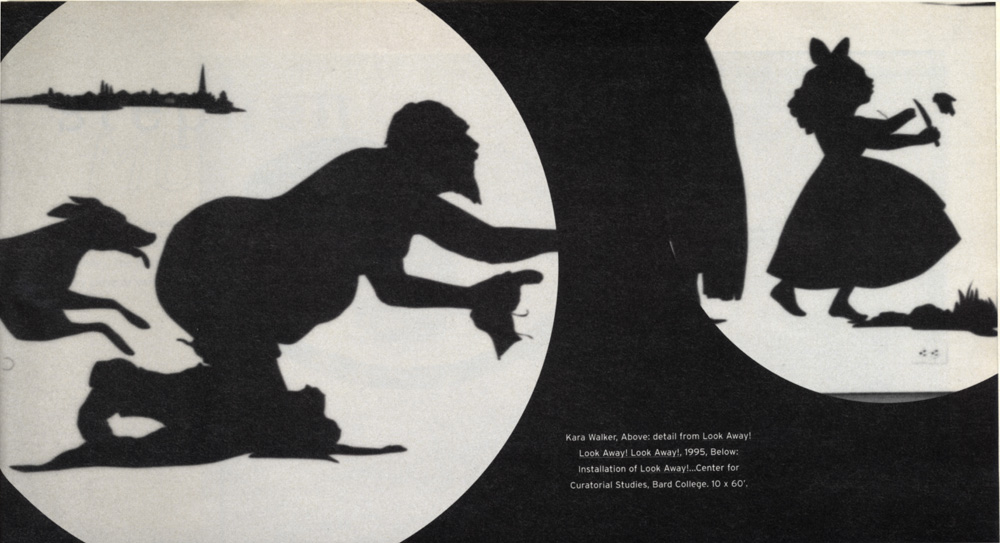 Kara Walker, detail from Look Away! Look Away! Look Away!, 1995.