Mary Heilmann, The First Small Red, Yellow, Blue, 1976, acrylic on canvas.
The stigma currently upon abstract painting is such that it must either be deserved, or, as some argue, proof that abstraction was a century-long anomaly in the course of modern art, and exhausted. No question but that by the late 1950s etiolation was evident within it. And the critically prevalent successor to abstract expressionism, color field painting, was a dubious advance, if one at all. More recently categories of stylistic coherence, at least as applied to abstraction, seem less and less accurate. Interesting painting in the '70s often meant an appropriation of certain aspects of abstraction to various representalisms—Neil Jenney's conceptual/figurative-onto-abstraction overlay; Joe Zucker's fiercely indecipherable pointillism, or that of Jennifer Bartlett or Chuck Close. De Kooning survived the collapse of abstract expressionism, and after him the significant practitioners of abstract painting are few: Ellsworth Kelly and Al Held foremost. That, 20 years ago, they, along with painters such as Stella, were known as hard-edge abstractionists may be important; perhaps as a way of organizing a painting it could sustain greater achievement than color field styles. Stella's move into painted bas-relief has proven symptomatic of widespread ascription, among artists younger than he, of sculptural values to the media of painting.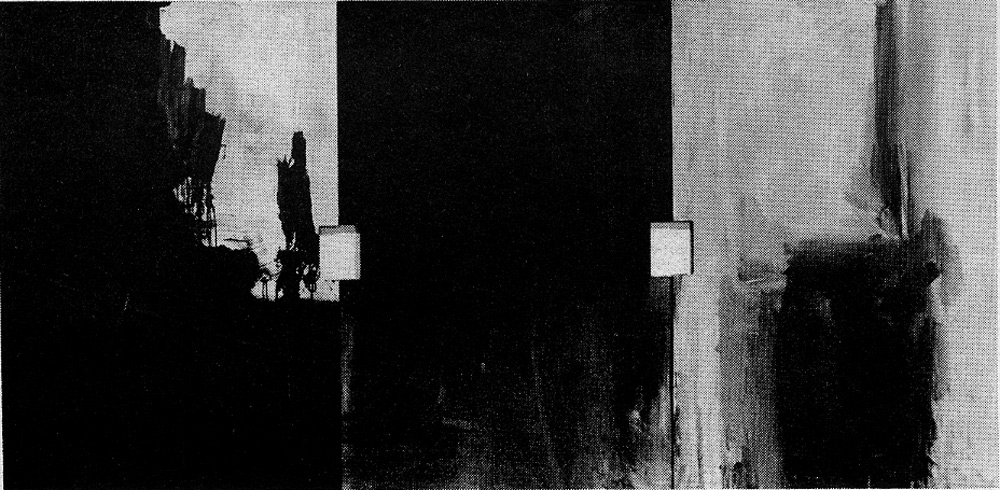 Ellen Phelan, Where, 1982, oil on linen.
Two theoretically isolated painters developed through all this, Robert Ryman and Brice Marden. Both are sensibility-oriented painters of the highest order, and are comparatively restrained in their use of color: Ryman, in his adherence to white and Marden, in his habit of one tone per canvas. With Robert Mangold their work was thought to constitute the two-dimensional activity within minimalist art. With time, however, certain color field painters—Noland, Olitiski, Kelly in his color chart paintings—seem much more attuned to the reductivist intentions of Judd or Morris or LeWitt. The subsequently baroque coloration of some of the work of the first, the obsessive self-consciousness of the second, and the architectural ornamentation of the third all suggest a true affinity for color field practice. Ryman and Marden were odd-men-out in any of this company, and their paintings remain connected to something—a heightened sense of touch? the French accent of Johns' paintings?—that, while providing them with much, appears either un-inspirational or insurmountable to any younger artists. I see the resuscitation of abstract painting occurring at the time of Elizabeth Murray's first shows. Her work re-introduced palettes long out of fashion, proposed a worked surface that could accommodate form in other than an exclusively field situation, and then posited a fairly wide and lively range of such forms.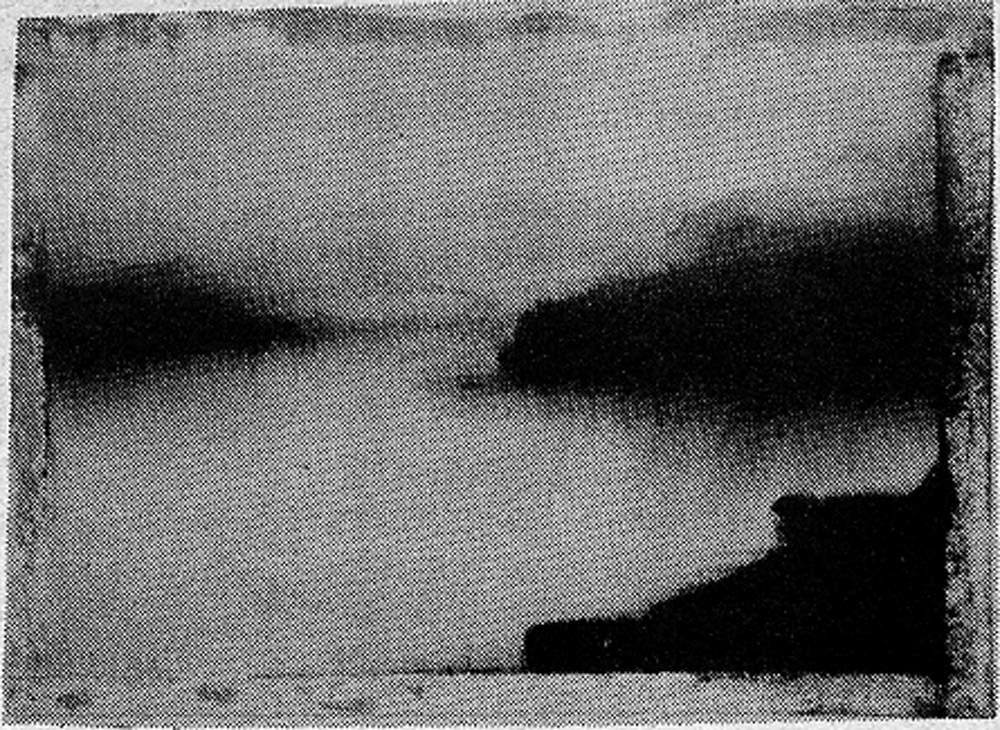 Ellen Phelan, gouache, 1981.
Neither Mary Heilmann nor Ellen Phelan, the two artists in question here, are indebted to Murray's work in any direct way except in whatever it did to revitalize contemporary painting in general; in conversation they both cite her as someone they respect and whose work continues to interest them. Both were trained outside New York, Heilmann in her native San Francisco region at UC, Berkeley, and Phelan in her native Detroit, at Wayne State. At the time, in the 1960s, when each woman was still in school those were two of the places (with Chicago and Los Angeles) where anything resembling contemporary art was going on. But, aside from a firsthand knowledge of the crafts requisite to art-making, their schooling had little in common—Heilmann having studied sculpture with Peter Voulkos and Robert Hudson, and Phelan, after studying traditional representational painting with Robert Wilbert at Wayne, joining with a small group of inner-city Detroit artists to organize the cooperative Willis Gallery and then producing some free-standing painted sculptural "fans." This coincidental, initial attraction to sculpture is noteworthy, since the later paintings of both demonstrate an informed understanding of spatial illusion. In our talks Heilmann endorses Phelan's observation of some current painters, that "they feel any two-dimensional information is as good as any other two-dimensional information. But painting has traditionally been about transferring three dimensions to two."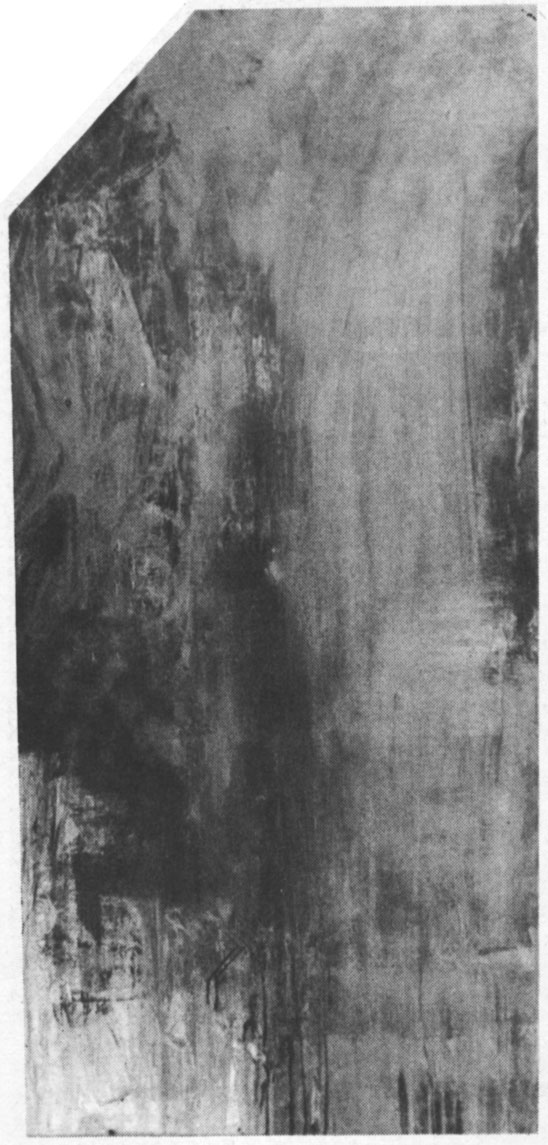 Ellen Phelan, Appearance, 1982, oil on linen.
When Heilmann began painting in 1970 she devised a marking method—scraping away one layer of paint from another—that has served her until very recently. Using her fingers or some other blunt edge (a squeegee, for instance), she created a repertoire of mostly geometric forms, more often than not parallelograms—eccentric squares and rectangles. She typically juxtaposes two brilliant colors in each painting, for a few years confining herself to a finely tuned primary medley. With some notable exceptions (which, in their highly physical translucency underscore the opacity of their contexts), Heilmann builds color to an opaque surface. The color is as blunt as the marking, and equally as revelatory since working into the entire surface wet at once, over the dry layer means she gives herself one chance to get the image she's after. It is a kind of calligraphy on an architectural scale. As Heilmann puts it, "I wasn't really thinking about painting, I was thinking about structures."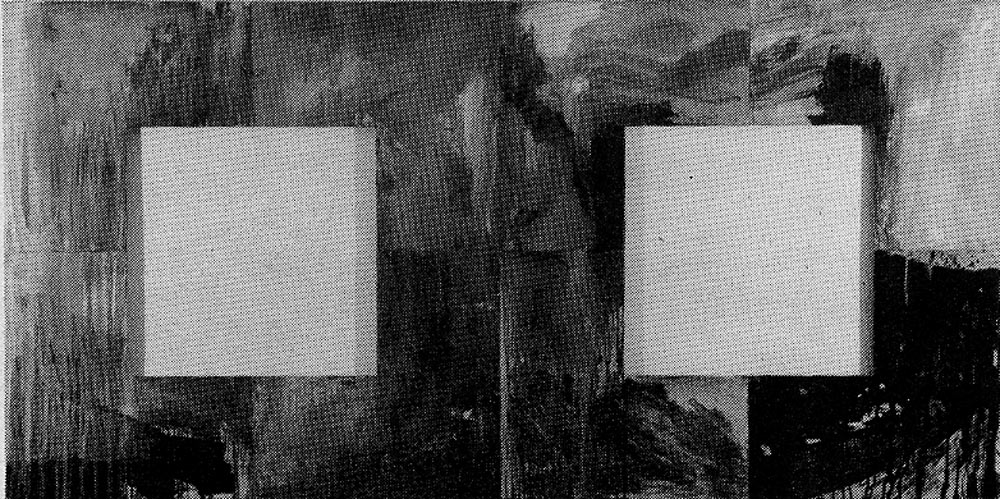 Ellen Phelan, Calypso, 1981, oil on aluminum, 48 x 96 inches.
The paintings, which in slides and in memory appear quite large, are, in fact, sizes that a woman of Heilmann's arm span can do, three to six feet for the most part. They are sometimes reminiscent of the more spare of Held's work of the early '60s, the period Irving SandIer calls "concrete expressionism." Heilmann, with her more process-oriented compositional method, is more deliberately tolerant of the vagaries of line than Held with his tautly brushed forms could he, but it seems to me she has tapped into some as yet un-depleted para-architectural space that spawned hard-edge abstraction, and has since lain fallow.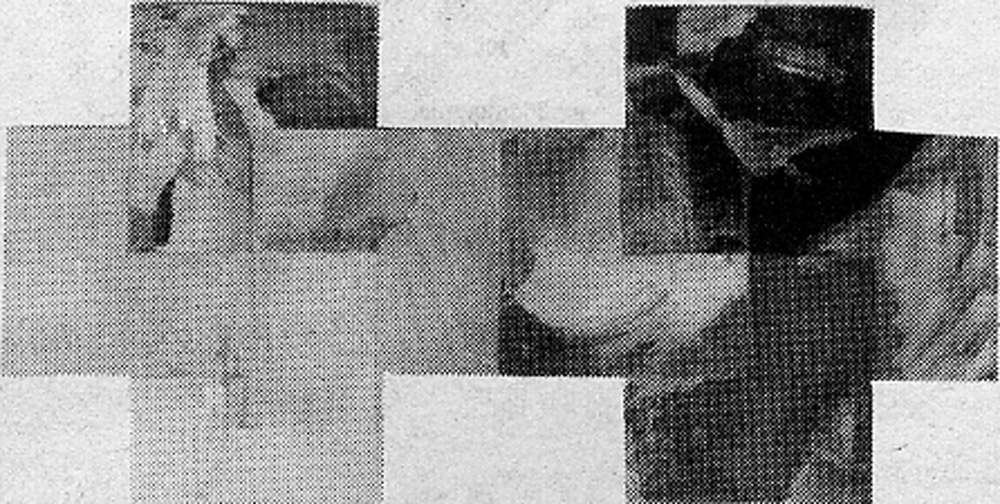 Ellen Phelan, The Islands, 1980-81, oil on aluminum, 48 x 96 inches.
The engaging tension Heilmann manages to set up between how and what she is painting with the surface and configuration of the stretched canvas on which she paints is her work's most rudimentary subject matter. In addressing her painting to something other than illustrations of her interpretative powers of ambient imagery, she makes her work intensely personal-in a way swinging a bat or walking into a room often reveals more about a person than hours of biographical anecdotes. Her overriding concern has been imparting reality to ideated form, and it is both bold and starkly legible in its successes and its misses.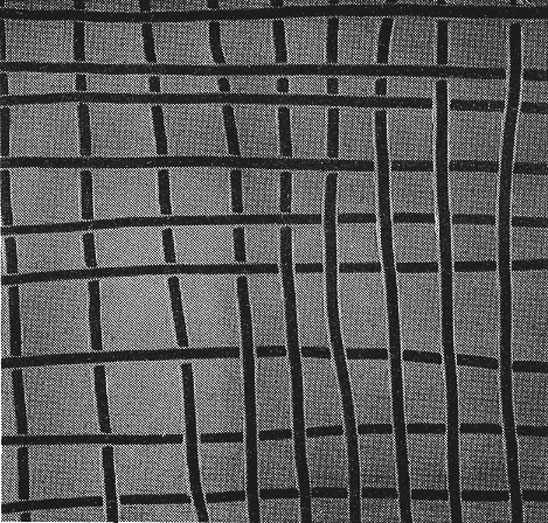 Mary Heilmann, 9 x 9, 1973, acrylic on canvas, 22 x 22 inches.
As Heilmann internalizes physical relationships so that her images work in contrast to the geometry of their support, Ellen Phelan's paintings externalize those relationships. Beginning with a series of 6' high wooden sentinels in which horizontal zoneal planes functioned as locations of paint incidents Phelan has concerned herself with engendering "more real consciousness about the support and less pictorialism." The aluminum panel paintings which followed, most of them composed of four 2 × 2′ L-shaped components, forced disparate colors and brush techniques together, often to spectacular effect. The subsequent paintings on canvas give fuller exposition to the handlings evident in the earlier work, just as the interior notches of the stretched canvases make more pronounced the negative spaces of the more open of the aluminum panel configurations. These openings to the wall emphasize the crucial importance of the emanating light Phelan creates in her work, since, as she says, "they are about modelling with color instead of black and white." Large, sometimes panoramic (6′ × 12′ is not uncommon), Phelan's last paintings nearly always refer to characteristics of landscape, particularly to light's role as it defines mass and color.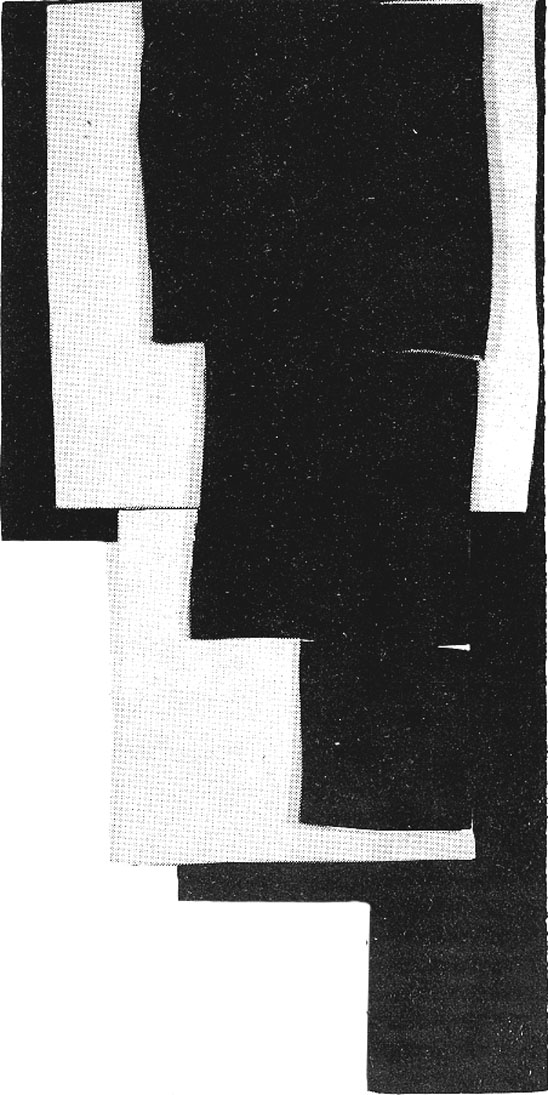 Mary Heilmann, Untitled Ceramic, 1982, 34 x 16 inches.
In their overall scale, and in the way paint is applied, re-applied, and thinned, Phelan's paintings make manifest her body's movements. This kinaesthetic correlation to the limits of self has a psychological counterpart in Phelan's unusual color. Lush, frequently jarring both their internal tonal fusions and in their physical juxtapositions, Phelan's paintings range across spectra insisting that illusion must simultaneously involve spatial, as well as emotional, considerations.
Phelan's paintings derive some of their authority from the plein air gouache drawings she has made the last few years at sites from the Adirondacks to the western coast of Ireland. Immediate, and wholly dependent on tonal relationships, these drawings root the paintings in a specific experience of light.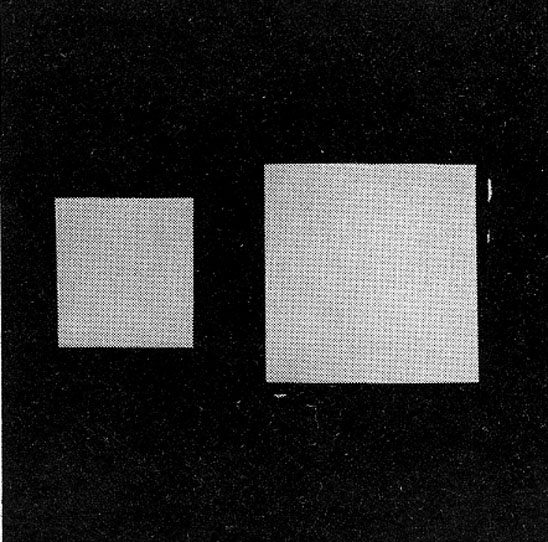 Mary Heilmann, The Pink Sliding Square, 1982, 8 inches.
Heilmann, likewise, has lately taken up again her early interest in ceramics to fashion a few dozen cups, plates, and bowls. Delicately crafted to evoke an independently sculptural presence, she tints these pieces with the bravura that makes the paintings so singular.
The abstract art-as-anomaly argument is, I think, self-serving and fallacious. Moreover, whatever vitality representational painting has is in large part attributable to abstraction's fundamental revision of the nature of painting itself. Their intrinsic worth aside, Heilmann and Phelan are but two of a larger number of younger abstract painters whose work is critical to the larger practice of contemporary painting.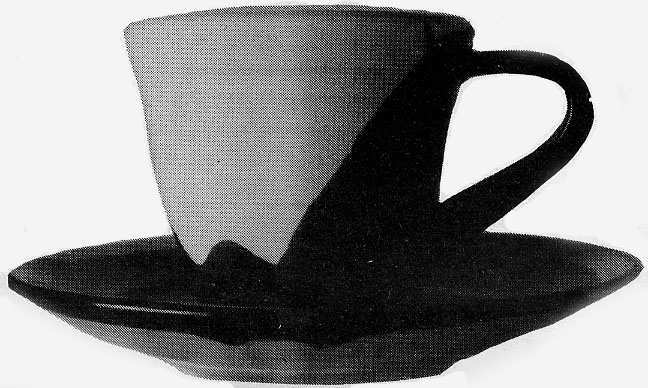 Mary Heilmann, Ceramic cup, 1982, 8 inches.