In selecting these works, the criteria was furniture which is expressive, yet functional and firmly within the tradition of furniture.
The artists have made work which is either furniture as subject matter, or furniture as objective. Each artists' work seems to fall in its own expressive category.
All of the work has already entered the public domain, is widely admired, timely, topical and yet not completely defined. The precedents range from Rietveld, Chareau, Frank Lloyd Wright, Pop Art, and assemblage aesthetics—puns included.
To say that the work is influenced by the paintings and sculptures the artists produce is to say the obvious. But to say that these pieces are produced because of the need for solitude, dreamtime, play, and lucid surroundings to facilitate the acts of painting and sculpting would be more to the point.
—Ursula Helman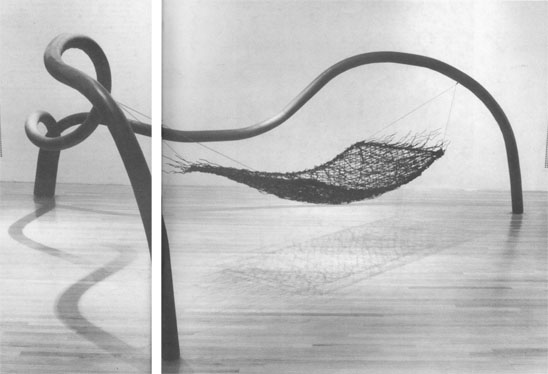 Forrest Myers, Samoa, Hammock, 1988, corten steel, cadmium plated wire painted black, 61 inches × 16 feet × 15 feet. Courtesy of Arte and Industrie.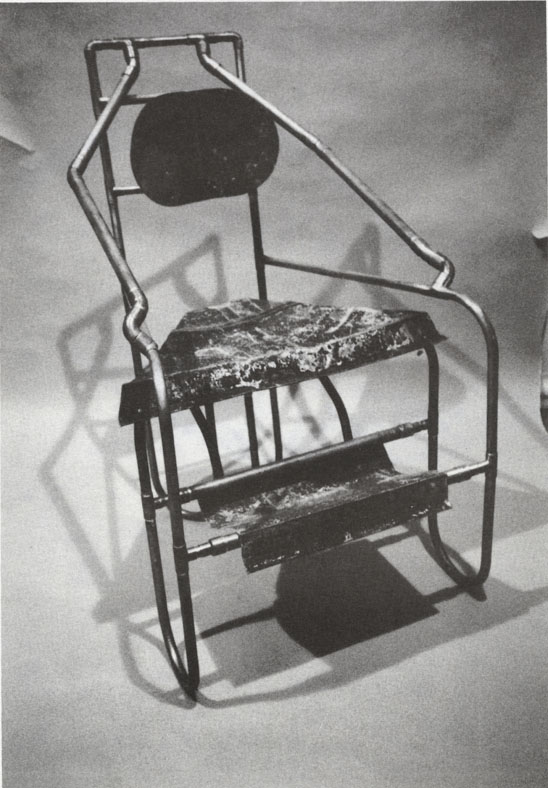 James Raglione, Chair, 1989, copper plumbing pipes. Courtesy of Anne Plumb Gallery. Photo by Jim Raglione.

Paul Mogenson, Cairene, 1988–89, copper (unique), 35 × 57½ × 17½ inches. Photo by Zeidman. Courtesy of Edward Thorp Gallery.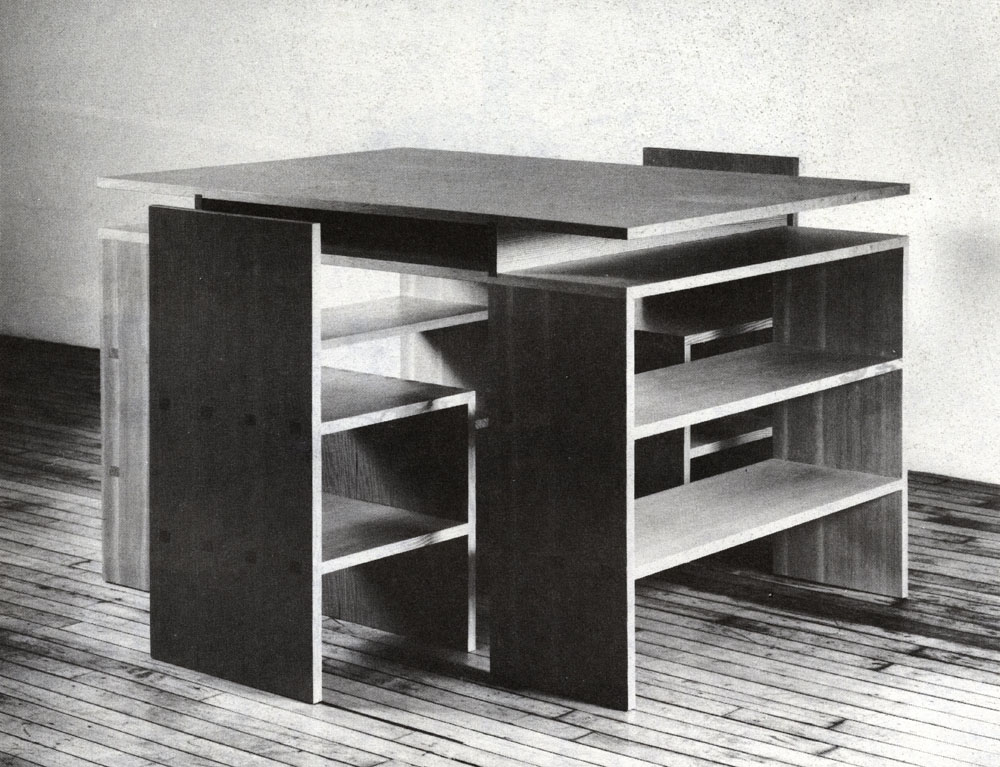 Donald Judd, Desk Set, 1982, fir with clear matte varnish. Desk: 30 × 48 × 33 inches; chair: 30 × 15 × 15 inches each. Courtesy Paula Cooper.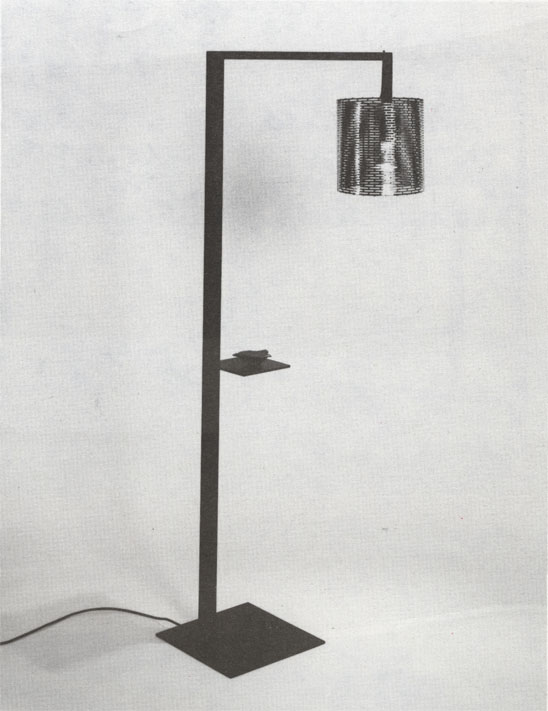 Bryan Hunt, Floor Lamp with Palm Lake, 1986, (edition of 20+4 a.p.), welded steel, perforated sheet of copper, cast bronze, and electrical fixture, 58¼ × 22½ × 17 inches. Courtesy Blum Helman.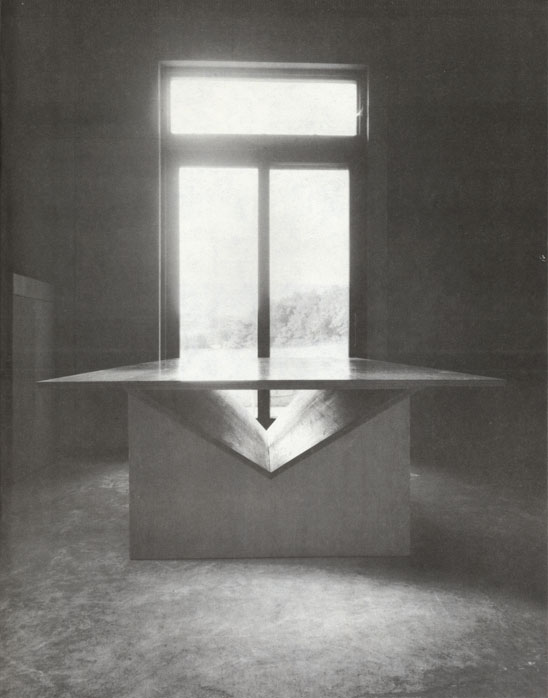 David Deutsch, Diningroom Table, plywood, 1983, 29 × 51½ × 106 inches. Photo © 1989 by Amanda Means.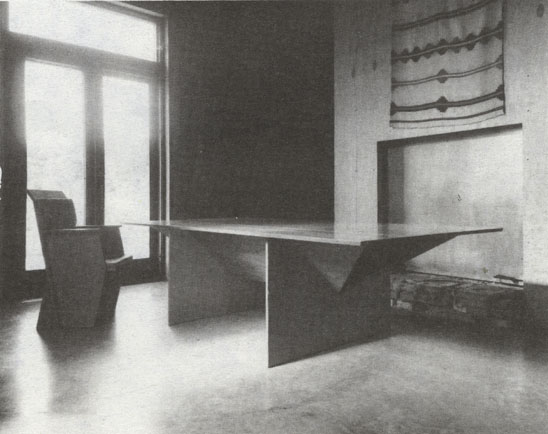 David Deutsch, Diningroom Table (another angle) and Chair, 1986, plywood, 39½ × 23½ × 24 inches. Photo © 1989 by Amanda Means.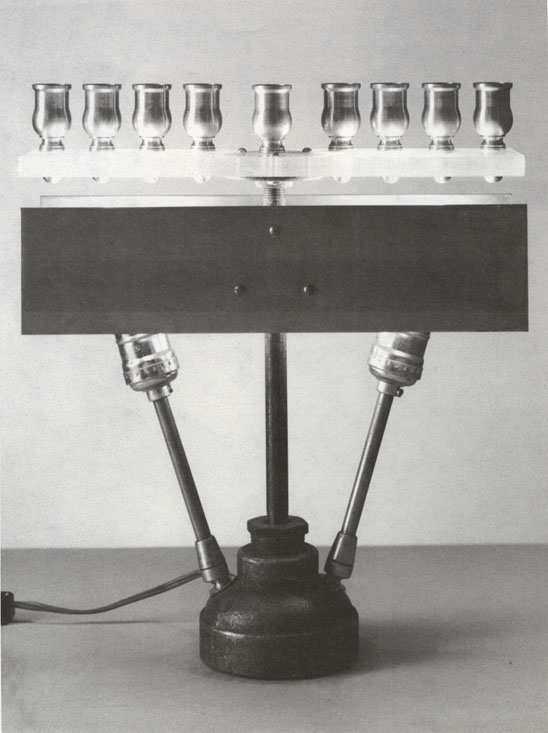 R. M. Fischer, Hanukkah Lamp, 1984, (edition of 25) brass, steel, plastic, electric lights, 14 x 12 x 3¾ inches.

John Chamberlain, Couch, 1970−71, urethane foam, parachute, and canvas. Prototype courtesy of A/D.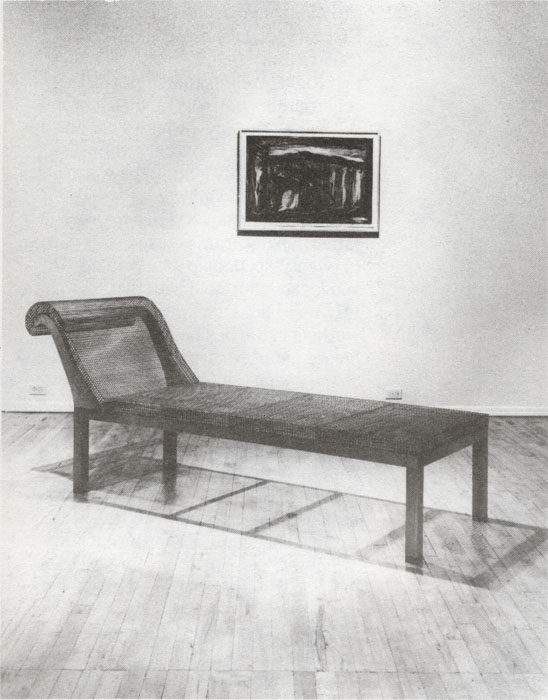 Robert Wilson, Sofa Parzival (edition of nine), 1987, maple and stainless steel, 34½ × 81½ × 27⅜ inches. Photo © 1989 by Ken Schles. Courtesy of A/D.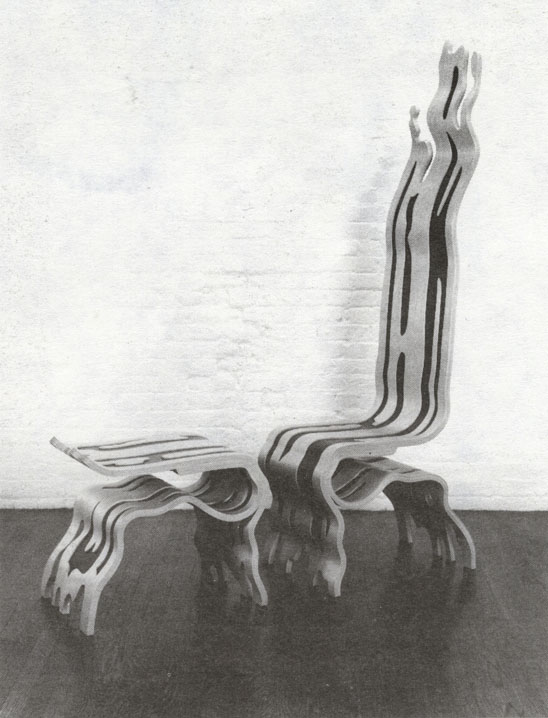 Roy Lichtenstein, Brushstroke Chair and Ottoman, 1988, painted wood, Chair, 70¾ × 17¾ × 24 inches; Ottoman, 23 × 20⅓ × 16½. Courtesy Leo Castelli.