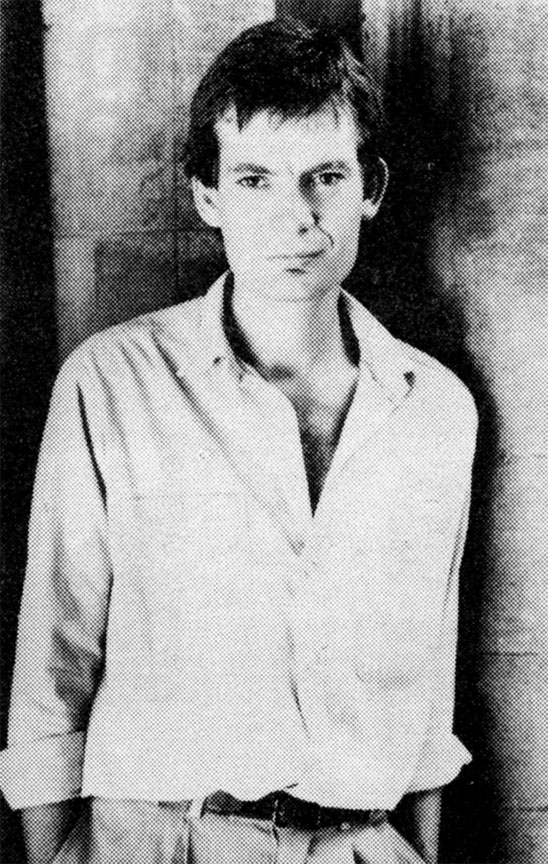 Graham Swift. Photo by Jerry Bauer. Courtesy Poseidon Press.
This fall saw the publication by Poseidon of Graham Swift's new novel, Out of This World. It is Swift's fourth novel, and it follows Waterland, which established him as one of the finest fiction writers of his generation. Waterland is a strange beautiful, serpentine book about eels, and beer, and generations of fen-dwellers, and Swift (who was interviewed in BOMB 15) was of course aware that the new book would undergo extensive comparison with its illustrious predecessor. He decided early on that he would not perpetrate a Son of Waterland. "The difficulty in Out of This World was in the striving after economy, so that a lot of the labor was in reducing—in saying, after 20 pages, well, I really only need 5 pages here, and all the rest gets in the way. In Waterland I didn't feel there was a problem in being excessive. I felt that it was somehow right, that feeling of excess, of digression; we could stop, and relax, and take a detour."
Like Conrad's Secret Agent, Out of This World is a book built around an explosion. But unlike Conrad, Swift does not use his explosion—the detonation of a terrorist bomb that blows up the narrator's father to bits—as a metaphor of a broader, more pervasive disintegration. Rather, he employs it to set in motion a tentative healing process within the narrator, who is a retired photojournalist called Harry Beech. Harry is that familiar Swiftian protagonist, the retrospective late-middle-aged man, disillusioned but not despairing; he is estranged from his daughter Sophie—with whom the narrative is shared, each character speaking alternately—and, as Swift says, "While all kinds of reminiscences are going on, the two are moving toward a reconciliation. . . It could be called a more hopeful book than Waterland because, I think, if you're going to find hope, you have to work hard for it, if it's going to be real. It has to be hope pitted against all the negative things, and there's certainly plenty of those in Out of This World —it's a novel about any number of painful aspects of experience, all the nasty things that human beings do to each other."
Including war, of which Harry Beech has had extensive experience in his photojournalist career. In fact, in one sense the heart of the book is not the explosion that kills Harry's father, but Harry's reaction to that event—he begins to take photographs of it. Or this, at least, is what Sophie remembers of the event. "It does raise the whole question of just how far you can go in the recording of the experience," says Swift. "When does the observer have to accept that the process of observation is actually dehumanizing? Harry had had this faith in the hard enlightenment that can come about through witnessing what people must see, and confront, and accept; but in the end there is also a private domain, and there is something sacrosanct about it, so that you cannot just take a picture of your father's death, and say it's like any other picture."
Graham Swift is at work on a new novel, which he says is as different from Out of This World as that book is from Waterland. "But I don't start with preconceptions, or even very clarified intentions. There's a sense in which I know certain ingredients of a book, but I don't quite know what's actually going to be cooked. I think it's wrong to say I have an intention, I have a scheme, and I'm going to write a novel that will reinforce or endorse it. I think if you're going to do that you're better off making statements, or just writing political essays. I don't do it in order to establish my own politics. . . I fear propaganda."
—Patrick McGrath, October, 1988.
Tags: