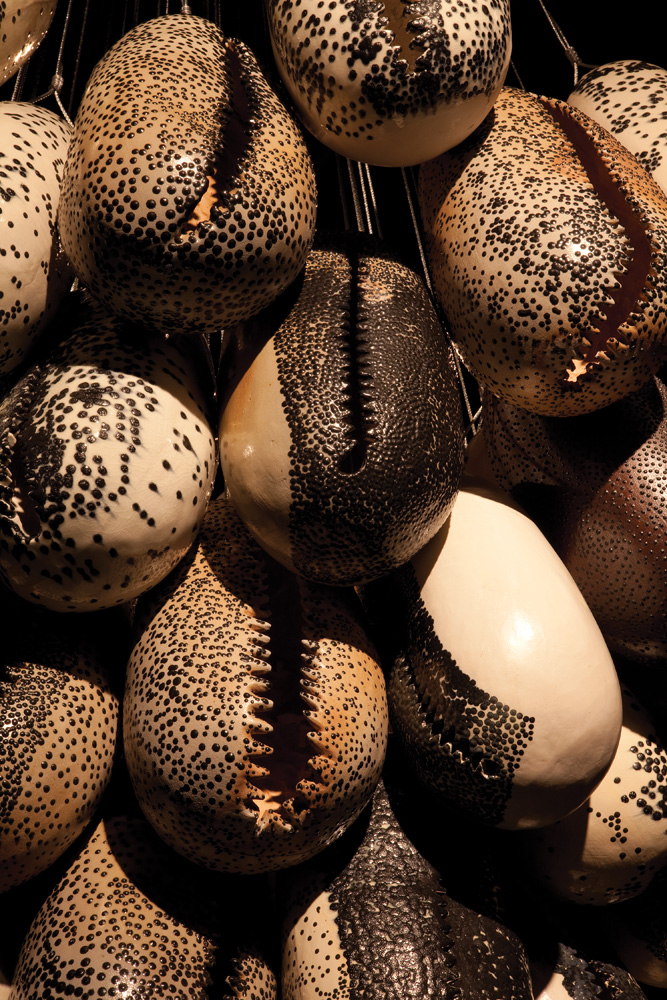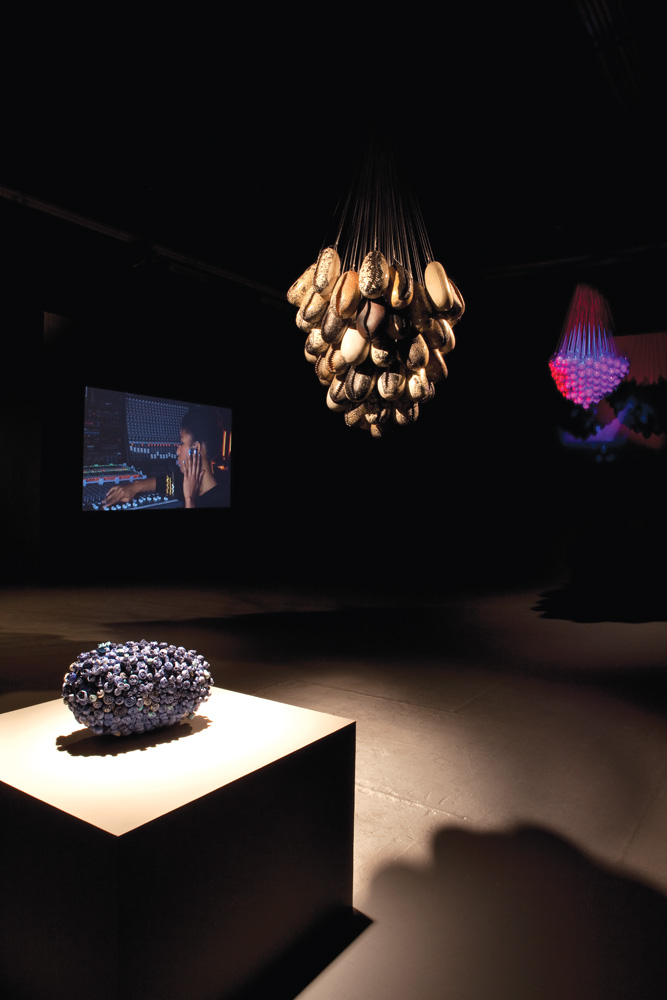 Installation views of You Don't Know Where Her Mouth Has Been, 2012, salt fired porcelain, wire, dimensions variable.
Simone Leigh makes historical loops that are felt through material, her ceramic forms sometimes alluding to, for instance, cowrie shells—that worthless currency with which many Africans traded other Africans into transatlantic slavery. Leigh's poetic sensibility at once unveils the beauty of that natural form, its relationship to oceanic trauma, and the radical negativity of its exchange. Despite the hauntedness of its reference and the aquatic ambivalence of its origin, the clay representation of the seashell is present and delicate, earthy and crafty, glazed and precious, really here. The cowrie form rhymes with human body parts—an eye, a vagina, a mouth, an anus—and asks psycho-sexual questions about looking, giving, receiving, being. When assembled and installed, Leigh's forms take on otherworldly qualities, suggesting a history that's inclusive of an unknown future. These nodes of commodity exchange, symbolic language, and phenomenological embodiment constitute a triangle-trade of diasporic life—a kind of triple-sense-of-self described by Frantz Fanon—and while Leigh's sculptures may be read as complete autonomous objects in the Euro-American modernist sense, an archipelago of subjectivity and imagination surrounds them. In a global art field where the aesthetic and the political are still pitted against each other, Leigh's nuanced works unbalance such simple oppositions.
The New York-based artist's many current projects include two journeys down worn Afro-diasporic paths: a solo exhibition at Atlanta Contemporary Art Center and participation in Dak'Art 2014, the Dakar biennale. For Atlanta, Leigh's installation Gone South [2011] meditates on a particular architectural oddity, a mammy-shaped pancake house in Mississippi, which saxophonist Matana Roberts has elsewhere described as "gone waaaaaay with the wind." Still standing, but now painted somewhat less-offensively than in its original design, one enters the restaurant as if entering the skirt folds of a household slave. Leigh's steel structure installation mimics this skirt, and includes pots that refer to the Southern craft tradition of face jugs, playing with ideas of the body as vessel, the body as consumable, the body as service item. This work is paired with another large-scale architectural installation, [Cave, 2009] a steel cage within which faux-artifacts and science-fiction references collude, as well as [Girl, 2011] a video collaboration with artist Chitra Ganesh in which a real woman's body serves as an imaginative site. The cowries will return in Leigh's installation in Dakar, bringing her Afro-futurist proposition to the westernmost point of continental Africa. Leigh's recent geographic breadth matches the range of her materials, from ceramics to video, and the contemporary transnationalism her work so adroitly portrays.
— Malik Gaines is an artist, writer, performer, and curator. He is a member of the Los Angeles-based performance collective My Barbarian.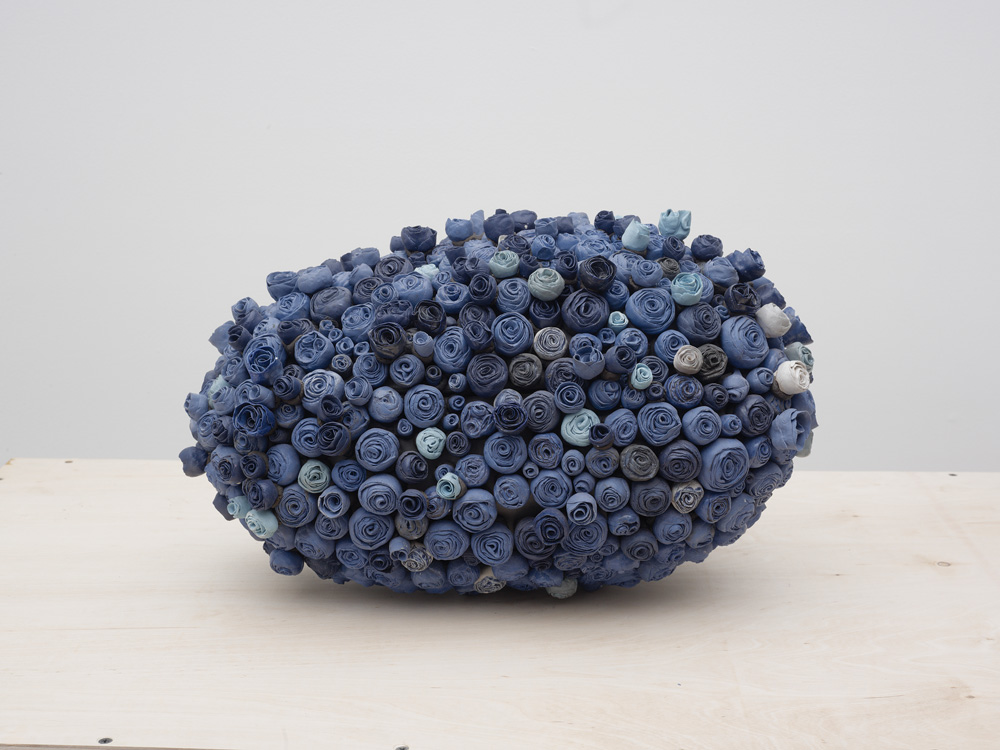 Cowrie (Blue), 2012, terra cotta, porcelain, cobalt, epoxy, 11 × 19 ½ × 11 inches.

Still from My Dreams, My Works, Must Wait Till After Hell, 2012, digital video by Girl (Simone Leigh and Chitra Ganesh), 7:14 minutes. Featuring Kenya Robinson, composition by Kaoru Watanabe, editing by Tomas Love. Courtesy of the artists and The Kitchen.