The desert, dreams, and strange avian events in Paonia, Colorado.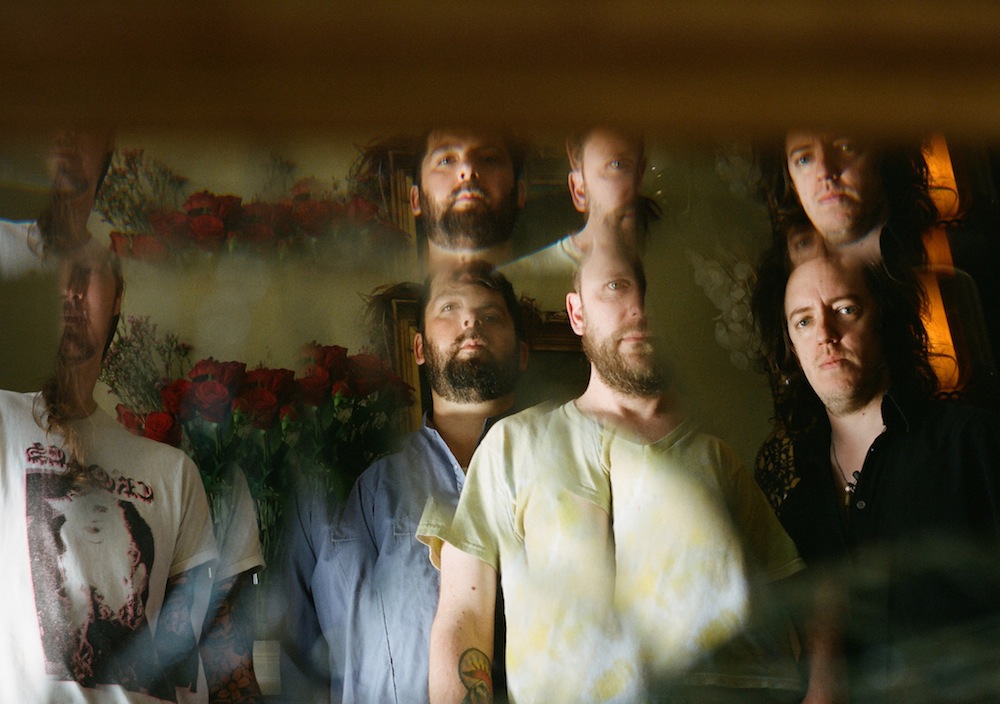 The Fresh & Onlys. Photo by David Black.
House of Spirits, The Fresh & Onlys' fifth album for Mexican Summer, is somewhat of a departure for the long-running Tim Cohen-led quartet. Take the blazing first single "Bells of Paonia:" a warm drum machine cascades alongside an effervescent melody that's as satisfying as it is uneasy. "Paonia" is a risky move for a band that has always thrived on the sound of four friends playing together, and it works all the better for it. Cohen decamped to Arizona to write and demo much of the new material, and the songs sting with the asperity of a high-altitude duststorm.
I chatted with Tim on the phone about songwriting tricks, the influence of dreams on songwriting, and the Great Chicken Dump of Paonia.
Gary Canino How much do you think your direct surroundings in Arizona influenced this record?
Tim Cohen When I was able to see every star in the sky, it became a huge factor in my sleep and dream state. There was no distraction or noise, just complete silence. After a couple of months, that began to haunt my dreams. In the city, you're sleeping next to cars or gunshots or people screaming or laughing or the worry of technology. And that affects your dream state. Where I was, you couldn't hear a peep at night except for the occasional coyote. So I would wake up and write down a lot of my thoughts straight away, with my mind transforming into this more peaceful state, amongst the meat-eating animals …
GC A lot of songwriters talk of waking up right away with a melody or some musical idea in their heads.
TC It will wake me up in the middle of the night, and I have no reason to have woken up except for this melody or idea that's stuck in my head. I just try to give myself every opportunity to get the idea down, to purge myself or milk the experience, depending on it. I'm a songwriter, so if I view myself as a sort of chef, acquiring something like a melody is like having the main ingredient of whatever dish I'm making.
GC There seems to be a shift in narration from the beginning to the end of the record. Does this happen between the two sides of the record, or does it gradually happen from song to song?
TC Though I wrote a lot of the lyrics at the same time, I don't think I set out to set theme music to a single protagonist. Our last album was a bit disparate, but this one is more cohesive. Long Slow Dance was an exploration of both sides of love, how good and bad it can be, but this album was written more from the perspective of the individual, in a way that hints at angst-ridden teenage poetry: "I'm just doing this for me."
When you're in high school, you want to write poetry, and to wear your own clothes and to be an individual, but when I was living with a newborn baby in my thirties in Arizona, I felt like I was going through that same process. You know, I have a newborn daughter now, so she's just seeing the world for the first time, and I don't want to show her the dark side of things. So the way I started looking at everything was suddenly very positive. My whole life perspective changed. I still have these dark thoughts, and there is some incredibly dark and bloody imagery on "Home is Where?", but the album could have turned out a lot darker.
GC There's a lot of second person on this album— specifically in what I think is the central line of the album, "You know you're not the only one who is thirsty," from "Candy".
TC That's a good observation. Come to think of it—I don't think I've written a song in ten years that uses mostly the third person, usually its first or second person, and that's just the conversational aspect my songs have always had. Back in the day, when I was first writing music, I wrote a lot of songs in the third person, in a sort of folk-y perspective. But things always end up in the "you and I" perspective. It always goes back to the I. Maybe "Candy" is kind of the third person.
GC A friend of mine once limited himself to using only the second person on an album.
TC That's a good idea. I'm going to steal that idea and do an album that's all about "it." It'll have inanimate qualities. "It walked down the street. It said 'hi' to the other one." (laughter)
GC What is the significance of the line "You know you're not the only one who is thirsty"? I know this is taking it unbelievably literally, but I couldn't help but think of you living out in the desert.
TC Well, the verse in that stanza refers to drinking alcohol, and sharing that experience with someone, but now that you mention it, it could refer to the universal theme of thirst.
GC I also couldn't help but think of that line from Harvest, "Dream up, dream up, let me fill your cup with the promise of a man."
TC Yeah, of course. Neil Young is a huge influence on me.
GC My favorite song on the album is "Bells of Paonia." Researching for this interview, I found a story called the "Great Chicken Dump of Paonia," in which 100 hens were found roaming in Paonia, Colorado. Paired with the roosters on the cover of the album, I was wondering if there was any connection.
TC What now? That's crazy. I had no idea about that. Maybe there was some kind of cockfighting farm nearby ... With that song, there are no actual "Bells of Paonia," I just asked my friend for the name of a cool sounding town in Colorado, and incorporated it into the lyrics. The lyrics are totally made up, rambling stuff. That's a crazy story you mentioned. The fighting rooster on the front was an idea the guys in my band had, and it also has nothing to do with the album.
GC What's your relationship with birds?
TC I'm not a big fan of birds. I actually can think of two bird stories for you.
My friend Harrison and I drove his Honda Hatchback across the country recently, camping out in various locations along the way. We were playing air hockey at this rec room at a campsite in Wyoming. Harrison slammed my finger by accident with his goalie, which opened a gash in my finger. So we wrapped up my finger with some toilet paper, and moved on to play some mini-golf. As I was dripping blood on the ground, a huge crow that was as big as a cat flew right up to us, pecking at the blood, and then it began to attack Harrison. So we had to fend off this huge crow with our golf putters.
My other bird story: this past year, I was sitting outside my parent's house, and a hummingbird flies right into the window and falls down dead next to me. A lot of birds do that, but I've never seen it happen, you usually just hear a thud and see the bird there in the morning. So I picked up this hummingbird, and buried it fifteen feet away. I went back to sit down, and not one minute later, another hummingbird flew into the same spot. So I went back and buried it in the same spot.
GC "April Fool's" is an interesting song on the album—the tone shifts from loving a partner in the first verse, to loving Jesus in the second. That seemed to me like a sort of George Harrison move: Is the love of which the narrator speaks for a partner, or for their worship of God?
TC It's not as much of a George Harrison thing–it's more of a bitter side of the question, Does God Exist? "Jesus, I love you on Easter day." First of all, that's conditional—I love you when I'm told I'm supposed to worship your resurrection, meanwhile you're just running around looking for eggs. Easter is a crazy holiday. The guy in the Easter Bunny suit I met this weekend was the scariest I've ever seen. It was so weirdly done: under the eyes it looked like someone drew a shadow, so it was as if the bunny had two black eyes. Anyway, April Fool's Day is all about willfully exerting your sense of deception on other people, and on Easter, it's not as willful. So there's a similarity there that I discuss in the song.
GC When I saw Leonard Cohen a couple of years ago, I recall people were laughing during the quieter songs, even during "Chelsea Hotel #2," which was totally surprising to me. I didn't realize how direct the humor was in some of his songs until I saw them performed live.
TC I've actually never seen him perform. He's on a much different level, though. He's definitely in that class of songwriters who are able to write these sort of funny songs. Or maybe they're serious in a light-hearted way.
Tim Cohen is a San Francisco based musician and visual artists, who has released many solo albums in addition to his work with The Fresh & Onlys. House of Spirits is out June 10 on Mexican Summer Records.
Gary Canino is a musician and writer based in New York City.