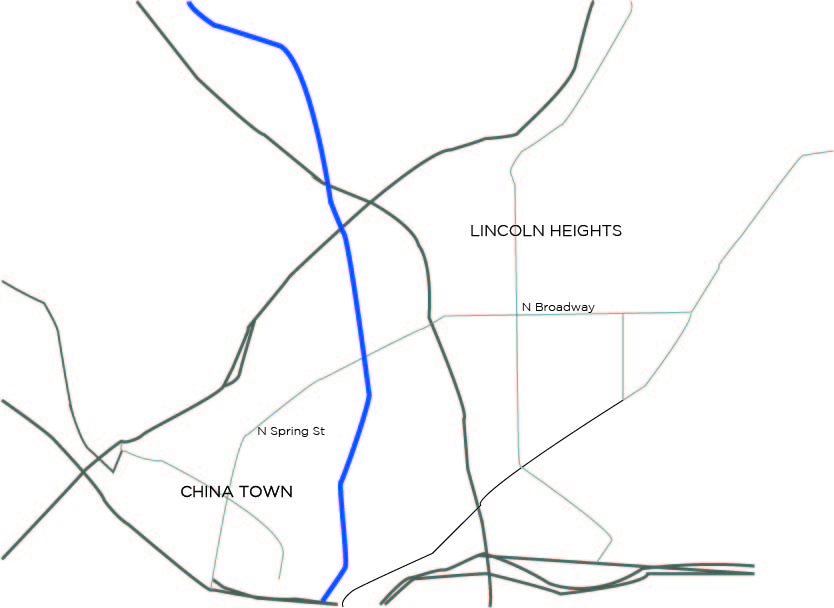 Map by Kristen Montero.
A series of conversations about location, process, and practice.
The Los Angeles Studio Visits is an attempt to understand how architectural structures inform artistic practices. The nature of our quotidian relationship to room, the physical world, and sound drives this series as I go through the city meeting with artists to discuss what concerns they are working out in their studios.
Support///Structures: John Burtle
Born in Long Beach, California, in 1984, Burtle is a member of several collective endeavors including KCHUNG Radio, the Eternal Telethon, Open Arms, and Citizens Promoting a More Pleasurable Public. He also works alone, and most recently had a solo exhibition at Michael Benevento (Los Angeles) and was the artist in residence at the Experimental Meditation Center of Los Angeles.
Burtle's studio is on a desolate street in Chinatown that accommodates an almost empty noodle house, where workers slurp noodles. Behind the sign for Pho 87 on the facade of 1019 North Broadway, the building houses a number of artists' studios, as well as the prolific radio station KCHUNG.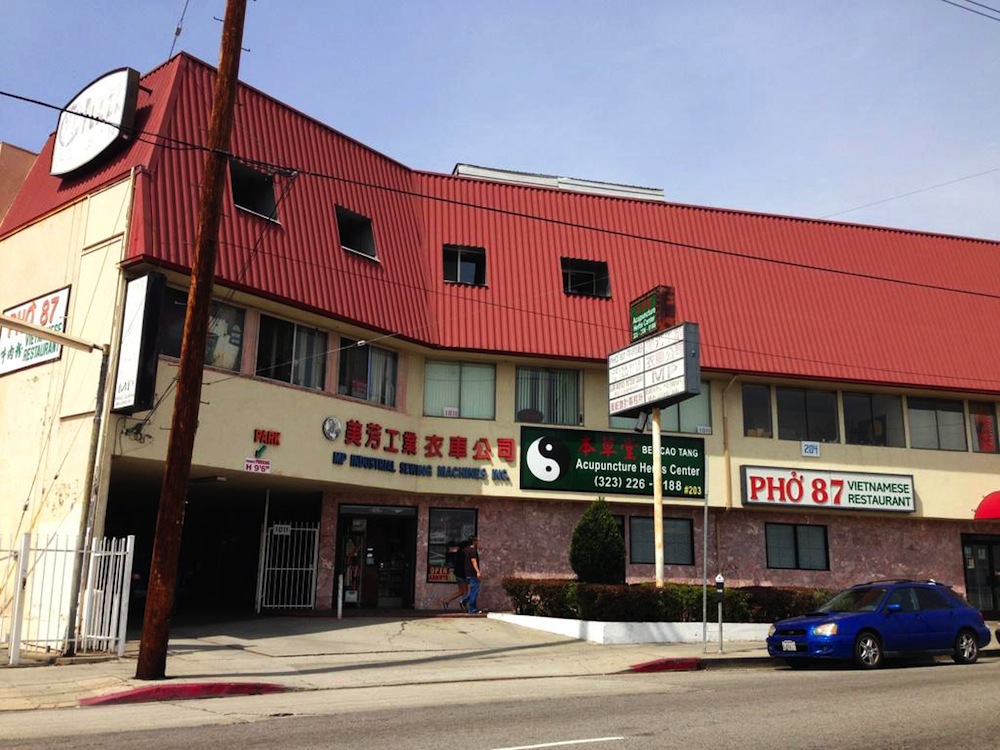 Burtle seems to be exploring every possible artistic manifestation of his ideas, from performance to paintings to intervention to body art. His conflation of art practice and real life recalls the desert dweller Andrea Zittel, and the recent postcard series, also the work of Ray Johnson. Burtle is concerned with notions of support and their structures. This functions in his performative work, which is evident in his radio show Noooooo, with co-host Guan Rong, where the two push the limits of trust through a series of constraints to see how the experience is translated through listenership. Constraints have included speaking only in "no's" or not looking at each other while sitting in a dark room in the nude, to name a few.
Materially, the notion of support has more to do with a physical structure, as the work incorporates a variety of both ready-made and hand-made objects. I took to these simple constructions of small roses that I presumed were made of ceramics, the ever popular "new" fetish material. Instead, they were actually made from layers of paint that dry and get reapplied until they are thick and malleable. With this, Burtle makes delicate objects that evoke a sensitive practice.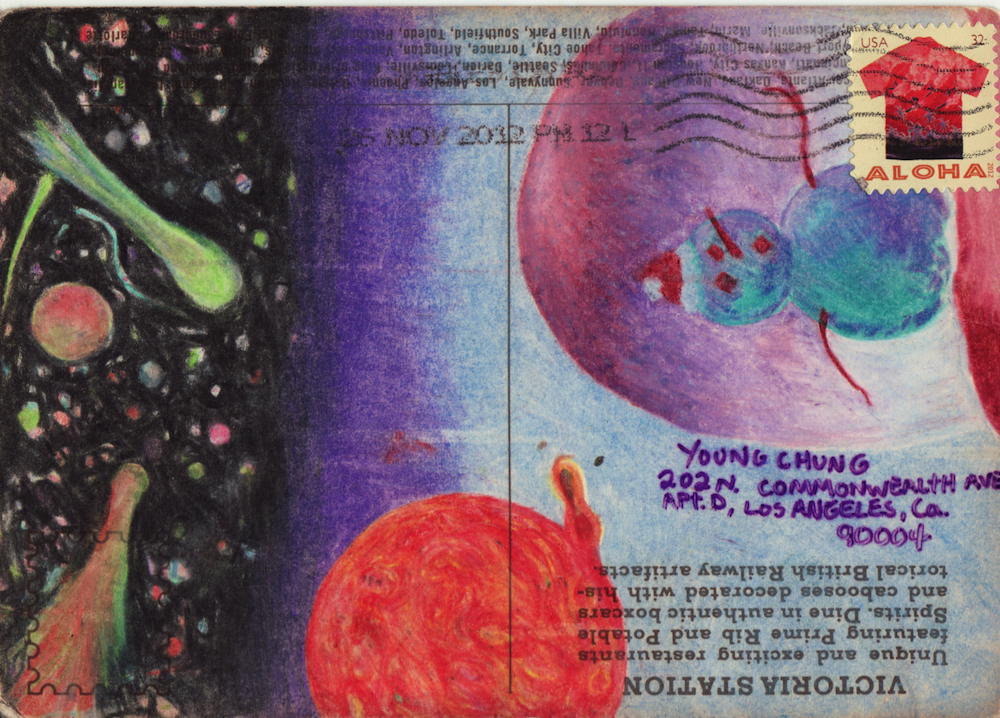 One of the scanned postcards that are made as part of Burtle's ongoing social practice project.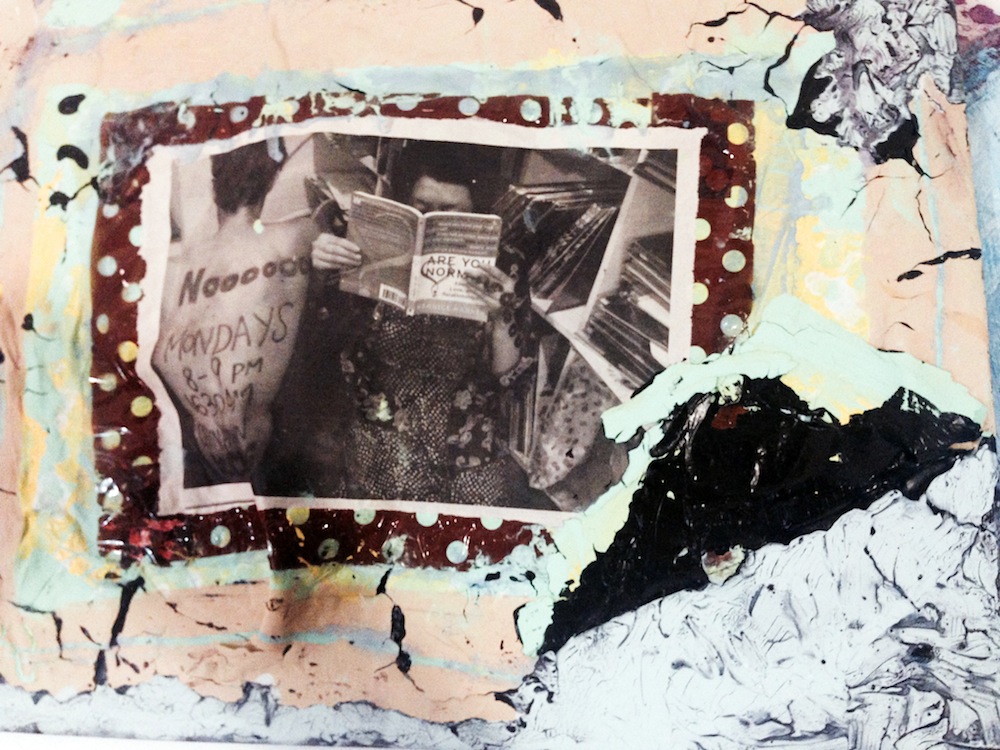 Collage of a flyer for a different work embedded into a new context of a painting.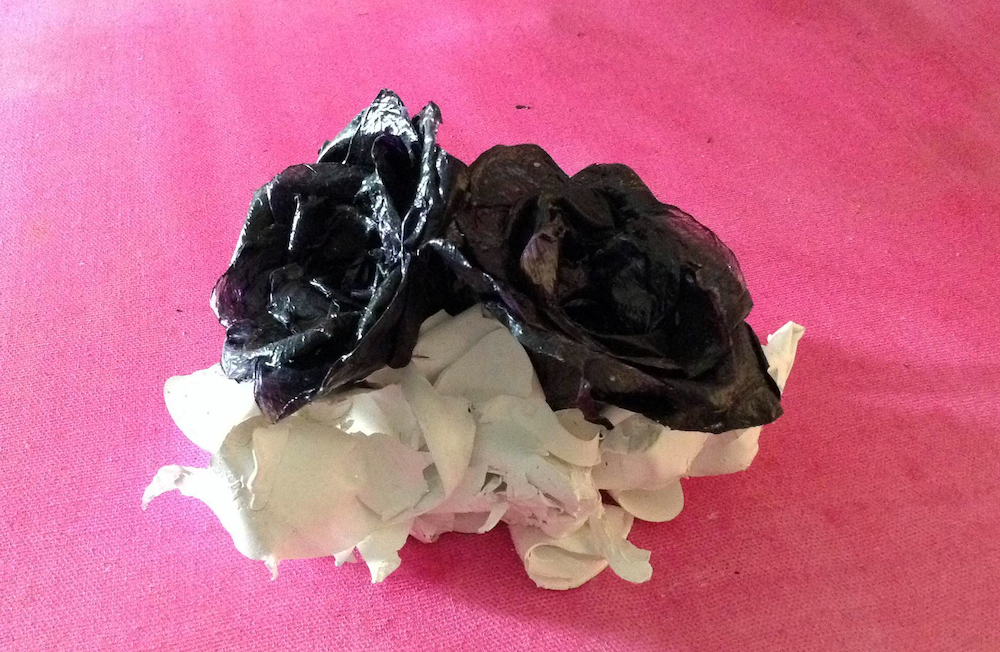 Rose sculpture made of dry paint.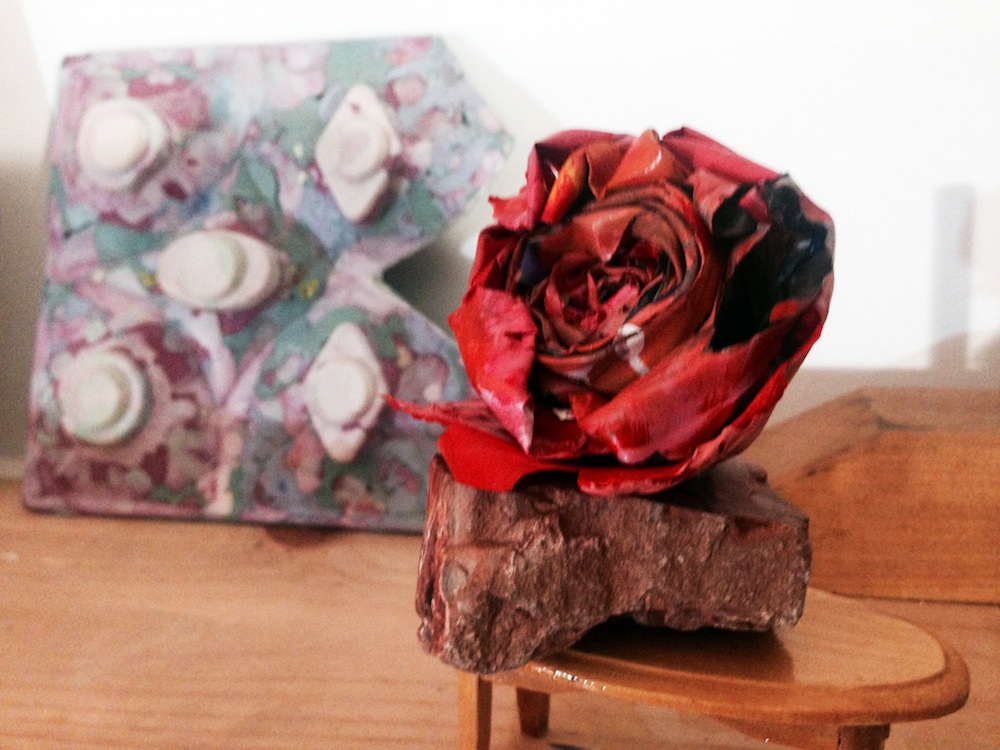 Rose sculpture made of dry paint.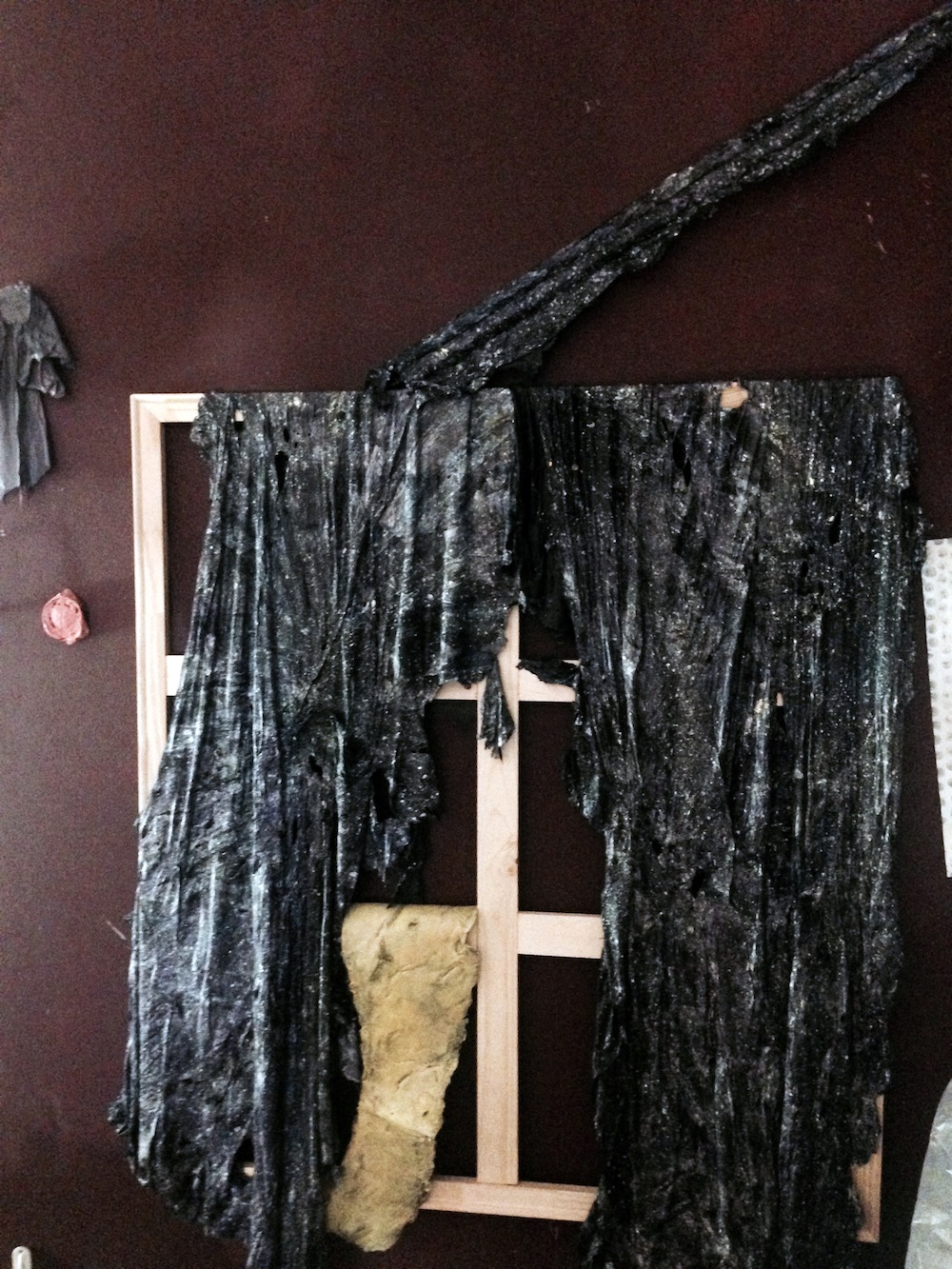 Hangers, 2014. Acrylic on paint and wood.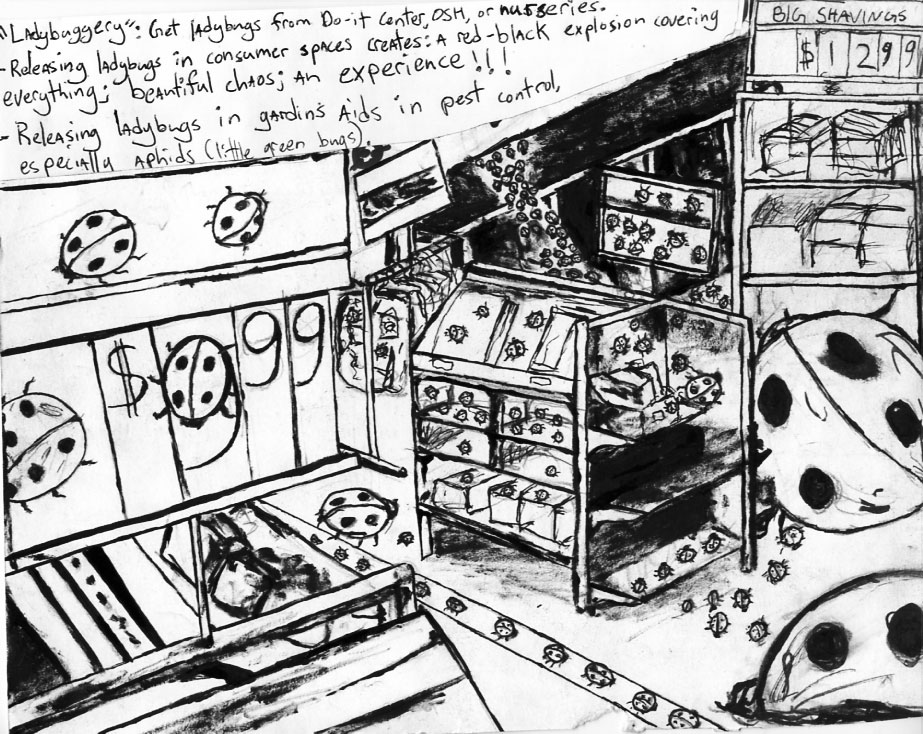 Ladybuggery, a handout by John Barlog and Burtle, which is seen as an intervention or performance in the style of Yoko Ono's Grapefruit book.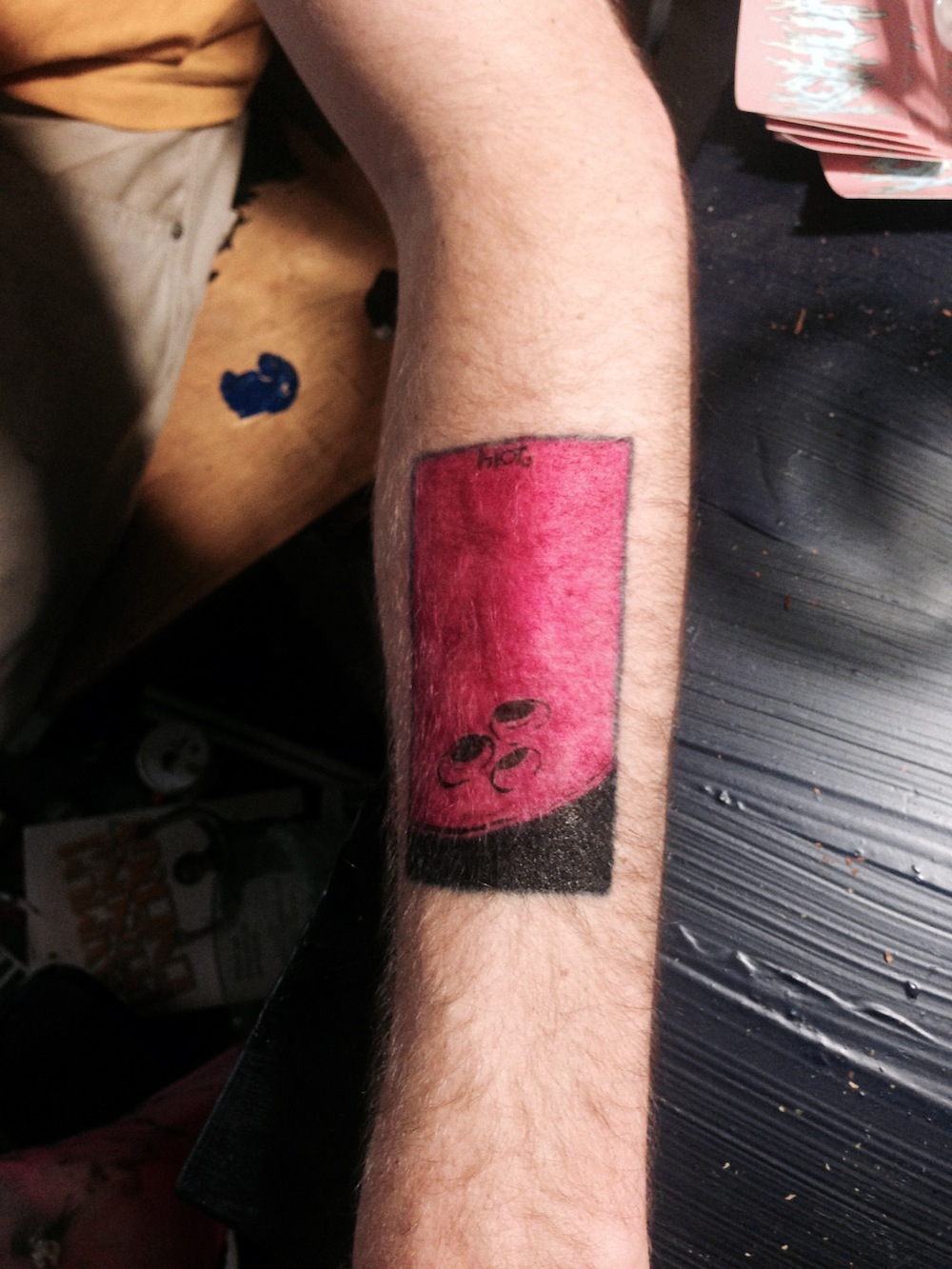 Within Burtle's blank rectangular tattoo, other friends, artists, and strangers are given the opportunity to paint within this body canvas, creating a rotating exhibition on his actual form.


To see and hear more of Burtle's work: view Eternal Telethon here, find more information about KCHUNG radio here and view more of his work here.
Staging the Modern Picture Bride: Guan Rong
A makeshift drywall partition separates Burtle's studio from Rong's. The two have collaborated on a number of projects including their radio show Noooooo, as well as performances at the Pacific Standard Time series that took place in 2013. While working on performance may equally push both artists' limits of their practice, the execution of their works are drastically distinct.
Rong's detailed, highly narrative paintings (she calls them "documentaries") have recently turned their eye to her newest goal of finding a husband. Titled The Ultimate Boys, this project illustrates "who [she] likes, [her] imaginary sex life and idealized love, moral and logic, love and family, friendship and beliefs, questions, doubt, uncertainty, all resolved in one painting."
Rong tells me in all earnestness that this is not a performance but part of her "real life" and an anxiety that was passed down by her demanding Chinese mother. The gap between an artist's public personality and his or her inner workings has long been part of the myth-making of the creator as bon vivant, decadent darling, tortured soul, etc. Personas have become part of the mystique of painters like Edward Munch who was diagnosed with neurasthenia, a nineteenth-century psychological disease known to cause fatigue and hysteria through living a flamboyant metropolitan life. We've seen the same legends in today's Terrence Koh or mystical charlatans David Hammonds.
Critic Benjamin H.D. Buchloh famously claimed in an 1980 article in Artforum in 1980 that with Joseph Beuys, "cult and the myth seem to have become inseparable from the work." Rong's myth-making, despite her denial of performance, enhances the playfulness of her pieces. On Facebook she makes a call for a boyfriend and then uses her findings to paint large wall works documenting the hunt.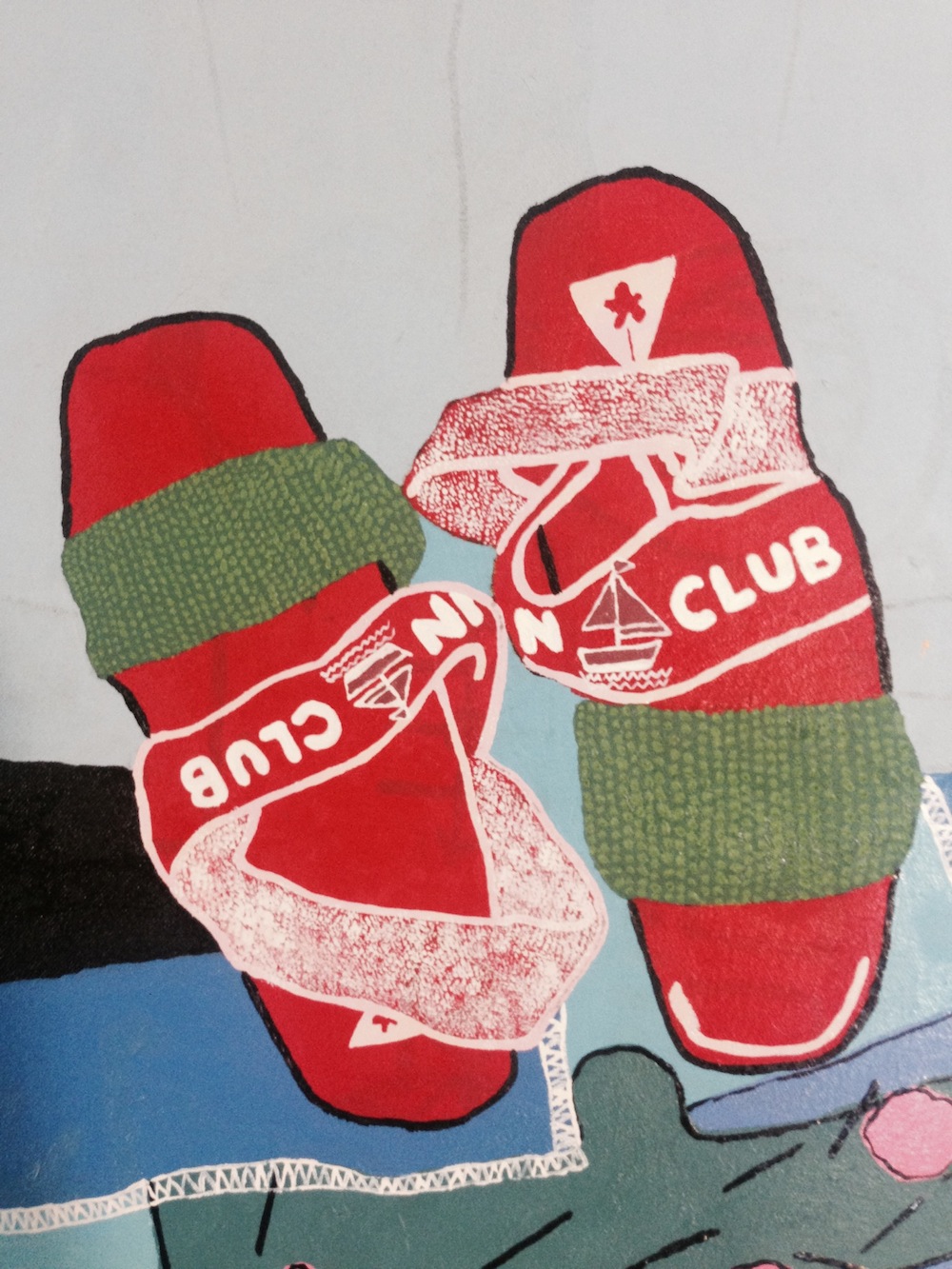 Detail of a painting that illustrates clothing given to the artist.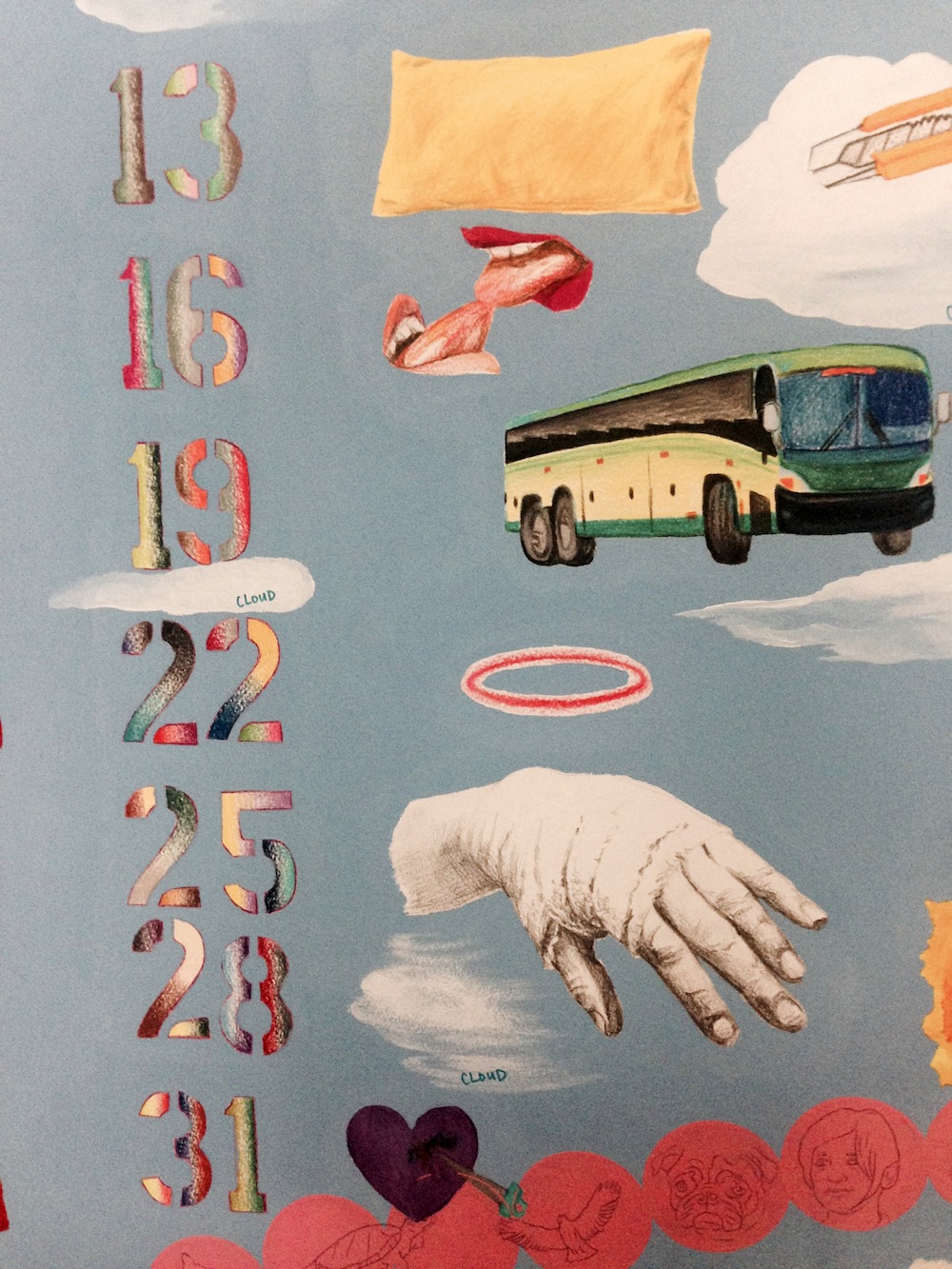 Detail of The Ultimate Boys Painting.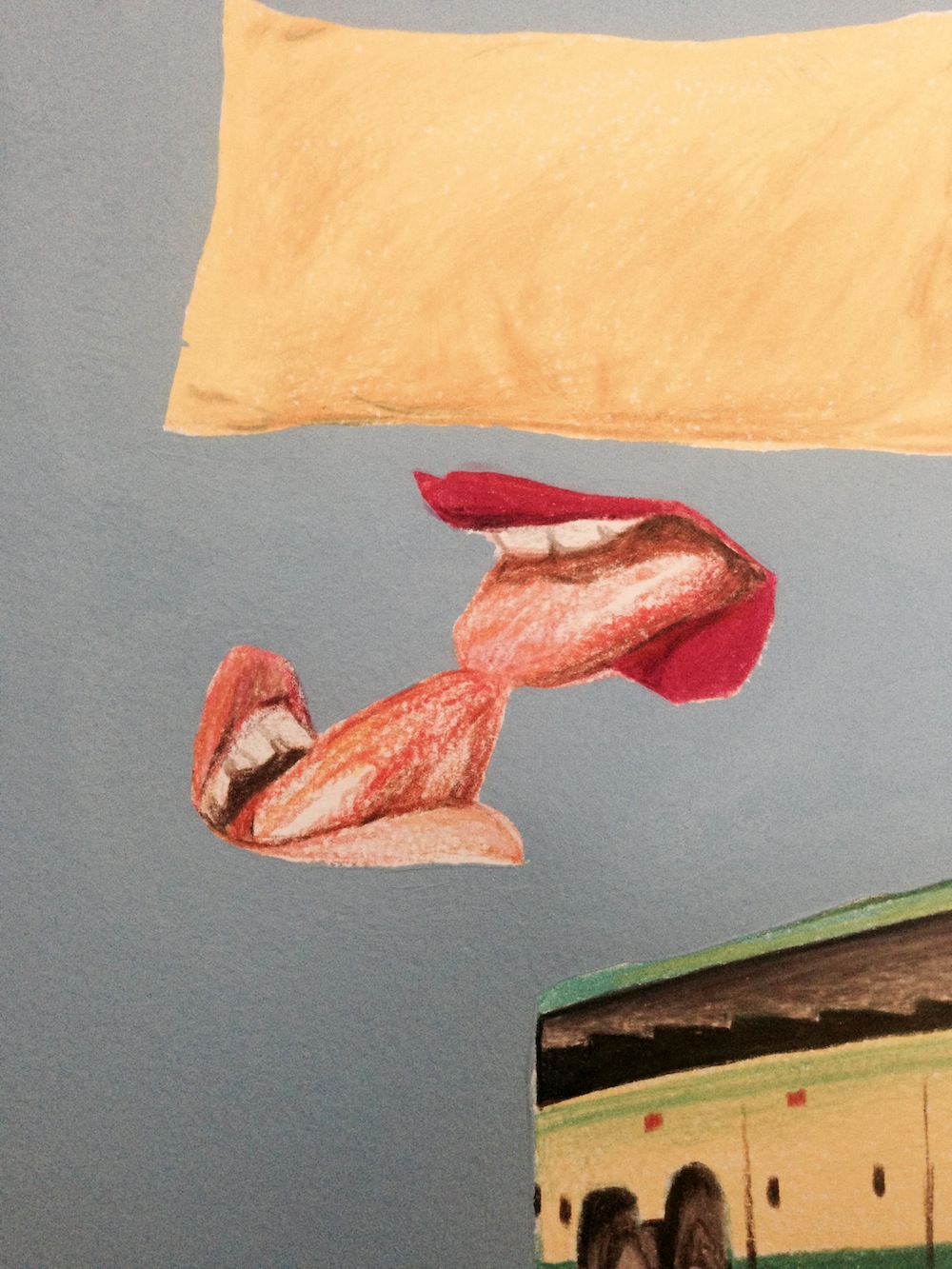 Detail of The Ultimate Boys Painting.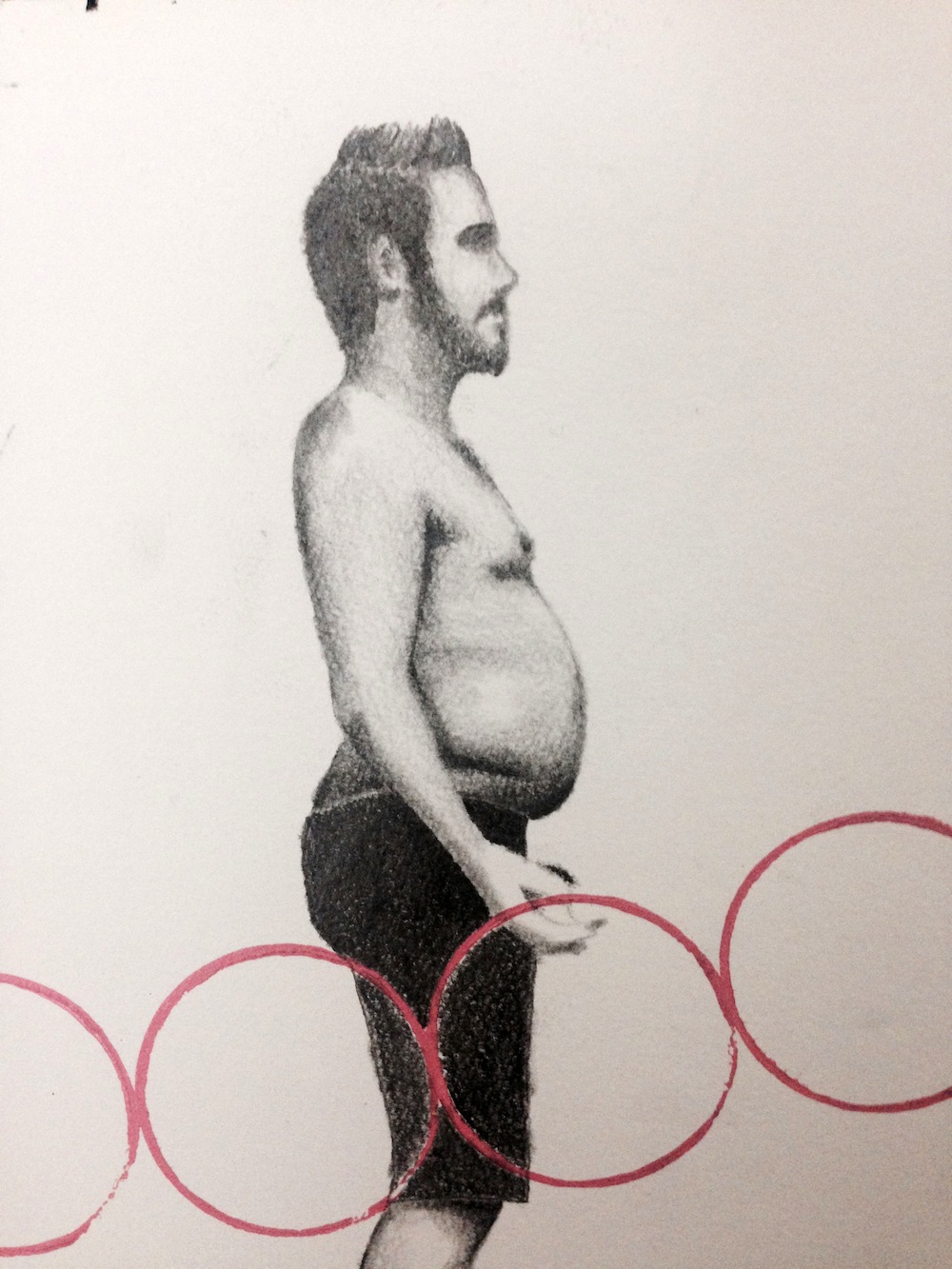 Detail of The Ultimate Boys Painting.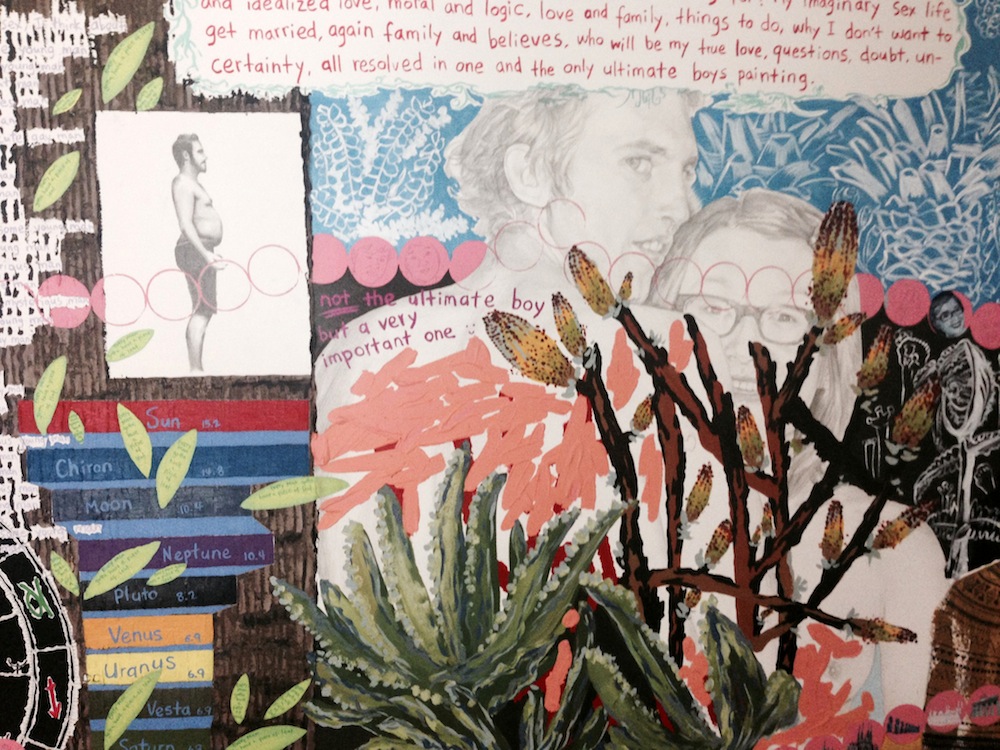 Detail of The Ultimate Boys Painting.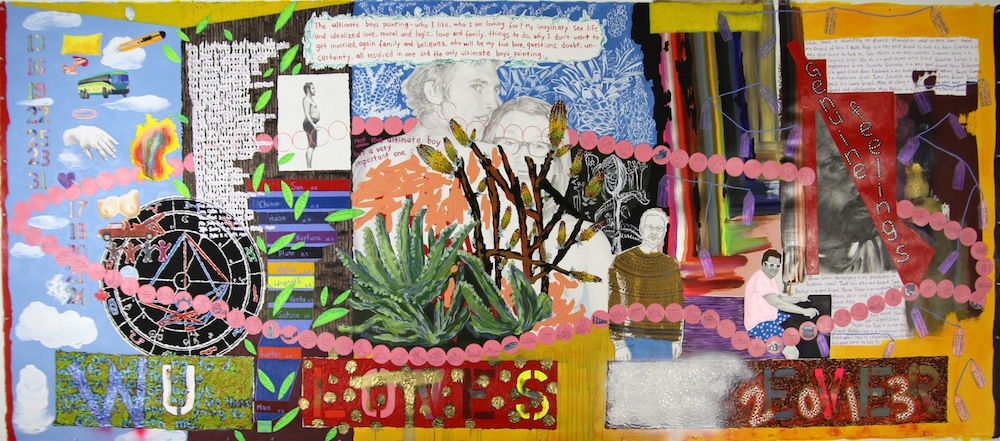 The Ultimate Boys Painting, 2013–14. Acrylic, pencil , marker, and color pencil on paper, approximately 150" x 36".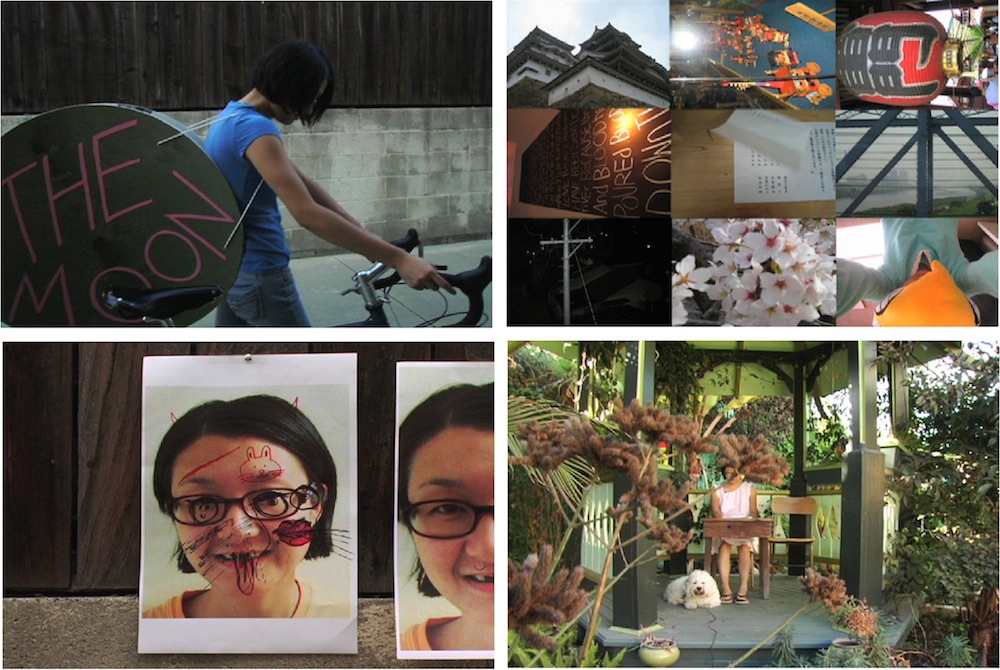 Film Still from Am I not Here?, 2011, an autobiographical film Rong co-directed with Singapore-based artist Mike HJ Chang. DVD, 50 minutes, color.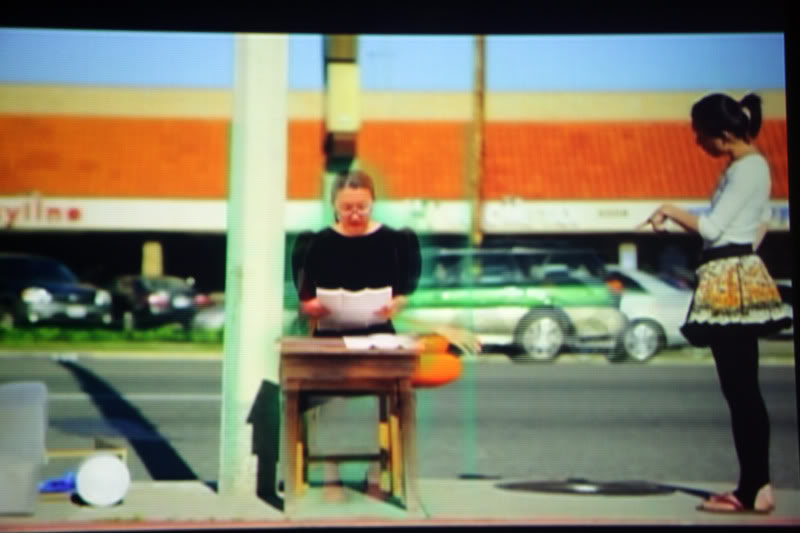 Film Still from Am I not Here?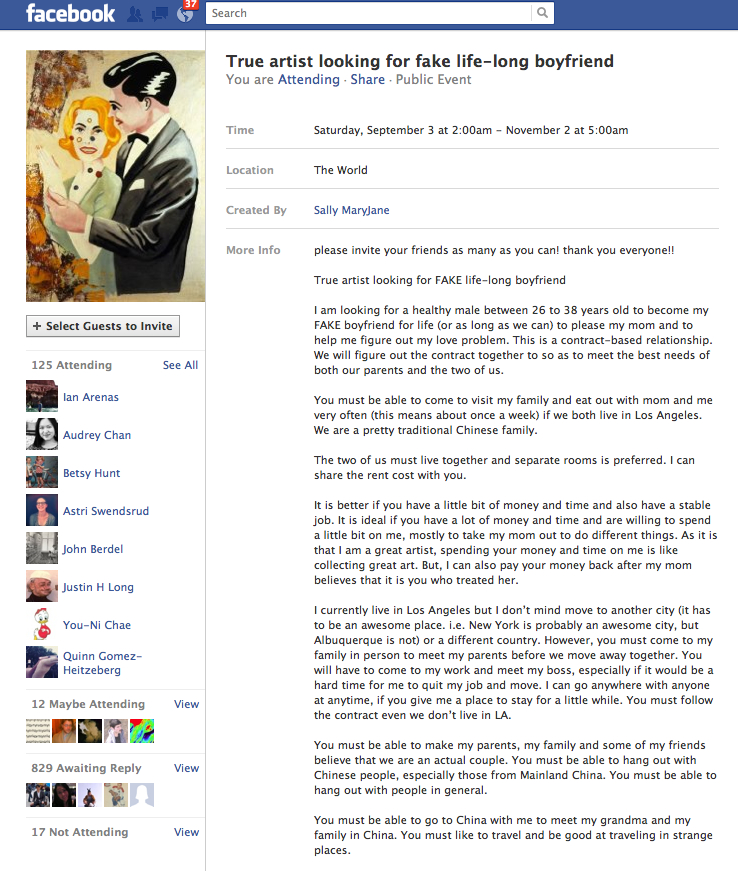 Fake boyfriend, Facebook posting, 2011-11-01.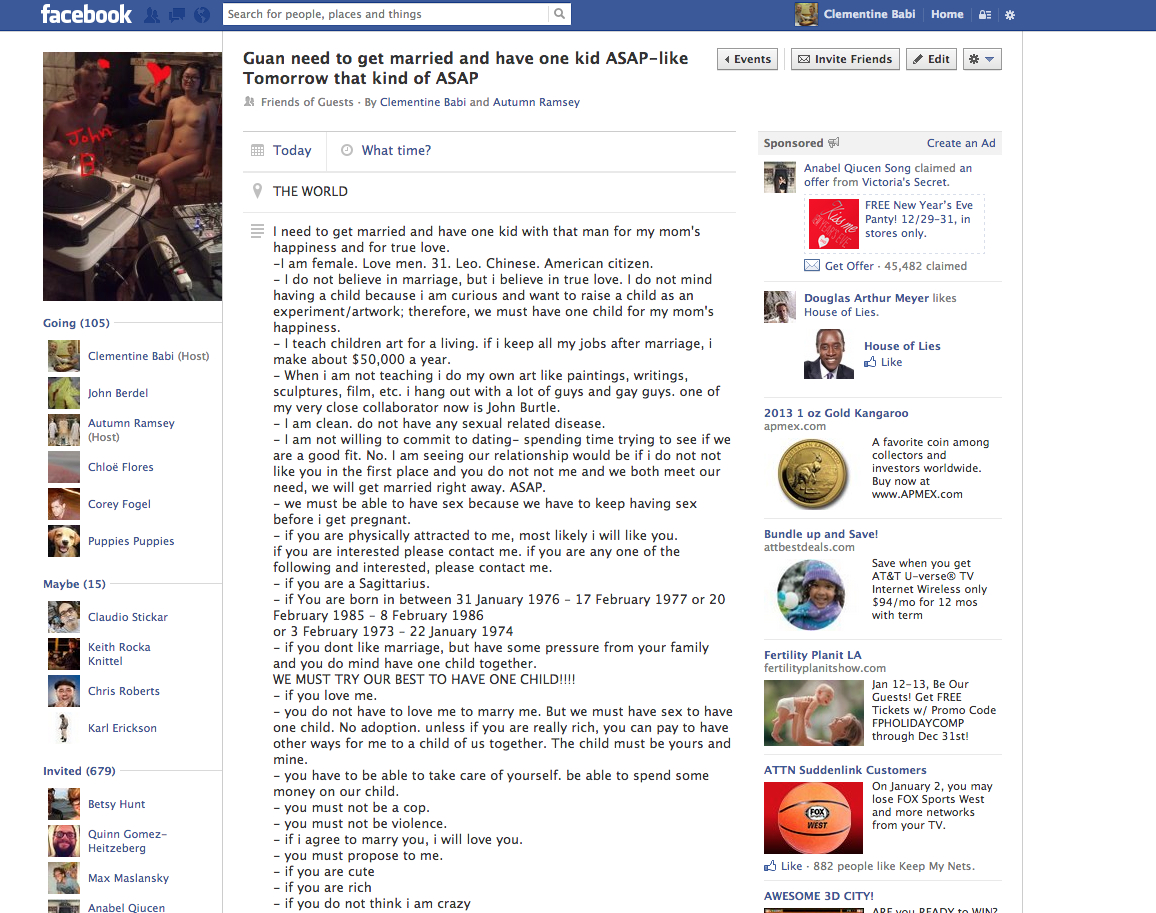 Modern Picture Bride, Facebook post meant to assist the artist's hunt for a husband, 2012-12-31.
See more of Guan Rong's work here.
Molly Surno is an artist who lives between Brooklyn and Los Angeles. Her installation work involves film & video, sculpture, sound, and photography. She received her MFA from the Visual Arts department at Columbia University in 2013 and will hold her first solo show at Anat Ebgi in L.A. in the fall of 2014.