Saturday, May 10th,
12-6pm in the upstairs Tacombi lounge.
Curated by Sam Gordon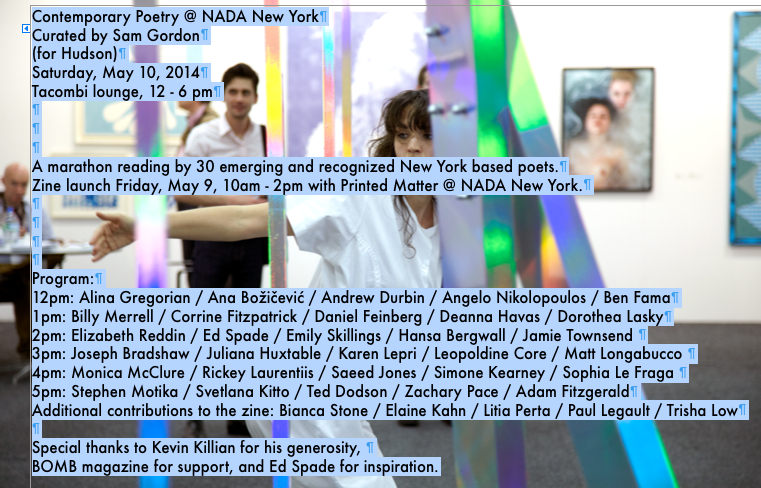 Contemporary Dancing, 2013 at NADA New York curated by Cafe Dancer and Sam Gordon. Performance: Rebecca Brooks.
Photo: Vincent Dilio (With Feature Inc., Cary Smith, David Shaw, Alex Brown, Richard Kern and Douglas Melini)
Program:
12pm: Alina Gregorian / Ana Bozičević / Andrew Durbin / Angelo Nikolopoulos / Ben Fama
1pm: Billy Merrell / Corrine Fitzpatrick / Daniel Feinberg / Deanna Havas / Dorothea Lasky
2pm: Elizabeth Reddin / Ed Spade / Emily Skillings / Hansa Bergwall / Jamie Townsend
3pm: Joseph Bradshaw / Juliana Huxtable / Karen Lepri / Leopoldine Core / Matt Longabucco
4pm: Monica McClure / Rickey Laurentiis / Saeed Jones / Simone Kearney / Sophia Le Fraga
5pm: Stephen Motika / Svetlana Kitto / Ted Dodson / Zachary Pace / Adam Fitzgerald
[ MORE INFO + RSVP ]
NADA is pleased to present Contemporary Poetry, a marathon reading by 30 emerging and recognized New York based poets curated by Sam Gordon. The program will be held on Saturday, May 10th, 12-6pm at NADA New York in the upstairs Tacombi lounge.
When Frank O'Hara wrote "Having a Coke with You", poetry and painting walked hand in hand through the streets of New York. Contemporary Poetry collects a group of poets today, connected by varying degrees, once again engaged with artists in moments of dialogue and exchange.
The series of readings will be accompanied by a Contemporary Poetry zine scheduled to launch May 9th at Printed Matter at NADA New York. The publication will feature work from presenting poets and more. Additional contributors include Bianca Stone, Elaine Kahn, Litia Perta, Paul Legault, Trisha Low.
This program is dedicated in memory of Hudson. Special thanks to Kevin Killian for his generosity and Ed Spade for inspiration.
About Contemporary Poetry
Contemporary Poetry is inspired by the following previous generations of writers and poets whose work also found itself in conversation with the art and artists of the day. From major literary icons to underground legends this list of names gathers a range of poets and writers who have influenced each other and this new generation. Many of them are in direct contact with the poets in the program. Reading together, publishing each other's work, and mentoring this next wave of writers, many also write reviews of artist's exhibitions and collaborate on interdisciplinary projects. This list both acknowledges the past and contextualizes the present within a lineage of language intersecting with art history: Kathy Acker, Hilton Als, John Ashbery, Dodie Bellamy, Joe Brainard, William S. Burroughs, Dennis Cooper, Bruce Hainley, Allen Ginsberg, John Giorno, Robert Gluck, Kenneth Goldsmith, Barbara Guest, Gary Indiana, Kevin Killian, Kenneth Koch, Wayne Koestenbaum, Chris Kraus, Steve LaFreniere, Cookie Muller, Eileen Myles, Frank O'Hara, Rene Ricard, James Schuyler, Jack Spicer, Gertrude Stein, Lynne Tillman, Laurie Weeks, David Wojnarowicz, and Linda Yablonsky.
About Sam Gordon
Sam Gordon is an artist and curator living and working in Brooklyn, NY; he holds a BFA in painting from the Rhode Island School of Design. From 1997 through 2013 Gordon's painting, drawing, photography, and video work was regularly presented in numerous solo and group exhibitions at Feature Inc. His work is included in the collections of the Museum Of Modern Art, New York and the Walker Art Center, Minneapolis, MN, and has been exhibited at international venues such as the Institute of Contemporary Art, London, UK; Midway Contemporary Art, Minneapolis, MN; Marella Arte Contemporanea, Milan, IT; Kunsthaus, Hamburg, DE; The Tang Museum, Skidmore College, Saratoga Springs, NY; The Aspen Art Museum, Aspen, Co; and MoMA / P.S.1, Long Island City, NY. In 2001 he was an Artist in Residence at the Claude Monet Foundation, Giverny, France and wrote about his time there in an artist book published by Feature Inc. in 2004. Gordon's recent curatorial projects include Contemporary Dancing, with Cafe Dancer, during NADA New York 2013 and the upcoming PURPLE STATES for Andrew Edlin Gallery opening in June. An exhibition of collaborative work by Fowler/Gordon with the Los Angeles based Eve Fowler, will open at The Bas Fisher Invitational in Miami in December 2014.