Unreliable truths in Carl Frode Tiller's Encircling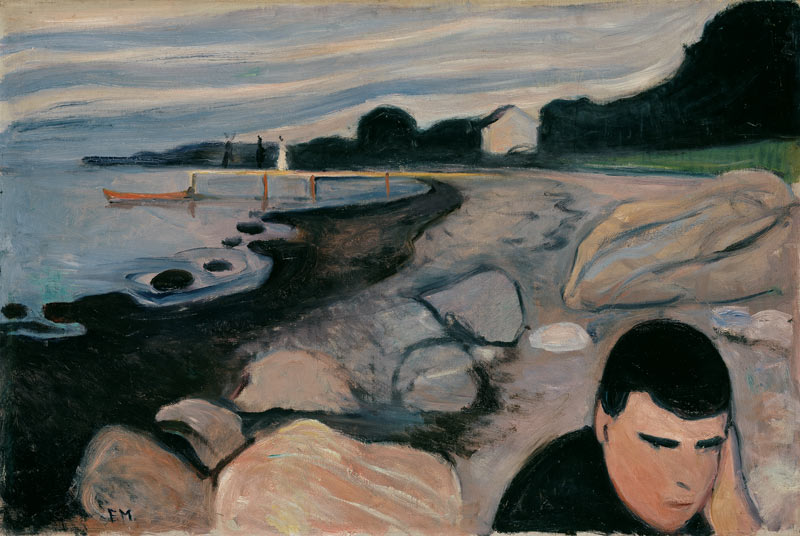 Edvard Munch. Melancholy, 1892, oil on canvas, 25.2 × 37.8 inches.
"Having someone to live for is what makes us human," muses Arvid, one of the narrators of Carl Frode Tiller's novel Encircling, out this month from Graywolf Press. It's a characteristically "banal but true" statement, deceptively simple and yet deeply resonant in a novel where a man's identity hinges on other people's memories. David, Arvid's estranged stepson, has just lost his memory when the novel begins, and his psychologist has placed a newspaper ad calling on David's friends and relatives to explain to him who he is. Three people who knew him twenty years ago as a teenager answer the call—Jon and Silje, both friends and former lovers of his, along with Arvid. They write letters that in Silje's words "contain enough imprints, leavings and traces… for [David] to recognize something of that time and follow the trail back."
Tiller has been a rising star in Norway since his debut in 2001, and Encircling (translated by Barbara J. Haveland)—the first volume of a trilogy—looks set to spread his reputation to the United States. His work has frequently been framed as a counterpoint to Karl Ove Knausgaard's sweeping autobiographical series, My Struggle. Though bits of Tiller's biography—his hometown of Namsos, his background as a rock musician—pop up in Encircling, his approach is spare where Knausgaard's is exhaustive in its detail. In Encircling, David forms the hollow center of the novel—a void around which the three narrators keep circling, building an unstable picture of someone whom each of them longed to know intimately yet never fully understood.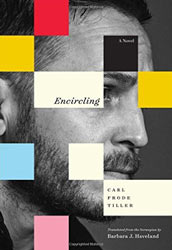 Perhaps more interesting than David himself, are his three interlocutors, whose identities are exposed and interrogated, their differing accounts of themselves and each other revealing how deeply one's sense of self depends on—and is thwarted by—relations with other people. In each of the novel's three sections, Tiller alternates between the narrator's letter to David and an account of the present day: Jon stomps away from his bandmates and family after unpleasant revelations about what they think of him. Arvid, who is receiving inpatient treatment for terminal cancer, fakes interest in everyday conversation. Silje invents major and minor fictions to upset her husband, lashing out at him with an anger she can't explain. The psychological realism of these scenes is intense, sometimes at the expense of readability. Silje's breathlessly reported argument with her husband over waffles, for instance, quickly turns grating in its repetitive frenzy. By the same token, Jon and Arvid's constant irritation sometimes pushes the limits of sympathy.
These narrators are at their best when writing to David, and so is Tiller: His talent is for realistic and revealing dialogue, which hints at more complexities in a character's state of mind than she herself may know. That skill is blunted in the present-day sections by running interior monologues, whose constant self-analysis obviates irony without adding a great deal of insight. But it shines in the more reflective, unaffected second-person prose of the letters. Here, Jon, Arvid, and Silje develop distinct and confident voices in their unique ways of looking at the past—Silje with a memory that collects around vivid, discrete scenes, Jon with an astute awareness of the differences between how he understands things now and how they seemed in the moment. They admit earnestly to uncertainties and failures, meanwhile making observations about David, themselves, and each other that—even when contradicted by other accounts—seem to carry great psychological truth. The self depends upon others, and yet others continually undermine it: Tiller exposes a double-edged sword of identity, a circle of influence that, by the end of the novel, has only become more unstable.
What to make of this? Tiller has two more volumes in which to explore it, and this one ends with the unsettled sense of a story played out yet not quite finished, like an argument left unresolved though everyone's said what they have to say. If not quite satisfying, it succeeds in replicating the very anxiety of David's predicament. The novel is defined by an internal focus on self-doubt and introspection; it slips deeper into the narrators' psyches as one by one they question what's real. But the story is also about connection, attempted fumblingly, painfully, lovingly. In the end, such outward longing is what resonates most with the reader: the wish for some other who understands and holds the missing pieces of ourselves.
Rosa Inocencio Smith is an assistant editor at The Atlantic, where she writes a weekday newsletter, The Atlantic Daily.